A Token of Japanese American Friendship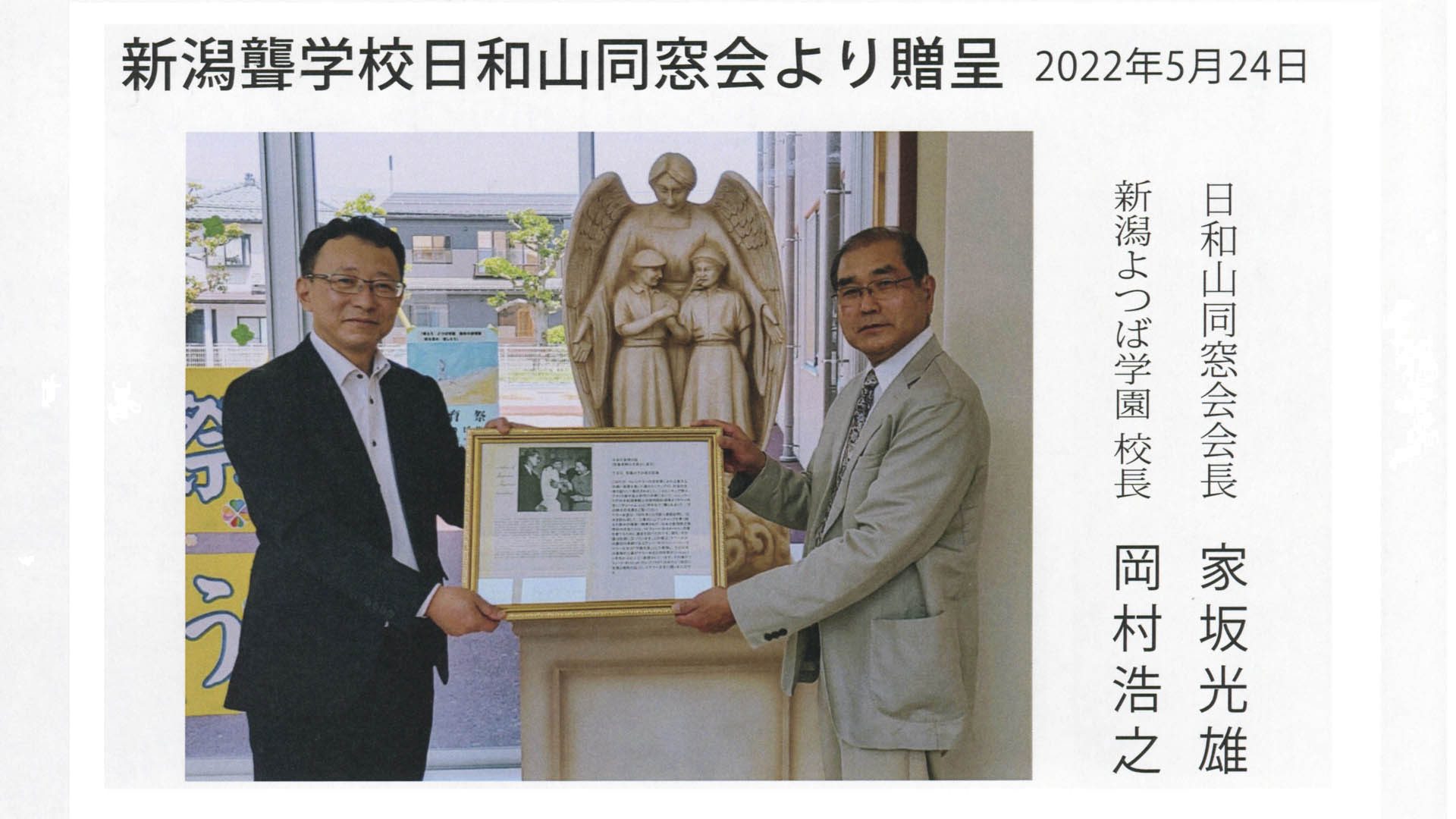 Even a simple inquiry about one item in an archive can have a surprising number of highs, lows, twists, and turns. A reporter from the Japanese newspaper "Niigata Nippo" recently contacted the Helen Keller Archive in search of information about a statuette that was given to Helen in 1956 to commemorate her final visit to Japan. It was a miniature reproduction of a fourteen-foot statue at the school for the deaf in Niigata, Japan. Both depicted an angelic version of Anne Sullivan with her arms and wings spread just enough to wrap them around Helen Keller and Polly Thomson, Helen's constant companion after the passing of Anne. A new school called "Yotsuba Gakuen" has been established in Japan by merging a school for students who are deaf with one for those who are blind. Alumni were working together to recreate the statue and research its history, and the reporter was in search of any information that would be of help to them.
The statuette is not in the AFB Helen Keller Archive, but the collection does have detailed lists of the items that belonged to Helen. There are appraisals of her "Oriental" art collection, the original Helen Keller exhibit at AFB, and even an appraisal including every item in her home. There is an inventory of artifacts that were brought to AFB from Helen's home at Arcan Ridge after her death, and handwritten notes about what was eventually done with those items. Investigating these lists can give a researcher information as precise as where Helen's electric drink mixer was placed in her house, and how much she likely paid for it. But even among all of this information, the statuette is not listed.
There is, however, a press clipping in the Archive that describes the occasion on which the statuette was presented to Keller. It was given to her during a luncheon at the building of the American Foundation for Overseas Blind, later known as Helen Keller International (HKI). But in this case, what seems like a good lead is just another twist in the story of an artifact. HKI was known to have had an archive of materials and artifacts related to Keller. It seems very likely that the statuette would have been kept here, where it was originally presented to Helen. Unfortunately, the HKI Archive was destroyed by the terrorist attacks in New York on September 11, 2001. While one bust of Keller was salvaged from the wreckage, the rest of the Archive and its inventories were lost.
It seems like an unfortunate ending in the search for the statuette. But as with many things, some of the most significant discoveries were made as part of the journey.
Justin Gardner is the AFB Helen Keller Archivist at the APH.
Share this article.