#AtHomeWithAPH Resources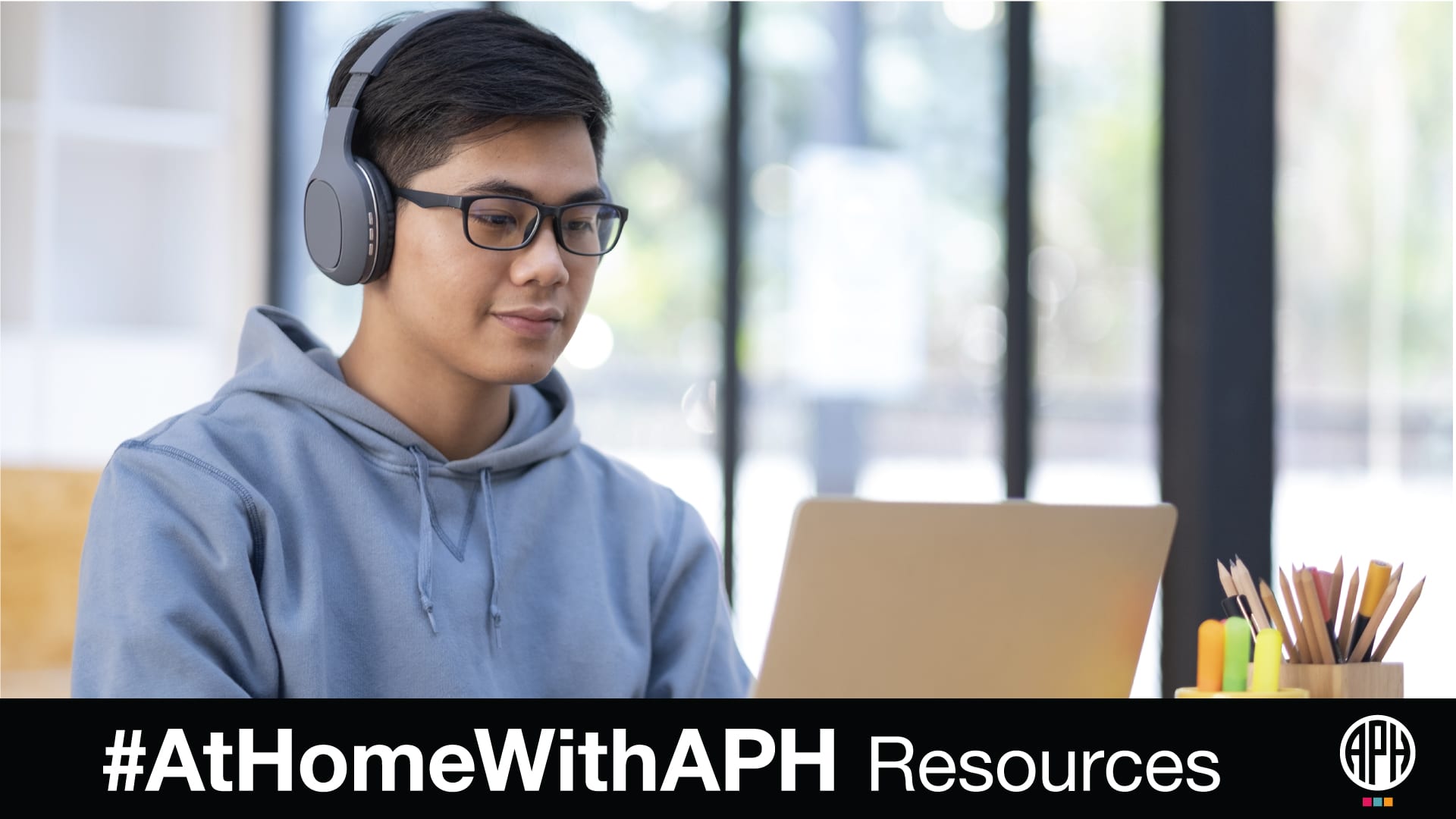 We're all familiar with the effects that social distancing, self-quarantine, and canceled in-person services are having on our day-to-day lives. That's why we've made it our mission to help ease the stress and boredom by offering fun activities, and virtual resources and educational opportunities for all ages. We'll be posting information about all of our favorite educational activities, lessons, and tools along with some great external resources. Plus, all of them are free! We're working hard to build more resources, and will be adding to our #AtHomeWithAPH resources page on a regular basis (be sure to bookmark it)
Virtual ExCEL Camp
Is your child ready to have some summer camp fun? We know large gatherings, including summer sports and educational camps, are likely to be restricted, so we want to make sure your child has opportunities to play, learn, and socialize! The Virtual ExCEL Camp we hosted Summer of 2020 was a major success, so much so that we wanted the fun to keep going. We're so excited to invite your family to join us for the 2021 Virtual ExCEL Camp from mid-June through early August!
If you missed any of the Virtual ExCEL Academy lessons from the school year, that's ok- we've recorded them all here!
Access Academy Webinars
Access Academy is the education professional's one-stop resource for the training webinars you need to get the most out of APH products and services. The majority of Access Academy webinars also provide ACVREP credit. See what upcoming Access Academy webinars we have in the works. Plus, check out all of our previous webinars recorded here.
Partner Showcase
Hear from the experts about your favorite partner products! The APH Partner Showcase is a special series from the Access Academy, but does not offer ACVREP credits. The Showcases are informational promos that highlight some of APH's partner vendors in the field, and their products. Find upcoming Partner Showcase webinars or watch past ones recorded on our YouTube page.
APH Hive
The APH Hive is a free eLearning platform for educators and families. Easily enroll and take courses that are relevant to serving students from birth through graduation who are blind or visually impaired – all on your own schedule. Like the Access Academy webinar series, participants can also earn ACVREP credit. Sign up for the APH Hive today!
APH ConnectCenter
The APH ConnectCenter includes FamilyConnect, CareerConnect, and VisionAware – a hub of websites that offer curated advice and resources to assist children, parents, adults, job seekers who are blind or visually impaired, and their associated professionals, leading to greater independence and success in their lives. For more information about the APH ConnectCenter, including upcoming and previously recorded webinars, visit the APH ConnectCenter webpage. To receive specialized assistance, call the APH ConnectCenter Information and Referral Line at 1-800-232-5463 Monday-Friday from 8:00 AM-8:00 PM EST or email connectcenter@aph.org.
The ConnectCenter is also on social media.
ConnectCalendar
The ConnectCalendar is where people or organizations can share and find information about events taking place throughout the field. Have an event related to blindness that you want people to know about? Add it here!
APH Accessibility Hub
The APH Accessibility Hub is a resource for all companies to help improve building-wide accessibility for employees who are blind or visually impaired. Visitors to the website will find resources for accessibility and inclusion training along with tutorials, document checklists, accessibility best practices, tools and information for braille transcribers, and more. Check out the APH Accessibility Hub today.
The APH Museum is on social media!
Bring some history to your feed by following the Museum of the American Printing House for the Blind (APH Museum) on Facebook and Twitter! We'll be sharing stories of the challenges and triumphs of literacy and learning for the blind and visually impaired. From artifacts to virtual tours, we have something for history buffs and lifelong learners, old and young!
Change Makers
Did you know we have a podcast? Change Makers: A Podcast from APH highlights the people who are making the biggest difference in the blindness field. All episodes of Change Makers can be accessed here.
APH Activities and Resources
We're putting together a list of APH activities for you to do at home including readings, lessons, and fun app suggestions!
Access the APH File Repository
The APH file repository allows users to download APH textbooks and select products in a variety of electronic formats. You can find braille-ready and large-print textbook files, Building on Patterns' Teacher's editions in PDF format, along with braille sheet music files. Just start searching the Louis database to find available electronic files, then log-in and download the file directly to your computer. If you don't have an account, please contact Resource Services staff at Resource@aph.org or 1800-223-1839 x705 and they can email the file to you.
External  Resources
So many organizations, like our own, are working to make sure you have the tools you need in this stressful time. We've curated a list of resources you may find helpful:
CIDI Emergency Resources
Georgia Tech's CIDI (Center for Inclusive Design & Innovation) aims to help alleviate as many barriers as possible through accessible distribution of emergency safety information and education. You can order embossed braille emergency response information and guidance at no charge directly from the COVID-19 website. The website also offers accessible documents that can be accessed using a screen reader.
Free JAWS, ZoomText, and Fusion Licenses for a Limited Time!
Enter your work or college email address here to see if you qualify for a free JAWS, ZoomText, and Fusion license from our friends at Freedom Scientific.
For Teachers and Parents
For Students
Tools to Help Students with Grief During the Pandemic
Zoom and Microsoft Teams Accessibility Resources
Miscellaneous
Looking for more? Go to our educational resources and resources pages on the APH website.
Post about how you use these resources, apps, and tools to have fun and learn #AtHomeWithAPH and don't forget to tag us and use the hashtag!
Have a free and accessible resource you would like us to include? Email us at communications@aph.org to tell us about it!
Share this article.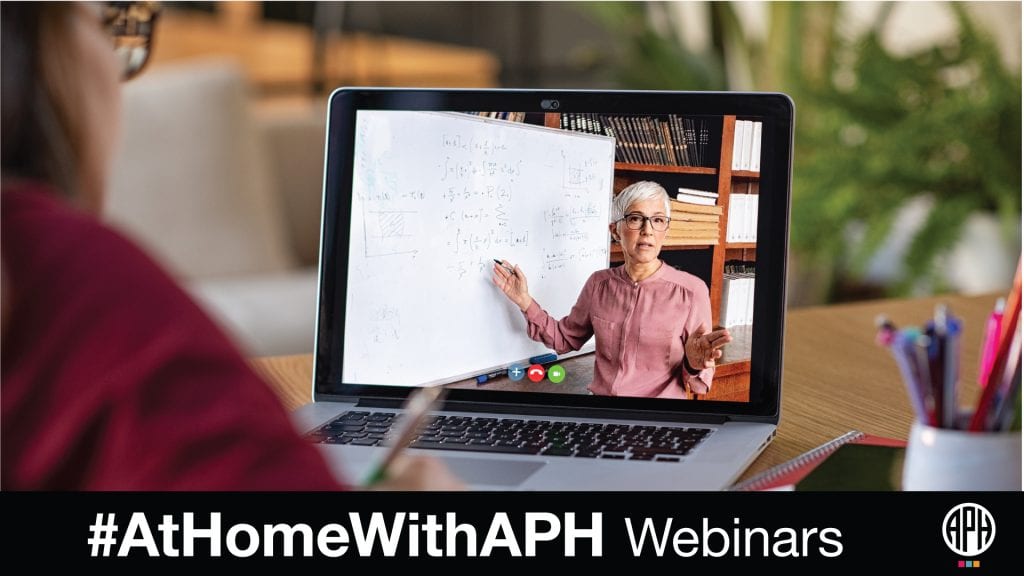 Introducing Access Academy Our #AtHomeWithAPH webinars have a new look! We are proud to introduce Access Academy – the latest...