Building Your Social Studies Toolkit
APH has compiled a collection of products that will help make any social studies classroom more accessible to blind or low vision students. Keep reading to learn more about them!
US Puzzle Map: This take-apart political/topographical map of the United States has features to help make learning fun for all students!
Tactile World Globe: A clear plastic overlay covers a standard 12-inch political globe with a non-skid wood base.
World at Your Fingers: This comprehensive set of tactile world maps provides an excellent opportunity for developing map-reading skills.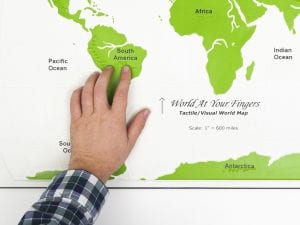 U.S. and Canada Tactile/Print Atlas: Get to know the United States and our northern neighbor better! Each page spread has a combined braille and print key paired with a print map in contrasting colors and a clear tactile overlay.
Graphic Art Tape: Create tactile lines on graphs or construct rivers on maps with the Graphic Art Tape.
World Maps: These thermoformed tactile maps are a comprehensive aid to geographic instruction and orientation.
Address: Earth, Large Format Color Atlas: Section Two This revolutionary new atlas meets 70 specific readability guidelines for users with low vision.
For more information or to find related products, visit aph.org/shop.
Share this article.