Call for Art- APH Insights Art Competition
"I get so happy, I can't quit smiling. It means I did it! I continued to make high-quality art, even after sight loss." – Artist Lynda McKinney Lambert.
We believe that artists who are blind should have a place to showcase their work. InSights Art is an annual juried competition for artists of all ages who are blind or visually impaired. Hosted by APH for 27 years, we receive artwork from all 50 states and many countries across the globe.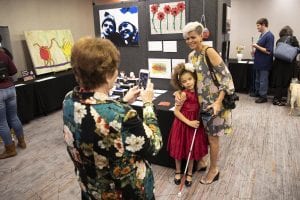 "Young artists come into the exhibit space and search the whole gallery for their artwork, and then start jumping up and down when they find it. They are so excited to experience their artwork, on display in a public exhibit," explained Robert Guillen, Special Programs Coordinator at APH. The competition gives people who are blind an opportunity to not only have their artwork seen by an audience but also to have it juried by professionals in the field of art in an international competition.
"The strong affirmation this contest provides feeds the creative life of each artist, which is especially important for artists who are blind or visually impaired. So often they have been told that they cannot do something, and that includes art," said Guillen.
Just ask 12-year-old Kaytlyn Floyd, a long-time participant in the InSights Art Competition. "I entered the contest to show people I can still do art with limited sight. Everyone can create something artistic," said Floyd.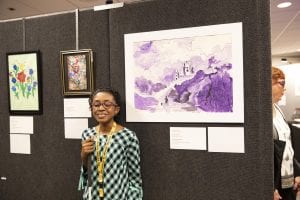 NEW DEADLINE: Interested in participating?
Submissions for the 2020 APH InSights Art Competition and Exhibition are open!
Artists may enter original artwork created in any medium, including (but not limited to) painting, drawing, printmaking, fiber, metal, and wood. This year's deadline for student and adult artists is MAY 15, 2020!
Rules and entry forms are available for download here.
Winning artwork in nine categories and other selected pieces will be displayed at the APH InSights Art Exhibit during APH's 2020 Annual Meeting in Louisville, October 2020. We look forward to your participation in our competition. For more information, please e-mail insights@aph.org, or call Rob Guillen at 502-899-2242.
Share this article.
Art is a form of self-expression that helps everyone showcase their interpretation of the world. We spoke with APH InSights...