Sign up to receive our latest newsletters.
February 2021
Celebrating Low Vision Resources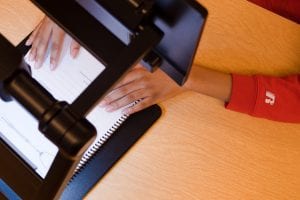 Low vision is a spectrum with each student requiring specific resources to meet their needs. Read our Building Your Low Vision Toolkit blog for product suggestions to make your student's academic and daily living experiences more accessible.
New APH Personnel
We are very excited to welcome four new individuals to APH.
Tai Tomasi, Director of Accessibility, Diversity, and Inclusion
We appreciate all that you bring to the table and can't wait to see what you will accomplish at APH and in the field of blindness.
iOS 14.4 Update for Mantis™ Q40 and Chameleon™ 20
We have identified connection issues for the Mantis Q40 and Chameleon 20 after upgrading to iOS 14.4. We recommend that you turn off automatic updates, and do not upgrade to 14.4. This is a regression introduced by Apple in this release. We alerted Apple to this issue during 14.4 beta testing, and we hope they will correct it in the next release. Stay tuned to your inbox for further updates.
Once upgraded to iOS 14.4, and as soon as users lock their iPad or iPhone with the Mantis or Chameleon connected, the braille display will not automatically reconnect once the device wakes back up. You can force it to reconnect by leaving the terminal and reconnecting from there, but then you won't get braille. The only way to get braille back is to toggle Bluetooth on the iOS device, but the issue will happen again as soon as you lock your device or it goes to sleep.
To stop an iOS device from auto updating, do the following:
Open the Settings app
Activate the General option
Activate the Software Update option
Activate the Automatic Updates option
Turn off both "download iOS updates" and "Install iOS updates."
If you've already updated to iOS 14.4, please refer to this link for instructions on how to downgrade your iOS device: https://www.tomsguide.com/us/how-to-downgrade-ios,review-6519.html
If you have any questions or concerns, please contact the APH Customer Experience Team at cs@aph.org or 800-223-1839. Mantis and Chameleon users can also subscribe to the community user email group for more updates at Mantis-Chameleon-User-subscribe@tech.aph.org.

APH is excited to announce the release of the following new product(s):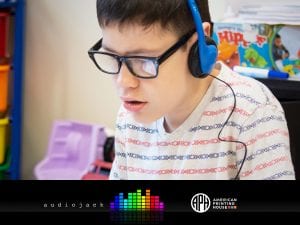 Choose your own audible adventure with Audiojack, an app for iOS and Android devices. An Audiojack is an audio-based movie with no words, no music, no video, only sounds.
The beauty of Audiojack is that it promotes mindfulness, allowing your imagination and memory to converge as you start to build your own story based on what you hear. Appropriate for young students to older adults, Audiojack is perfect for creative, fun, educational, medical, and therapeutic settings.
Simply download the Audiojack app, choose your subscription plan, and play audio-based movies from one of several categories. Writing and art activities are also included to enhance the experience.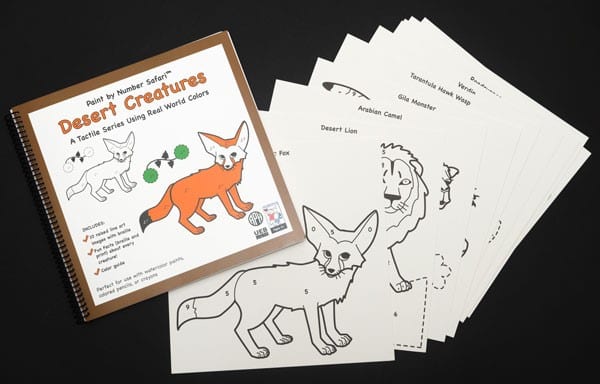 Take a journey to the hot, arid climate of the desert and learn all about the animals in it with this tactile coloring book.
Desert Creatures is the fourth addition to the Paint-by-Number Safari™ series, which is designed specifically for beginning and intermediate artists. Students will enjoy perfecting their art skills as they learn about the colors and creatures found in the desert. Custom-made drawings of life-like desert creatures are printed and embossed on heavy paper, making this coloring series fun for all.
Wide, solid, embossed lines identify the creature while thin embossed lines denote color separation on the creature's body. Dashed lines identify background images and solid, raised areas identify parts of the images that are too small to fill with color. Each image includes fun facts about that creature's life, including size, diet, predators, and environment, along with specific color code for that creature.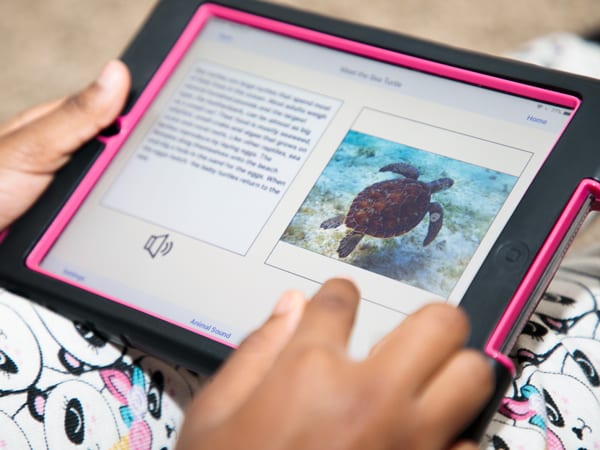 Students who are blind and visually impaired at the 5th to 8th grade math level can sharpen their knowledge of tactile graphics with this free iPad app and related materials from Lighthouse San Francisco.
Ten units containing warm-up problems and two problem sets teach students how to read and interpret different types of graphs: bar graphs, line graphs, circle graphs, Venn diagrams, coordinate planes, box plots, maps, and data tables. The graphs also tell fascinating stories about endangered species, such as the Tasmanian devil, platypus, and dinosaur ant.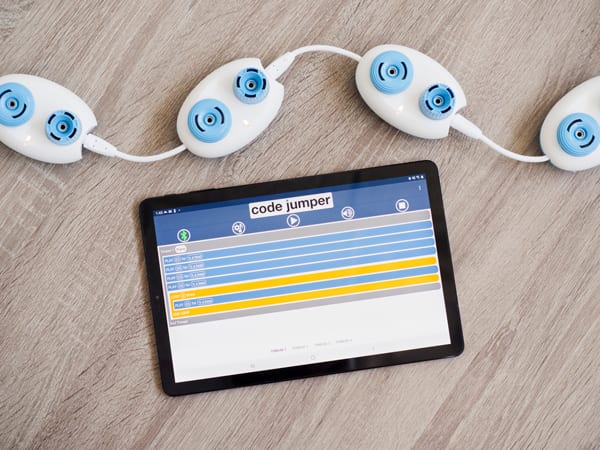 You can now power Code Jumper from a Chromebook or Android device with the FREE Code Jumper Android App, available now on the Google Play Store. Customers who have a MATT Connect can download the Android App and use it to pair with their Code Jumper.
**Note: When using the app on an Android device, users will see one thread at a time, and must swipe between the four threads. The app is supported on Chromebooks released 2019 or later. To identify Chromebooks compatible with Code Jumper, refer to this list of Chrome OS systems supporting Android Apps.
COMING SOON! We are hard at work developing a Code Jumper iOS app. Stay tuned!
Not familiar with Code Jumper? It is an incredible and fully accessible innovation that teaches students how to write computer code. Learn more by visiting the Code Jumper shopping page, and codejumper.com.
APH Winter Wonderland Sale
Visit our sales page to see which APH products are on sale while supplies last. Happy shopping!
APH Press Featured Publication
Looking to Learn: Promoting Literacy for Students with Low Vision is a useful handbook that gives teachers practical tips and advice on improving literacy skills for students with low vision. The book provides easy-to-understand explanations of vital topics such as interpreting eye reports, performing functional vision assessments, and working with low vision service providers. Busy teachers will also welcome the chapters on easy-to-implement games and classroom activities that are fun for students and, at the same time, are useful aids to improving literacy skills. The valuable resource section, tables, sample reports, and sidebars offer essential information on assessing low vision students and helping them use their vision effectively.

The Buzz: News from the APH Hive
Assisting students with low vision to access curriculum using APH devices is spotlighted in the APH Hive with the course entitled Magnification for Students on the Go. This Expanded Core Curriculum, Sensory Efficiency course will assist educators with understanding how to operate the Jupiter and Video Mag HD portable electronic magnifiers. 1 ACVREP credit is earned for enrolling and completing this FREE course.

ConnectCenter News
Time is flying here in the APH ConnectCenter, and it's hard to believe that we're already into the second month of 2021. January was a very busy month for the ConnectCenter. To celebrate Louis Braille's birthday (January 4th) and World Braille Month, we offered webinars and weekly blog posts focused on braille and the many ways people learn, use, and enjoy braille literacy.
Check out our VisionAware webinar Dots or Not where Deborah Kendrick and Bob Holton shared perspectives on adult transition to braille. Read further into our Happy Birthday Louis Braille blog on our FamilyConnect website to explore teaching-game resources. Finally, the APH ConnectCenter was excited to host our second National Transition Conversation: The Nuts and Bolts of Pre-ETS in which Michigan shared experiences with setting up complex community collaborations to develop dynamic pre-employment transition programming for transition-age youth with vision loss. This webinar will be added to the ConnectCenter YouTube playlist soon for all to view.
In February, we're continuing our Early Intervention series in partnership with the Illinois School for the Visually Impaired. Join Sara Edwards and Julia Bowan on February 8 at 2:00PM EST for a webinar as we explore how vision loss impacts child development. Our VisionAware website will feature blog posts about life with vision loss, as well as age related macular degeneration and retinitis pigmentosa. For those wanting to learn about Leader Dogs, join us for APH CareerConnect's Webinar on their TOM Talks program. A webinar registration link will be posted soon.
Don't forget to bookmark the ConnectCalendar to stay up-to-date on events happening in the field of blindness and visual impairments.

Next on Change Makers
Change Makers: A Podcast from APH highlights the people who are making the biggest difference in the blindness field. We're celebrating Low Vision Awareness Month and Black History Month in Episode 22 – Low Vision Resources. Learn what low vision resources are available to those who are experiencing vision loss and how loved ones can be a source of support. Our new segment, Partners with Paul, spotlights the Braille Trail Reader LE. We will also talk to former EOT, Mr. Louis Tutt, about integrating segregated schools for the blind.
Missed one? Don't worry. Find all episodes of Change Makers on our website.

Meet APH Scholar Karen Reno
We would like to congratulate Karen Reno for being selected as a 2020-2021 APH Scholar. Karen was nominated by EOT, Kay Ratzlaff, and works as an itinerant Teacher of Students Who are Visually Impaired (TSVI) and part-time Certified Orientation and Mobility Specialist (COMS) for Citrus County Public Schools. Read our blog to learn more about Karen and discover what makes an APH Scholar stand out.

Touching on History: Stories from the Museum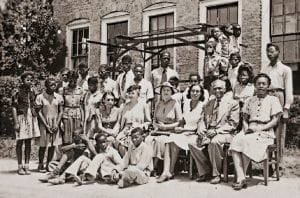 Museums are some of the most beautiful places, full of historical facts, figures, and stories. Unfortunately, due to the COVID-19 pandemic, the APH museum is closed to the public. Read our latest blog post, Connecting with History Virtually, to learn about how APH Museum Director, Micheal Hudson, and his team are working to share stories from our museum with you virtually. Plus, learn about Martha Louise Morrow Foxx in honor of Black History Month.

We'll be attending the following virtual conferences and hope that you will join us.
ATIA, January 25-February 4, 2021
ATIA has passed, but you can still register for free and gain access to recorded sessions. Register for ATIA and check out our website for a list of ATIA conference brochures.
POSB, February 15-16, 2021
APH presentations at this virtual conference include:
New and Innovative STEM Products from APH by Rosanne Hoffman, Ken Perry, and Heather Kennedy-MacKenzie
Code Jumper: Building Career Paths through Accessible Coding by Greg Stilson and Robin Lowell
Michigan Transition Conference, February 26, 2021
Learn more about the APH ConnectCenter's service CareerConnect by attending a presentation given by Olaya Landa-Vialard at this virtual conference.
Mobility Matters, February 26, 2021 (12p – 2:45p EST)
Portland State University's College of Education and APH are excited to reprise this 4th annual interdisciplinary summit with a focus on exploring our national treasures through accessible virtual field trips. Join social studies teacher and PSU alum, Steve Lowry, from Washington State School for the Blind, who is partnering with PSU and National Park Service staff to take us on a virtual tour of the historic Fort Vancouver. Register for Mobility Matters 2021.
DVIDB Council for Exceptional Children Preconference, March 3rd, 2021 (co-sponsored by APH)
Join us for a day of learning from national experts in the field of visual impairments!
For those of you who are avid CEC attendees and look forward each year to the annual DVIDB preconference, we will not let the novel coronavirus pandemic disappoint you. APH, DVIDB, Allied Instructional Services, and the Maryland School for the Blind will co-sponsor a virtual day of learning. This year the preconference will cover three sessions and APH will have a bottomless, virtual travel bag full of relevant old and new, tried and true, products and resources.
9:00-11:45 AM—Penny Rosenblum on Finding Wheels published by TSBVI.
1:00-2:30 PM—Monique Coleman will present on Creating Culturally Responsive Approaches to Teaching.
2:45-4:15 PM—Linda Hagood on Reading, Writing, and Self-regulation.
Register for DVIDB CEC Preconferencre.
Free to DVIDB members.
$50.00 to DVIDB non-members.
KAER Professional Development Conference, March 3rd, 2021
APH is presenting.
CSUN, March 6-14, 2021
APH is exhibiting and presenting at this virtual conference. Our presentations include:
Accessible Coding Tools for All Ages: APH's Road to Code by Greg Stilson
Mission Impossible?: The Quest to Create a Dynamic Tactile Device by Greg Stilson
Mission Low Vision: APH's Next 5 Years of Low Vision Technology Development by Anne Durham and Craig Meador
Overcoming Challenges Preventing Access to Braille by William Freeman
CEC, March 8-13, 2021
Join us at this virtual conference for the presentation Video Assisted Service Delivery for Students with Severe Multiple Disabilities by Millie Smith and Stacey Chambers.
CTEBVI, April 16-17, 2021
Please join us for informative presentations at this virtual conference.

Looking for More?
Subscribe to to stay current. Find previous editions in our newsletter archive.