Sign up to receive our latest newsletters.

June 2021
Coding Tools for All Ages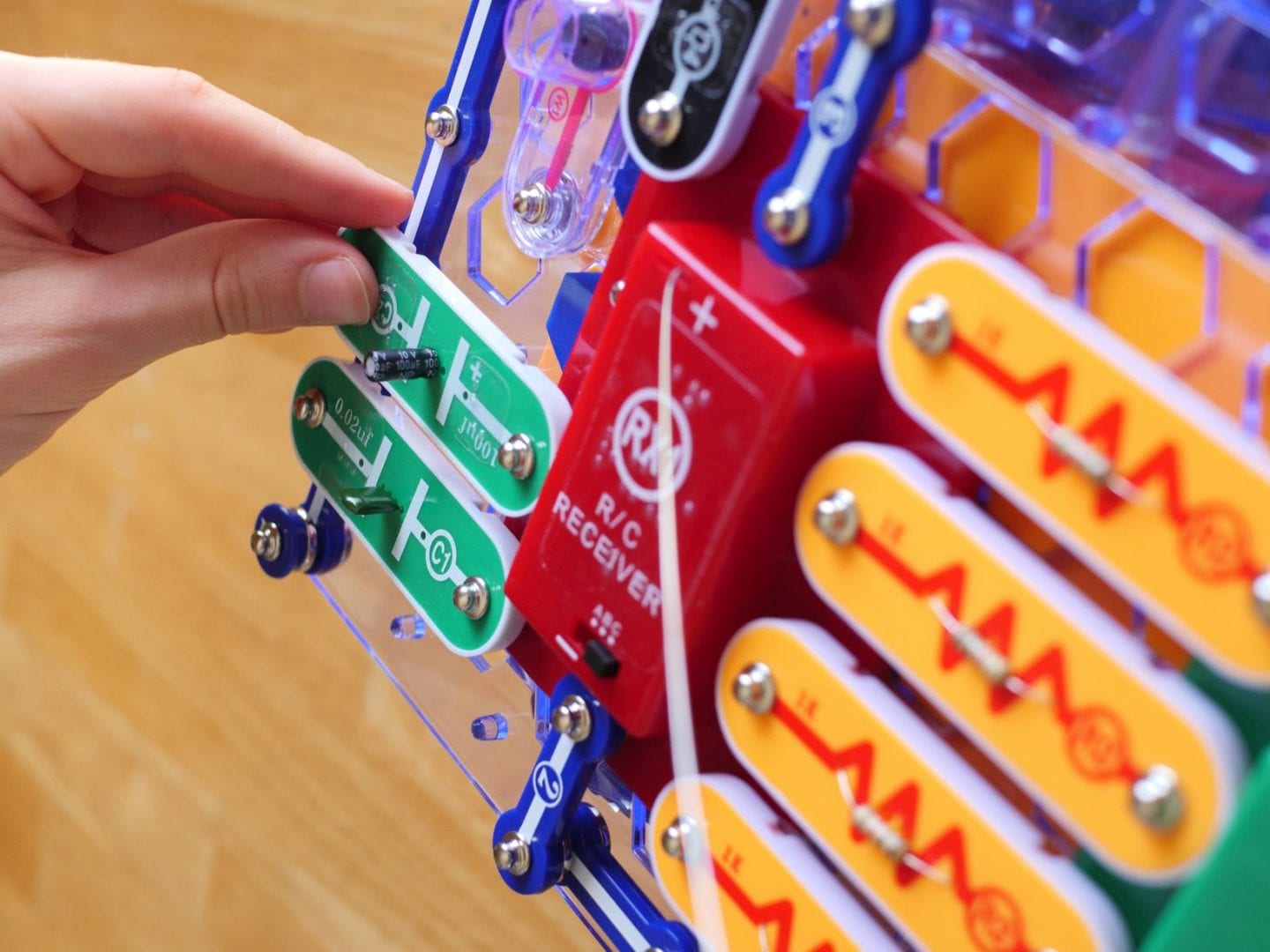 Let's get coding. Here at APH, we are breaking down barriers by providing accessible coding tools to support learners pre-K through high school. Read APH's Road to Code blog to learn more, and check out our Snap Into Electronics blog to discover other tools that lay the foundation of electronics education for students.
Access and Engagement II Report Now Available
The American Foundation for the Blind (AFB) recently released the results of Access and Engagement II: An Examination of How the COVID-19 Pandemic Continued to Impact Students with Visual Impairments, Their Families, and Professionals Nine Months Later. This study is a follow up to the first Access and Engagement study, with data collected during the early days of the pandemic. Read this AFB press release to learn more.
Reflections on the Education of Students with Visual Impairments During the 2020-2021 School Year
As the school year comes to an end, a group of researchers from AFB are collecting reflections from many individuals involved in the education of children with visual impairments during the COVID-19 pandemic. These researchers are conducting focus groups and brief surveys for youth who are age 13 or older, family members, early intervention providers, paraprofessionals, general ed teachers, special ed teachers, administrators, and, of course, TVIs and O&M specialists.
"We know it is a busy time of year and people are tired, but this is a very important study," said Dr. L. Penny Rosenblum, AFB Director of Research. Some of the focus groups for families will be conducted in Spanish as well.
APH Virtual ExCEL Camp 2021
The Virtual ExCEL Academy held 84 expanded core curriculum lessons during the school year to help supplement our students across the United States, as well as to provide vision professionals ideas and give pre-service teachers an opportunity to see instruction in action. APH is now preparing to offer Virtual ExCEL Camp from mid-June through mid-August.
Virtual ExCEL Camp will include a live hour at 2:00 PM ET, Monday through Friday, and is free to all registrants. Our target audience will continue to be students with vision loss. Also included are five at-home extension activities for the camp theme and with the camp supplies that will be sent to the student. Virtual ExCEL Camp will be separated by age groups. We will continue to record these sessions, so all have the opportunity to learn.
Please register your students with their needs and levels in mind. A grant from the Hearst Foundation is providing students from the United States of America an APH product that will be used during camp, so we need registrations completed early! For students to receive items in time for camp, they must have registered for their session at least four weeks prior to the camp's start date. Those who register after that date are still welcome to attend. We would suggest working with your teacher of students with visual impairments to procure the product for use during camp, as all items are available through Federal Quota.
Parents, please, register your student for one camp that matches their needs. As parents, you know if they would be more appropriately placed with the age level identified. If you are unsure, we suggest reaching out to your teacher of students with visual impairments. Remember, each student must be registered separately and must meet the definition of blindness in your state.
Week of June 21-25: Art Camp (4-6 years old)
Week of June 29-July 2: Mystery Camp (7-10 years old)
Week of July 12-16: STEM Camp (11-13 years old)
Week of July 19-23: Career Camp (14-22 years old)
Week of July 26-30: Space Sensory Camp (pre-symbolic learners)
Week of August 2-6: STEM Spanish Camp
We know that many educational professionals, as well as college students preparing to enter the field, have been participating in the webinars to observe teachers and students at work. You may register for the camps you wish to observe. You can watch and listen, just as if you were in a physical classroom.
Visit the Virtual ExCEL Camp page for information as we build up to the camp days. We hope to see many familiar names in the chatroom during our Virtual ExCEL Camp. See you soon!

APH is excited to announce the release of the following new product(s):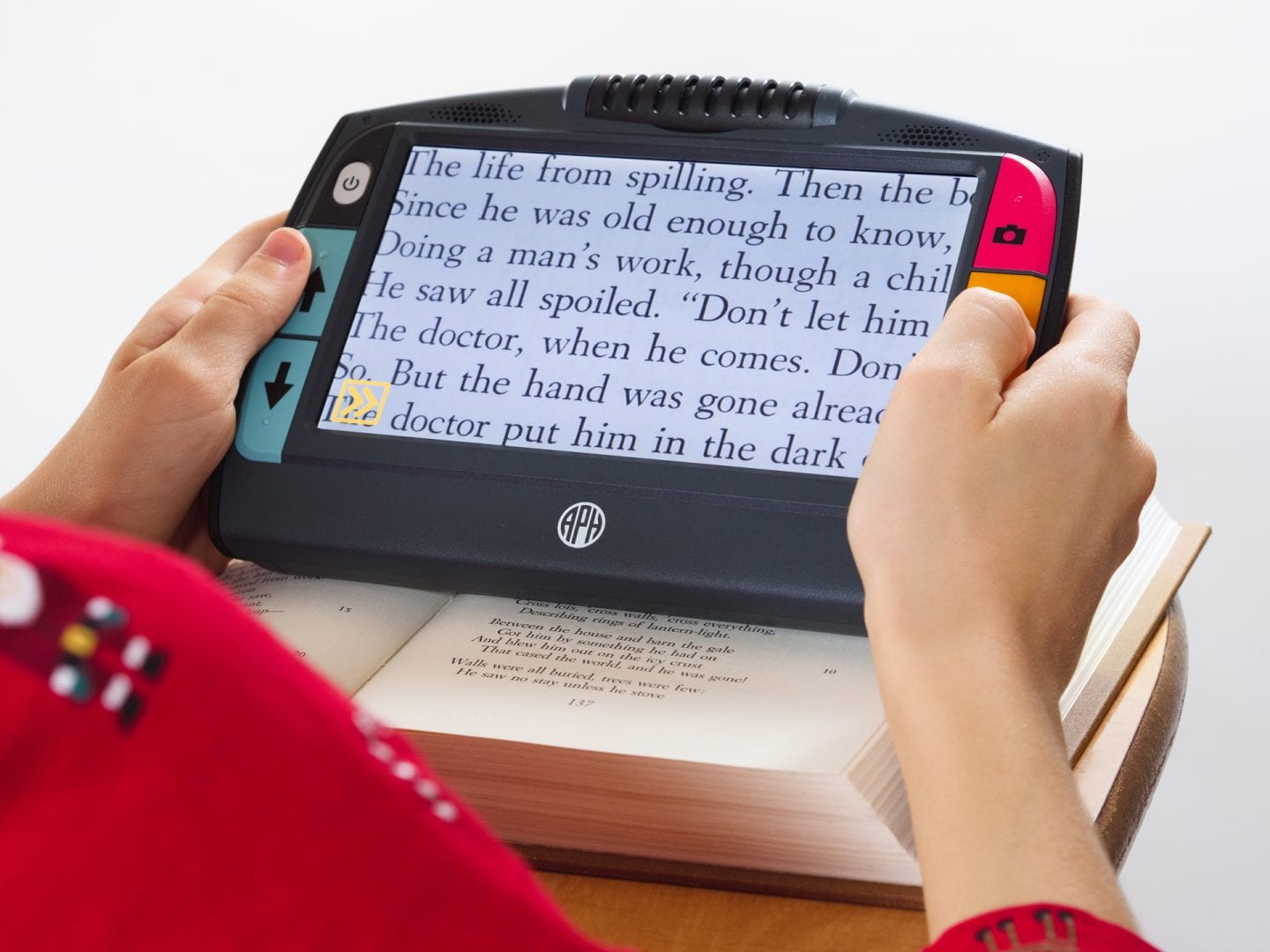 Magnify on-the-go with this powerful, 7-inch LCD touchscreen handheld video magnifier with Optical Character Recognition (OCR). Designed to accommodate the needs of students and adults with low vision, Juno is a great magnifying solution for use during work and recreational activities.
New APH Press Book – Coming Soon
Babies with CVI: Nurturing Visual Abilities and Development in Early Childhood is a guide through the history and best practices related to the treatment of CVI in children from birth to 36 months. This text is based on author, Ann McComiskey's, nearly five-decade career working with families in homes and classrooms. Understanding and knowledge about effective interventions to address the visual skills of children with CVI evolved enormously over that period. Babies with CVI reflects that evolution. The book presents specific approaches, strategies, and activity suggestions that families and visual impairment professionals can use to meet the unique learning needs of a child with CVI. It stresses the importance of early intervention, proper evaluation, and integrating teaching opportunities into the child's daily routine.
Stay tuned to your email and future issues of APH News to learn when you can purchase this valuable resource. We will also be hosting a webinar with the author of Babies with CVI on July 2, 2021. A registration link is forthcoming.
New UEB Products
Many of our popular products have been translated into UEB format. Read our blog, Beloved APH Products Get UEB Update, to find a list of new and coming soon UEB products for you and your students.

PolyPad Braille Display Needs Survey
We are conducting a needs assessment for the use of a multi-line refreshable braille display that can be used with a smartphone. Participants must be 18 years or older to participate.
If you are interested, please complete our brief PolyPad Braille Display Needs Survey by June 30th.
If you have any questions, please, feel free to reach out to Dr. Cheryl Kamei-Hannan at ckameih@calstatela.edu or Jeanine Interiano at jinteri3@calstatela.edu.
APH Press Call for Proposals on Itinerant Teaching
APH Press (a scholarly press which supports the mission of the American Printing House for the Blind) is looking for proposals for a new, up-to-date resource guide for itinerant teachers. Itinerant teachers of students who are visually impaired are always on the move, handling a substantial caseload and providing services all over the map to students of different ages with different needs. Having a practical guide with tips and techniques for staying organized could be the key to success for itinerant teachers. Learn more about this request for proposals and submission details here. The deadline for submissions is June 30, 2021.

Coding with the Mantis Q40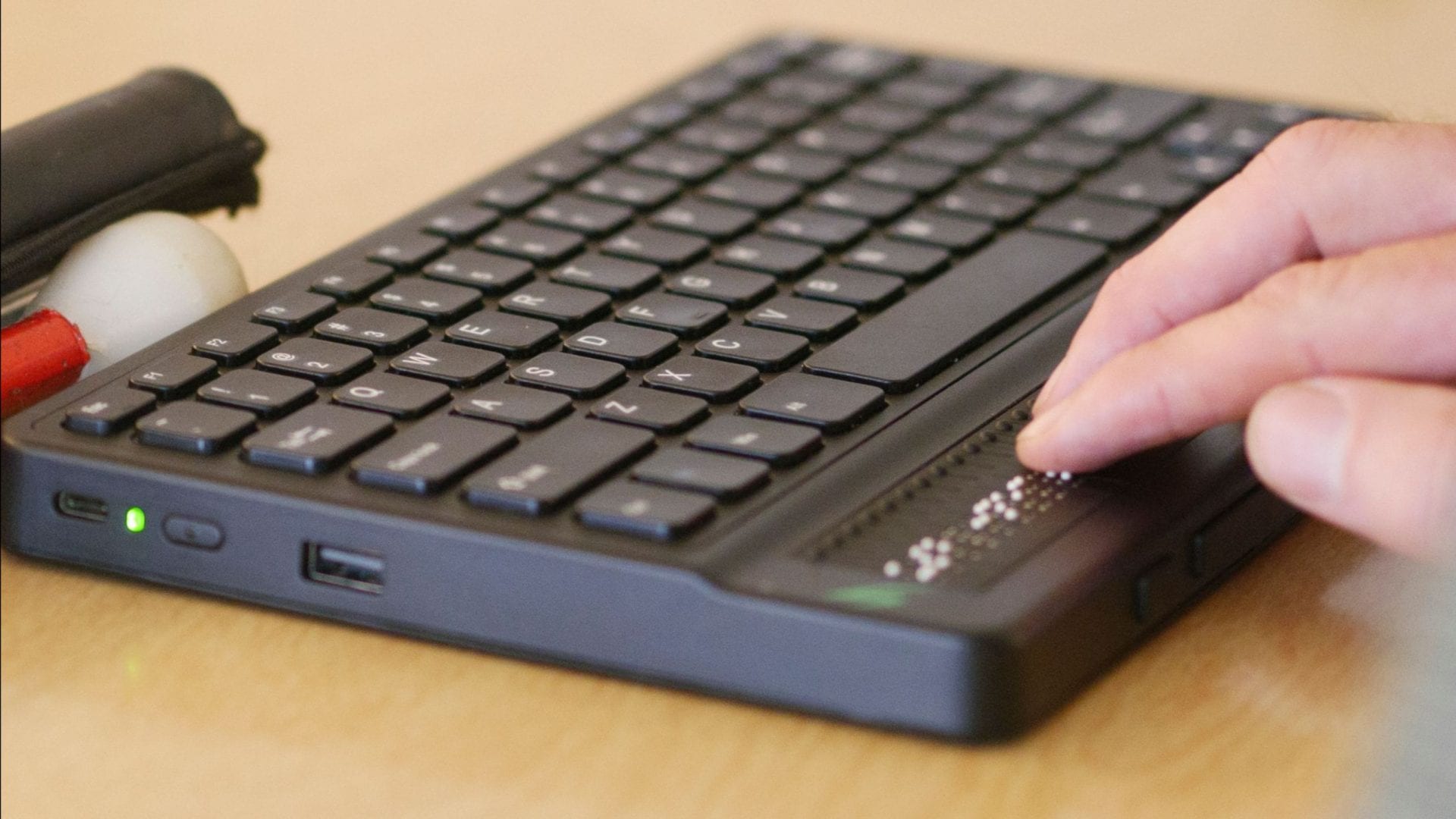 Why is coding important, and how can the Mantis Q40 assist coders? Find out by reading our Coding with the Mantis Q40 blog written by APH's Tactile Technology Product Manager, William Freeman.
Behind the Scenes: The Making of Code Jumper
While many APH products are made in-house, some of our products are manufactured in other parts of the world. Last year (pre-pandemic), Andrew Moulton, APH's Director of Technical and Manufacturing Research, went to China to spend some time at one of their manufacturing plants to see how Code Jumper is made. Read our Behind the Scenes: The Making of Code Jumper blog, and follow Andrew on his journey.
APH Press Featured Publication
Access Technology for Blind and Low Vision Accessibility emphasizes opportunities for independence, leadership, and timely access to information for people who are blind or visually impaired. This follow up to the 2008 edition gives an overview of currently available technologies and tools and presents a new process for technology evaluation that ensures every student is supported. The authors present an inquiry-based approach for identifying needs related to individual instruction, advocacy for accessible formats, and how to achieve equity in information-rich environments.

The Buzz: News from the APH Hive
The APH Hive continues to grow in June with the goal of equipping educators to meet the needs of students. Buzz on over to the Hive and enroll in two new courses under the Foundations category: Building Accessible PowerPoints (1.5 hours of ACVREP credit) and Building Accessible Word Documents (2.0 hours of ACVREP credit). Participate in these courses and learn to create inclusive, accessible documents. In addition, a new course was added to the ECC: Social Skills sub-category called Sarcasm Detectives. Enroll in this course, observe a sequenced lesson delivered to students remotely, and walk away with 2.0 hours of ACVREP credit. Sign up for the APH Hive today!

ConnectCenter News
May was a busy and exciting month for the ConnectCenter. We had the privilege to cohost the 2021 National Coding Symposium with the California School for the Blind. This was a first-ever, one-of-a-kind, multi-day event centered around the field of information technology and coding. From May 11-14, we were honored to hear from some of the industry leaders in the field, such as Sina Bahram, Leonie Watkins, Jennison Asuncion, and many more. It was amazing to learn about their journey and what led them to choose their career paths. Don't worry if you weren't able to be there live, we have recorded all the sessions, and we are working to get those uploaded to YouTube as soon as possible. Stay tuned!
In the midst of all the Coding Symposium work, we still managed to also host three additional webinars in May. We had the honor to talk with documentary filmmaker, Joe Lovett, and other people who were involved in the making of his 2010 film, Going Blind: Coming Out of the Dark About Vision Loss. We also had another great early intervention webinar, this time about early literacy. Finally, we featured a panel discussion about how to cope with feelings when experiencing vision loss and where to get support. If you'd like to watch the recordings for any of these webinars, visit the APH ConnectCenter YouTube playlist.
In May, several interesting blog posts were published on all three of our sites. Some highlights were Finding Support: Connection and Community During the Pandemic and Beyond, Transitions: Bread, Rice, or Tostada at the Transition Table, and Preparing Your Child who is Blind or Visually impaired for Kindergarten.
We have some great upcoming webinars throughout June that may be of interest. To learn more and to register, please, visit the APH ConnectCenter Webinars page.
Student Scholarship Opportunity
Update: Application deadline extended to September 17, 2021.
APH is excited to announce a new scholarship for students who are blind or visually impaired! The application process for the Peter Papano-APH STEM Scholarship is open from June 1 to September 17, 2021. Applications submitted before or after the designated timeframe will not be considered. If you live in California, plan to attend college in California, and will major in a STEM subject, you may be eligible. Four students will be awarded a $5,000 scholarship.

Next on Change Makers
Change Makers: A Podcast from APH highlights the people who are making the biggest difference in the blindness field. Listen to Change Makers Ep. 30 Celebrating TVI's and hear Emily Coleman moderate a discussion with Rachel Bigham, Leanne Grillot, and Kristin Oien about the many roles TVI's play and the need for more in the field.
On Thursday, June 10, "Change Makers Ep. 31 Transitional Services" highlights the numerous services available with a discussion lead by members from APH, AERBVI, College Success @ Perkins, and VisionServe Alliance.
We celebrate Helen Keller's birthday in episode 32 on Thursday, June 24 by talking to APH experts.
Want to learn more about Code Jumper? Listen to Change Makers Ep. 8 Code Jumper: Computer Science is for Everyone and learn why Code Jumper is an accessible way for students to learn block coding in an inclusive setting. Robin Lowell, who wrote the Code Jumper curriculum, said, "What is great about the Code Jumper curriculum is that it is broken down into steps of 'first you do this' and 'then you do this next,' so it's a step-by-step process that the teacher or instructor has the opportunity to learn right along with the students." Access more Code Jumper resources at codejumper.com.
Missed one? Don't worry. Find all episodes of Change Makers on our website.

More Than Computer Coding: Learning Together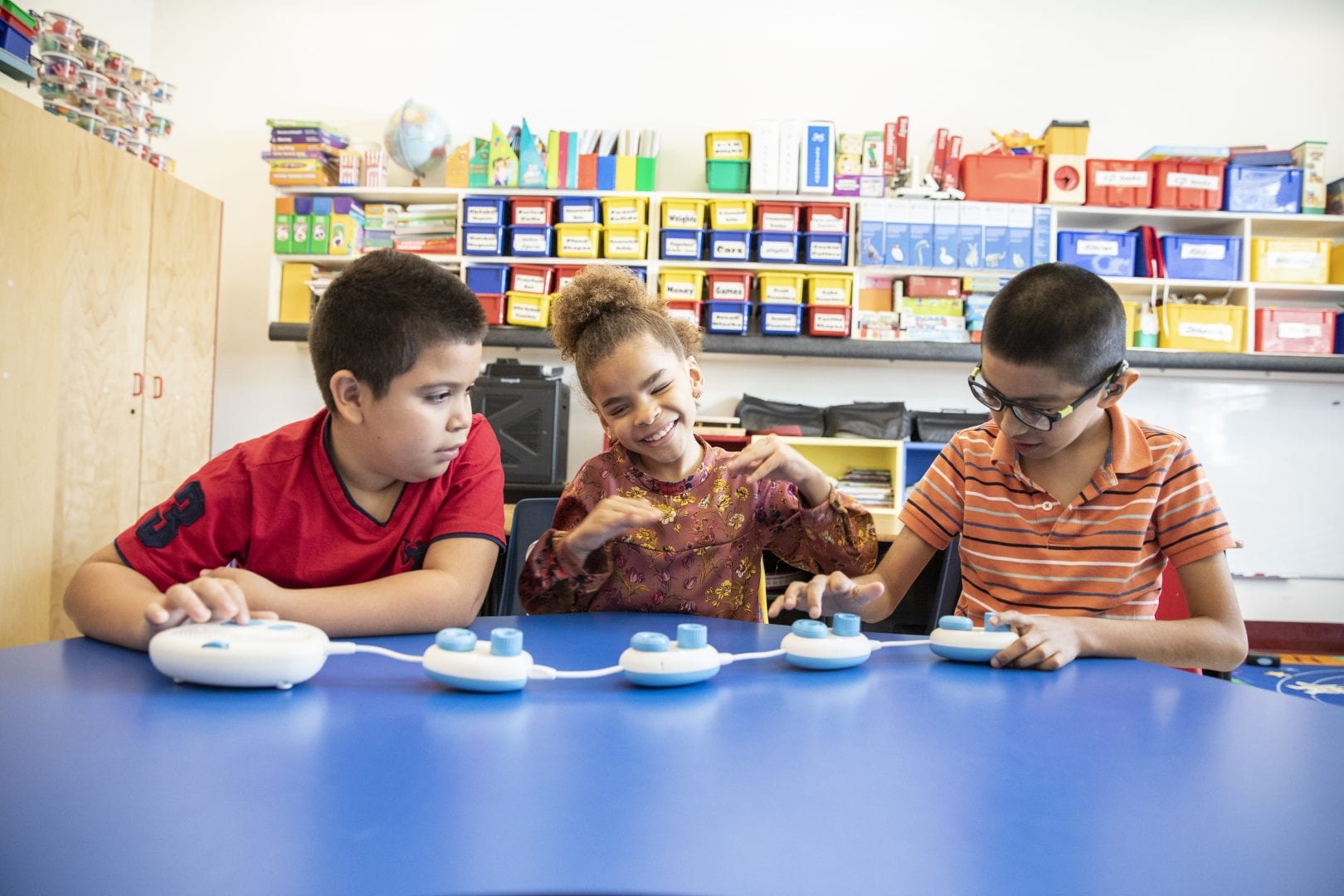 What do students and teachers think of Code Jumper, and how can it be used in an educational setting? Find out more about this resource by reading our Code Jumper blog.
APH and CSB to Offer Coding Camp for Students Across the Nation!
APH and the California School for the Blind are offering a summer Coding Course where students will learn the basics and principles of coding in HTML and CSS. A Windows computer (with JAWS if you use a screen reader) will be used to access the curriculum to create a website using Google Drive, Notepad, and a lot of creativity.
This coding course runs for seven weekdays, June 22 through June 30, 2021. Full group and small group lessons will be held every day from 1–3 pm Eastern (10 am – 12 pm Pacific), with opportunities for 1:1 meetings for extra support on your project, a chance to ask questions, to troubleshoot, or to dig deeper into the world of coding.
The target audience is middle school, high school, and transition-age students with vision loss and an interest in foundational coding concepts to get started in coding. Students are expected to be proficient in using JAWS (if applicable); navigating, accessing, uploading, and creating documents in Google Drive; switching between three open programs on a computer; and saving documents. Students do NOT need a background in coding!
This opportunity is at no cost to the student or district, but there is limited space. Learn more and apply for the Coding Course today! 

From the AFB Helen Keller Archive
During the 1920s and 1930s, telegrams were one of the most efficient and affordable ways to communicate quickly, be it for the mundane or for a special occasion. Even though telegrams were affordable, they were still very utilitarian. Since telegraph companies charged by the word, senders used as few words as possible, and often left out punctuation.
The AFB Archive and the Helen Keller Collection both contain numerous telegrams. Most of the telegrams in the AFB Archive reflect the day-to-day business of the organization, and have messages so brief that, out of context, it can be hard to determine what the telegram is even about. The Helen Keller Collection, on the other hand, has more telegrams of a personal nature. In fact, about a quarter of the telegrams in the Keller collection are those wishing Helen a happy birthday. While those messages are sometimes a bit more personal, they are still very bare bones, using just a few words to pass along good wishes.
There was one telegram that stood out, however. Where telegraphs typically have a black and white template with the company name, instructions, an abbreviation key, or other basic telegraph information, this one had a very elegant graphic in full color. "Happy Birthday" was printed in a cursive script on a pink and blue, striped background that is peppered with multi-color confetti. To the right is a birthday cake that is literally aglow with a yellow cloud from all the candles on top. The only company info is printed in pink on the bottom of the sheet – "By Western Union," also sprinkled with printed confetti. It really must have been a special thing to get such a telegram. Almost all of the other telegrams of birthday wishes in the collection have no such illustration. The message itself is still rather simple, however. "Congratulations and belated good wishes on your birthday. Eleanor Roosevelt."
View the telegram from Eleanor Roosevelt to Helen Keller here. 
Interested in learning more? Check out this APH blog all about telegrams.

Please, join APH at the following virtual conferences.
NFB, July 6-10, 2021
APH is a bronze sponsor at the National Federation of the Blind 2021 National Convention. Stop by the exhibit booth and attend our two presentations:
APH: Our High-Tech Braille Journey Continues by Jim Sullivan
Quest for the Holy Braille by Greg Stilson
ACB, July 16-23, 2021
APH will have an exhibit booth at the American Council of the Blind 60th Annual Conference and Convention. Come with questions, and meet our team.
Looking for More?
Subscribe to to stay current. Find previous editions in our newsletter archive.