Sign up to receive our latest newsletters.

October 2021
Start Your Holiday Shopping Early!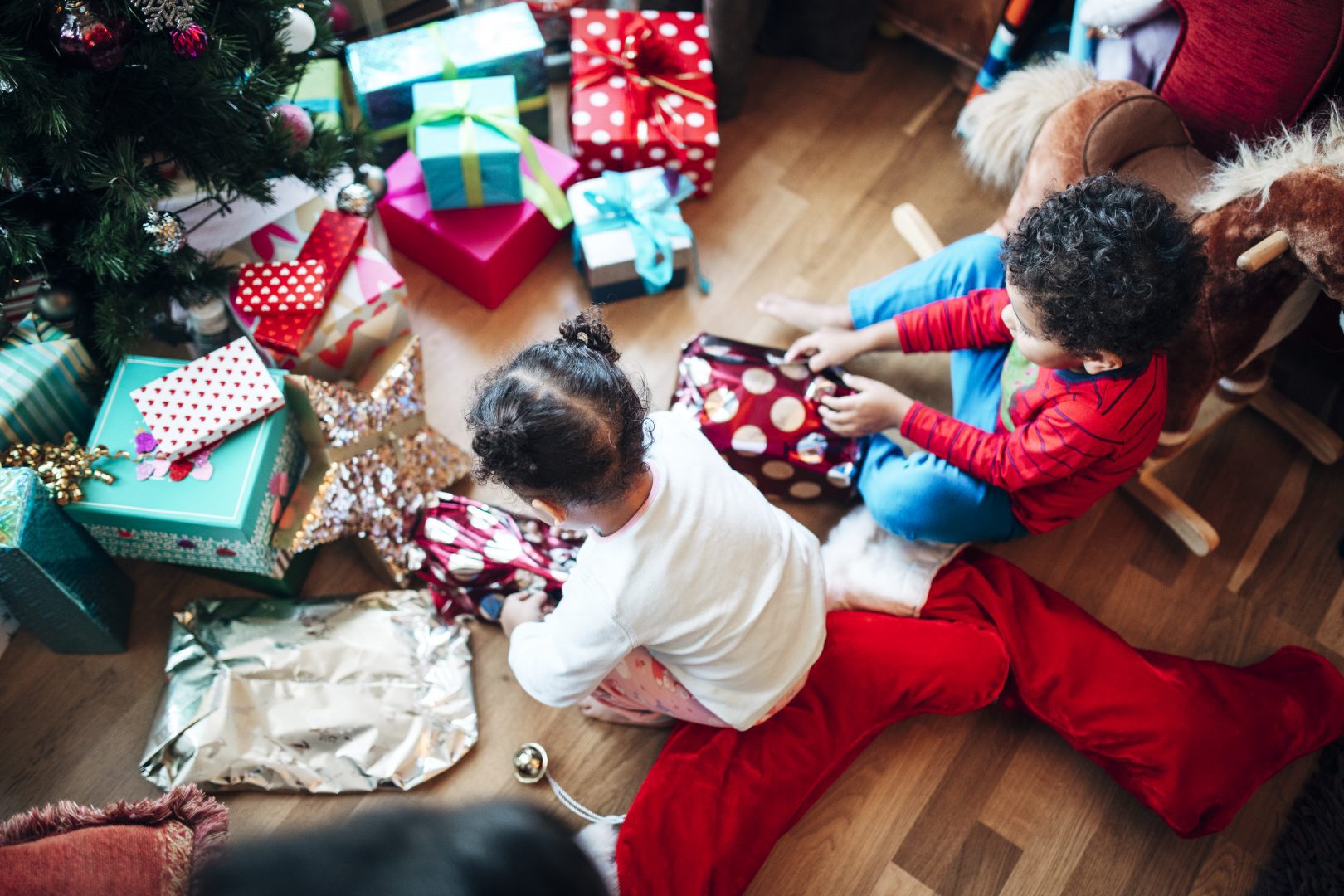 It's never too soon to begin making a list and checking it twice. However, sometimes, it might be difficult to find the perfect gift for a child or adult who is blind or visually impaired. Read our blog Gifts for Everyone on Your List for some suggestions.
APH Hive Celebrates One Year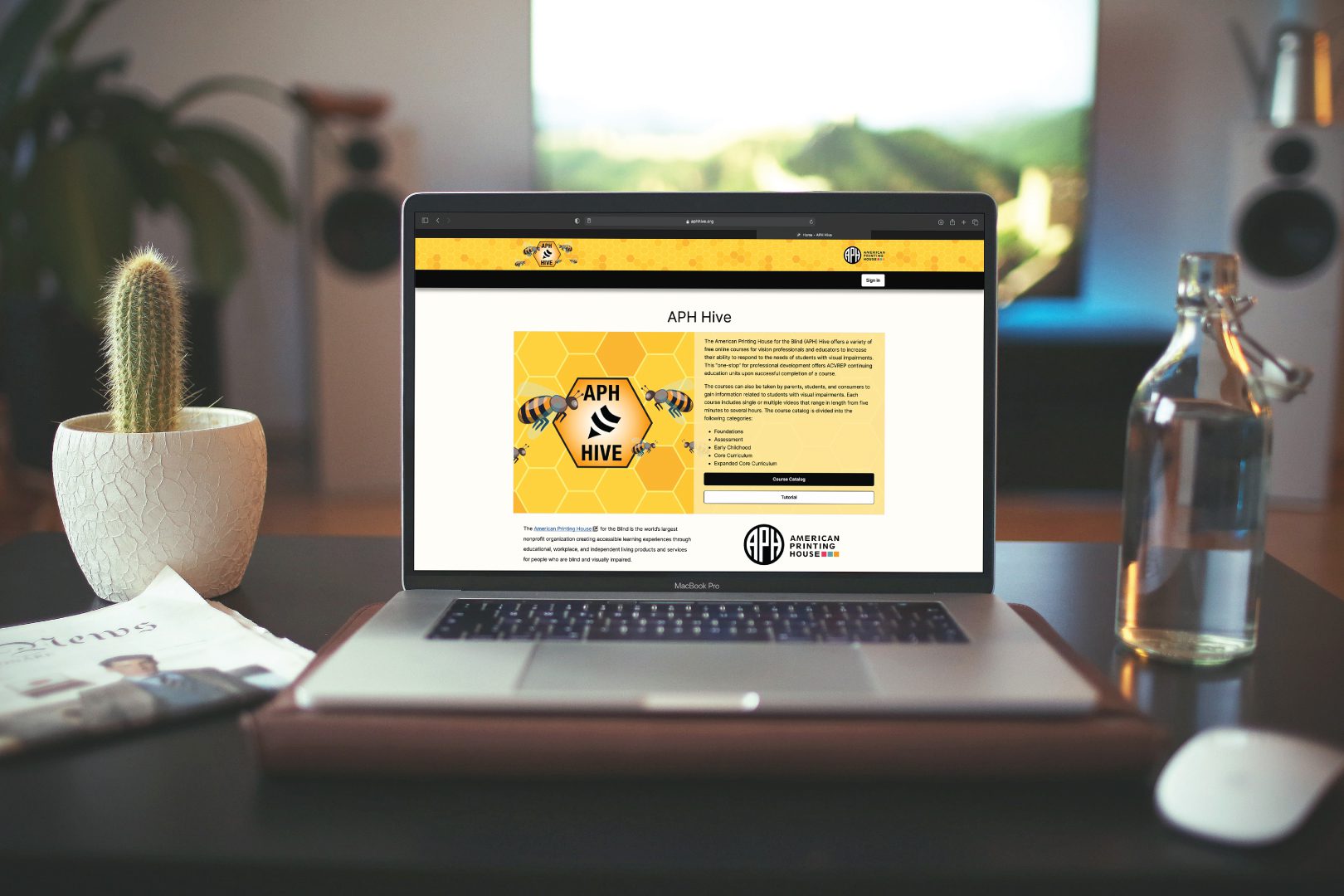 The APH Hive offers a variety of free online courses for vision professionals and educators to increase their ability to respond to the needs of students with visual impairments. Join us in celebrating the APH Hive's anniversary, and learn more about some exciting new features by reading our APH Hive blog.

APH is excited to announce the release of the following new products:
APH InSights Art Calendar: Large Print-Braille, Single Copy and Custom-Printed, 2022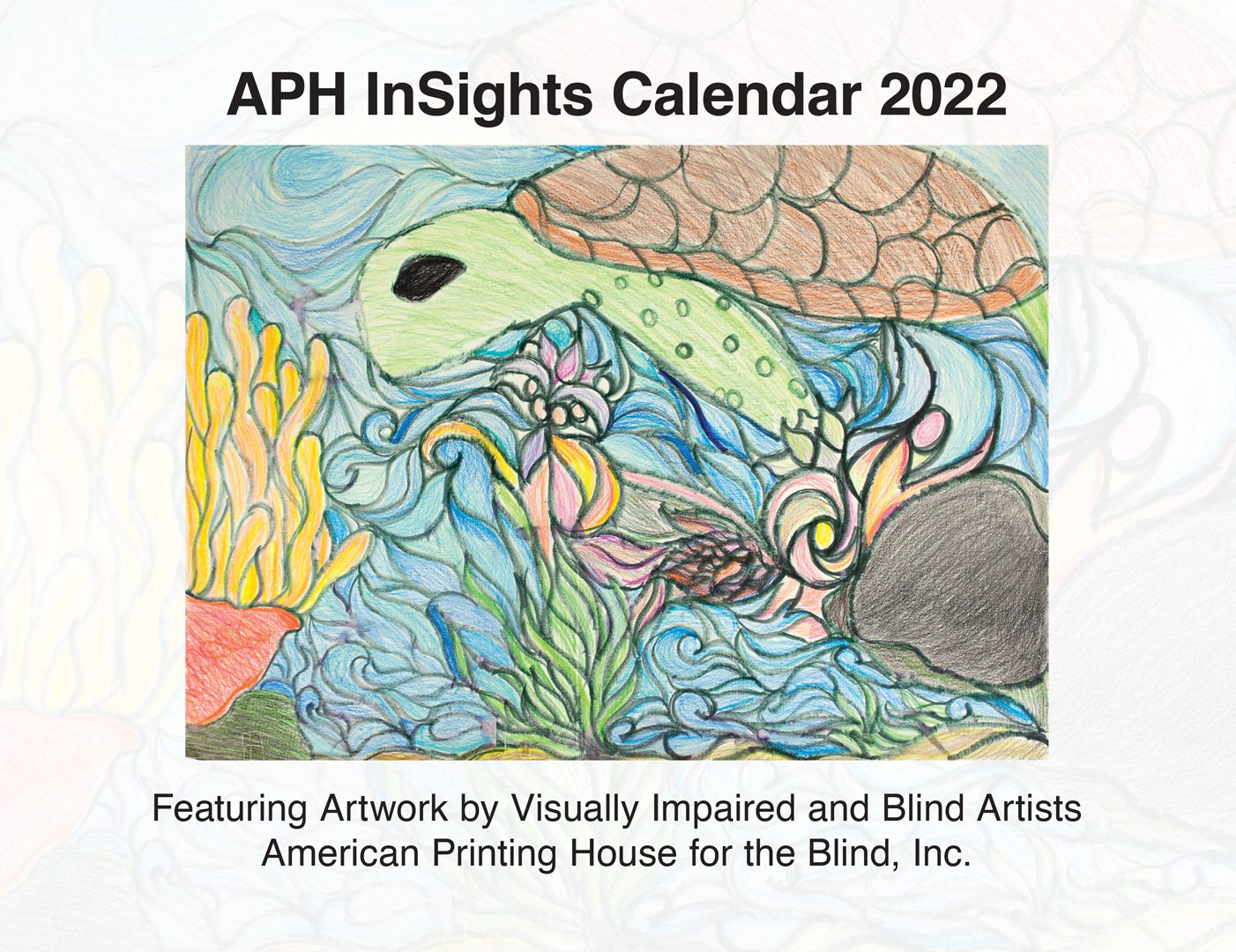 This beautiful full-color calendar features the artwork of artists who are visually impaired. Months, days, holidays, and moon phases appear in both braille and large print. This calendar can be used at a desk or hung on a wall and is ring bound to allow pages to be folded over easily.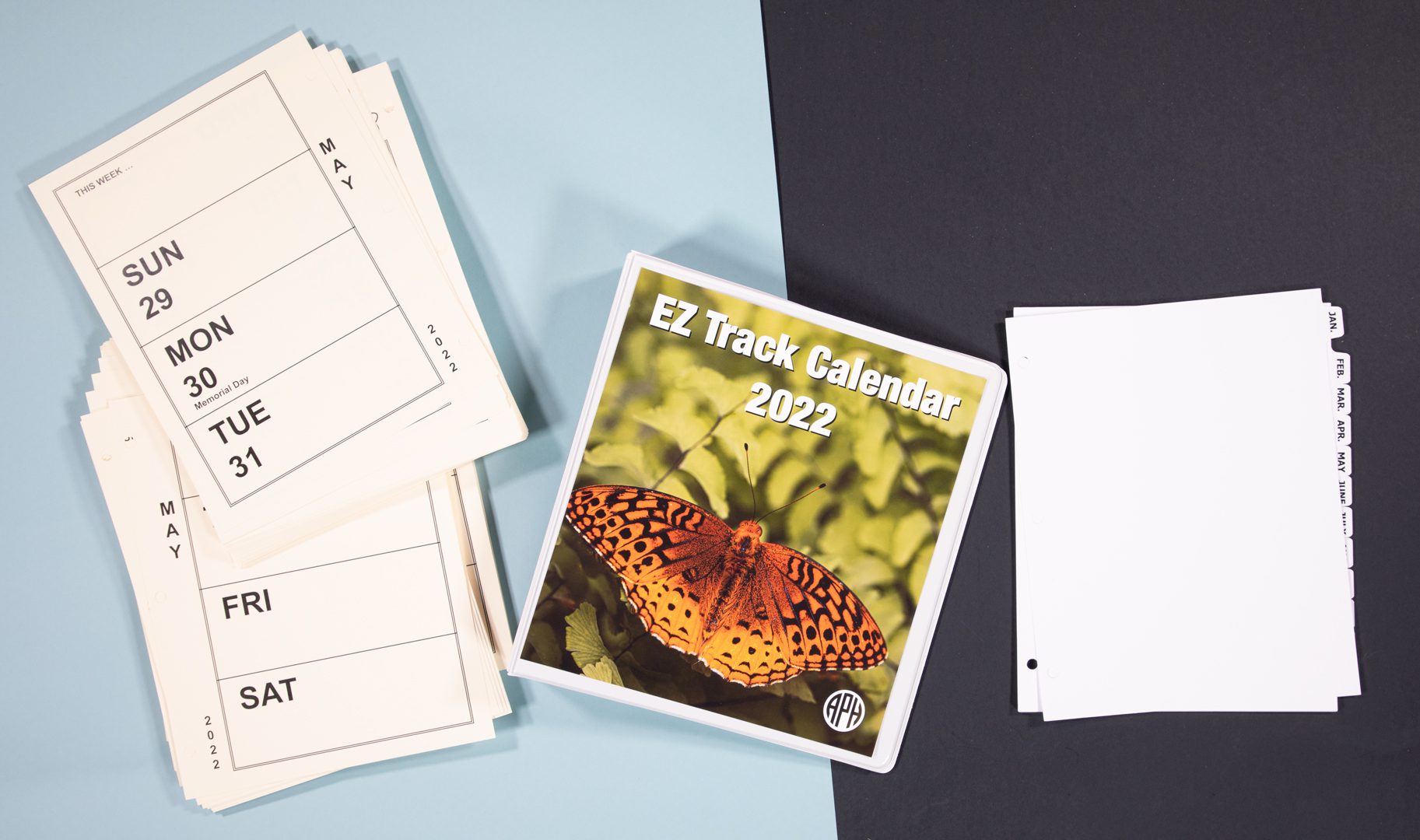 This calendar offers a systematic and organized way of keeping track of appointments, holidays, and other events. Each large print page holds four days, with enough room to write notes and appointments.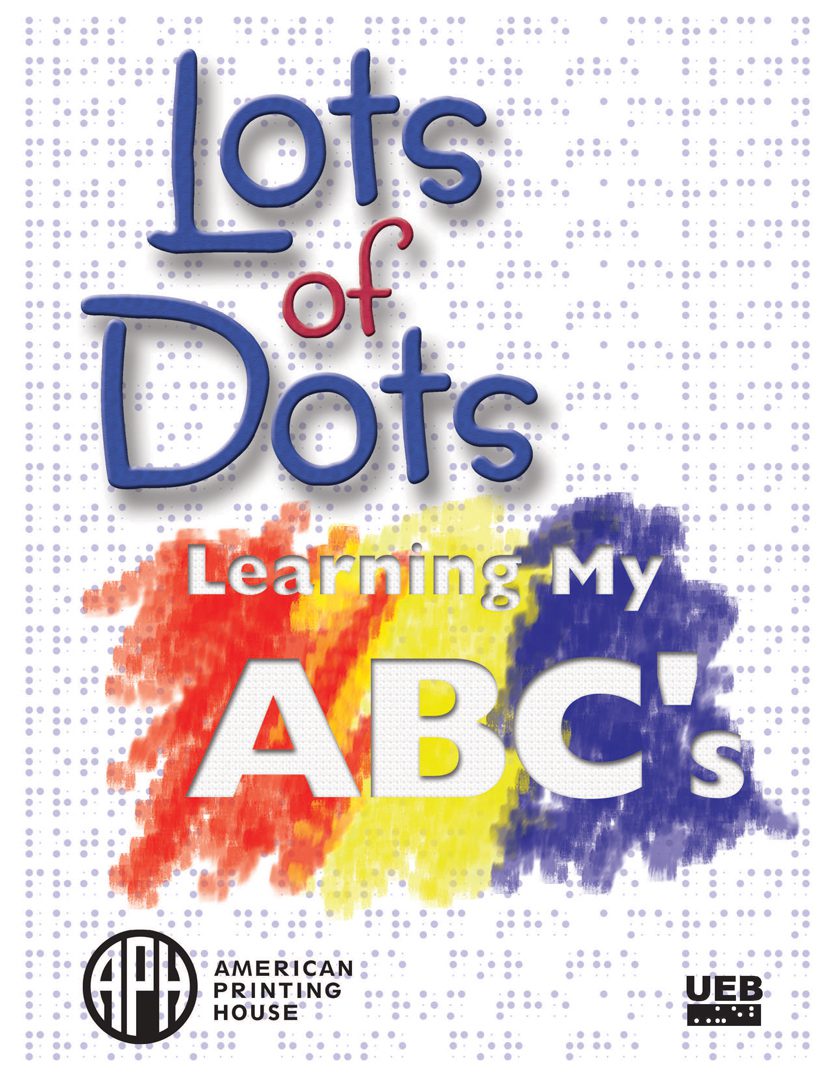 This beloved APH classic now offers a Parent/Teacher Enrichment Guide in UEB! Have fun learning your ABC's with this raised-line coloring book that facilitates braille character recognition.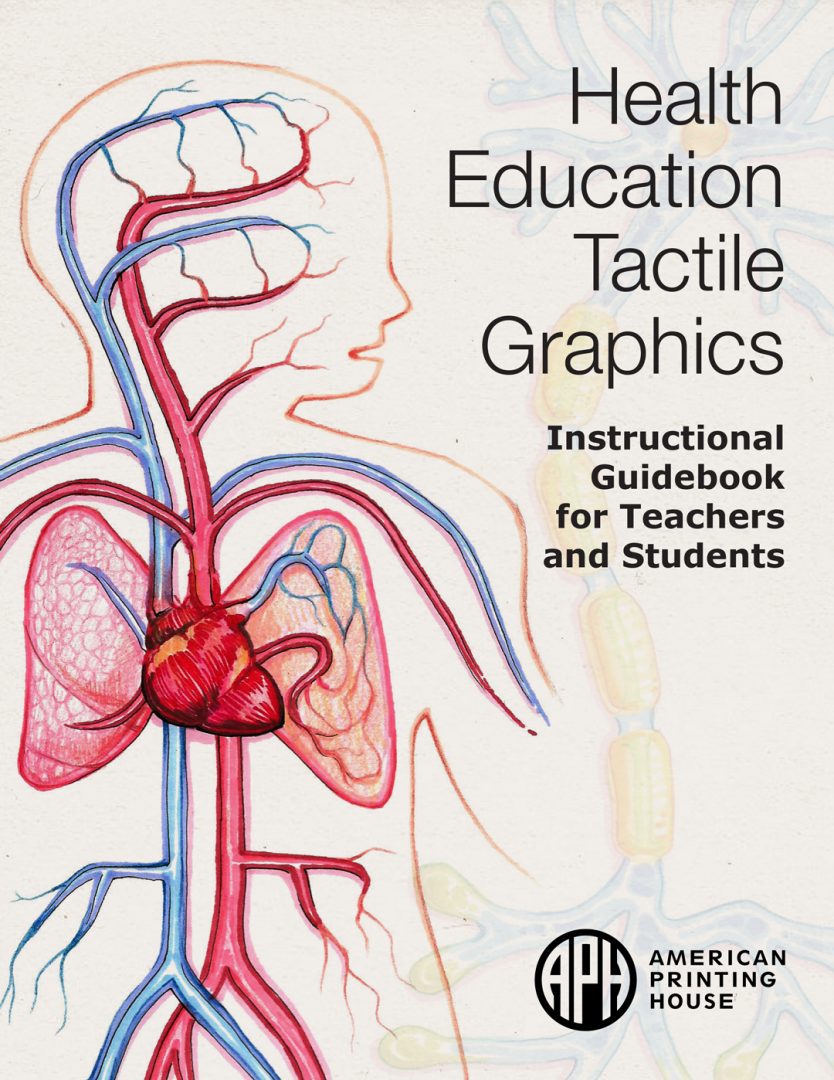 Strengthen your health education curriculum by referring your students to new tactile graphics detailing the skeletal, muscular, and reproductive systems, and much more! The tactile graphics presented in this product correspond to the anatomical and physiological systems presented in Health Education for Students With Visual Impairments: A Guidebook for Teachers.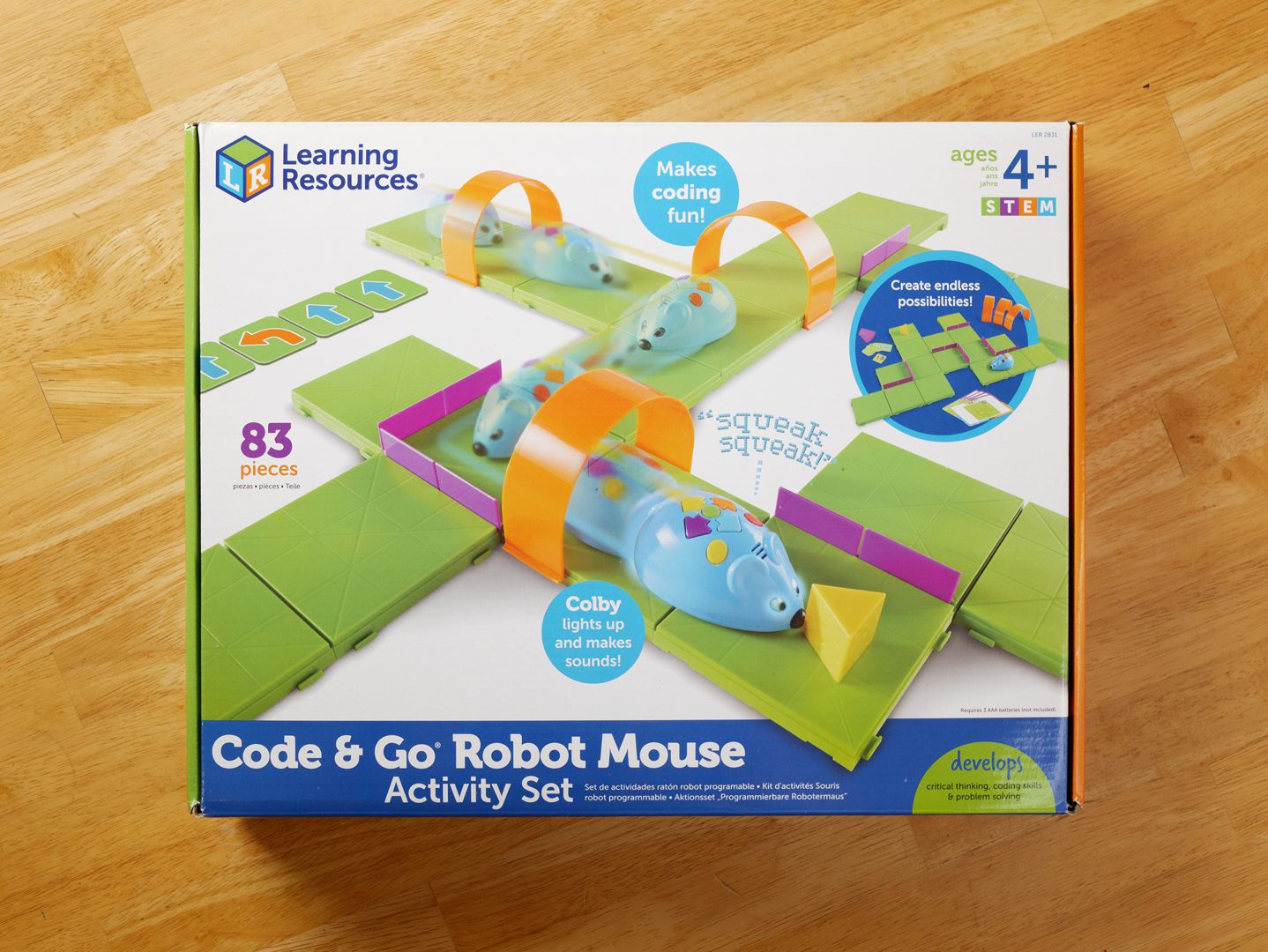 Coding is easy with Colby! The Accessible Code & Go Mouse provides a hands-on introduction to coding concepts and tactile graphics as students program Colby the mouse to race through the maze toward the cheese.
APH SMART Brailler Update
Due to a combination of continued overseas shipping interruptions/port congestion and a long-term supply/sourcing delay by the product vendor, back-orders for the APH SMART Brailler could result in a 6-months-or-longer wait time to receive the product. At this time, EOTs may still backorder the APH SMART Brailler. We apologize for the inconvenience and delays. If you wish to cancel an existing SMART Brailler order, please, contact the APH Customer Experience team at 800-223-1839.

Parent Survey 2021—Exploring Accessibility Challenges in Programming for Children with Visual Impairments
Attention parents! The University of North Texas is conducting a study about children's experiences in learning programming. If you have a child who is visually impaired and learning how to program computers, please, consider participating in this short 10-minute Exploring Accessibility Challenges in Programming for Children with Visual Impairments survey. After completion of the survey, participants can enter into a raffle for a $50 Amazon gift card. A random winner will be selected after the survey period is complete. If you have any questions about the study, please, contact Dr. Stephanie Ludi, stephanie.ludi@unt.edu.
Visit our Get Involved webpage to find more ways you can help APH and the field.

Career Readiness for High School Students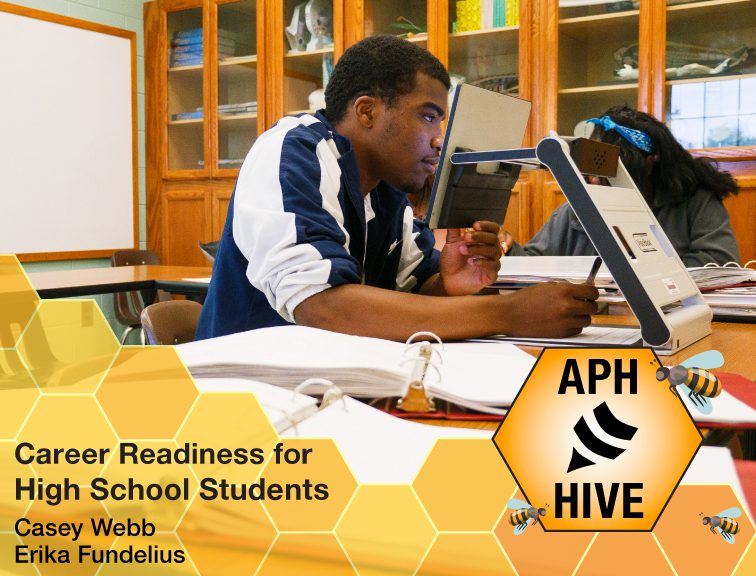 Move beyond triaged transition planning with the goal of changing the outcome trajectory by enrolling in Career Readiness for High School Students. This 1.5 ACVREP credit course will help you understand what is meant by career readiness skills for high school students, shared responsibilities, and how to move quickly given short service times with students.
Evaluation and Treatment of Children with CVI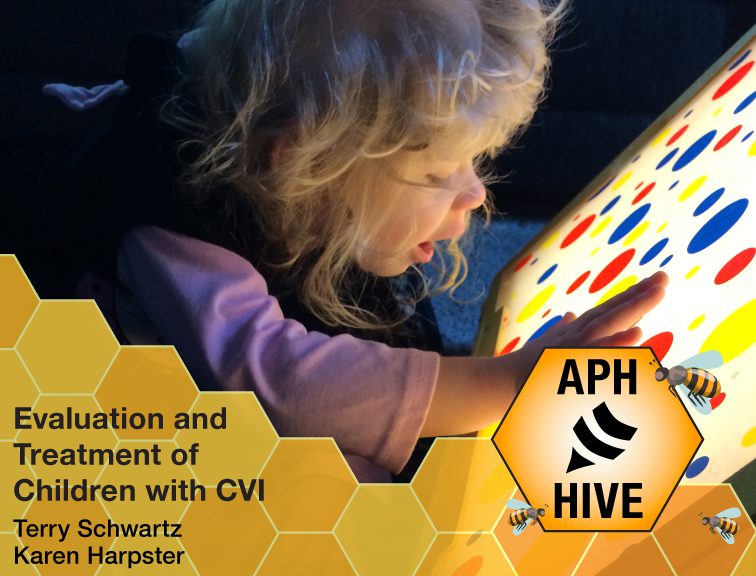 Enroll in Evaluation and Treatment of Children with CVI to earn 2.5 ACRVEP credits while exploring current methods of how children are diagnosed and how educators play roles in both assessment and interventions strategies.
Multi-Sensory Adventures Using Finger Walks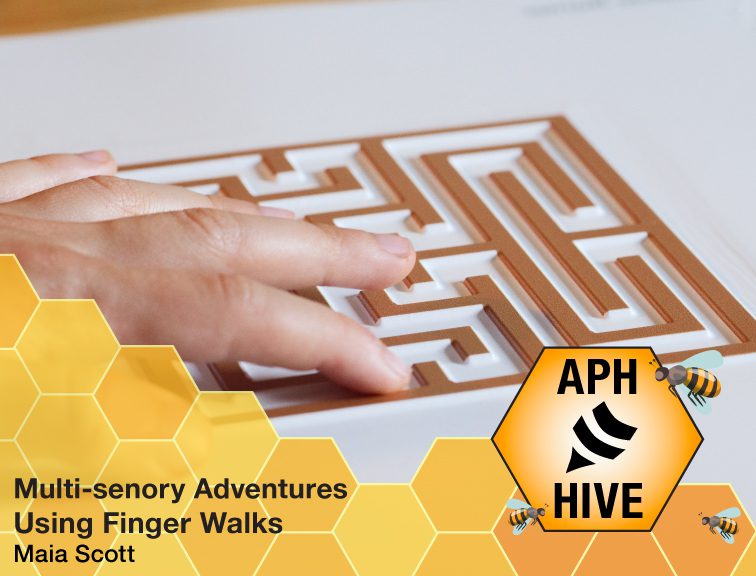 Whether educators want a tactile recreational activity to embed within ECC instruction or you're looking for a unique gift idea, tactile exploration comes alive in Multi-Sensory Adventures Using Finger Walks. Enroll in this 1.5 hour course and discover the low risk and high reward of walking labyrinths. To order, go to the Finger Walks shopping page.
Visit the APH Hive today and start learning for FREE.

APH ConnectCenter Transition Hub
The APH ConnectCenter Transition Hub is up and running! The Transition Hub is a one-stop, easy-to-use, searchable resource of transition programs across the United States. The resource is available for school-age students, teachers of students with visual impairments, vocational rehabilitation professionals, and family members. Users can search for programs by state and program type, if a program has attendance fees, if a program is offered in languages other than English, or if a program is offered year-round or seasonally.
With the launch of the Transition Hub, state schools for the blind, blindness vocational rehabilitation agencies, and partner nonprofit organizations that offer transition specific programs for teens and young adults will have the ability to register with the Transition Hub. As new programs come online, the Transition Hub will grow to meet the needs of thousands of young people in search of life skills and career empowerment training across the United States and the world. To learn more about the APH ConnectCenter Transition Hub, visit the APH ConnectCenter main page and look for the Transition Hub tab.
Gear up for the Holiday Season with the ConnectCenter!
Last year, the ConnectCenter hosted a webinar called Unwrapping the Wonder: Discussing Low and High Tech Gifts for Adults Who are Visually Impaired. Watch the presentation and learn about some great options to consider when shopping for an adult who is blind or visually impaired.

Next on Change Makers
Change Makers: A Podcast from APH highlights the people who are making the biggest difference in the blindness field. On Thursday, September 9, Change Makers Episode 37 "InSights Art Competition" came out. Get ready for the upcoming competition with us by learning more about it and the various ways art is taught to children and adults who are visually impaired. Also, hear from an InSights Art artist.
Listen to the latest podcast, Change Makers Episode 38 "Annual Meeting Preview," where we preview the upcoming Annual Meeting. We'll talk to an organizer and find out what participants can expect. We'll also learn about the completely redesigned Louis Database and check-in with the National Prison Braille Network.
Missed one? Don't worry. Find all episodes of Change Makers on our website.

APH Featured on Perkins Website
The new APH Press book Babies with CVI: Nurturing Visual Abilities and Development in Early Childhood has been featured on the Perkins website. The textbook works to meet the learning needs of a child with CVI by presenting families and visual impairment professionals with specific approaches, strategies, and activity suggestions. Purchase your copy of Babies with CVI: Nurturing Visual Abilities and Development in Early Childhood today!
Joshua Miele has been Recognized as a MacArthur Fellow!
We are so excited to share that Josh Miele, keynote speaker at the 2014 APH Annual Meeting, was recognized as a MacArthur Fellow. Josh is an adaptive technology designer and currently works at Amazon as a principal accessibility researcher. Visit the MacArthur Foundation website to learn more about Josh and his work to assist the field of blindness.

From the AFB Helen Keller Archive
From the Migel Library
The American Printing House for the Blind's Annual Meeting is a time of professional development and individual renewal. It is an opportunity for colleagues to come together and honor past achievements while looking forward to the coming year. For APH's Migel Library, it also provides a time of reflection. Part of the mission of the Library is the preservation of the history of the field, including the contributions of APH to that history. To that end, the Library has digitized its collection of APH Annual Reports, going back to a facsimile of the 1860 first annual report and our collection of originals beginning in 1878. They provide fantasticating insight into the history of APH, the mission of creating accessible learning materials, and testimony to those who walked on these familiar grounds before us.
While it is always interesting to see the growth of APH, whether in the annual reporting of students, quota appropriations, annual accounts, or the listing of APH publications in all their various braille and braille-like systems, which was a staple of many annual reports, it is often the occasional unique tidbits that catch the eye. These include the Eleventh Report first to announce the passing of the Act to Promote the Education of the Blind by the U.S. House of Representatives; the Thirty-Fourth Report's inventory of onsite assets, including mention of fire-hand grenades; the Eighty-First Report name dropping Emily Post, Herbert Hoover, and Bing Crosby in its opening paragraph; the One Hundred Report recapping an astonishing period of exponential growth of APH over the previous decade; and more.
Looking back over those Annual Reports, we are mindful that APH is intrinsically a part of American history as well. Reports have coincided with domestic and foreign wars, social and cultural evolutions and conflicts, moments of great tragedy and triumphs, and, as in 1918, unprecedented global pandemics. I look back to Andrew Cowan, a trustee and president in many of the early 20th century annual reports, a Union veteran of Antietam, Gettysburg, and Appomattox, who presided at APH as this nation entered a new type of world war while at the same time confronting the Spanish Influenza. Yet, reassuringly, then as now, through every twist and turn, the best and the worst of times, whether in person or afar, we endure, the mission endures, as proof of the vision laid out in the first Annual Report that carries through to our most current report and in all the ones to come no matter the challenges we may face.
Discover your favorite Annual Report.
Please note that anyone wishing to read these files who is blind and visually impaired should download the DAISY or EPUB files. These files can be read using the EPUB or DAISY reader of your choice.

Looking for More?
Subscribe to to stay current. Find previous editions in our newsletter archive.