Sign up to receive our latest newsletters.
APH News
August 2020


Be Your Own emBOSSer
We're blasting through braille barriers with two NEW embossers available on quota from APH! Easily emboss the documents you need for work or school with PageBlaster™ and PixBlaster™. These embossers use APH's free braille transcription program, BrailleBlaster, to produce high-quality interpoint braille and tactile graphics. Learn more and order today!
Join APH and AER next Thursday, August 13 from 1-2p EST, for a live presentation where we'll introduce the embossers, cover their differences, and the basics of setting them up, so you can make braille and tactile graphics for years to come.
LEGO® Braille Bricks are Now Available for Students!
They're here! APH is excited to be an official partner of LEGO Braille Bricks, and is looking forward to distributing LEGO Braille Bricks to students in the United States. The bright colored bricks, molded with studs that correspond to numbers and letters in the braille alphabet, allow students who are blind and sighted to play and learn together. LEGO Braille Bricks were developed by the LEGO Foundation and will be distributed for free by APH to our education audience only. For more information about ordering LEGO Braille Bricks, read our blog here, and register for a week of educational webinars here.
APH Virtual ExCEL Academy for 2020-2021
We have had so much fun and developed so many friendships through the Virtual ExCEL Academy this spring and the Virtual ExCEL Camp during the summer! APH is ready to continue to provide this service. With the expectations that school will be very different for everyone, we need to know how to continue this Academy for the 2020-2021 school year.
We are reaching out to everyone in order to make our decision regarding the APH Virtual ExCEL Academy going forward. We hope to make our decision by August 14, 2020, and then get the word out about our plans. Please complete this survey so we know how to address your needs.
2020 Winners of the APH InSights Art Competition
The results are in! Despite some challenges posed by COVID-19, we are excited to announce the winners of the 2020 APH InSights Art Competition. We would like to thank the artists for their beautiful work and invite everyone to a virtual exhibition in October 2020 at APH's 152nd Annual Meeting. More details will be coming soon. Read more about the InSights Art Competition and this year's winners.
New Products
APH is excited to announce the release of the following new product(s):
Now available with quota funds! PageBlaster is a cutting-edge new embosser for continuous fanfold paper. Developed through a partnership between APH and Humanware, PageBlaster's tractor-fed design provides smooth paper handling and produces double-sided interpoint braille. Utilize APH's braille transcription software, BrailleBlaster, to easily emboss documents. Users can also create their own tactile graphics using the included Firebird tactile graphics software, or emboss premade PRN files from APH's Tactile Graphics Image Library for work or school.

APH and ViewPlus Technologies have partnered to create a powerful new embosser now available with quota funds. PixBlaster produces double-sided interpoint braille with smooth, rounded dots for improved readability along with industry-leading, high-quality tactile graphics with seven variable dot heights for color representation. Utilize the included Tiger Software Suite along with BrailleBlaster to quickly and easily translate and emboss documents. The PIXie box also allows users to connect to Wi-Fi using a computer or mobile device.

A sleek, 20-cell refreshable braille display with Perkins-style keyboard, designed especially for students. Chameleon connects to multiple devices via Bluetooth®, and includes an editor, book reader, calculator, clock, and file manager – enhancing student engagement and productivity in and out of the classroom.

APH is proud to partner with the LEGO Foundation to distribute LEGO Braille Bricks to Ex Officio Trustees (EOTs), professionals and teachers associated with schools, education and support centers, and other institutions that are serving students with blindness or visual impairments who are learning braille. Read our LEGO Braille Bricks blog here, and register for LEGO Braille Bricks Week webinars here.

The free BrailleBuzz App for Android and iOS devices introduces electronic braille to children who are blind or visually impaired. Fun sounds and activities also teach children the skills necessary to perform basic activities for controlling the app and identifying braille letters. This app was specifically designed for use with APH's Braille Trail Reader LE and Chameleon 20 refreshable braille displays, but it also works with any connected display.

The free Going to the Playground iOS App introduces children ages 3-5 to the layout of a virtual playground. This self-voicing app includes bright colors and teaches orientation directions such as left and right, in and out, and up and down as they explore the playground. APH also offers tactile braille overlays to be used with the app. These five overlays, held in place by a yellow frame, work with a 9.7 inch iPad and feature the three items on the playground: the sandbox, merry-go-round, and monkey bars.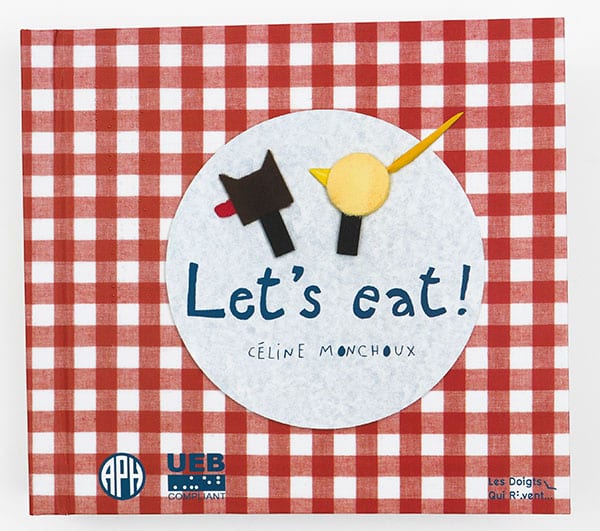 Build a Foundation for Numeracy and Literacy Skills with Let's Eat!
APH is pleased to have received additional stock of a new tactile book produced for us by the award-winning French tactile book publisher, Les Doigts Qui Rêvent (LDQR). Written by Céline Monchoux, Let's Eat! tells the story of a very hungry Little Chick and not-so-hungry Little Wolf as they taste and count a variety of tactile foods, numbered from 1 to 5. The two characters are represented by feathered and furry finger puppets the child can manipulate, counting how many pecks or slurps it takes to clean the plate. Text is provided in large print and contracted Unified English Braille, and is recommended for ages 3 years and up.
Attention:  All Users of APH Products in Education and Rehabilitation Settings
If you have purchased APH products and services, we want to hear from you!  By responding to this brief, 11-question survey, you are making an impact by helping APH improve our products and our product development. Start the survey HERE. The survey response deadline is Wednesday, September 30, 2020.
STEM Corner – Models for Teaching Complex Biomolecules from 3D Molecular Designs
The educators at 3D Molecular Designs offer 3-dimensional models of biomolecules, many of which are accessible to middle and high school students with visual impairments. Examples include models of water molecules; single and double strands of DNA; and amino acid, protein, and chromosome structure. All living cells have membranes made of fatty molecules known as phospholipids, which have water-repelling "tails" and water-loving "heads." 3D Molecular Design renders phospholipid molecules in foam shapes reflecting this structure, as shown in the accompanying photograph. When students learn the molecular properties, they can use this interactive model to deduce the proper arrangement of phospholipids so that the tails face away from water molecules and the heads face toward water molecules. Check out all the models offered by 3D Molecular Designs here.
Treasures from the APH Libraries:
From the Migel Library: Wilson, James. The Autobiography of the Blind James Wilson, Author of the "Lives of the Useful Blind," With a Preliminary Essay on His Life, Character, and Writings, As Well as On the Present State of the Blind. Ward and Lock, 1856.
A new acquisition for the Migel Collection, "The Autobiography…" is an incredible glimpse into the past.  Born in Richmond, Virginia in 1779, Wilson's father fought as a Royalist during the "American War."  After the War, his family fled the U.S.  Wilson's parents both passed away on the trip back home.  James also contracted Smallpox onboard, which caused his loss of vision. While this is just the beginning of his incredible life, the book is much more than just an autobiography of James Wilson.  The various letters, essays, statistics, poetry, and testimonials that make up the text give a very broad and inclusive picture of its time and place in history. This book has been digitized for the Internet Archive.
The APH Migel Collection is one of the largest collections of nonmedical information related to visual impairment in the world. Although the collection does not circulate, an ongoing digitization effort means APH will make materials available online. The digitized texts are available in a variety of accessible formats, including DAISY, Kindle, EPUB, PDF, and read-aloud. Contact library staff: resource@aph.org, 800-223-1839, ext. 705.
ConnectCenter News
FamilyConnect Focus Group
We want to hear from you! We're forming a focus group to determine the future direction of FamilyConnect. If you are a parent of a child who is blind or visually impaired, or are a professional in the blindness field, please consider sharing your thoughts with us. We will discuss new content on the website, outreach programs such as webinars and podcasts, what information and services are needed to meet the needs of those we serve, and more. If you are interested in becoming a part of this focus group, please contact us by calling the APH ConnectCenter at (800) 232-5463, or by emailing connectcenter@aph.org.
ConnectCenter National Transition Conversation
Recently, we held a National Transition Conversation for professionals working in transition for children and young adults who are blind or visually impaired. The recording of this meeting is available here. If you would like to be involved, please, join the discussion by emailing nationaltransition@freelists.org or by visiting the group webpage.