From Arcan Ridge to APH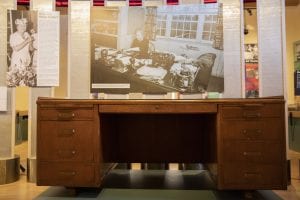 Just before Thanksgiving, our museum at the American Printing House for the Blind unveiled a new, temporary exhibit featuring an international treasure of a well-known activist and icon: Helen Keller's writing desk now holds a prominent position as you enter the museum. The desk came from Arcan Ridge, the home Helen shared in Connecticut with her longtime assistant, Polly Thompson. While the pair were on a fact-finding mission to war-torn Europe in 1946, their house had burned, and this desk was purchased by her friends when the house was rebuilt. The desk is on loan from the American Foundation for the Blind (AFB), where Helen worked for 44 years.
Helen Keller, a thought leader and national figure, was one of the world's most significant working women of the 20th century, who spent her life breaking down barriers. Helen was the first person who was deaf-blind to earn a college degree, was a well-published author (13 books, and countless articles translated into 50 languages), and was America's first Goodwill Ambassador – traveling to Japan after the atomic bombs were dropped. Helen's career was uncommon for any woman in the mid-1900's, and she accomplished it all with multiple disabilities.
From behind her desk, Helen advocated for people with disabilities, challenged prominent political leaders, and wrote about her beliefs. Now APH will use the desk to inspire and teach children the importance of overcoming their barriers, and that, as Helen said, "life is either a daring adventure or nothing." The desk will be on display through the end of next summer.