APH Press: Ironing Out the Details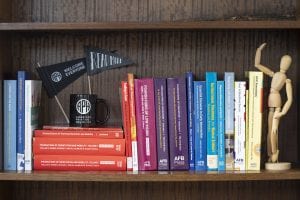 The new APH Press has now completed its second month of operations as we embark on producing new publications while continuing the legacy of AFB Press.
Over the last few weeks, we have been busy working on books in development and ensuring that the existing Press titles remain available for sale through a variety of distribution channels. Below is a brief update and overview of the current status of the Press.
Press Editorial
We are excited to announce that Larry Marotta will begin work as the APH Press executive editor on September 24th. Larry comes to APH with more than 20 years' experience in publishing, including having served as executive editor, production editor, and accessibility manager for major textbook and scholarly publishers. Larry's expertise and commitment to excellence will help us continue moving the Press forward to complete our ongoing projects more quickly and position us to take on new work in the future.
You will have an opportunity to meet Larry and learn more about the Press during our session at APH's forthcoming Annual Meeting.
We have established the email address press@aph.org as the contact for the team responsible for the transition of editorial operations to APH. Please continue using this email for Press editorial communications.
APH Press Customer Service and Book Sales
The Press books are available for purchase!
To place an order by phone, contact Sarah Bush in APH Customer Relations at 1-800-223-1839 ext. 306.
Email sbush@aph.org to order Press books (print or EPUB).
Go to Shop APH to order Press books online.
Press titles also are available at iTunes, Amazon, Amazon Kindle, and ProQuest.
Didn't find the Press book you need on our website? Search louis.aph.org for Press titles and then place your order as noted above by calling or emailing APH.
Note: Press titles are not APH Federal Quota eligible.
Accessibility of Press Books
The EPUB formats of the Press books are accessible! When you purchase an EPUB Press title, it will come complete with image descriptions.
Online Content of Press Books
Until further notice, AFB will continue to host the supplementary online resources for AFB Press books.
APH Press Advisory Board
A Board comprised of leaders, educators and practitioners in the field will offer their expertise to APH as we make future plans for the Press. This group will be led by Dorinda Rife, APH Vice President of Educational Services and Product Development, and includes George Abbott, AFB Chief Knowledge Advancement Officer and former head of the AFB Press, to ensure continuity through the transition and establishment of the APH Press. Sharon Sacks, PhD, and Karen Ross, PhD, will co-chair the advisory board.This group will also provide counsel on new titles going forward.
The Board will hold its first meeting in conjunction with APH's Annual Meeting.