This is part of our series on the importance of braille literacy. We asked braille readers about their introduction to the braille system and how braille has changed their lives. This is part of a campaign to promote the Braille Trail Reader LE, a limited edition refreshable braille display from APH.
Braille was a part of my life from just about "moment one." When I was three years old my Mom took a braille course offered in Memphis, about 50 miles from my home town. She made braille important, necessary, and an expected part of my life. When I was little, my Mom and I would look through blindness product catalogs to find all the cool stuff that was available in braille. I would be hard-pressed to find a Christmas where there wasn't a featured gift involving braille. These gifts included but were not limited to a watch in third grade, another one a couple of years later when I destroyed the original watch, my Monopoly game in fifth or sixth grade, and a kitchen timer when I was learning how to cook in junior high school. Somewhere, in one of the boxes that hold some of my life treasures, there's my own print and braille copy of Go Dog Go. It's all beat-up from use and abuse. My copy of Go Dog Go has braille labels that were written by my Mom and carefully glued to each page. I didn't appreciate it that much when she made it. It was just another book. But the fact that the book is now in such bad condition is a testament to how important it was to me as a child.
Braille did not come easily for me. I had a terrible time learning to read. I couldn't keep my i's and e's straight. I reversed d's and f's, h's and j's. I had trouble staying on the right line. Nemeth Code was something from another world. I read at a level well below many of my classmates during my early grade school years. I had to read out loud for an hour every day during the summer between first and second grade. Mom would ask me questions about what I was reading; so I had to try to go beyond just getting the words right. It was boring and frustrating and I hated it. And without it, I would have missed out on the joys of reading.
Something snapped midway through second grade and reading started making sense. I'm still a slow reader, but I have great comprehension which helps to compensate.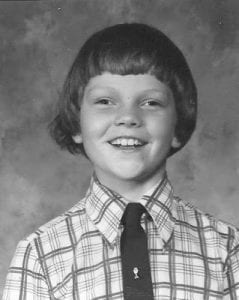 Braille has been a staple of my personal and professional life. I spend tons of time traveling for work and that means lots of hotel rooms. Thank goodness the doors (at least here in the U.S.) are almost always in braille. So when I'm on the road, braille literally gets me home for the night. I read books using refreshable braille notetakers when I'm on planes or when there's a spare moment. I use braille to keep up with my phone, especially during meetings that have gone on too long. It's how I read bedtime stories to my son when he was little. In college, a friend helped me create a Russian Braille template so I could re-learn how to type when taking a Russian language course. All of my several thousand (obsolete) CDs have braille labels. There's no way I could quantify all the ways in which I use braille. It is a fundamental part of my being.
My Mom and I still communicate sometimes using braille. Even with cell phones and email and all the other stuff that has become a ubiquitous part of everyday life, Mom will sometimes still braille me a note. And when she sent our Christmas box a couple of months ago, the names on the presents were in braille. Little things like that can mean the world. I can never thank Mom enough for learning braille and for making it such a normal part of my life from day one.
What's your braille trail?
Share your story to braille literacy with us for a chance to be featured in our braille literacy series: communications@aph.org
Dave Wilkinson is the Director of Sales at APH. A self-proclaimed nomad, he has worked all over the world and he tries all the accessible tech he can get his hands on. Dave believes life is a marathon, not a sprint.