Join Virtual Lessons for At-Home Education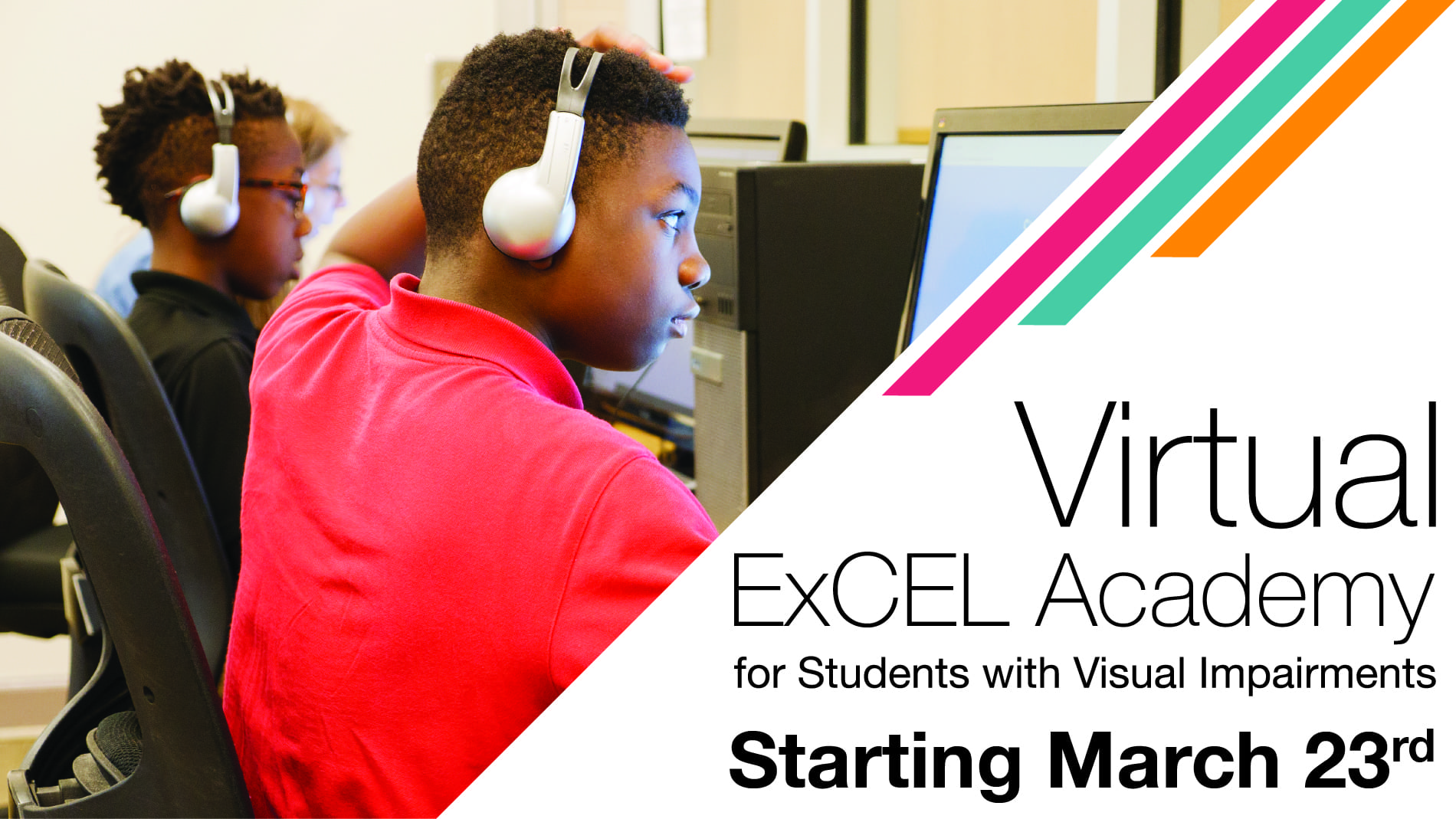 Introducing the Virtual ExCEL Academy for Students with Visual Impairments
In this time of need, if you are looking for ways to provide virtual services or activities for your student or child who is visually impaired, please join us for the launch of our nationwide programming.  Together with the California State University, LA and Paths to Literacy (a joint project of Texas School for the Blind and Visually Impaired and Perkins School for the Blind), we will be offering FREE engaging lessons for students with a variety of abilities. We also hope to model ways that online learning could be used for services. We understand that children's needs are unique and that lessons may not apply for all kids, but we are dedicated to working out a plan to provide as much as we can. A schedule will be coming out shortly with a list of instructors' names and topics.
Details
Beginning March 23, 2020
Featuring daily lessons for students with visual impairments.
Please join us for the hour-long virtual web class at:
8 a.m. (HT)
10 a.m. (AKST)
11 a.m. (PT)
12 p.m. (MT)
1 p.m. (CT)
2 p.m. (ET)
For Schedule, Instructor, and Lesson Information:
Find details on all upcoming lessons including lesson plan goals and target audience.
FAQs
How can I sign up?
Head over to the Paths to Literacy website for sign up and the zoom link!
Are there sessions available for specific ages or grade levels?
At this point, we are just trying to set this up and establish basic service one hour per day.  The sessions will be open to anyone who wants to attend.  If the school closures continue and we are able to find enough volunteer instructors, we will try to expand the offerings.
What is the schedule?
We are currently planning a week in advance. You can find the schedule on the Paths to Literacy website.  We are planning to start with sessions appropriate for students of any age.  We will continue to add more content as it becomes available.
How can I support the program?
A contribution to the Virtual ExCEL Academy — in support of closed captioning, teacher assistance, technology costs, and more — can be made here.
For general info you can contact:
Leanne Grillot: lgrillot@aph.org
Cheryl Kamei-Hannan: ckameih@calstatela.edu
Charlotte Cushman: charlotte.cushman@perkins.org
For more resources please check out our #AtHomeWithAPH resource list for free and accessible activities, tips, webinars, and more from APH, our partners, and the field at large. Have a free and accessible resource you would like us to include? Email us at communications@aph.org to tell us about it!
Share this article.