Learning to Recognize Animals with Animal Recipes!
Teaching salient features of animals can be tricky, especially when students have no prior experience with the animal. The Animal Recipes Farm Set attempts to make this process easier. Demonstrating a progression from real object plastic animals to 2-dimensional colored tactual representations, this kit helps to provide information for our students that helps them identify these animals in real life and in images. Compatible with our LED Light Box and Mini-Lite Box, overlays and puzzle pieces represent various important identifiers and provide emphasis on what makes each animal unique from others in the barnyard.
What's in the Kit?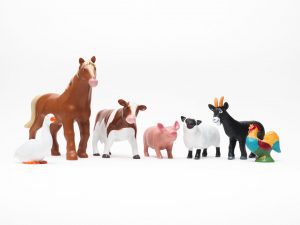 Animals showcased in this kit include a cow, rooster, horse, sheep, pig, goat, and goose. A guidebook accompanies the kit with a "recipe" for introducing each animal, which showcases the animal's identifying features. For example, a horse has 1 long tail, 2 pointy ears, 1 mane, and 2 eyes. The reader is given tips on exploring the plastic animal with the student, teaching ways to explain the location of each feature in relation to others.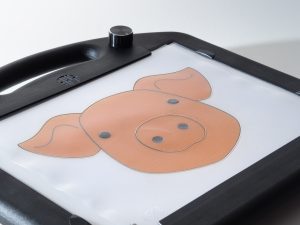 Next, the reader is given suggestions for exploring the colored raised line tactile overlay for the animal, providing suggestions on how to locate these features on the plastic animal and the tactile overlay. The guidebook then progresses to exploring the face of the animal, suggesting the reader turn the face of the plastic animal toward them. Parallels are then made for the plastic animal and the clear relief image of the animal's face.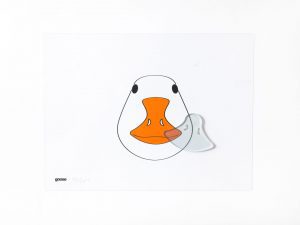 Once the transition has been made to the clear relief overlay, the teacher can then move to the colored or clear raised line drawing of the face and allow the child to place the clear puzzle pieces on the image, demonstrating understanding of placement for these features. Each step for this process has suggestions for explanation to the student in this progression within the guidebook. A special section is also included regarding considerations for students with CVI.
Additional Applications and Activities
This kit can supplement a Science or Language Arts unit within the general education classroom. Some learning goals that could be supported by this kit might include mastering understanding of raised line images, understanding part to whole relationships, or one-to-one correspondence (counting parts of the animal). Additional activities that can be added to this experience would include but are not limited to, a field trip to a farm, identifying pre-recorded sounds made from each animal, and reading books about adventures on a farm.
* Donna has been with APH since the Fall of 2019 and was a TVI within PreK-12 for many years. She has a congenital visual impairment which has proven helpful within her career. She and her husband homeschool their two boys in Kentucky.
Share this article.