Read Along With Dolly Parton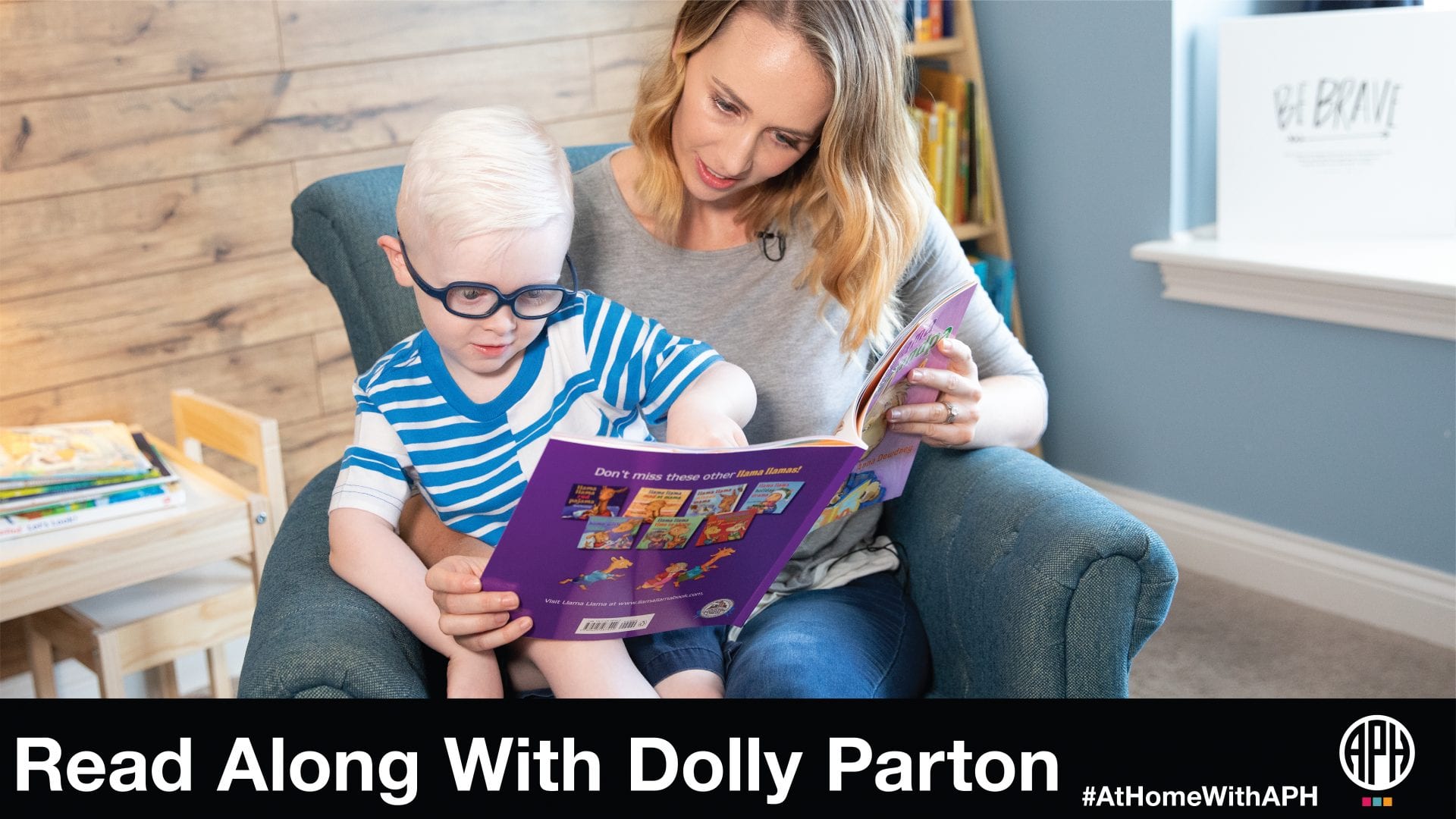 Join Dolly Parton online as she reads Llama Llama Red Pajama, one of many books she is reading from her Imagination Library collection. Hop into your pajamas, just like Llama Llama, grab your favorite stuffed toy and get ready for a story. And if your child is enrolled in our Braille Tales program and has APH's free print/braille version of the book, be extra sure to grab that, too!
Llama Llama Red Pajama, a children's classic by Anna Dewdney, is a bedtime story about saying goodnight. For young Llama Llama, this isn't easy! His bedtime story is done, but after Mama Llama kisses little Llama goodnight and goes downstairs—what happens next? Llama Llama wants to know Mama is near but when she doesn't answer, he gets mad…and then he gets a bit scared! Wise Mama Llama understands and lets Llama Llama know all is well. If your child is also a little Llama Llama, after hearing the story, talk to them about bedtime rituals and what they feel when it is time to say goodnight. What do they do if they get mad or scared and what could they do instead? Can they remember, like Llama Llama, that "Mama Llama's always near, even if she's not right here"?
Later on, listen to Dolly read the book again. The online readings are available on YouTube (#GoodNightWithDolly). Talk with your child about the rhyming words in the book—pajama, drama, Mama Llama, Llama Llama. Is there a word, real or one you make up, that rhymes with your child's name? "Justin Wustin—time for bed!" Playing with rhyming words helps develop phonemic awareness, a skill needed for literacy. After several readings of the book, your child may be able to chime in saying some of the words, right along with Dolly.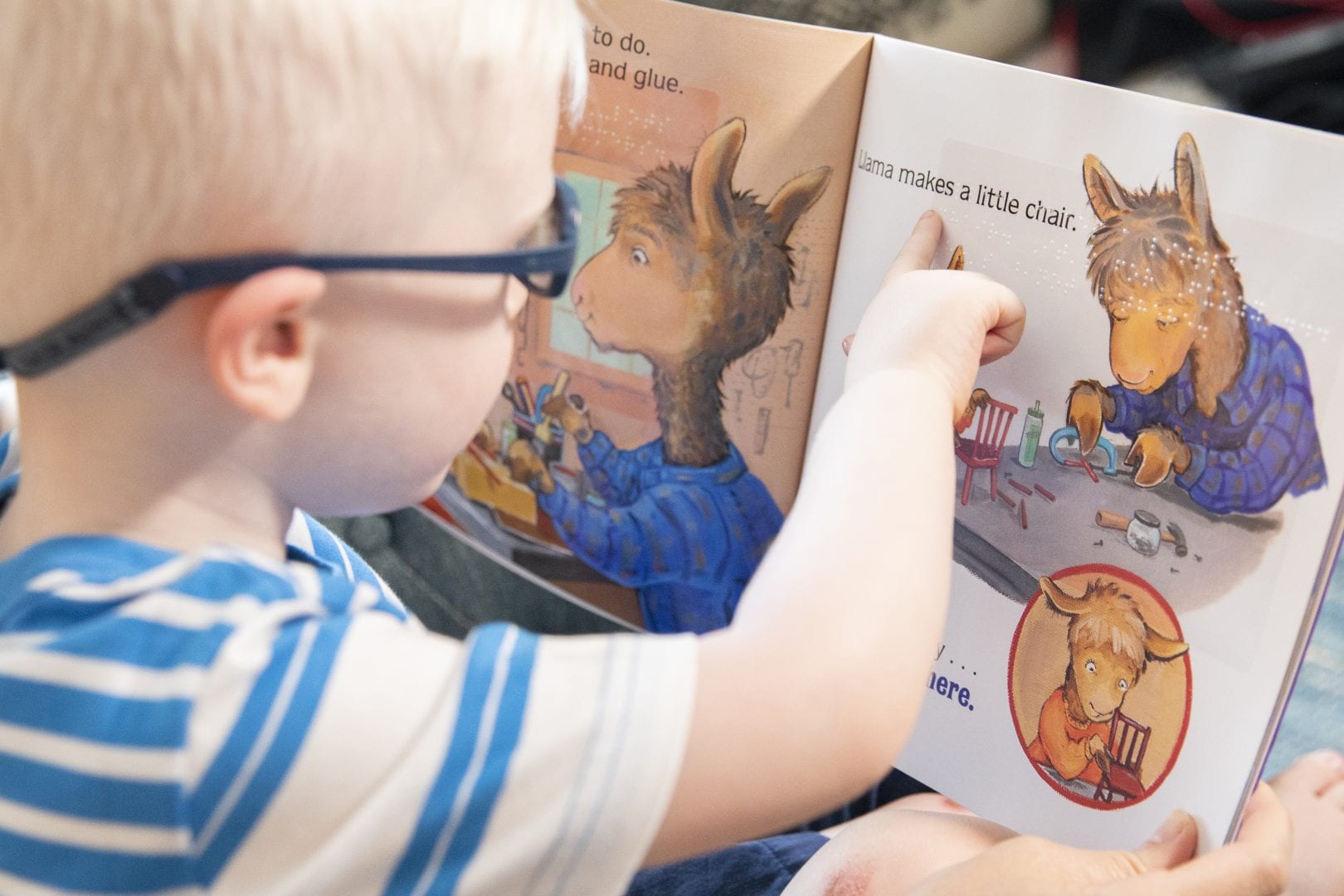 If you have the Braille Tales print/braille book, your child can explore the braille as you or Dolly read aloud. Open the book as flat as possible, positioned across your lap or on a table. Encourage your pre-reader to place the fingers of both hands on the lines of braille and track smoothly across the page. If they are still inexperienced in "tracking" along the lines of braille, you can model this important skill for them. Have them place their hands over yours, with their fingers extending just past yours so that they are touching the braille. As you track smoothly and lightly across the page, they can feel the bumpy dots moving under their fingers and experience the hand movements good braille readers use.
You can learn more about APH's partnership with Dolly Parton's Imagination Library and APH's Braille Tales Program here!
For more resources check out our #AtHomeWithAPH resource list for free and accessible activities, tips, webinars, and more from APH, our partners, and the field at large. Have a free and accessible resource you would like us to include? Email us at communications@aph.org to tell us about it!
Share this article.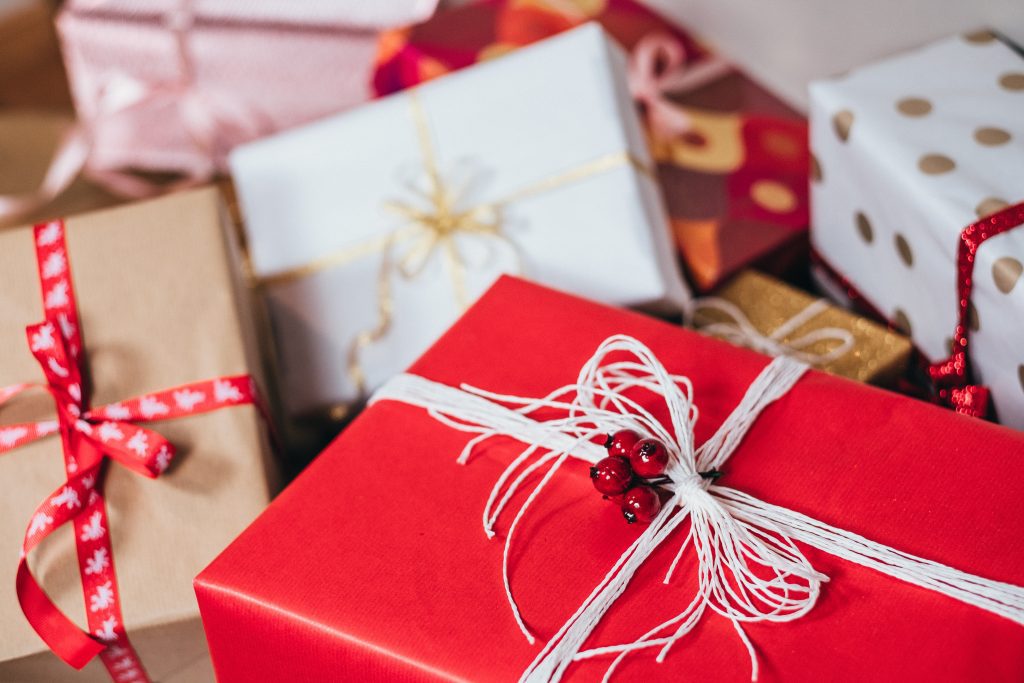 The holidays are a great time for fun, family, and food. This time of year also includes many learning and...