Thriving with Vision Loss: Introducing the APH ConnectCenter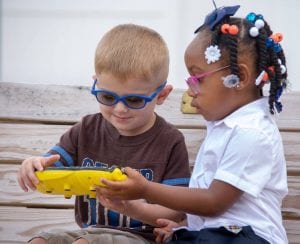 "Your site has been an invaluable resource for my family and myself. I am so thankful that you guys take the time to compile information for families that would be impossible to find elsewhere." – A parent speaking of FamilyConnect
A mother gets tips on how to help her preschool daughter who is blind make friends.
A father whose son has low vision reads articles written by another parent with similar experiences.
A rehabilitation counselor watches his client's confidence grow in mock job interviews.
A senior who is worried about life with recent vision loss finds reassuring information written in Spanish – her native language.
Continuing the Legacy of Independence through Information
In February 2018, the American Foundation for the Blind and the American Printing House for the Blind announced a historic partnership with the mutual goal of improving the lives of children and adults who are blind or visually impaired. As of July 1, APH became the steward of several key information resources founded by AFB. The goal of this partnership is to ensure the continued impact of these critical sources of information. AFB is taking its work to a new level by investing in policy and programs focused on creating a more inclusive, accessible society for people with vision loss.