Sign up to receive our latest newsletters.

July 2022
Get Your APH Press Foundations Books for the Fall Semester!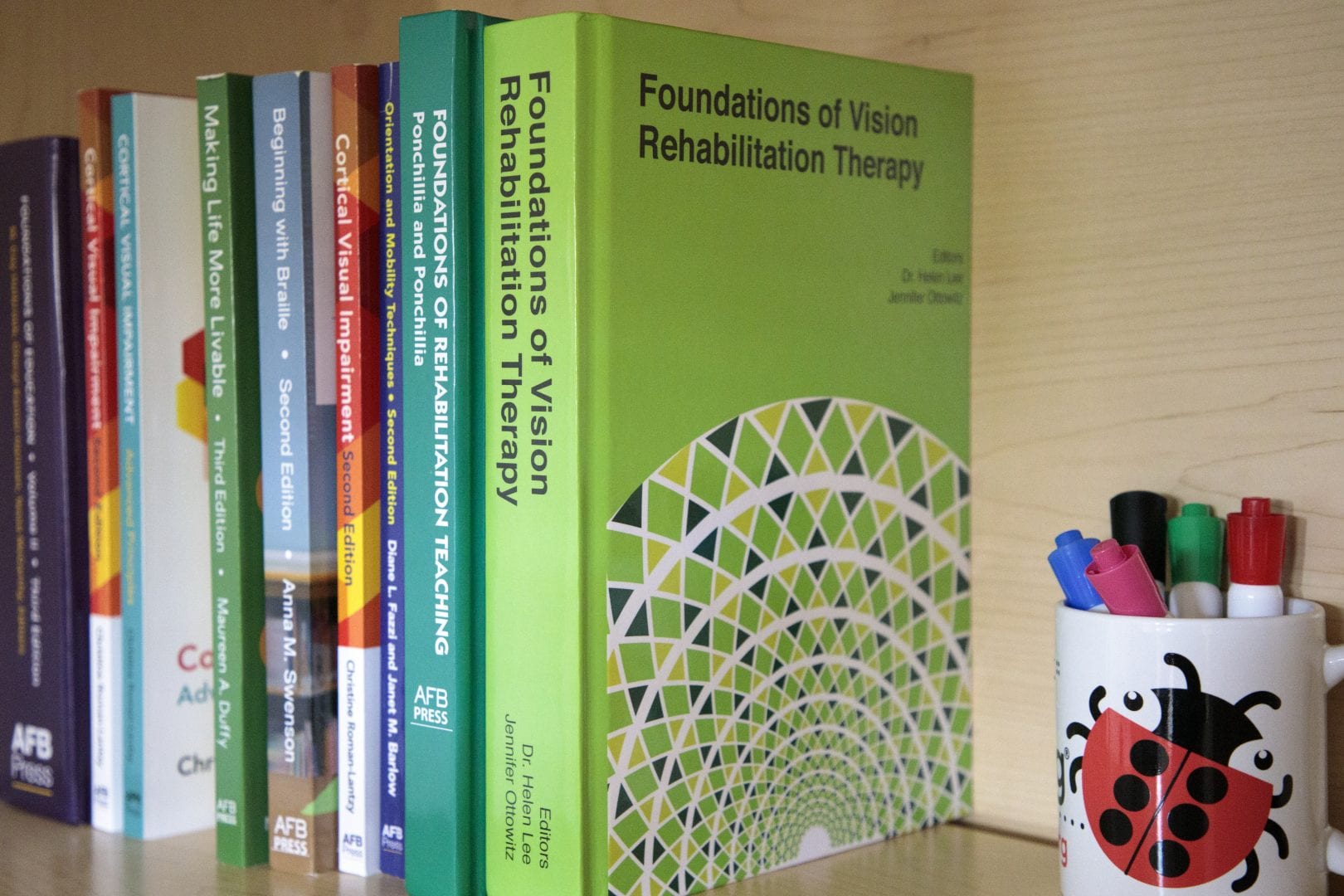 APH Press publishes educational content, including textbooks for teacher preparatory programs, in the field of blindness and visual impairment to support teachers, families, and other professionals. Check out our line of Foundations textbooks to learn how to best assist students and clients.
Visit the APH Press coming soon page to learn about future updates in this series.
Building Your Physical Education Toolkit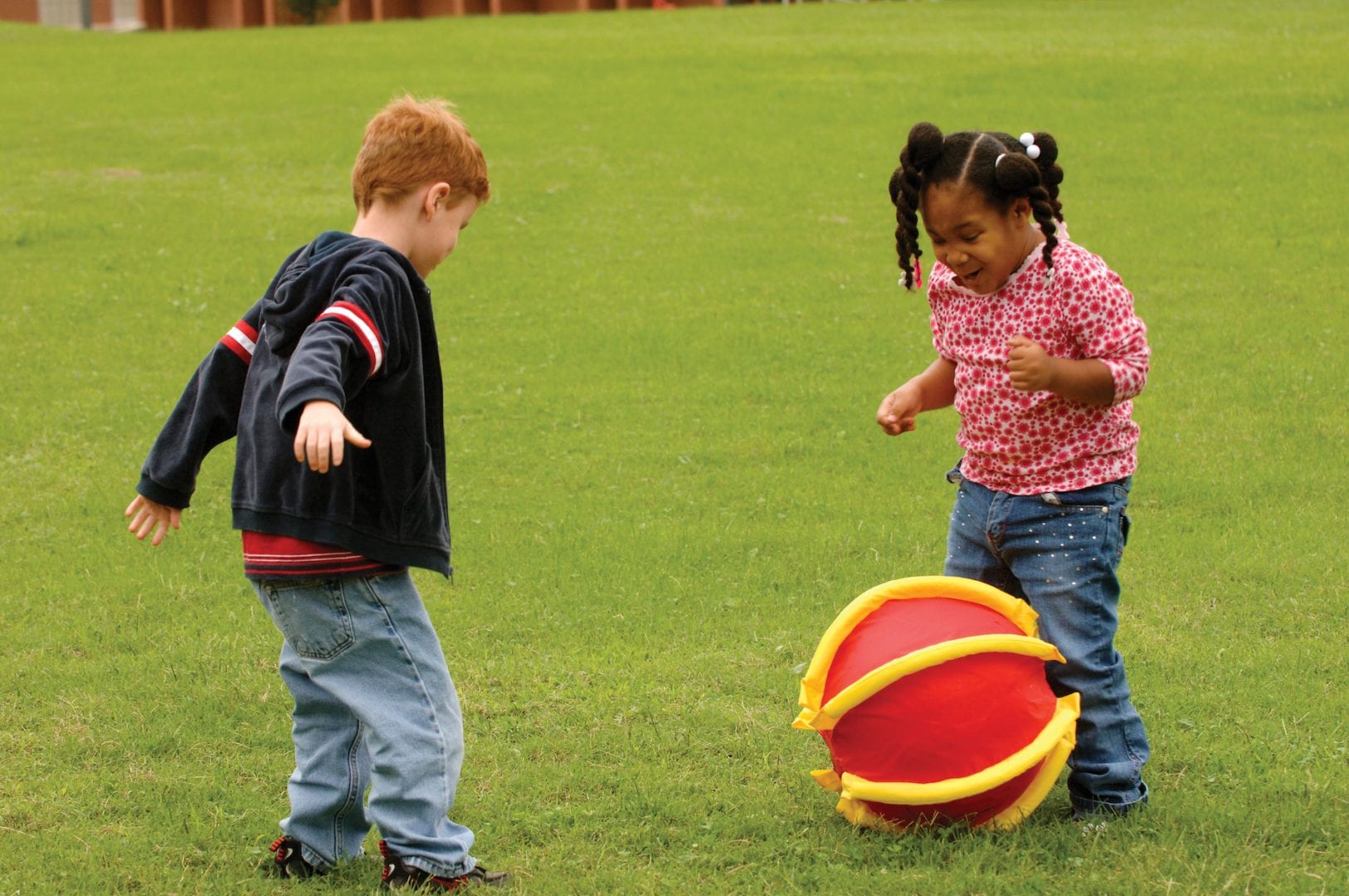 It's time to get moving! Whether you are walking, running, or playing a sport, APH offers a plethora of products that can adapt physical activities to meet the needs of students who are blind and low vision. Read our Building Your Physical Education Toolkit blog to learn more.
154th APH Annual Meeting – empowered

APH Annual Meeting will be held in-person in Louisville, KY from October 5-7. Pre-conference times will be October 4-5. Our theme is "empowered." Registration will open soon.
We have the power to make change, to break down barriers, to dream of a better world, to advocate for access. These tenets are what bring us together. Through our instruction, support, leadership, resources, service, friendship, advocacy, and allyship, we are empowered to empower each other and to build the better world we dream of – with access for all.
Presentation submissions will be accepted until July 15. We will notify you of your status by August 19. Please submit your presentation proposal, and be sure to complete all sections of the form. Email outreach@aph.org with any questions.

APH is excited to announce the release of the following new products:
Early Braille Trade Books: Rigby Nonfiction Kits 4 & 5 (Contracted and Uncontracted Braille)
APH's Early Braille Trade Books combine commercially available books with braille labels for beginning readers. The Rigby series provides nonfiction books that are aligned with national standards and provide motivating texts that systematically build high-frequency words and reading skills. Kits are available in contracted and uncontracted braille, and include books, braille labels, and access to an interactive website. Visit the following shopping pages on aph.org to learn more and order today:
LDQR Literacy Products for Young Learners
Eager to jumpstart your student or child's education with tactile books and games available on Federal Quota? Read our LDQR blog to learn more about these products for young learners.
Attention: Tiger Software Suite is Upgrading!
TSS is a popular collection of apps for creating and editing both braille and tactile graphics. Now TSS is offering version 8, a paid upgrade with some exciting improvements! Read our TSS blog to learn more.

Call for Field Testers for the 2022-2023 School Year
Are you interested in testing upcoming products in the 2022-2023 school year? As part of our vision to make the world a more accessible place, we want to hear your insights to better design innovative products for lifelong success and to provide the best possible solutions for challenges that arise in the classroom and beyond.
Even if you have participated in a field test or shared your contact information in the past, please, update our records by filling out a new copy of the APH Field Tester Form.
Braille Display Feedback Request
Want to talk to us about your braille display needs? Because we want to talk to you! Please take our Braille Display Outreach survey so we can schedule a time to meet with you and learn about your unique needs.
Don't have time for a meeting but still want to share your opinion? Please, take this very short Braille Display Survey and tell us what's most important to you!
Braille Transcription Software Needs Survey
Please help us understand your braille transcription needs by taking this very short Braille Transcription Needs survey.
GoodMaps Focus Group: Role Differences and Similarities of TVIs and O&Ms
The session will focus on Role Differences and Similarities of TVIs and O&Ms at your school and will discuss key areas within the topic. In our research, we have primarily worked with O&Ms but communicated frequently with TVIs and seen how involved they are with students; we would like to understand the role of the TVI in greater depth. Questions will range from the role and requirements of TVIs at your school, interactions with students and O&Ms (and any overlap with O&Ms), any impact on technology for students, differences in the role depending on the state.
Who should attend this focus group?
Any current or former TVIs at your school who are interested in speaking about their experience as a TVI.
Any O&Ms who work with (or have worked with) TVIs and are interested in speaking about their interactions with people in the TVI role.
Current or former students who have worked with TVIs.
Previous participation in this project is not required.
What this focus group is about:
The session will focus on Programs for Student Progression in Route Navigation at your school and will discuss key areas within the topic. In our research, we have observed that schools provide positive reinforcement in the form of more freedom in route navigation as students progress in their O&M skills; we would like to understand more about how these systems are structured. Questions will investigate similarities and differences at each school, some of the milestones students are encouraged to achieve, and whether the program spans the entire school career of students.
How do I sign up?
Email support@goodmaps.com with the subject line "Focus Group."
Eye Pressing Needs Study
APH has received feedback from the field that there is interest in a device that can help detect if someone is eye pressing. Health effects of eye pressing can range from eye infections, retinal detachment, further impairment to a person's vision, and ultimately could lead to an individual needing prosthetics. We received feedback from individuals who were blind or low vision that mentioned once they started eye pressing, it distracted them from orientation and mobility lessons and reading, noting that they were not aware they were eye pressing until being alerted by a spouse, teacher, or parent.
Along with HabitAware, we are looking into designing a bracelet that can detect if the wearer is eye pressing. APH and HabitAware are looking to study individuals that eye press to ensure the accuracy of the device. Learn more about this study and contact Joe Hodge at jhodge@aph.org if you're interested in participating or have any questions.

Building on Patterns Team Makes Strides on Kindergarten Revision at Annual Summer Meeting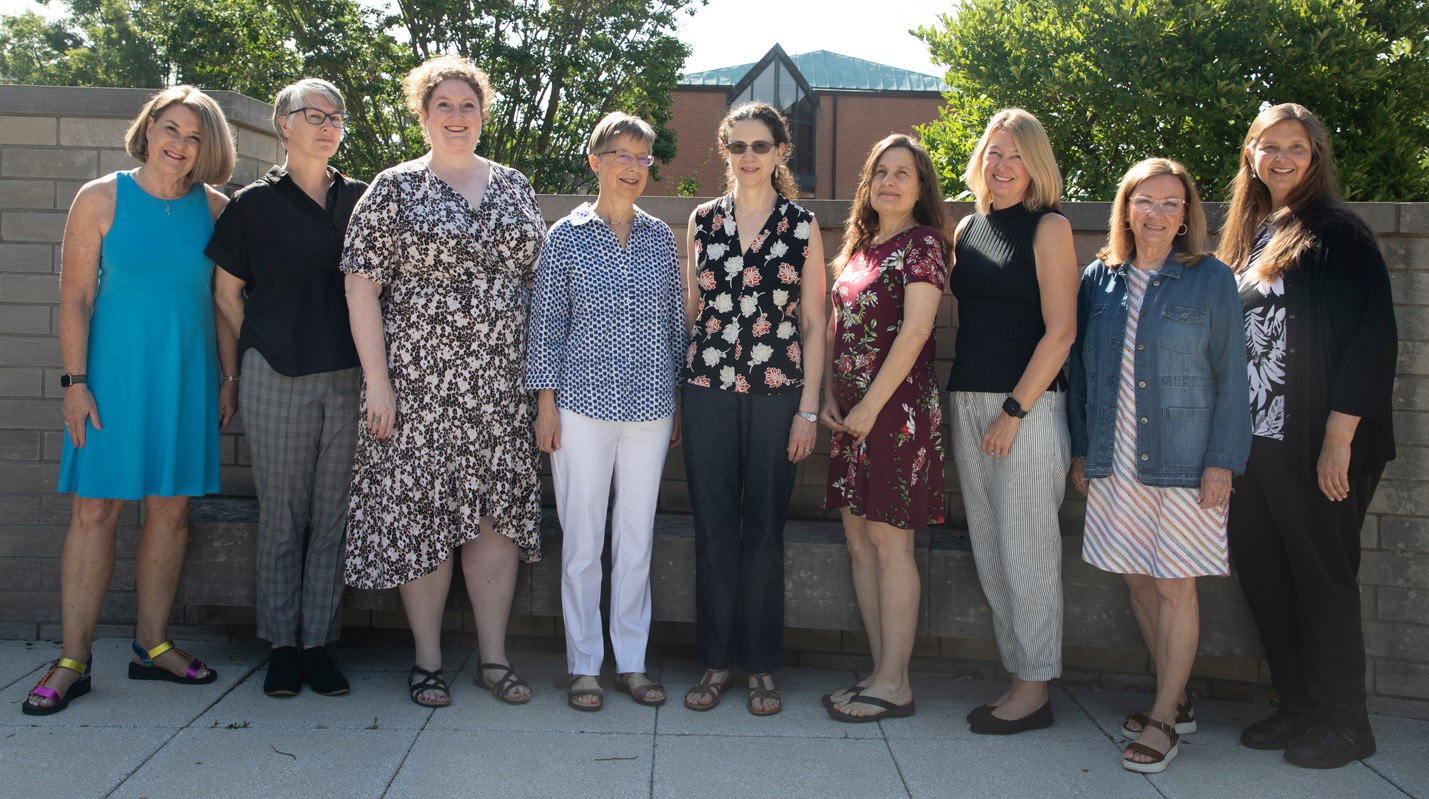 The Building on Patterns (BOP) writing team of TVIs convened June 21–24, 2022 at APH for full days of work on assessments and to finish lessons for the second edition of the Kindergarten curriculum. BOP Prekindergarten is the first level of the second edition of Building on Patterns. This was the group's first fully in-person meeting since 2019. They also provided input during presentations on two products in development and enjoyed a presentation on the APH Accessible Code and Go Mouse.
Strengthen Your Braille Muscles with the Hop-A-Dot Mat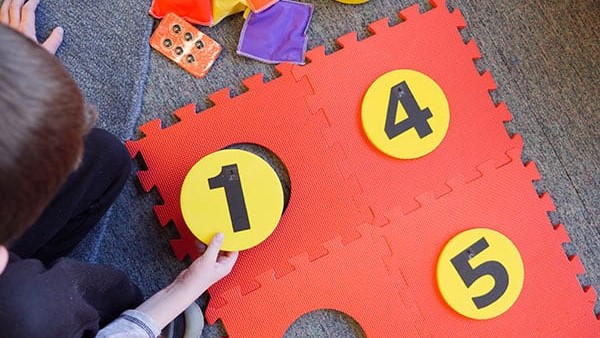 Exercise those "braille cells" and get moving with the Hop-A-Dot Mat!
STRETCH and BEND as you insert braille dots into the mat to build alphabet letters.
TOSS bean bags onto the mat to build alphabet letters.
STEP on braille dots that make up an alphabet letter.
PUNCH unneeded braille dots from the mat that do not make up an alphabet letter.
RACE peers to see who is the fastest building the entire alphabet.
SPIN the accompanying Alphabet and Number Spinners.
PLAY lots of games that are suggested in the Activity Booklet.
Learn more about the Hop-A-Dot Mat.
Games to Support Braille Literacy
Learning braille can be fun for all students. Read our Guidelines and Games blog to discover activities from this APH Press book that you can use with your students to reinforce braille letter recognition and teach vocabulary words.

Step-By-Step 2nd Edition: An Interactive Guide to Mobility Techniques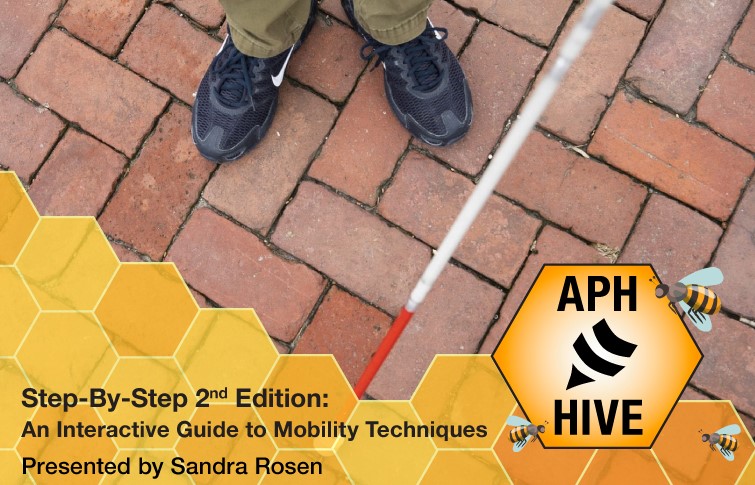 Updated digital instruction is now available for both future O&M Specialists and those currently providing direct services to individuals with visual impairments through the new course called Step-By-Step 2nd Edition: An Interactive Guide to Mobility Techniques. Enroll for free in this 2.0 ACVREP credit course and learn how an interactive computer-based curriculum not only provides step-by-step instruction and demonstrations of how to perform mobility techniques, but also how to correct common errors made by new learners who are blind.
Bee sure to buzz by the APH Hive and build your toolbox of resources.

ConnectCenter News
Beginning in August, the APH ConnectCenter will offer Commission on Rehabilitation Counselor Certification (CRCC) CE credits. Any of our offerings that pertain to eye health, career rehabilitation, career counseling, or transition counseling will be eligible for CRCC CE credits. We are excited to be able to bring this to the vision rehab community and hope this will help the APH ConnectCenter meet the needs of the field.

The Latest from Change Makers
Change Makers: A Podcast from APH highlights the people who are making the biggest difference in the blindness field. Listen to episode 54, Transition Hub Turns 1, and hear from a Transition Hub official about the many services and resources the Transition Hub provides. We also speak with a student advisory member who uses the Transition Hub regularly.
Listen to episode 55, Acknowledging Bias, to learn what resources APH provides regarding bias and things you can do to be aware.
Missed one? Don't worry. Find all episodes of Change Makers on our website.

APH Outreach Attends Southeastern Deafblind Collaborative Conference
Jeff Schwartz, APH's Outreach Specialist for the Southeast region, recently attended and participated in the first Connections: Learning from Each Other Conference. Read Jeff's blog post to learn more about his experience.
2022 Inductees to the Hall of Fame Announced
The Hall of Fame is dedicated to preserving the tradition of excellence manifested by specific individuals through the history of outstanding services provided to people who are blind or visually impaired in North America. Although housed at the American Printing House for the Blind (APH) in Louisville, Kentucky, it belongs to the entire field. Read our Hall of Fame blog to learn more about the class of 2022, Kay Ferrell and Trischa Zorn-Hudson, and join us for the induction ceremony during APH's 154th Annual Meeting this fall in Louisville.
Introducing the 2022 Holman Prize Finalists!
Each year, the LightHouse for the Blind and Visually Impaired awards the Holman Prize for Blind Ambition, an award of up to $25,000, to three blind people with ambitious ideas that will change perceptions about blindness worldwide. Read this LightHouse blog to find out more about the 10 Holman Prize finalists, and stay tuned to hear about the three winners in July.

Treasures from the APH Libraries
One of the primary missions of the APH Libraries has been the digitization of our collections for a wider audience. Among the 10,000 items that appear on Internet Archive, 144 entries are related to sports and recreation. Ranging from articles dating to the early 20th century to modern novels and monographs, they broadly demonstrate the importance and impact that sports have had for the blind and low vision community and the life-enhancing aspects of sports and inclusion. One such example is No Finish Line by Marla Runyan with Sally Jenkins, part of Internet Archive's Books to Borrow program. At the age of nine, Marla was diagnosed with an irreversible form of macular degeneration. Finding a calling in sports, Marla competed nationally in the heptathlon and made the 2000 Sydney Olympics in the 1,500 meters as the first legally blind athlete to compete in the games and posting, at the time, the highest women's placing for the United States in that event's history. More importantly, Marla discusses how it felt to grow up "disabled" in a world where expectations are regularly based on perceived abilities and as a world-class athlete rising above the expectations and prejudices of others.
Note: For print-disabled users, a 14 day loan is required to access the EPUB and PDF files for No Finish Line by Marla Runyan with Sally Jenkins. These files can be read using the EPUB or DAISY reader of your choice.
From the AFB Helen Keller Archive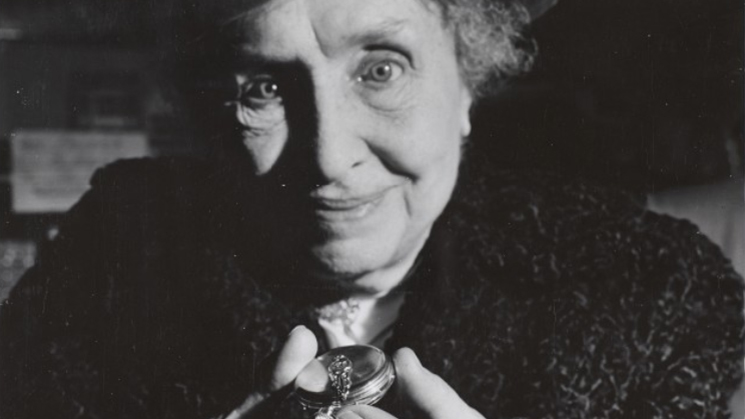 When Helen Keller celebrated her fourteenth birthday at the home of Alexander Graham Bell on June 27, 1894, she received a unique tactile gift. Read the blog A Birthday Gift With a History to discover what Helen's present was and learn about its importance to her throughout her life.

We'll be at the following upcoming conferences. We hope to see you there!
Summer Conferences
APH staff are presenting at ACB in Omaha, Nebraska and NFB in New Orleans, Louisiana at the beginning of the month. Stop by and say hi.
US Aging 2022
July 10-13, 2022
Austin, TX
The APH ConnectCenter will be attending this conference. Register for the US Aging Conference.
NOAHCON
July 14-17, 2022
Orlando, FL
APH will be present at this conference.
Disability: IN
July 18-21, 2022
Dallas, TX
Visit the GoodMaps exhibit table at this event. Information will also be available about APH ABIDE. Register for Disability: IN.
AER International Conference 2022
July 21-25, 2022
St. Louis, MO
APH is exhibiting at this conference. Join us in the APH booth on Friday, July 22, from 11:15 AM-12:00 PM for a book signing with the authors of our new APH Press book, Guidelines and Games for Teaching Efficient Braille Reading, 2nd ed. We also invite you to attend a reception featuring our upcoming braille device, Polly, later that evening from 6:30-8:00 p.m. Plus, attend the following presentations:
Braille: Refreshing Knowledge, *Blasting* Down Barriers, and BINGO! by Kyle DeJute and Dawn Eadens (Thursday, July 21 from 9:45-11:15 a.m.)
Learning SmART: Learning Concepts Through Art by Karen Poppe (Thursday, July 21 from 11:45 a.m.-12:45 p.m.)
Navigation and Dynamic Content in a New eBRF by William Freeman and Greg Stilson (Thursday, July 21 from 11:45 a.m.-12:45 p.m.)
Everything Old is New Again! Welcome to the New APH ConnectCenter by Olaya Landa-Vialard and Kathryn Botsford (Thursday, July 21 from 2:00-3:00 p.m.)
Code Jumper: Computer Science, Careers, and the Expanded Core Curriculum by Beth Dudycha (Thursday, July 21 from 3:30-4:30 p.m.)
Free and Easy Tactile Graphics—Tactile Graphics Image Library by Sally Hart (Thursday, July 21 from 3:30-4:30 p.m.)
Digital Learning: APH Hive Courses Built for You by Amy Campbell (Thursday, July 21 from 3:30-4:30 p.m.)
What's Your Vision for APH VisionAware? by Katie Frederick and Pris Rogers (Friday, July 22 from 9:45-11:15 a.m.)
A Million Manipulatives in Your Pocket by Leanne Grillot (Friday, July 22 from 2:00-3:00 p.m.)
Learning through Play with LEGO Braille Bricks by Kate Herndon, Stine Storm, Marc Angelier, Marie Oddoux, and Mette Hauch (Friday, July 22 from 2:00-3:00 p.m.)
Learn about APH Press by Heather Spence and Jess Bryant (Friday, July 22 from 3:30-4:30 p.m.)
Call the Braille Midwife: Standardized Assessments and Braille by Kyle DeJute and Katherine Padgett (Friday, July 22 from 5:00-6:00 p.m.)
O&M Service Decisions: What is guiding them if it's not assessment? by Lauralyn Randles (Saturday, July 23 1:15-2:30 p.m.)
Educational Tools: APH Mantis Q40 and APH Chameleon 20 by Leslie Weilbacher, Cecilia Robinson, and Bruce McClanahan (Sunday, July 24 from 10:15-11:15 a.m.)
Teaching Math to the Blind: Graphing in Classrooms by Li Zhou (Sunday, July 24 from 11:30 a.m. – 12:30 p.m.)
MOKA Conference for the Blind
August 4-6, 2022
Bentonville, AR
The APH ConnectCenter will be present at this conference. Register for MOKA.
2022 Midwest Transition Institute for Youth who are DeafBlind
August 5-7, 2022
Woodstock, IL
The APH ConnectCenter will be present at this conference.
For more information about upcoming appearances, check out our Conferences page.

Looking for More?
Subscribe to to stay current. Find previous editions in our newsletter archive.