Sign up to receive our latest newsletters.

April 2023
APH on Capitol Hill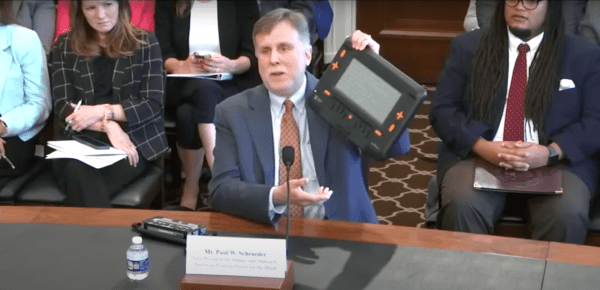 .
The Monarch is in Washington, DC! Paul Schroeder, APH Vice President of Impact & Outreach, spoke to Congress about the importance of quality high-tech solutions for students who are blind. As technology continues to expand the learning landscape for sighted students, we believe that students with disabilities deserve the same opportunities. The Monarch is a revolutionary device that will bring multiline braille and tactile graphics to students' fingertips. Learn more about the Monarch
Michael Wood Joins APH Team as Director of Product Development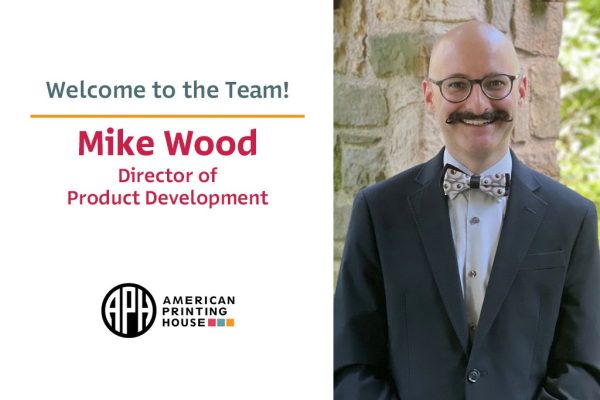 We're excited to welcome Mike Wood, our new Director of Product Development, to the APH Team! Mike has many years of experience as an accessibility professional, and we are so excited to have him on board. Get to know Mike in out blog.
National Poetry Month: An Interview with Susan Glass
Poetry is a unique style of literature that often uses imaginative language and varied meter, rhythm, and form. In honor of National Poetry Month in April, we interviewed Susan Glass, a poet who is blind, about her literary journey and 2022 chapbook The Wild Language of Deer. Read Susan's blog to be swept away into her world of language and verse.
Welcome New EOTs
EOTs play an integral role in making sure APH products get into the hands of students who need them. We're excited to welcome the following new EOTs to the APH family:
Martha Daigle – Massachusetts
Julie Johnson – Texas
Jacqueline Lorange – Connecticut
Scott Vittner – New Hampshire

Science Teachers and TVIs: Be a Field Tester for a New Accessible Electronics Building Kit!
APH is seeking field testers for an exciting accessible electronics building kit for middle and high school students. The kit will use the standard Arduino Uno platform to build 16 different projects such as a potentiometer, remote control, and ohm meter. Servos for lights, horns, motors, and haptic elements are included with the construction parts.
The deadline to complete this field test interest form is April 14, 2023. If you would like to be included in the APH field tester database, please complete the APH Field Tester Form.
Building On Patterns, Second Edition, Kindergarten Field Testing Opportunity
APH is pleased to offer an exciting field test opportunity for Building on Patterns, Second Edition, Kindergarten. This is a complete revision of the current BOP Kindergarten curriculum. It is more comprehensive, based on current grade level standards, and built around authentic children's literature.
Field testing will begin at the start of the 2023-24 school year. If you are interested in becoming a part of this effort to help ensure that APH truly meets the needs of braille-learning students and TSVIs, learn more about the BOP, Second Edition, Kindergarten Field Testing opportunity. The deadline to apply is April 28, 2023.
Submit Your 2023 Hall of Fame Nominations!
Do you know someone who should be inducted into the Hall of Fame for Leaders and Legends of the Blindness Field? Learn more about the easy electronic nomination process and submit a nominee to join the 52 inductees today. The nomination process will close on April 30, 2023.
Official WGAP Call for Projects 2023
The Women and Girls in Astronomy Program is looking to fund ten projects that use astronomy for development activities to promote, support, and uplift women and girls in the field. Chosen projects will be awarded with $1,000 mini-grants and project leaders will join the WGAP network as WGAP Fellows. This grant is sponsored by NA ROAD. Applicants from the US, US Territories, Caribbean nations, Mexico, Canada, and Greenland are welcome.
Submit your proposals by April 16. Information about this opportunity is available in English, Spanish, and French. Grant recipients will be notified in early May. Email wgap@aui.edu with questions.

Using Poetry to Build Braille Literacy
National Poetry Month in April is an opportunity for everyone to create and marvel at the beauty of poetry. Not only is poetry a requirement within the Common Core Standards, but it is also an excellent way to incorporate many lessons on braille contractions and formatting rules. Read our poetry lesson blog to learn how to write your own poem using an APH Light-Touch Perkins Brailler.
APH Behind the Scenes: Building on Patterns
Building on Patterns (BOP) is a literacy program that teaches young children who are blind or have low vision reading and writing using braille. Check out our BOP blog to learn more about this valuable curriculum for students and teachers.

Using the Sensing and Learning Approach with Sensorimotor Stage Learners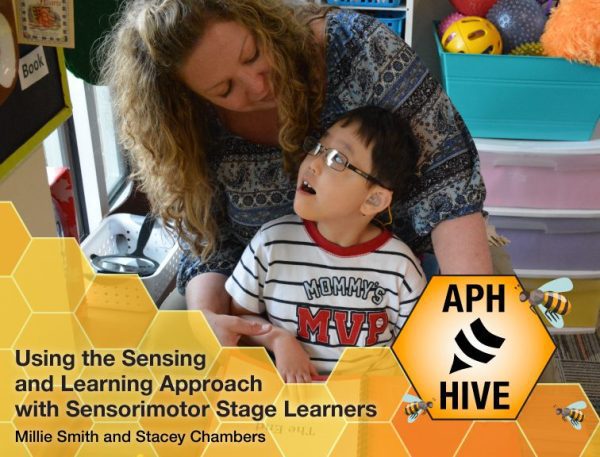 The Sensing and Learning Approach supports team collaboration and highly effective instruction for learners with complex needs. Enroll in Using the Sensing and Learning Approach with Sensorimotor Stage Learners, which offers 1.5 hours of ACVREP credit, to gain confidence combining its strategies with everyday materials in order to conduct assessments and design routine-based interventions that support learner engagement, exploration, and communication.
Bee sure to buzz by the APH Hive and build your toolbox of resources!

ConnectCenter News
In honor of National Poetry Month, the APH ConnectCenter invites you to learn about Annie Chiapetta, a poet and author who is blind, by reading her biographical blog Finding Joy and Career Fulfillment in Self-Expression and attending her Career Conversations Interview. Additionally, we are sharing the following poems, linguistically rich content pieces, and blogs on the topic of reading:
And to celebrate National Guide Dog Day on April 26th, 2023, check out our dog guide content:

The Latest from Change Makers
Change Makers: A Podcast from APH highlights the people who are making the biggest difference in the blindness field.
Listen to Episode 71, Women's History Month 2023 Part 1, to hear from two women making history of their own, and then hear from LEGO Foundation representatives about their LEGO Braille Bricks session at the Council for Exceptional Children convention held in Louisville, KY.
Check out Episode 72, Women's History Month 2023 Part 2, to hear from one woman who has created her own low vision app and a woman who has had breakthroughs with students by teaching them coding.
Missed one? Don't worry. Find all episodes of Change Makers on our website.

Treasures from the APH Libraries
Poetry has always been an integral part of the M.C. Migel Collection and represents some of the oldest works in the collection, most of which have been digitized on Internet Archive. As a medium, poetry is a unique language conveying meaning and expression often through abstractions, feelings, ideas, and symbols.
Poetry portrays the poet's experiences and observations of human life and the universe around them, the internal and external, the abstract and material. John Milton, considered to be one of the preeminent writers of the English language, composed his magnum opus Paradise Lost well after the loss of his sight. The 10,000-line plus blank verse epic has been hailed as one of the most influential poems in the English language and has inspired artists and artisans in the centuries that followed. Just under a century after the publication of Paradise Lost is our collection's own oldest item, a modest second edition of Poems by Mr. Thomas Blacklock published in 1756.
Blacklock, who as a child lost his vision due to smallpox, benefited from parents who read classic and modern works to him, including Cicero and Milton. Considered an ingenious and shrewd mind, Blacklock would study at university, briefly interrupted by the Jacobite rebellion, and would earn a Doctor of Divinity. Later, he would go to court over his right to serve in a ministerial office, noting that blindness does not incapacitate a man for the acquirement of requisite knowledge. Distinguished as a pulpit orator, tutor, essayist, Freemason, and poet, Blacklock's life would be defined by his zeal of thought and would endear him to a circle of influential Edinburgh friends and directly intersect and impact both a young Robert Burns and Walter Scott. In more modern times, Blacklock's Edinburgh residence has been home to several pubs, including the Blind Poet, whose walls were once decorated with Blacklock's works.
Please note that anyone wishing to read these files who is blind and visually impaired should download the DAISY or EPUB files. These files can be read using the EPUB or DAISY reader of your choice.

We'll be at the following upcoming conferences. We hope to see you there!
National Council of State Agencies for the Blind (NCSAB)
April 20-21
Bethesda, MD
Join us for Session 5: Vendor Showcase with Richard Rueda on April 21 from 9:30-10:30 AM.
Register for NCSAB.
AFB Leadership Conference 2023
April 20-21
Arlington, VA
Join us on Friday, April 21, 2023 from 10:15-11:00 AM for the presentation The Digital Inclusion Continuum: A Model for Integrating Digital Inclusion Throughout Education, Training, and Career Opportunities by Paul Schroeder.
Register for the AFB Leadership Conference.
California Transcribers and Educators for the Blind and Visually Impaired (CTEBVI) 2023
April 20-23
Burlingame, CA
APH will have a vendor table at the California School for the Blind Assessment Center Pre-Conference on April 20 from 9 AM-4 PM. APH will also be participating in the CTEBVI conference. Join us for the following sessions:
TGIL Graphics with PixBlaster and PageBlaster by William Freeman, Karen Poppe, and Rachel Bishop (April 21 from 10-11 AM)
The Future of Dynamic Braille with the eBRF by William Freeman (April 21 from 11:30 AM-12:30 PM)
National Coding Symposium and Day of Code by Stephanie Walker, Denise Snow, and Adrian Amandi (April 21 from 11:30 AM-12:30 PM)
APH CareerConnect: Brilliant Lessons and Curriculum for Inside and Outside the Classroom by Melisa Matthews (April 21 from 11:30 AM-12:30 PM)
Learning SmART: Learning Concepts Through Art by Karen Poppe (April 21 from 11:30 AM-12:30 PM)
Transition and Career Readiness by Olaya Landa-Vialard (April 21 from 2-3 PM)
Braille Brain: Online UEB and Nemeth Tutorial by William Freeman and Cheryl Kamei-Hannan (April 21 from 3:30-4:30 PM)
NIMAS and Braille 2000: Leveraging Files for Math and More! by Elizabeth Schaller and Rosemary Baggott (April 22 from 10-11 AM)
Self-advocacy and ECC from the Beginning by Melisa Matthews (April 22 from 2-3 PM)
Creating Early Literacy Opportunities Using Universally Designed APH Products by Leslie Weilbacher and Stephanie Walker (April 22 from 3:30-4:30 PM)
Register for CTEBVI.
American Occupational Therapy Association (AOTA)
April 20-23
Kansas City, MO
APH will be exhibiting at this conference. Join us for the presentation Collaborative Interventions and Resources to Facilitate Cognition and Fine Motor Development for Students with Cortical Visual Impairments by Alicia Wolfe. Register for AOTA.
Sight City
May 10-12
Frankfurt, Germany
APH will be exhibiting at this conference.
Learn more about Sight City.
For more information about upcoming appearances, check out our Conferences page.

Looking for More?
Subscribe to to stay current. Find previous editions in our newsletter archive.