APH Is Ready for a Braille Revolution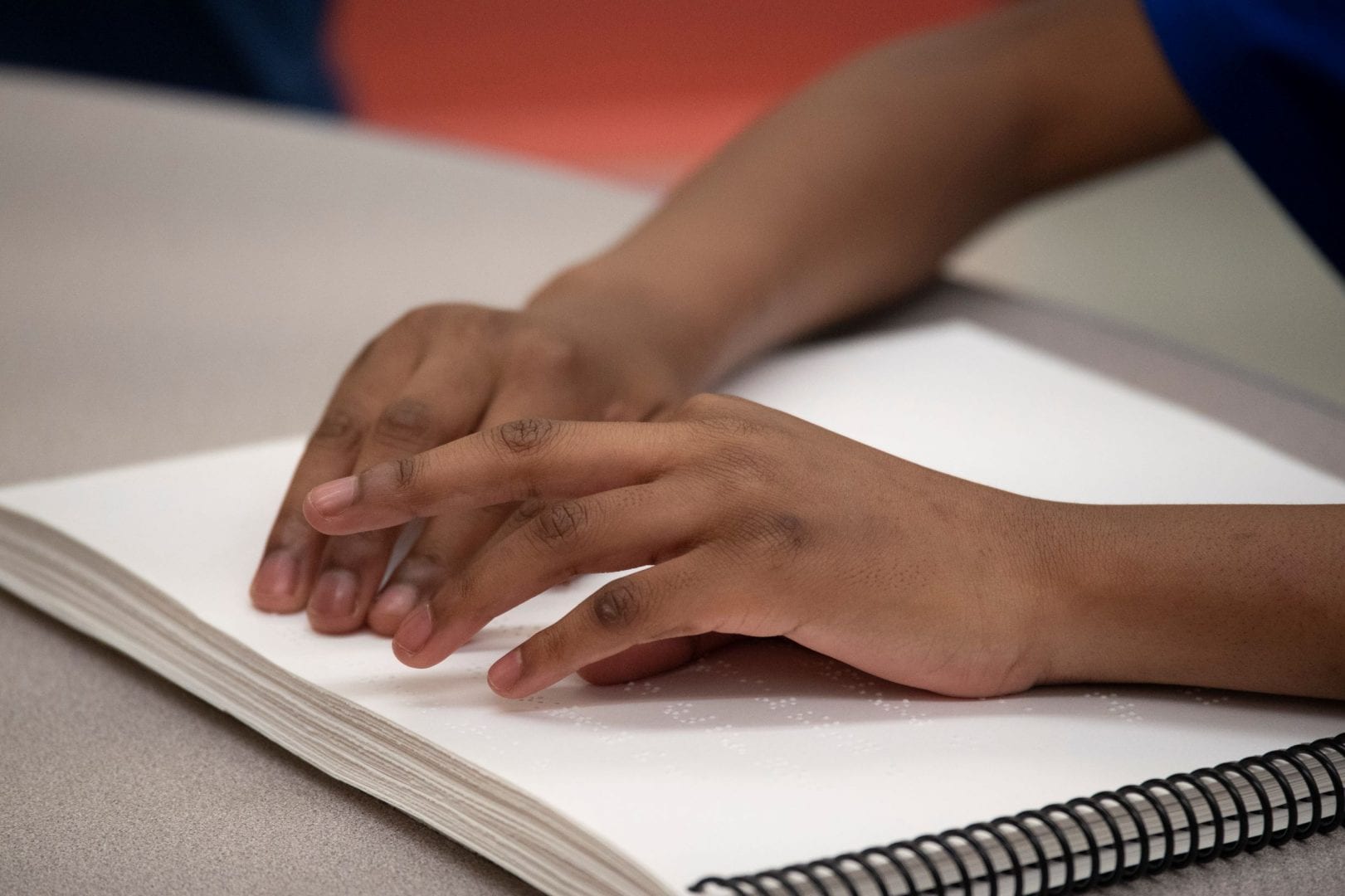 We're on a mission to create a groundbreaking electronic braille text and graphics device that revolutionizes braille learning and accessibility.
By Anne Durham, Vice President/Chief Officer, Innovation and Strategy
You undoubtedly heard the big splash in 2017, when we introduced our plans for the Graphiti, a dynamic, multi-level tactile display. All of us here vividly remember the day of the solar eclipse that year, when people who are visually impaired were able to touch the sun with their hands using the device.
But through that development process, we learned that we can – and must – do even more. Graphiti would have been used side-by-side with a braille textbook. But now, in partnership with HumanWare, we're developing what we consider the holy grail of Braille: a single tablet device that provides both braille text and tactile graphics, all in one.
We have a vision, we're on a mission, and we're firmly committed. This revolutionary new dynamic braille device will put information at the fingertips of people who are blind or visually impaired more efficiently than ever, skyrocketing braille literacy and accessibility at the same time. We will level the playing field for students who can receive braille instructional materials at the touch of a download button instead of waiting weeks or months for embossed braille textbooks to be transcribed and shipped. Rather than having to constantly catch up with their sighted classmates, students who are visually impaired can learn at the same pace – a significant educational equalizer. Although braille transcription and digital conversion will still be required, chapters can be delivered one by one, as soon as they're ready. What's more, instead of other braille readers that scroll text one line at a time, the new dynamic tactile device will display full pages of braille text, graphics, and even braille music.
Beyond the benefits to braille readers, teachers of visually impaired students (TVIs) will no longer have to improvise, often on the spot, to give their students the same access to visual learning tools as their sighted classmates. No more etching graphics into Styrofoam plates or cobbling together household objects. Students with vision loss can refer to the exact same materials as their sighted peers, either through a download or by connecting the device to a computer to display the desktop. They can even connect it to a digital microscope for a tactile representation of what their sighted classmates are seeing.
Outside the classroom, the device will improve employment opportunities and retention rates, opening avenues to careers that never existed before. Parents will be able to feel the ultrasound of their baby. Any space that must be compliant with the Americans With Disabilities Act (ADA) can use the device for signage, menus, and other materials. We're confident we'll discover even more benefits as we continue developing this product.
This certainly isn't something APH can do alone. We're excited about our unique 50/50 partnership with HumanWare, a trusted developer we've already created many braille products with, including the Chameleon 20 and the Mantis Q40. This kind of public-private partnership will allow them to do what they do best – develop the highly specialized technology – while APH focuses on what we do best: research, testing, and getting the device into the hands of those who need it.
Developing this new and elegant device is going to take at least a couple of years. There's a great deal of work to do because it will be quieter, faster, and more durable than any of its predecessors. Most of all, it will be reliable. We also have to create an electronic braille-ready format, or eBRF, to work with the device – and we have to get everyone around the world to agree on this electronic braille standard we're innovating. The initial response has been positive, which is encouraging.
We have some of the best and brightest minds on this project, with working teams and committees devoted to every aspect of bringing this product to market. And we want as many experts as possible to get involved: programmers, engineers, beta testers, and more. Anyone interested in participating can contact APH's Director of Global Innovation, Greg Stilson, at gstilson@aph.org. We will be sharing our progress with all of you, every step of the way. This is your device – and we can't build it without you.
When we first started working on this project, we were told it couldn't be done. The technological, business, and standard challenges are indeed, daunting. But together with our partners, and a unified effort across the field, we will make this happen – and it is truly going to be a braille revolution for people of all ages. We could not be more excited or more committed to this new dynamic tactile device, and we can't wait until the day when this goal is achieved. Watch the world change with us – we look forward to working with you.
Share this article.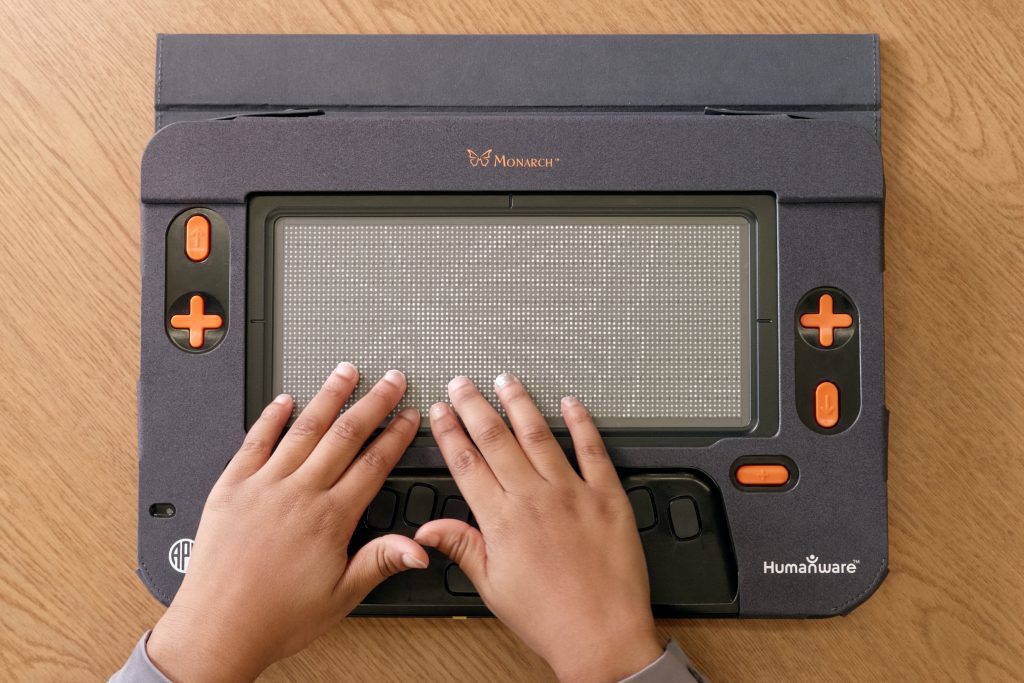 Friday, November 3rd marked the halfway point for Monarch Field Testing. Composed of three, two-week units of course content, the...