Ellume Accessible COVID Tests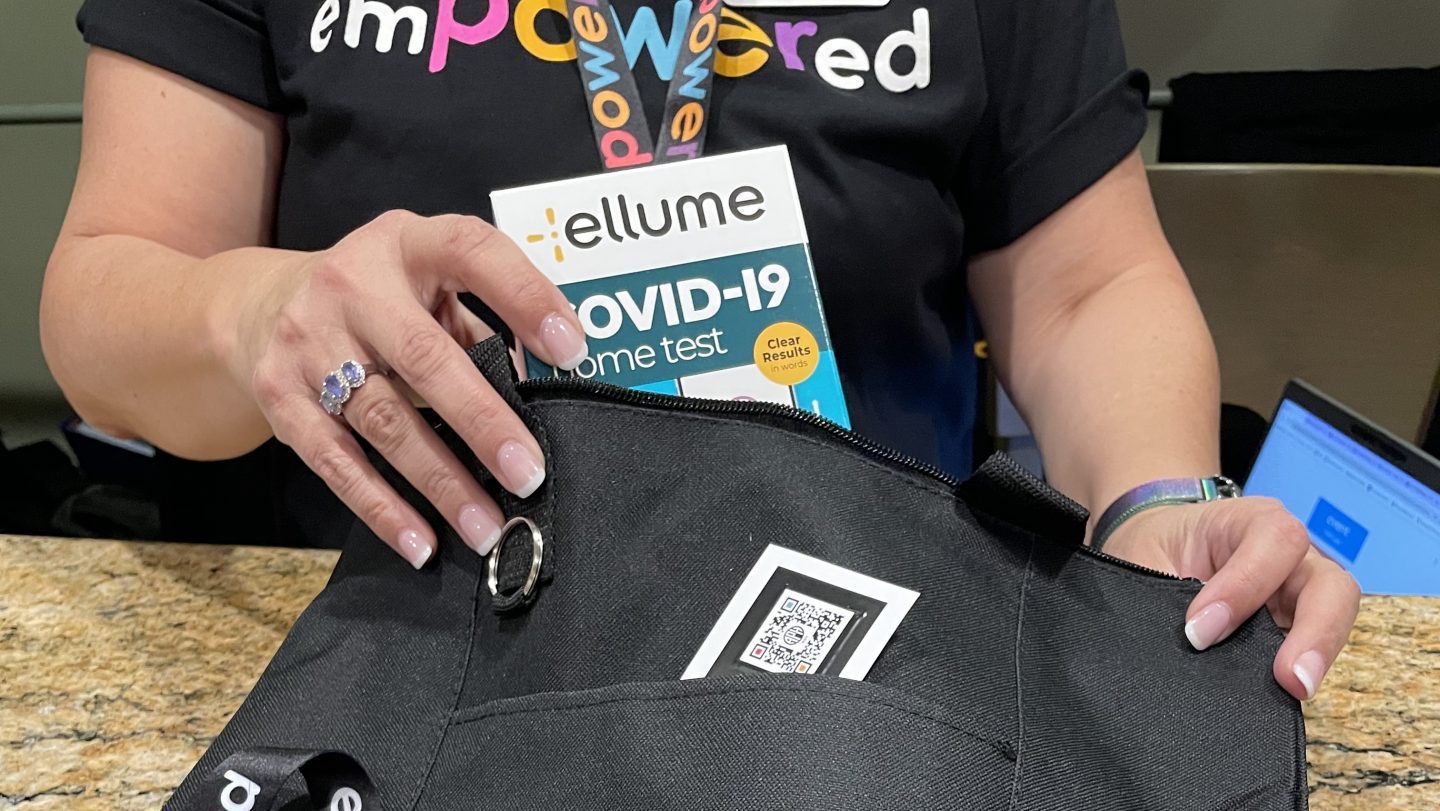 We recently held our 154th Annual Meeting of APH Ex Officio Trustees (EOT) with our EOTs, EOT Assistants, partners, educators, and other attendees in downtown Louisville. More than 400 attendees from all over the world came together to hear about new products, services, processes, and initiatives. They also enjoyed meetings, networking with new colleagues, and connecting with old friends.
Being our first in-person meeting since 2019,  we were eager to connect with our community but also aware that access to health and safety materials would be integral to a successful event. That's why we're proud to have partnered with Ellume to provide free accessible COVID-19 test kits to all attendees. Ellume develops, manufactures, and commercializes, the next generation of digitally enabled diagnostic products for healthcare professionals and consumers.
On January 3, 2022, NFB President Mark Riccobono wrote a letter to President Biden regarding concerns about the accessibility of at-home COVID-19 tests. He reminded the president that people who are blind have already faced many barriers during the pandemic, including inaccessible websites and drive-through-only testing sites, and these experiences reinforce the urgency of the administration to address accessibility now. President Riccobono stated that the National Federation of the Blind stands ready to collaborate with the Biden administration to ensure equal access for all Americans.
Ellume's COVID-19 Home Test is the only available antigen test being provided through the free distribution program that is sufficiently accessible to users who are blind or have low vision, according to the NFB. The test and accompanying app offer a range of bespoke features that ensure a more user-friendly experience.
The ECHT and app, coupled with a smartphone screen reader, enables users who are blind or have low vision to navigate the test by guiding them through each step of the testing process, minimizing human error and providing enhanced safety;
Using Bluetooth® connectivity, the ECHT automatically generates a fully digital result displayed in words on a user's smartphone which can be read using screen reader functionality, without the need for visual test lines to be interpreted, or photos to be taken;
Fully digital results can be easily shared with others such as healthcare providers, employers, or family;
Additional healthcare information and a direct link to customer support are provided to the user after testing is complete, to further support their testing experience;
ECHT components are larger and free-standing, without the need to be housed in the carton or packaging when performing the test;
User-designed components make handling components more manageable, and Ellume's patented Dropper system makes combining the sample and Processing Fluid easy-to-use, and
Ellume's patented swab provides confidence in swab depth for adults and children, enhancing the likelihood of sufficient sample collection.
Our Annual Meeting was a great success and knowing that all attendees can confidently monitor their health for the safety of others makes it all the better. Learn more about Ellume.
Share this article.