California State University Northridge 2023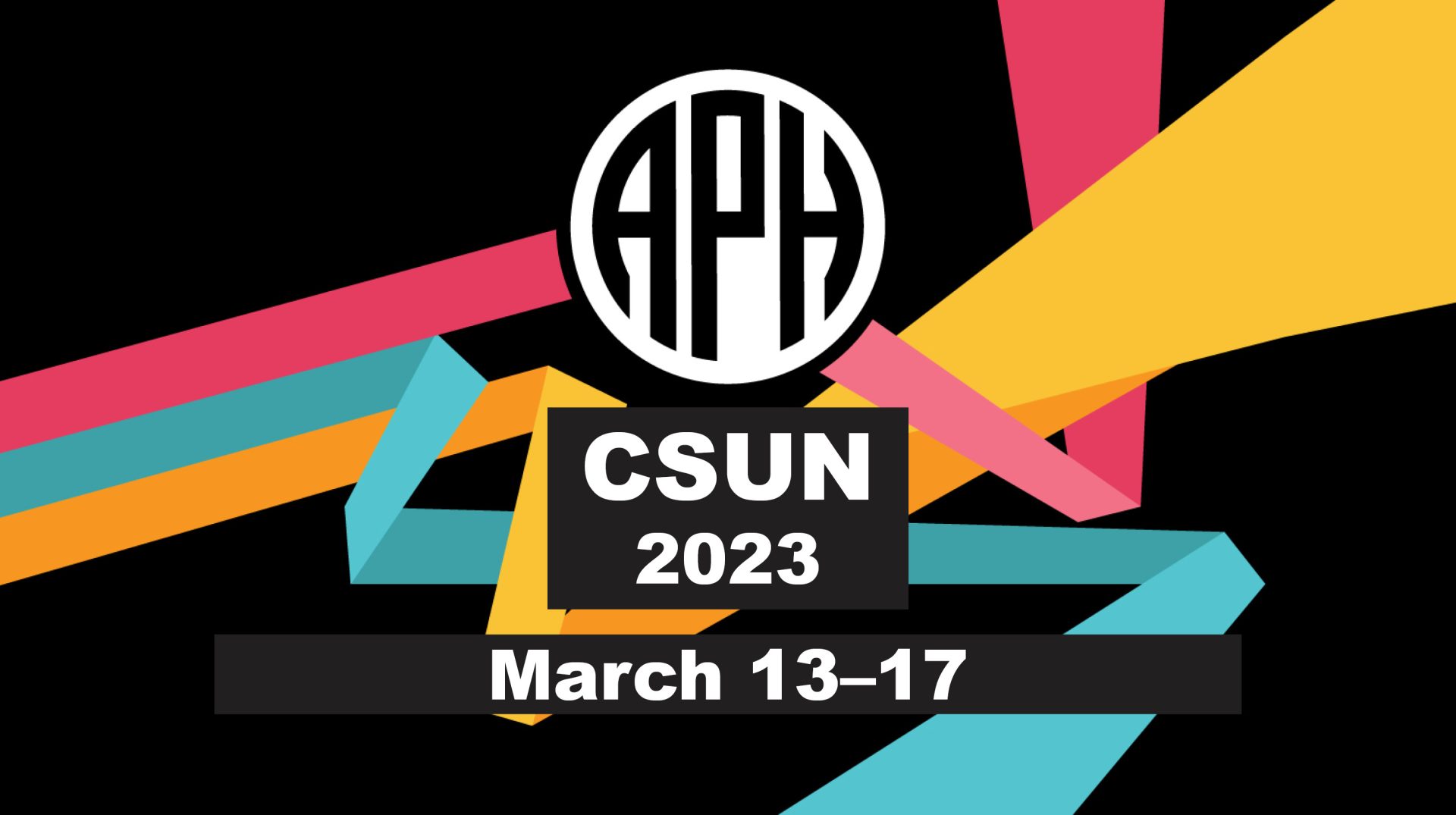 Dates
March 13, 2023 - March 17, 2023
Description
Whether you have been attending the conference for years or are planning to attend your first, the CSUN Assistive Technology Conference, also known as the CSUN Conference, is the ultimate community experience and the premier forum on technology for all persons with disabilities.  For over 37 years, California State University, Northridge's Center on Disabilities has sponsored the conference, providing a platform for researchers, practitioners, educators, exhibitors and more from around the world, where they can share knowledge, innovations, and best practices to promote inclusion for all.
Join our STEM Talk Community List!
Are you interested in learning, discussing, and sharing ideas related to science, technology, engineering, and math? If so, you can join the community by emailing stem-talk-request@freelists.org with 'subscribe' in the Subject field OR join by visiting our STEM Talk FreeLists page and entering in your email address and selecting 'subscribe.'
Sessions
Quest for the Holy Braille: The Dynamic Tactile Device Project Report—Greg Stilson and Andrew Flatres
Tuesday, March 14 1:20–2:20 p.m.
In 2020 APH put out a Request For Information (RFI) to search for a partner who possessed the technology and dream of designing the first tactile device capable of producing both tactile graphics and standard braille on the same surface. HumanWare and DOT Inc answered the call and have since partnered with APH to develop the Dynamic Tactile Device (DTD). APH is the largest producer of tactile textbooks in the country, however, these textbooks often take months to produce and can arrive late, leaving the student at a further disadvantage when learning. The primary goal of the DTD project is to create a tactile E-Reader capable of displaying a textbook in a natural fashion that mimics the experience a student has when reading a physical textbook. Once produced, this textbook will be digitally sent to the student or teacher, eliminating the significant production time and cost it takes to emboss, bind, pack and ship the book to the student. This E-Textbook reader is just one of several tactile experiences that will be opened up by this innovative tool. Attendees of this session will be introduced to the DTD project, understand the current status of this undertaking and learn how to get involved going forward. This massive project will only succeed with the community's help and input.
Braille Brain UEB and Nemeth code training program—Cheryl Kamei-Hannan, William Freeman, and Gina Michell
Wednesday, March 15 10:20–11:20 a.m.
Braille Brain is an online UEB and Nemeth code training program supported by the U.S. Department of Education (H235E190002). Designed for professional development, Braille Brain includes over 40 literary and Nemeth training modules, which are carefully sequenced to promote mastery of the braille code. Each module has a focus area for learning specific braille symbols, followed by several practice activities. The training materials are designed to be incorporated into personnel preparation programs and used in braille courses as supplemental materials. Although modules are carefully sequenced and build upon one another, users also may select specific lessons on demand, providing just in time delivery of the resources. The literary UEB modules (n = 66) and Nemeth modules (n = 49) have been pilot tested by pre-service teachers and paraprofessionals. Ratings from user surveys showed overall, 100% of users strongly agreed or agreed on each of six different quality indicators, with more than 75% of users rating their training positively as strongly agree on four of six indicators. The project, now in its fourth year has partnered with the American Printing House for the Blind to offer fully accessible online resources which will be available on their website in 2023. Presenters will provide attendees with a sneak preview of the website, explain the scope and sequence of the training materials, and demonstrate Braille Brain activities.
National Coding Symposium: TVIs and Students with BLVI—Adrian Amandi, Denise Snow, and Katrina Best
Wednesday, March 15 1:20–2:20 p.m.
In May 2020, the American Printing House (APH) in partnership with California School f/t Blind (CSB) hosted the first ever virtual National Coding Symposium for students who are blind or visually impaired. The continued success led to the creation of an annual event. Building on that success, APH and CSB, along with Center for Cybersecurity Research & Education (CCRE) and the Center for Assistive Technology Training (CATT), are planning a Day of Code to be combined with the annual National Coding Symposium. Coding is fun, challenging, and inherently accessible across platforms and skill levels. Students of every age benefit from learning to code. This symposium aims to inspire students to become leaders in careers inclusive of and related to programming and software development and to provide teachers with the resources and support they need to teach coding concepts with ease. During this session, we will discuss and share: *Successes and lessons learned from previous Coding Symposiums *Benefits of learning to code for students who are blind or visually impaired *Challenges facing students and teachers *Resources from previous symposiums including lesson plans, activities, and recorded videos for use by teachers and students *Advantages of making connections with blind programmers and others in careers associated with coding at companies such as Apple, Amazon, Google, Yahoo, etc. *The plan for Day of Code to be a national event No knowledge of coding is needed to benefit.
American Printing House for the Blind Low Vision Roadmap—Justine Taylor and Tyler Maddox
Wednesday, March 15 2:20–3:20 p.m.
APH continually seeks to develop and improve upon its roadmap for high-tech low vision devices. Innovations in technology, changes to tools and processes in education, and evolving needs of students necessitate long-term planning. Through research, surveys, and strategic partnerships, APH aims to ensure that students with low vision have the necessary technology to be successful. Attend this session to identify which current and future APH products can help to optimize sensory efficiency and align with instructional activities. Participants will learn about our innovative approach to ensure that our technology builds transferable technical skills while providing access to the curriculum and independent living tasks. Discover what innovations APH will incorporate in technology in the next five years. The presenters will demonstrate how to complete educational and independent living tasks with current high-tech low vision devices built by APH. They will also detail processes used to develop technology through informational instruction. Finally, they will provide a preview of a desktop tablet and handheld magnifier that are in development.
Paving the Holy Braille Highway through Dynamic and Digital Innovation—William Freeman and Greg Stilson
Thursday, March 16 10:20–11:20 a.m.
The future of tactile literacy, much like print literacy, is dynamic and digital. This move means major changes for how braille and tactile graphics are created, delivered, and interacted with by users. This presentation will cover the work that needs to be done now to prepare for the future of digital tactile literacy. Part of this presentation will cover the efforts being undertaken to create a new electronic braille file standard currently called the eBRF. This international effort seeks to create a dynamic braille file standard that allows braille layouts to be manipulated, navigated, read, and shared across braille regions. It will also be configurable based on a user's needs and preferences. Additionally, we will discuss the need for a new dynamic tactile graphics standard. Current standards that exist for tactile graphics are based on a static medium, and while they should serve as the basis for standards for the digital age, more clarification is needed. The tactile graphics of the future will be interactive, dynamic, and offer multimodal methods of learning. We need standards so that students are prepared to interact with the graphics regardless of the hardware that they are using. Finally, this presentation will cover other challenges and opportunities that face the future of digital tactile literacy. We will also discuss new ways of distributing braille and tactile graphics and how these distribution methods will lead to decreased costs and delivery times.
What's New on APH's Road to Code—Katrina Best and Heather Kennedy-MacKenzie
Friday, March 17 10:20–11:20 a.m.
Today's students are starting to learn computer coding concepts as early as pre-school. With the ubiquitous availability of mobile devices and tablets, tools for younger students to begin playing with coding concepts have become easier to acquire. Whether a student downloads a mobile app, accesses a web coding game, or participates in an online simulation, there are options available for any level of coding. However, for students who are blind or have low vision, such coding tools are less available. Often the apps used by their sighted classmates are inaccessible or concepts are challenging to understand. This session will discuss new features, including the CJ Puzzles and coding module. It will also demonstrate how APH has made coding tools accessible. We will also discuss careers in technology and the importance of teaching coding concepts from an early age. Over the past several years, the American Printing House for The Blind (APH) has been developing a roadmap of accessible coding tools meant to mirror the tools used by sighted students. If the tools used by the rest of the class could not be made accessible, APH has also created complementary tools which often use physical objects to solidify coding concepts for the student with visual impairments. From accessible apps to physical engineering and robotics kits, APH's goal is to provide tools to enable students of all ages with visual impairments to obtain necessary coding skills alongside their sighted classmate
Share this event.