CTEBVI 2023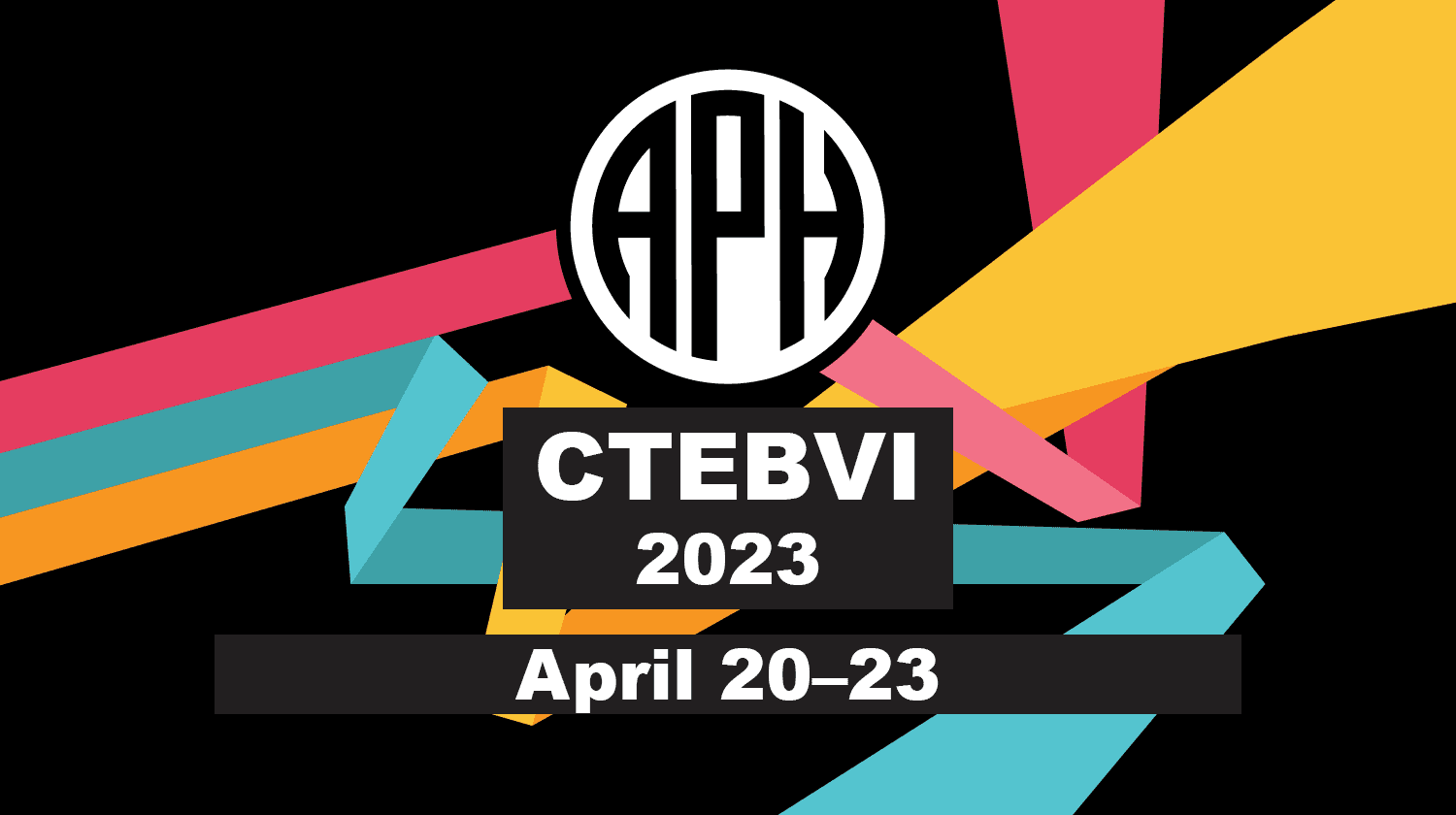 Dates
April 20, 2023 - April 23, 2023
Location
Burlingame, California
Description
The California Transcribers and Educators for the Blind and Visually Impaired (CTEBVI) brings blind and visually impaired students and their families together with professionals who meet their educational and rehabilitation needs.
Sessions
TGIL Graphics with PixBlaster and PageBlaster – William Freeman, Karen Poppe, and Rachel Bishop
Friday, April 21 10:00-11:00 a.m.
Do you want to make more tactile graphics for your students but aren't sure where to begin? Please join us to learn how you can use the free Tactile Graphic Image Library (TGIL) as a starting point for creating tactiles. You'll learn how to use the TGIL, how to edit the files you download, and how to work with embossers when producing these files. We will cover Firebird, Tiger Designer, and Inkscape in this presentation as well as the APH PixBlaster and PageBlaster embossers. We will also examine alternative methods for producing graphics such as collage graphics.
The Future of Dynamic Braille with the eBRF- William Freeman
Friday, April 21 11:30 a.m.-12:30 p.m.
Please join us to learn about the eBRF, a new dynamic and interactive file type being developed by APH with the DAISY Consortium and over 30 international partners. This new file type will feature many improvements including links for quick navigation, a dynamic page size, the inclusion of tactile graphics, and interactive content. We will also look embossers, and multi- and single-line displays and how they will benefit from this new file type. Please bring your opinions, questions, and concerns as these will help us as we continue developing this standard.
National Coding Symposium and Day of Code- Stephanie Walker, Denise Snow, and Adrian Amandi
Friday, April 21 11:30 a.m.-12:30 p.m.
The American Printing House (APH) and California School for the Blind (CSB) have partnered to host the annual National Coding Symposium for the past two years. This year we are proud to announce the first ever "Day of Code!" Join us to learn ways to help students increase their chances of success in programming or related fields. Resources will be shared including lesson plans, activities, and recorded videos for use by teachers and students to get started with coding. See how you can be part of introducing or advancing a new set of skills for your students. No knowledge of coding is needed to benefit.
APH CareerConnect: brilliant lessons and curriculum for inside and outside the classroom- Melisa Matthews, Lisamaria Martinez, and Lisa Lloyd
Friday, April 21 11:30-12:30 p.m.
Entering its third decade, APH CareerConnect continues to innovate outside the box, including offerings of Pre-ETS lesson plans and resources. Focusing on blind and low vision teens and adults, CareerConnect has the critical digital tools for today's active career curious minds. APH ConnectCenter staff will walk guests through the CareerConnect catalog demonstrating how these digital tools can spark conversation and awareness while beginning to motivate teens and young adults to think and plan for their life changing future. Overview of Career Conversations, College Conversations, the updated APH ConnectCenter TransitionHub, and our newly formatted online Job Seekers Toolkit will round out this session.
Learning SmART: Learning Concepts Through Art- Karen Poppe
Friday, April 21 11:30 a.m.-12:30 p.m.
Learning concepts through art activities is at every student's fingertips. The audience will learn to think outside the box on ways to use tactile-drawing products to make concepts come to life in meaningful, engaging, and creative ways to teach a variety of concepts to their tactile learners. A plethora of concepts related to tactile literacy development, orientation and mobility, science, math, and more can be conveyed with interactive, creative tools such as TactileDoodle, Picture Maker, Graphic Art Tape, Color-by-Texture Marking Mats, tactile drawing film, and more.
Transition and Career Readiness- Olaya Landa-Vialard
Friday, April 21 2:00-3:00 p.m.
This workshop explores transition and career readiness for students with visual impairment across K-12 education. Information will be highlighted on independence skills and the role of the paraprofessional in supporting students in developing responsibility, self-awareness, self-advocacy, self-determination, and career exploration. Resources will be shared that paraprofessionals can use to support students in career readiness and exploration.
Braille Brain: Online UEB and Nemeth Tutorial- William Freeman, Gina Michell, Kim Blackwell, and Cheryl Kamei-Hannan
Friday, April 21 3:30-4:30 p.m.
Braille Brain is an online UEB and Nemeth code training program supported by the U.S. Department of Education (H235E190002). Designed for professional development, paraprofessionals, and family members to learn braille, it includes carefully sequenced modules promoting mastery of the UEB and Nemeth codes. A secondary purpose is for print readers learning braille to have an online option for learning the braille code. Attendees will view Braille Brain activities and materials.
NIMAS & Braille 2000: Leveraging Files for Math…And More- Elizabeth Schaller and Rosemary Baggott
Saturday, April 22 10:00-11:00 a.m.
Producing braille math has historically been challenging and time-consuming. With the advent of MathML in NIMAS, however, there is a new opportunity for automated translation of some math content. In this workshop, the National Instructional Materials Access Center (NIMAC) team pairs up with a skilled textbook transcriber to discuss how transcribers can use NIMAS files and BrailleBlaster and Braille2000 software to help support the creation of high-quality braille math in Nemeth and UEB. We will be devoting some time to Q&A related to using NIMAS with Braille2000, so please bring your questions!
Self-Advocacy and ECC from the Beginning- Melisa Matthews
Saturday, April 22 2:00-3:00 p.m.
Participants will be provided examples of ways to implement self-advocacy skills through many of the ECC skills into their daily routines. There will be short videos of families with their children modeling various skills, ways to communicate choices and empower their child at younger ages to communicate their needs and wants. Participants will also be offered time to practice this skill with others in the session.
Creating Early Literacy Opportunities Using Universally Designed APH Products- Leslie Weilbacher and Stephanie Walker
Saturday, April 22 3:30-4:30 p.m.
Early environmental exposure to words and letters is essential in foundational literacy. The tools and strategies presented in this session use movement and play to engage students in a multi-sensory approach to literacy. The use of universally designed tools for instruction benefits and fosters inclusion for all.
Share this event.