From Concept to Creation: The Mi'kmaw Braille Code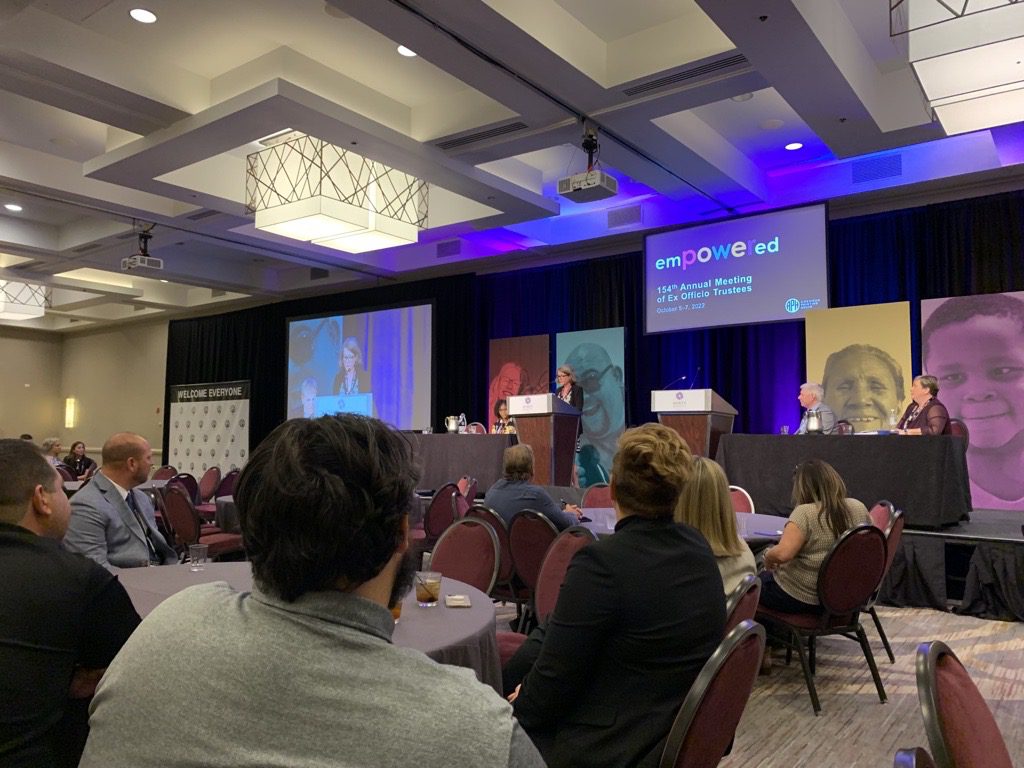 How did a braille transcriber develop a new braille code? We spoke with Christine Muise, recipient of the Louis Award from APH, about her journey creating the Mi'kmaw braille code.
Meet Christine
Christine has been a braille transcriber for 15 years. In 2008, she earned her first certification in Standard English Braille. Christine said, "Shortly after that, I started on my Nemeth Certification. I got about 80% through that when UEB came out, and I had to abandon it. It was too hard to learn two codes at the same time when we would only be using one of them. Since then, I've gotten my UEB update certification, my UEB technical certification, and am on a committee for Braille Literacy Canada where we are looking at tactile training for new transcribers." Today, Christine works as a Senior Alternate Format Technician for Atlantic Provinces Special Education Authority (APSEA), which transcribes school materials for grades k-12 in the four Canadian Atlantic Provinces. She is also a contract braille transcriber/tactile illustrator and does transcription across North America along with providing volunteer transcription services.
Christine said, "Aside from having a job that is rewarding, I love the challenge of braille. Previously, I had left jobs after a couple of years, after I lost interest or was no longer challenged. I specialize in math and science textbooks and am still challenged on a daily basis."
Making the Mi'kmaw Braille Code
"I was inspired to work on the Mi'kmaw code around April 2021 when the Canadian government started its Truth and Reconciliation work with our Indigenous Peoples," said Christine. "I hoped that there would be a resurgence of people wanting to regain their languages. I knew that there wasn't any braille available for indigenous braille users. There is also the fact that if you only speak an indigenous language, you've likely never learned braille if it's only been available in French/English (Canada's two official languages).
Our government issued the Indigenous Languages Act, which states that languages must be available in both print and sign language. I'd like to see braille added to that statement someday." Through these events, Christine was on a mission to bring braille to the indigenous population.
She said, "The biggest obstacles in the beginning were finding out who exactly I needed to contact to get the ball rolling, to find out if anything was currently being worked on and getting people to respond to me. I was cold-emailing a lot of people. I'm pretty sure some of those were going straight into junk folders. When they did get back to me, I was trying to explain the issue to people that basically had no idea what I was talking about."
Eventually, Christine was able to get in touch with the Mi'kmaw Chiefs of Nova Scotia and Maine, who provided their letters of approval to Braille Literacy Canada and the Braille Authority of North America (BANA) for the creation of the Mi'kmaw code. Once the paperwork was completed, these organizations outlined the steps Christine needed to take to make the new code. To help her with this process, Christine met with Carol Begay Green, who previously created the Navajo Braille Code, and the linguist who worked with Carol, Dr. Robert Englebretson. Christine said, "Carol was a huge help to me (as well as Justin Salisbury who co-authored a paper with her), willingly answering my questions and sharing information with me."
The main difference between the English braille code and the Mi'kmaw braille code is the barred-i symbol. Christine explained, "There is no English (or any) print equivalent for that symbol. The language also uses a lot of ticks for lengthened vowels, which in print appears as an apostrophe, but I encountered an issue almost immediately in the first book I tried to transcribe that had some headings in full caps. The apostrophe was ending those and restarting them, so I had to call it something else.
I met with Dr. Bernie Francis, cocreator of the Mi'kmaw print orthography, who helped me understand the barred-i symbol I was trying to find a braille equivalent for." Mi'kmaw linguists further assisted with the creation of the code.
In September 2022, the Mi'kmaw Braille Code was accepted by Braille Literacy Canada and is available for use on their website.
Christine said, "One of the best parts of doing this, aside from the wonderful people I've met, is that just after I started this project, the province of Nova Scotia declared Mi'kmaw to be its official First Language. They will be building a new Mi'kmaw Friendship Center here, and I am most excited to see the braille on their accessible signage for the building."
Christine truly is a Barrier Breaker, helping ensure that the future really does belong to everyone. She encourages braille readers to challenge themselves by learning a foreign language like Mi'kmaw and is open to assisting in the development of future braille codes should the need present itself.
Share this article.