An Artist's InSight: The Story of Connie and Lexie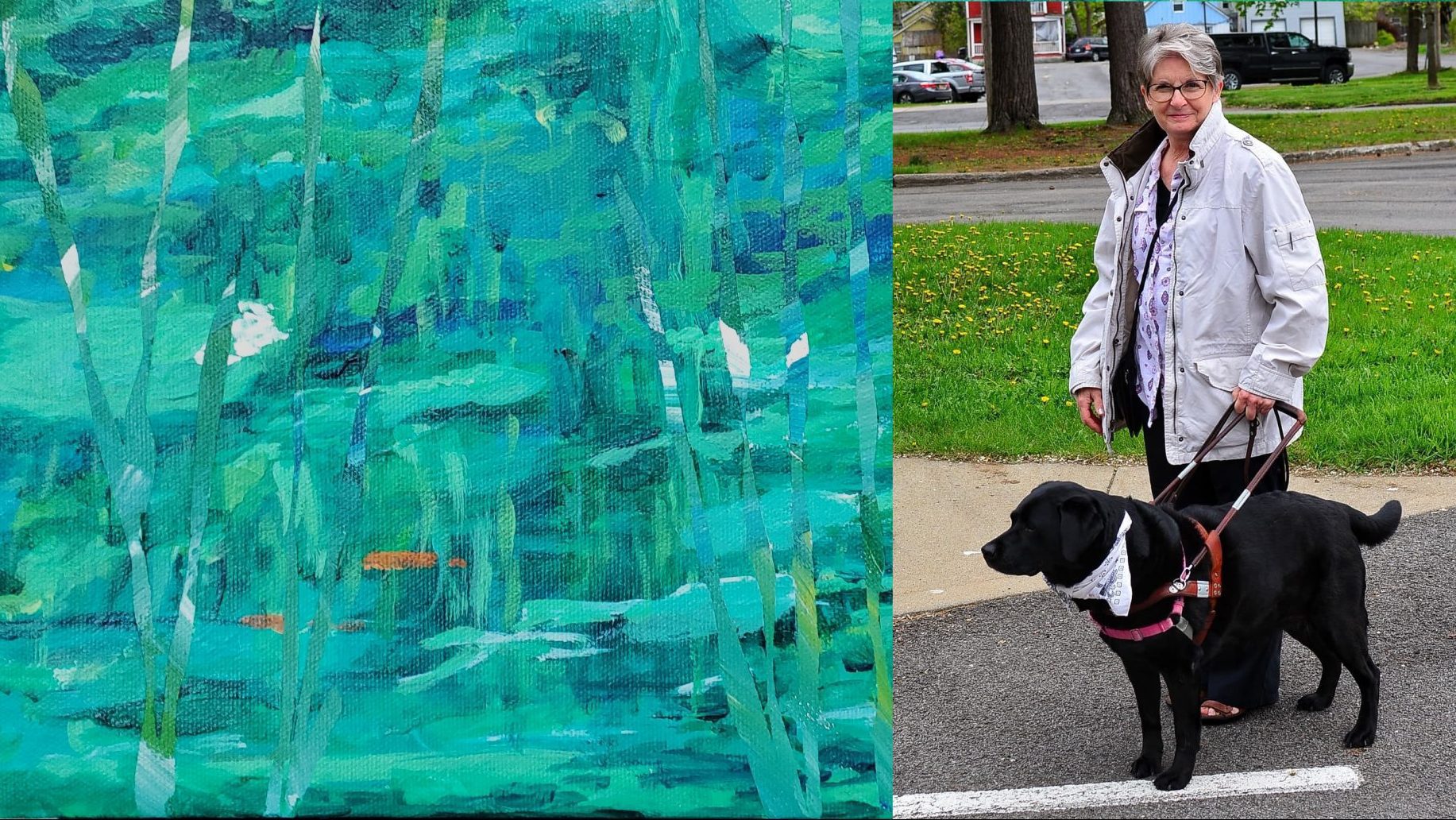 When Connie Avery steps out for her daily walk with her guide dog, Lexie, a third family member insists on joining them: Zola, a cat who "adopted them" more so than the other way around, according to Connie. 
"People will stop their cars. And they'll say, 'Um, do you know you have a cat following you?' And I go, 'Yeah, she's mine. She insists on following us.'"  
As she trails Connie and Lexie, Zola the cat even sniffs the same trees as her canine counterpart. "This is a little bit bizarre here," Connie thinks to herself as she walks, "you're a weird cat." 
Connie considers her little zoo — Lexie, Zola, and her other cat, Zena — to be a family. "They just make the house a fun place to be," Connie said. 
An abstract painter, Connie Avery has participated in APH's InSights Art Competition every year since 2019. At the moment, she has 300 paintings in her collection, has been a part of numerous shows and exhibitions, and has won multiple awards for her creations over the course of her career. She thanks the New York State Commission for the Blind for their support in bringing her art to the public. "They were instrumental in helping me start my business."
Since they were paired around eight years ago, Lexie the guide dog has been by her side every step of the way. "If I go to the show, she goes with me. If I go to the art studio, she goes with me," Connie said. "She goes everywhere."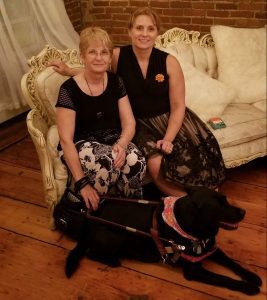 Connie has Retinitis Pigmentosa, which causes progressive vision loss, affecting night vision initially and gradually spreading to peripheral vision. Eventually, it can also degrade one's central vision, though this hasn't been the case for her thus far. She first got Lexie when she moved into her own place in New York and realized her vision problem might have been "worse than [she'd] like to admit." 
"I felt like I was going to be falling," Connie said. "I kept tripping over the sidewalk…it made me want to stay in all the time."
Connie contacted the Central Association for the Blind and Visually Impaired in her local town, Utica, and started Orientation and Mobility training, learning to walk with a white cane. "Using a white cane is okay," Connie said. "I just couldn't see myself actually doing it as much. I felt very clumsy." 
That's when she reached out to Freedom Guide Dogs, who interviewed her on a Friday. The following Monday — an unusually quick turnaround — she got a call about a dog. Lexie, a black Labrador retriever, was only four years old when her previous owner passed away. The owner's family brought her back to Freedom Guide because she still had plenty of years to work before retiring.  
"It was a little transition because I wasn't used to a guide dog at first, and Lexie had been out of work for a little bit," Connie said.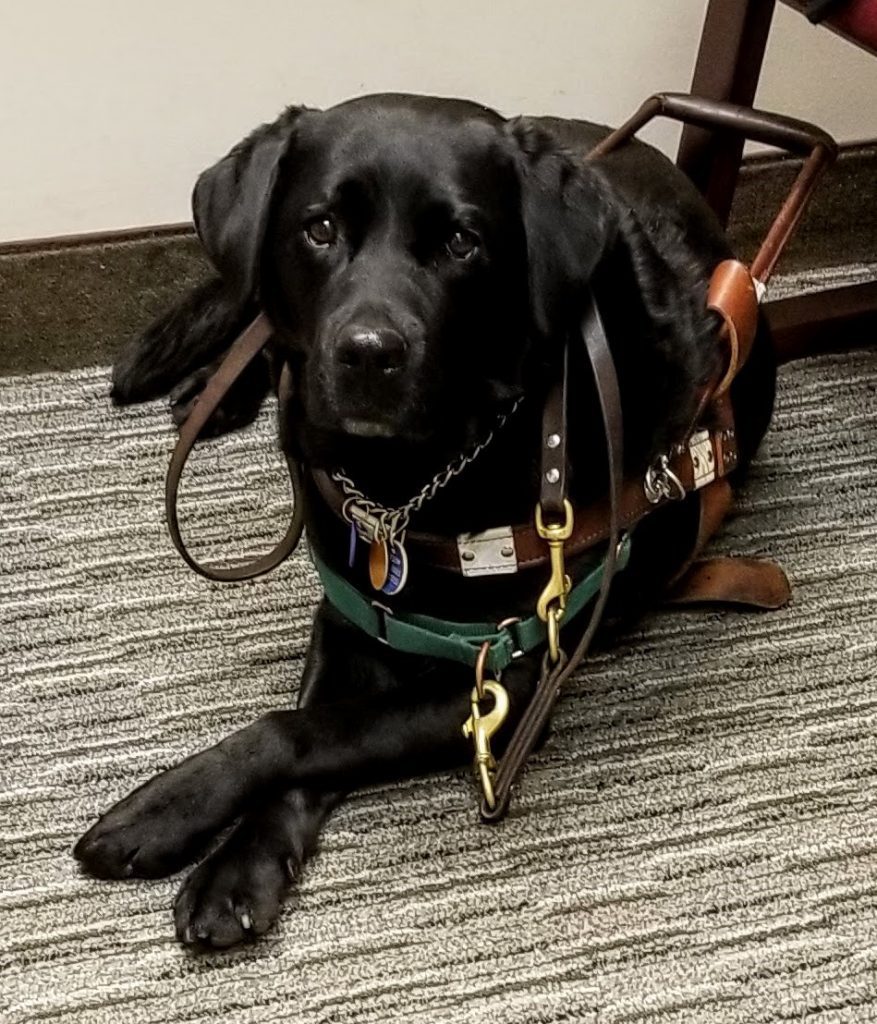 Nowadays, she takes Lexie with her virtually everywhere. She recounts a time a few years back when she popped into a store and left Lexie in a car with her friend that drove. 
"I only needed two things and I bumped into three people," Connie said. "I came back out to the car, and I said, 'Okay, I'm not doing that again'…it's things like that that make you realize you need to accept the fact that you need that help." 
 Connie shared that she and Lexie have a very close relationship, citing that the pup keeps tabs on her, and can sometimes be a pain in the butt (endearingly, of course!) 
"During COVID, if I hadn't had her and the cats and my art, I would have gone bonkers," Connie said. "I spend all my time doing my art." 
The pair continues to help one another day in and day out, empowering each other in their symbiotic relationship.  "Since I got Lexie, it has been really beneficial for me because I feel like I can go out. I don't feel uncomfortable," Connie said. "…she really is a good girl." 
Share this article.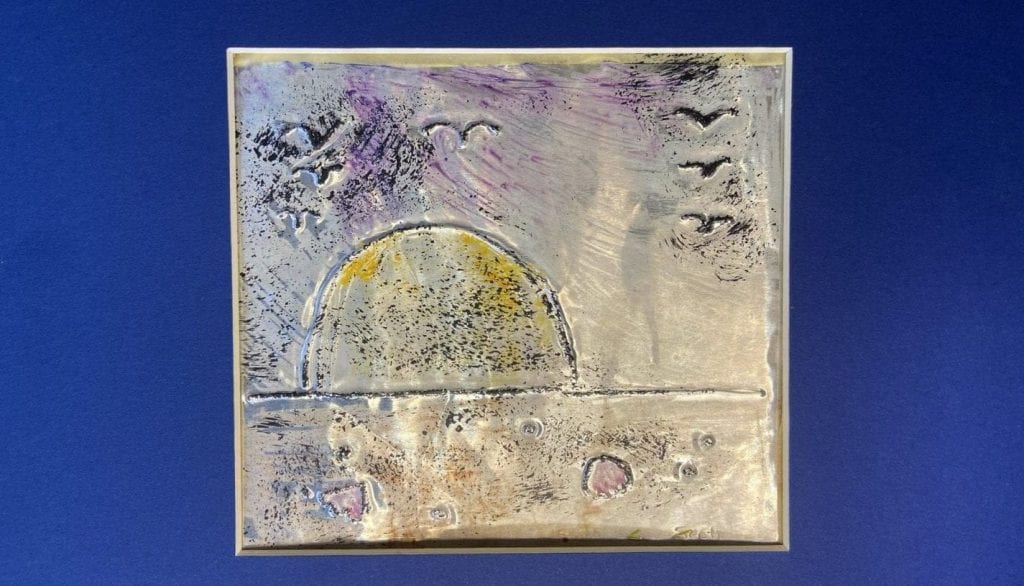 Since 1992, APH has hosted the annual InSights Art Competition, an international art contest open to artists of all ages...