Sign up to receive our latest newsletters.

July 2021
Building Your Physical Education Toolkit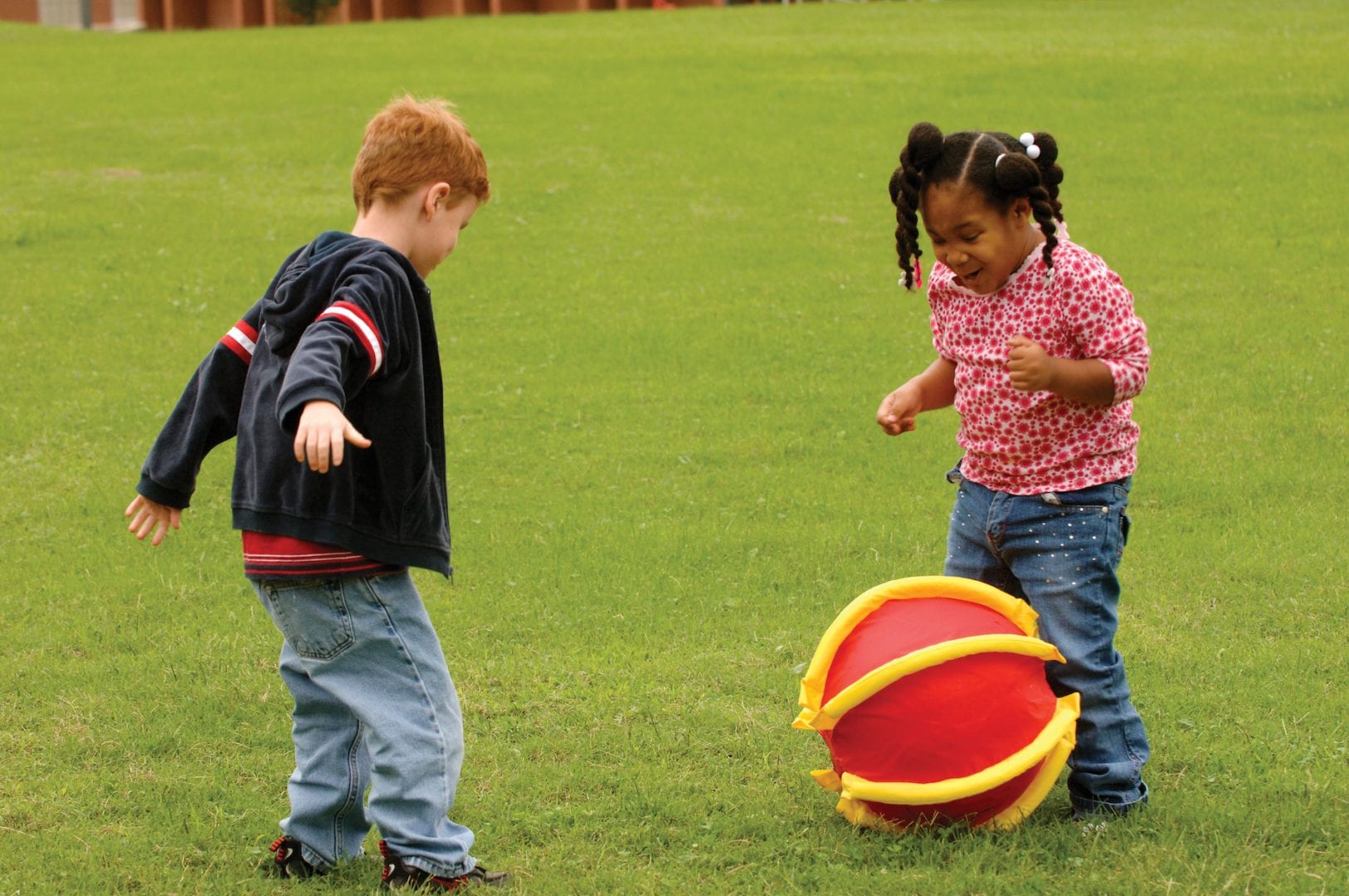 It's time to get moving! Whether you are walking, running, or jumping rope, APH offers a plethora of products that can adapt physical activities to meet the needs of students who are blind and visually impaired. Read our Building Your Physical Education Toolkit blog to learn more.
APH Is Ready for a Braille Revolution
"We're excited to announce the development of a revolutionary new dynamic braille device that will change the way we access braille and tactile graphics. The future of braille technology is bright and we can't wait to share it with you." Hear more from Anne Durham, APH's Vice President and Chief Officer of Innovation and Strategy.
APH Receives Funding from the WHAS Crusade for Children
The WHAS Crusade for Children is an annual telethon which raises funds for children with disabilities in the Louisville and Southern Indiana area. The 68th telethon, held in early June, raised more than $5 million. APH is proud to be a partner of this longstanding community effort. This year, APH received $9,000 towards our Braille Tales program. Thanks to the WHAS Crusade for Children, 149 preschoolers in our area who are blind or visually impaired and their families will receive 6 free print-braille books.
SAVE THE DATE! 153rd APH Annual Meeting

APH's 153rd Annual Meeting will take place in-person, October 6–8, at the Hyatt Regency in Louisville, KY. This year's theme is Learn Your Way, with some sessions offered virtually. Stay tuned to your email inbox, and August and September issues of APH News for additional details. In the meantime, learn why you should attend, especially if you are a TVI.
Building on Patterns Group Continues Kindergarten Revision in Hybrid Meeting

BOP Team members participating at APH pictured at left above:
Front: Kate Dilworth (OR), Luanne Blaylock (AR), Cathy Senft-Graves (APH)
Rear: Mary Filicetti (VA), Kristen Buhler (OR), Jo Ellen Croft (AR)
BOP Team members participating virtually pictured at right above:
Top: Becky Peek (VA), Robin Wingell (CA)
Bottom: Izetta Read (CA), Anna Swenson (VA)
The Building on Patterns (BOP) team worked on lessons and assessments for the second edition of the Kindergarten curriculum at the annual summer meeting held on June 21–25, 2021 at APH. The BOP writers and consultants, all teachers of students with visual impairments, collaborated in a hybrid event with both in-person and virtual attendees. They also heard presentations on BOP Pre-K production and some new APH products, and they provided teacher perspectives on a product in development.

APH is excited to announce the release of the following new product(s):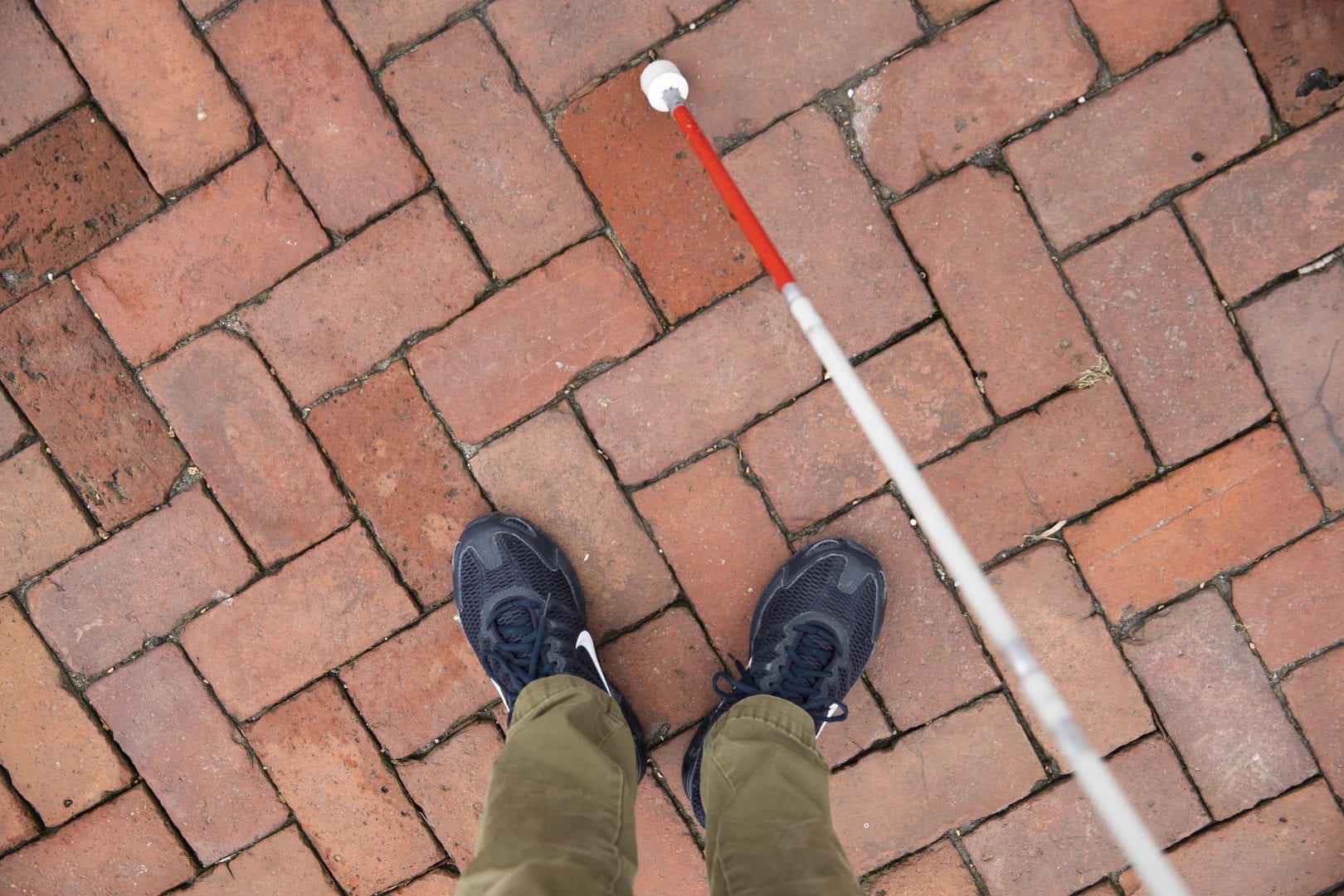 This updated edition of the popular Step-By-Step (a comprehensive curriculum providing instructions and demonstrations of how to perform mobility techniques) includes new techniques and information, all available digitally in the form of two flash drives!
This free software allows teachers and parents to create accessible drills, practice exercises, or tests for students who are blind and visually impaired. Find Teacher's Pet Online at teacherspet.aphtech.org.
Note: This product works on any web browser and can be used with APH's line of braille displays: Mantis Q40, Chameleon 20, and Braille Trail Reader.
Even Easier Braille: Introducing BrailleBlaster V2!
We're excited to announce BrailleBlaster V2! Transcribe braille for the classroom, workplace, and beyond faster and more efficiently than ever with this update to our popular FREE braille transcription software. Find out what's new by reading our BrailleBlaster V2 blog.
Mantis Q40 & Chameleon 20 are Now Compatible with Chromebooks!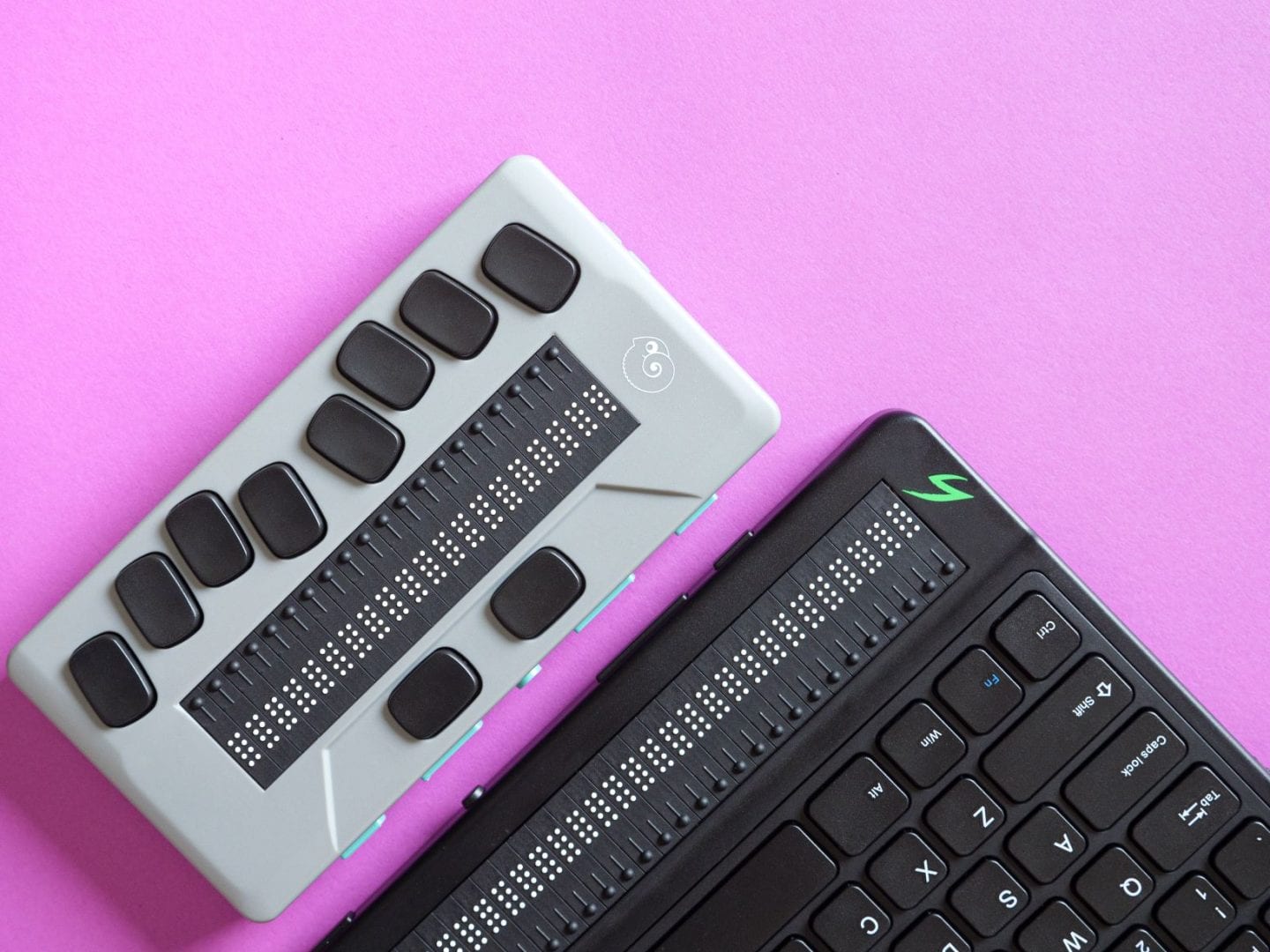 The Mantis Q40 and Chameleon 20 refreshable braille displays are now compatible with Chromebooks using the default stable channel. Right now, it is USB only, but we are working to get Bluetooth support. We are also continuing to work with Google to get better support for all braille displays on Chromebooks and Android. Read this official Google Support article for more instructions on using a braille display with Chromebooks.

Juno Customer Satisfaction Survey
Please, give us your feedback by filling out a Customer Satisfaction Survey on the newly released Juno handheld video magnifier with OCR. We would love to know how this magnifier is helping you!

Strengthen Your Braille Muscles with the Hop-A-Dot Mat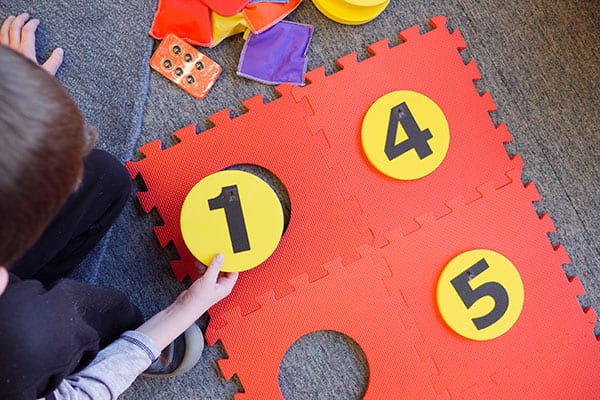 Exercise those "braille cells" and get moving with the Hop-A-Dot Mat!
STRETCH and BEND as you insert braille dots into the mat to build alphabet letters.
TOSS bean bags onto the mat to build alphabet letters.
STEP on braille dots that make up an alphabet letter.
PUNCH unneeded braille dots from the mat that do not make up an alphabet letter.
RACE peers to see who is the fastest building the entire alphabet.
SPIN the accompanying Alphabet and Number Spinners.
PLAY lots of games that are suggested in the Activity Booklet.
To learn more, visit the Hop-A-Dot Mat shopping page.
Have you or your students created new games and activities using the Hop-A-Dot Mat and related spinners? If so, share your creative extensions with Karen Poppe, Tactile Literacy Product Manager at kpoppe@aph.org.
Sock Sort Relay
This summer, put your old sock pile to good use by having your children compete in their very own sock sort relay! Published as part of our #AtHomeWithAPH series in response to the COVID-19 pandemic, this activity can be played at home with the whole family.
Health and Nutrition Resources
A healthy lifestyle involves not only exercise, but also a balanced diet. Check out the APH Health and Nutrition webpage for more information and resources related to food safety and the different food groups.
APH Press Featured Publication
Physical Education and Sports for People with Visual Impairments and Deafblindness: Foundations of Instruction provides practical and essential information on methods of modifying physical skills instruction, techniques for adapting sports and other physical activities, teaching methods and curriculum points for physical skills instruction throughout the lifespan, and information about sports and related activities, providing rules, adaptations, and information about competition options. This is the ideal manual for physical educators, adaptive physical education specialists, teachers of students with visual impairments, orientation and mobility specialists, and anyone else interested in sports and recreation for persons who are visually impaired or deafblind.
Babies with CVI Update
APH Press will soon be adding a new title to its collection, Babies with CVI: Nurturing Visual Abilities and Development in Early Childhood. We previously announced that a webinar with the author would air on July 2, 2021. This webinar has been moved to a later date to coincide with the book's launch. Stay tuned to your email and future issues of APH News to learn when you can purchase this valuable resource and register for the webinar.

The Buzz: News from the APH Hive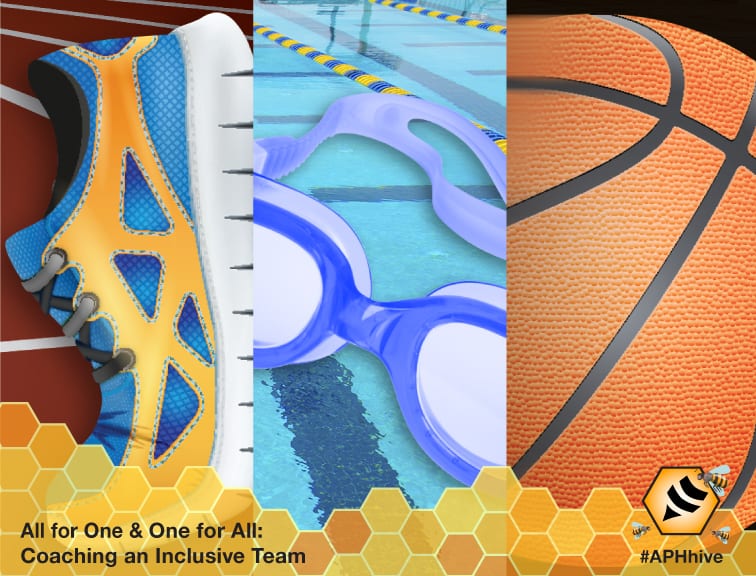 Physical Fitness has a place inside the APH Hive! Tap into the Core Curriculum content and enroll in All for One and One for All: Coaching an Inclusive Team. This 1 hour of credit course provides educators with information to help coach students in 4 areas of sports, which offers strategies that lead to lifelong sports participation.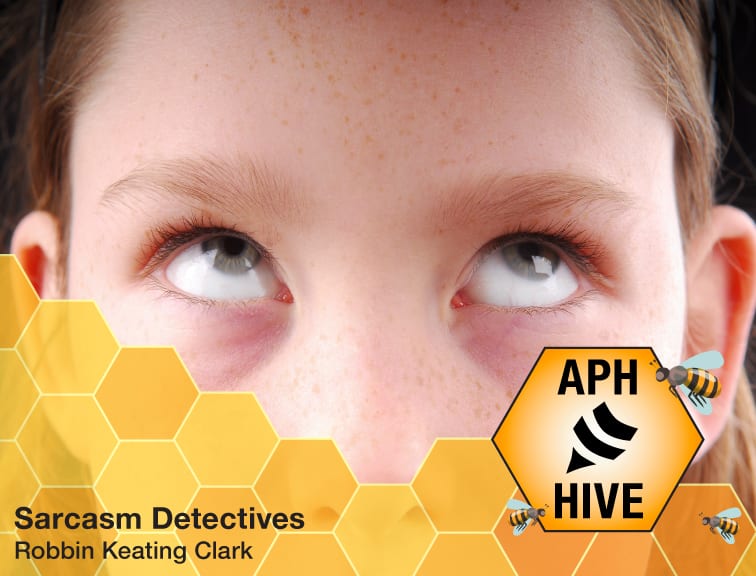 Activity buzzes inside the APH Hive with a total of 18 courses that help educators learn and grow. Don't miss out on exploring ways to help teach Social Skills within the Expanded Core Curriculum category. Enroll in the course Sarcasm Detectives and explore ways of guiding students with visual impairments to understand how sarcasm is communicated in social relationships through focused language activities. This course offers participants 2 hours of ACVREP credit.
Visit the APH Hive today and start learning for FREE.

ConnectCenter News
Fitness is for everyone! There may be some extra considerations for people with low or no vision, but with some planning and creativity, anyone can achieve a level of fitness. You might question how, where, and what can someone with low vision do to be active and fit. Here are a few posts from the ConnectCenter blogs to get you going!
In this short article, VisionAware Peer Advisor, Trina Bassak, shares some risks of physical inactivity and how to avoid a sedentary lifestyle. Additionally, two VisionAware posts reveal practical strategies to exercising with low vision: Exercise for Everyone and Navigating the Gym with Low Vision. Author Liz Bottner discusses tips for exercising safely in your own home. A final post lists ideas for how to practice yoga and meditation.
On FamilyConnect, we recently featured blog posts about camping and fishing as ways to encourage and explore both fitness and independence.
Lastly, be sure to check out the Sports and Exercise for People with Visual Impairment section on VisionAware. You will find information on everything from bowling to sailing and everything in between! There is something for everyone.
Student Scholarship Opportunity
APH is excited to announce an extended deadline for our new scholarship for students who are blind or visually impaired! The application process for the Peter Papano-APH Scholarship is now open through September 17, 2021 (applications submitted after the designated timeframe will not be considered). If you live in California, plan to attend college in California, and will major in a STEM or Fine Arts subject, you may be eligible.

Next on Change Makers
Change Makers: A Podcast from APH highlights the people who are making the biggest difference in the blindness field. "Change Makers Ep. 33 Anniversary of the ADA" examines what progress the Americans with Disabilities Act has made and what people would like to see in the future. We speak with APH leaders and discuss what the ADA has done, what advances still need to be made, and how to advocate for yourself or a loved one.
Missed one? Don't worry. Find all episodes of Change Makers on our website.

Meet APH Scholar Spencer Churchill
We would like to congratulate Spencer Churchill for being selected as a 2021-2022 APH Scholar. Spencer was nominated by EOT, Jared Leslie, and works as an itinerant TVI and O&M instructor for the Foundation for Blind Children (FBC). Read our blog to learn more about Spencer and discover what makes an APH Scholar stand out.
U.S. Goalball Teams Announced for Tokyo 2020 Paralympic Games
In June, the United States Association of Blind Athletes (USABA) revealed the 12 athletes who will be competing in the men's and women's goalball teams for Team USA at the Tokyo 2020 Paralympic Games. Read the official goalball team announcement to learn about the selected players and their accomplishments. The competition begins on August 25, 2021 with the medal matches taking place on September 3. Join us in rooting for Team USA!

Treasures from the APH Libraries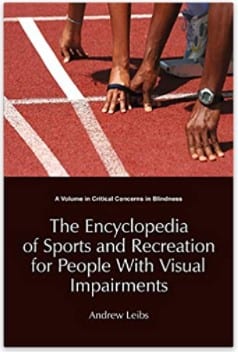 Leibs, A. (2012). The Encyclopedia of Sports and Recreation for People with Visual Impairments. Charlotte, NC: Information Age Pub.
Produced by APH in both talking book (DB 76499) and braille (BR 19943) for the National Library Service for the Blind and Print Disabled, as well as being part of the APH Migel Library, The Encyclopedia of Sports and Recreation for the People with Visual Impairments by Andrew Leibs is written in the spirit that a visual impairment is not an obstruction to but rather a variable in participation. The Encyclopedia outlines the athletes, organizations, and products that contribute to the growth of accessible sports, physical fitness, and recreation programs that accommodate the blind and visually impaired. Leibs, a blind athlete himself, profiles thirty-six physical activities and pursuits, from the serenity of sailing to the blustery rush of alpine skiing to the spiritual and ascetic discipline of yoga, that are tailored to individuals with visual impairments. This is not an instructional, teaching guide. Rather, it serves as a wide-ranging overview showing how individuals participate in these activities by noting the equipment, rules, and other functional adaptions that facilitate them.
Throughout, Leibs highlights insights and reflections from nearly 100 visually impaired athletes on involvement and the transformative value of sport and recreational participation. Leibs ends with an excellent chapter of accessible sports resources with listings of sports and summer camps, international and national accessible sports and recreation organizations, and accessible recreation providers. Thematically, The Encyclopedia of Sports and Recreation for the People with Visual Impairments ties together its thirty-nine chapters and commentary by promoting that participation in sports and recreation, regardless of the individual, is an important part of personal expression and human interaction.

Please, join APH at the following virtual conferences.
NFB, July 6–10, 2021
APH is a bronze sponsor at the National Federation of the Blind 2021 National Convention. Stop by the exhibit booth on July 6–7 from 9 AM–5 PM ET, July 8 from 9 AM–12 PM ET, July 9 from 9–11 AM ET, or on July 10 from 9 AM–12 PM ET. We will also be presenting at the Technology Evaluation Committee Showcase on July 6 from 9–10:30 PM ET. Other APH presentations include:
APH: Our High-Tech Braille Journey Continues by William Freeman, Greg Stilson, and Joe Hodge (July 8, 2021 from 10–11 AM ET)
APH's Quest for The Holy Braille by Greg Stilson (July 8, 2021 11 AM–12 PM ET)
ACB, July 16–23, 2021
APH will have an exhibit booth at the American Council of the Blind 60th Annual Conference and Convention. Booth hours are 10 AM–12 PM and 2–4 PM ET on July 16, and July 19–23, 2021. Come with questions and meet our team.
Looking for More?
Subscribe to to stay current. Find previous editions in our newsletter archive.