Sign up to receive our latest newsletters.

September 2021
Registration Now Open for APH's 153rd Annual Meeting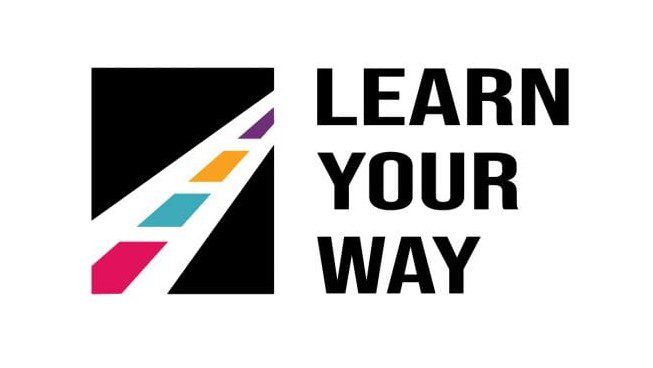 We had hoped to see everyone in-person at this year's Annual Meeting, but alas, just like 2020, the universe had other plans. The health and well-being of all attendees and APH staff is our top priority, so we will again host this year's Annual Meeting virtually.
To accommodate a variety of schedules and reduce "Zoom fatigue," we will offer our virtual content across multiple dates, October 6–8 and 13–15 from 1–6:30 pm EST.
Although we won't be gathering in-person this year in Louisville, APH is committed to creating an informative and fun virtual Annual Meeting for all attendees. Events in store include:
Special events, such as the InSights Art Banquet and Hall of Fame Induction Ceremony, and four new awards: Wings of Freedom; Horizon Award; Louis Award; and Navigator Award.
A report on the State of the Company by APH President, Craig Meador
General and Breakout Sessions
Open Hall, where you can interact with APH staff and ask any questions you may have
Register for Annual Meeting today. Once registered, you should receive an email invitation from CrowdCompass, the app we are using to provide information about the event. Be sure to check your junk/spam folder for your invitation.
We look forward to seeing you (virtually) at Annual Meeting in October.
Spend Your Quota Funds by September 30, 2021!
EOTs are invited to start the school year off right with new products to promote students' academic success. Quota funds must be spent no later than 4:30 PM Eastern Time on Thursday, September 30, 2021.
Shopping online at aph.org is the fastest and easiest way to place your orders. Orders are also accepted via web using the accessible PDF order form or email at PO@aph.org. Remember, with your EOT login, you can purchase items currently on backorder – the funds will still be encumbered for fiscal year 2021.
If you have any questions or experience any issues placing your order, please contact our Customer Experience team Monday-Friday between 8:00 a.m. and 8:00 p.m. Eastern Time at 1-800-223-1839 or email cs@aph.org. APH will be closed for the Labor Day holiday on Monday, September 7.
REMINDER: APH Traditional Enlargement Textbooks Will No Longer be Available After September 30, 2021
APH will cease reprinting all Traditional Enlargement textbooks, and they will no longer be available from Louis. If you need to order these L-C or M-catalog numbers, they must be ordered by 4:30 PM Eastern Time on September 30, 2021. The removal of the APH Traditional Enlargement process and the renewed focus on APH Large Print and digital textbooks will help us create the most comprehensive and accessible collection of textbooks for K-12 students produced in the United States.
If you have any questions, please reach out to Jane Thompson, APH Director of Accessible Texts and Textbooks, at jthompson@aph.org.
Back to School Tech Equipment Reminder
Getting back to school means it's that time of year when our trusted and true technology products are being pulled out of storage and off the shelves for another great year of learning. While you and your equipment had some well-deserved time to rest this summer, APH took that time to issue key software updates and enhancements. To help get the school year off to a great start, we remind you to be sure to install the latest software updates on your beloved tech. Once connected to WiFi, you'll be automatically prompted to do so. We recognize that some school security policies could prevent your device(s) from downloading updates. Please refer to the individual product pages at aph.org for steps to manually update your device(s), or contact our Customer Experience team at 1-800-223-1839 or email cs@aph.org.
Remembering Maryland EOT, Ruth Ann Hynson (1960-2021)
APH remembers and celebrates the life of Maryland Ex Officio Trustee (EOT), Ruth Ann Hynson. We send our condolences to her family, friends, and colleagues during this difficult time.
Ms. Hynson began her 32-year career at the Maryland School for the Blind (MSB) in 1989 as a Social Worker. In 1995, she was promoted to Outreach Community Liaison and, in 2012, became the Director of Statewide and School Services as well as supervising the Maryland Instructional Resource Center.
Over the course of her career, Ms. Hynson developed the MSB Outreach Program that will have a lasting impact on Maryland's blind and low vision students. She introduced new summer programs, facilitated Space Camp, as well as weekend workshops for students and families focusing on skills for independence. These programs enhance the students' knowledge and skills that will enable them to be independent, productive members of their community. She, along with her staff, have increased community awareness and student participation in the annual regional Braille Challenge. Ms. Hynson was instrumental in establishing Low Vision Clinics on the Eastern Shore and Western Maryland.
Ms. Hynson had a passion and commitment to provide outreach services to the students, staff, and families. In 2008, she was nominated for the POSB Outstanding Outreach Provider Award. In her nomination letters, Ms. Hynson is described as "a knowledgeable and dedicated professional," "always displays kindness and respect," "putting the student first," "creative in finding ways to providing services to those most in need," and "has her finger on the pulse of vision educators and parents throughout the state with respect to their needs for ongoing educational opportunities."
Ms. Hynson has presented at numerous regional and national conferences, served as an EOT for APH, and was an active member of the Maryland Vision State Steering Committee and of the Association for Education and Rehabilitation of the Blind and Visually Impaired (AER).
We sincerely thank Ruth Ann for her service and for her impact in the field of blindness and visual impairment.
Attention: All Users of APH Products in Education and Rehabilitation Settings
If you have purchased APH products and utilized APH services, we want to hear from you! By responding to this brief, 11-question survey, you are making an impact by helping APH improve our products and product development, services, and customer experience. Start the GPRA 2021 Survey now.
The survey response deadline is Thursday, September 30, 2021.
This brief annual performance survey is designed to accomplish several key goals:
To measure our performance in order to improve our products and our product development processes
To gather input for our strategic planning and product development priorities
To collect APH performance data for the US Department of Education
We encourage everyone who has used our products in an education or rehabilitation setting within the last year to take a few minutes to reflect on your experience with our products. All individual responses will remain confidential. Your honest feedback about our performance and product effectiveness DOES make a difference.
Thanks so much for sharing your experience with APH products and services!

APH is excited to announce the release of the following new product: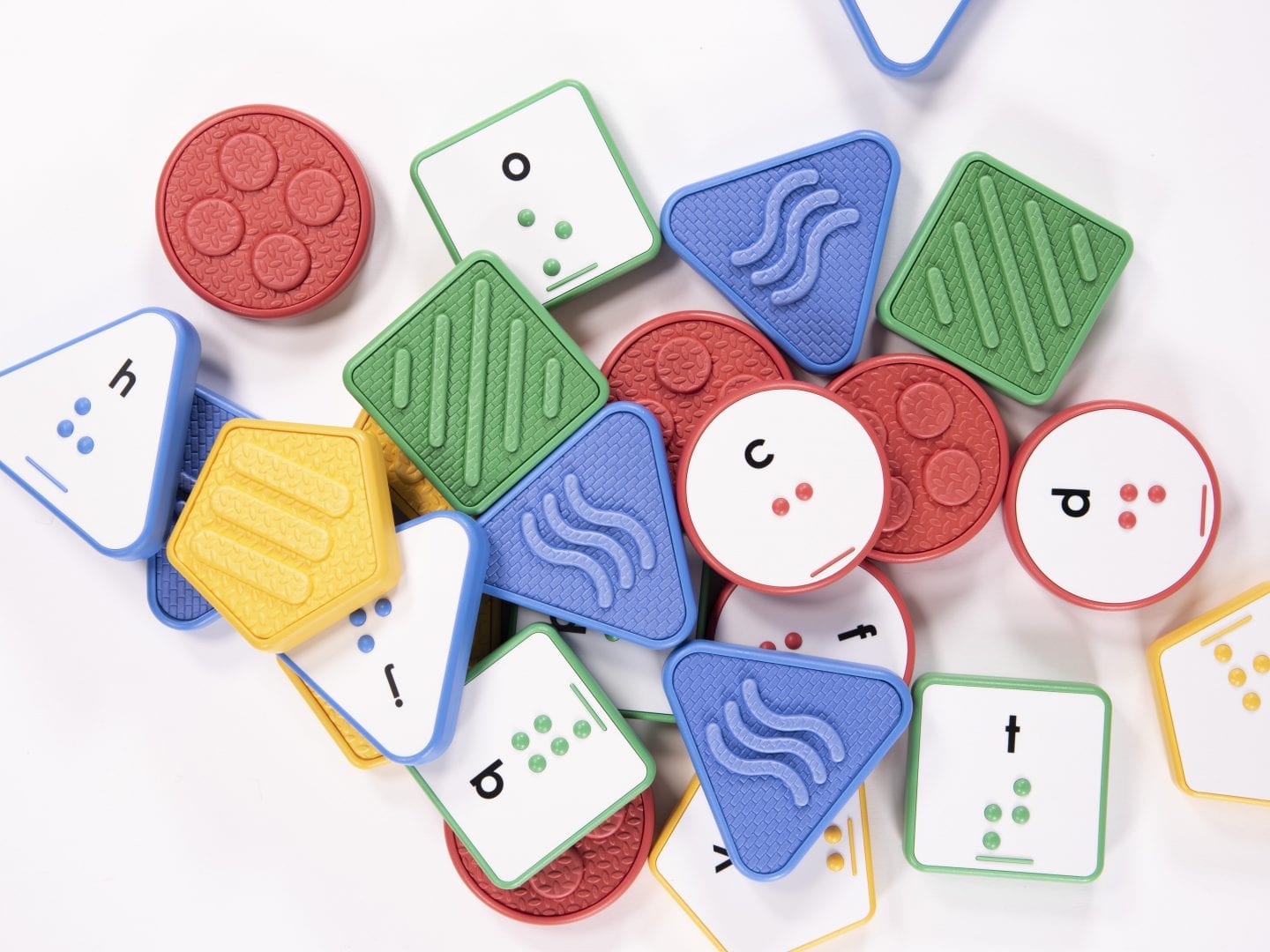 The Reach & Match, Alphabet Tiles are an accessory to the complete Reach & Match® Learning Kit. Each letter in the English alphabet corresponds to a tile that is differentiated by its shape, color, texture, sound, and tactile marking. With these additional tiles, students will be able to spell even more words!

Digital Accessibility Survey
Calling all a11y practitioners! A Deque Systems Survey launched in partnership with IAAP and G3ict Research was created to assess how COVID-19 is still impacting digital accessibility. A follow-up to a survey conducted in early 2020, this new survey will allow practitioners around the world to anonymously comment on the impact COVID-19 is having on employees and customers with disabilities, and on their organization's accessibility design and testing efforts.
Your input will greatly help these organizations identify the areas in your role and company that have been most impacted by the pandemic and highlight steps to ensure digital accessibility is being addressed at a critical time. Take the How is COVID-19 Still Impacting Digital Accessibility? Survey today.
Flip-Over Concept Books Product Survey-Teacher Ideas for More Books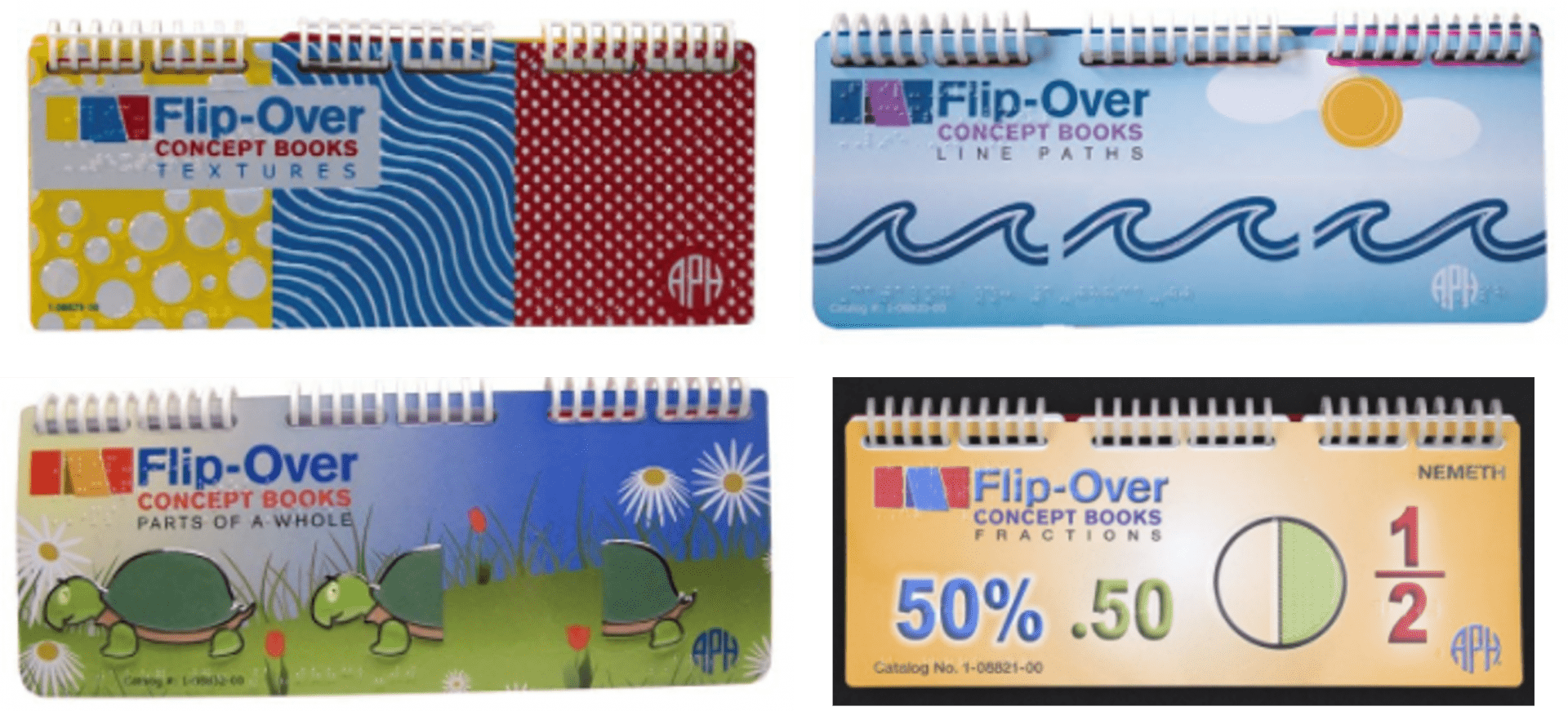 APH currently offers a variety of Flip-Over Concept Books that address concepts such as textures, line paths, fractions, and more. Please, take a moment to complete this short Flip-Over Concept Books Product Survey to let us know which flip-over books you are currently using with your students and share your ideas for future books.
Please contact Karen J. Poppe, Tactile Literacy Product Manager, with related questions to this survey at kpoppe@aph.org.
Thank you for your time and creative thoughts!
College Professors: APH Wants Your Feedback
APH is looking for ways to make the Student Starter Pack more affordable and useful for college students in beginning braille classes. If you are a professor in a TVI or special education program who has used the Student Starter Pack with your students, please respond to this brief Student Starter Pack Feedback Survey by September 30, 2021.
Field Testing Opportunity for 3-D Printer Users
APH developed a new DTB cartridge holder that can be printed using a 3-D printer. This cartridge holder will help individuals with spastic cerebral palsy insert and remove a DTB cartridge when using the Joy Player. If you have a 3-D printer, please, consider participating in this field test. Learn more by visiting our Get Involved webpage.
APH is Recruiting Field Testers for an Abacus App
APH is seeking teachers to test an iOS and Android app called Practice2Master Abacus. The app is designed to help elementary school students with visual impairments learn how to use an abacus. With this app, students can take lessons covering addition, subtraction, multiplication, and division; practice their skills with an unlimited number of problems; get problem-specific assistance; take drills; and report back to their teachers.
Testing will begin in Fall 2021. If you have an iOS or Android device and are interested in testing this app with your elementary school students, please complete this APH Field Testing Application Form. Should you have any questions, contact us at lzhou@aph.org.
Thank you for your time and consideration!

Prepare for the School Year with APH Toolkits
From access technology to educational and testing tools, APH offers numerous products to help your students succeed in and outside of school. Check out this list of product toolkits to find solutions for your classroom.
A Fun Reach & Match Game for All Students
APH's Reach & Match® Learning Kit helps young children of all abilities develop their motor and social skills, all under the guise of games. Read our Stop, Drop, Go, Go, Go! blog to learn how you and your students can get moving and learning with this enjoyable Reach & Match activity.
APH Press Featured Publication
Every student has unique learning needs. Addressing the diverse needs of students who have visual impairments and multiple disabilities can be particularly challenging for teachers. Keys to Educational Success: Teaching Students with Visual Impairments and Multiple Disabilities helps educators unlock the learning potential of their students by providing key program strategies that can be directly applied to classroom learning routines. This book includes information about the basics of assessment, IEP development, and instructional planning and design, as well as specific strategies for essential areas of instruction including communication, literacy, O&M, behavior intervention, and technology.

The Buzz: News from the APH Hive

Tailor your teaching and presentation skills to meet the educational needs of a virtual world by enrolling in Using Your Senses to Present. This 1-hour ACVREP course will help you discover how to embed sensory strategies into your online teaching to engage students from start to finish.
Get the upper hand on making math instruction accessible with APH products! Enroll in Tactile Aids for Mathematics, earn 2.5 hours of ACVREP credit, and learn how to use multiple strategies and tools, which equals the playing field for students with visual impairments.
Visit the APH Hive today and start learning for FREE.

Back to School with APH FamilyConnect!
FamilyConnect is a treasure trove of resources for families navigating school with a child who has a visual impairment. Browse by Age or jump straight to Education on the home page tabs to find curated articles on the Expanded Core Curriculum and Know Your Rights to help you navigate IEPs and services for your child. By Age, families can find resources on Babies and Toddlers, Grade Schoolers, and Teenagers. Speaking of teens, the new school year is a great time to work on critical self-advocacy skills. For ideas, check out Expect Your Teen to Dialogue with Teachers Prior to the School Year.
APH CareerConnect and APH ConnectCenter Transition Resources for Fall
APH CareerConnect has lots of resources for teachers and rehabilitation counselors looking for career education curriculum for this school year. Be sure to check out the For Teachers and Professionals tab on aphcareerconnect.org for a host of resources ranging from Using FamilyConnect to Prepare Your Teen for Transition to curriculum to support critical transition skills like What is Work?, Social Skills, and Money Management. Start the school year by checking out the APH ConnectCenter Transition Hub and see the possibilities unfold.
VisionAware Updates
September is Fall Prevention Month! People with vision loss "have a significantly greater risk of balance problems…" With that in mind, VisionAware is hosting a webinar on Fall Prevention and the Matter of Balance program with adaptations for people with vision loss on September 14th from 2:30 PM – 4:00 PM ET.  To register, visit the ConnectCenter webinars page. If you don't have time to make the live webinar, you can watch the video on our YouTube Channel or check out  VisionAware's article on Preventing Falls with tips and ideas for people with vision loss and low vision adaptations.
Student Scholarship Opportunity
APH is excited to announce an extended deadline for the Peter Papano-APH Scholarship for students who are blind or visually impaired! The deadline for the application process has been extended to September 17, 2021. If you live in California, plan to attend college in California, and will major in a STEM or Fine Arts subject, you may be eligible.

Next on Change Makers
Change Makers: A Podcast from APH highlights the people who are making the biggest difference in the blindness field. On Change Makers Episode 36 "Staying Active," we detailed ways you can keep children active, especially during the coming winter months. Listen and learn about various APH products that help keep kids moving and hear from an educator about the ways children benefit from physical activity.
Missed one? Don't worry. Find all episodes of Change Makers on our website.

Summer Fun at the 2021 Virtual ExCEL Camp

From late June to early August, we hosted the second annual Virtual ExCEL Camp for students of all ages. Read our Summer Fun at the 2021 Virtual ExCEL Camp blog to discover what campers did and learned together.
Teacher Spotlight: Kelsey Linsenbigler
The field of blindness education would not be where it is today without the contributions of many inventive teachers. Our Teacher Spotlight shares the stories of these educators to inspire other professionals with new ideas for incorporating APH products into their curriculum. Read our Adapting Physical Education Classes to Meet Student Needs blog to discover how adapted physical education (APE) teacher, Kelsey Linsenbigler, uses APH products to make fitness activities accessible.
Meet APH Scholar Stacey Gibbins
We would like to congratulate Stacey Gibbins for being selected as a 2021-2022 APH Scholar. Stacey was nominated by EOT, Scott McCallum, and works as the Senior Director of Programs and Services for the Northwest Association for Blind Athletes (NWABA). Read our blog to learn more about Stacey, and discover what makes an APH Scholar stand out.
Back-to-School with Paths to Literacy
In their recent newsletter, our friends at Paths to Literacy shared three blogs to help parents, students, and teachers prepare for the first day of school: 5 Back-to-School Tips for Teachers of Students with VI and Additional Disabilities, 6 Tips for Preparing for the First Day of Preschool, and Making Back to School Shopping Meaningful, Accessible and Fun. We hope these resources will assist you as you gear up for the coming academic year.
2021 Holman Prize Winners
The LightHouse for the Blind and Visually Impaired in San Francisco recently announced the 2021 winners of the Holman Prize for Blind Ambition. This prize awards up to $25,000 each to three people who are blind and have ambitious ideas that will challenge misperceptions about blindness worldwide. Congratulations to Aaron Cannon (USA), Robert Malunda (Zimbabwe), and Maud Rowell (United Kingdom). Read more about the Holman Prize and what the winners plan to do with their funds by checking out the LightHouse Lately newsletter.
ICEB Compiles Adult Braille Instruction Resources from Across English-Speaking Countries
The International Council on English Braille (ICEB) is asking individuals and organizations from English-speaking countries to share information about the learning tools being used to teach braille reading and writing to adults in their countries. ICEB will then generate a master list of curricula and resources to share on its website for all to access. For more information about how you can contribute to their work, visit iceb.org.

From the AFB Helen Keller Archive
In 1933, Miss Elizabeth Aitkin sent Helen Keller a handful of letters from her 3rd and 4th grade classes in Wrangell Public Schools, Alaska. Miss Aitkin writes that the sixteen letters were from "eager, busy people bending over their desks" to write to Helen Keller. During Christmas time, the teacher had noticed that the children were so busy talking about what they wanted for Christmas that they had forgotten about the spirit of giving. Since the students had recently made 2 cents a copy selling a printing of their own writings, the class decided to send their earnings to Helen Keller.
Along with Miss Aitkin's handwritten letter in the folder were those from each of her students. Each of the letters is touching in its own way, often repeating what they have learned of Helen Keller in their My Weekly Reader or asking if she has been to Alaska. It seems that the students raised a total of $2.36 to donate to the "children in silent darkness." Their next endeavor, many students mention, will be to raise money to buy some books for their own library. One bluntly states, "Next time we are going to buy some books because we need them."
Also included in the file were AFB Assistant Director Eber L. Palmer's responses to both the students and the teacher. With his thanks, he assures both the teacher and her students that Helen Keller will send an autographed photograph to hang in their classroom.

Looking for More?
Subscribe to to stay current. Find previous editions in our newsletter archive.