Sign up to receive our latest newsletters.
May 2020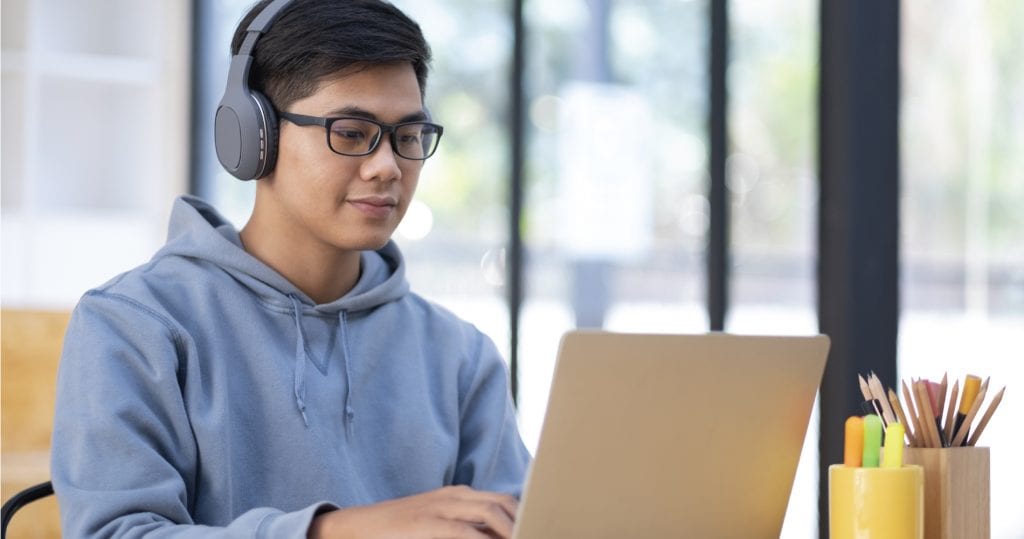 Virtual ExCEL Summer Camp
With the expectations that restrictions regarding gatherings of large groups and summer camps will be extended into the summer, we are offering the Inaugural Virtual ExCEL Camp from mid-June through mid-August.
The Virtual ExCEL Camp is for students, and will include a live hour at 2:00 ET, on Tuesday, Wednesday, and Thursday, and is free to all registrants. Also included are five at-home extension activities for the camp theme. Virtual ExCEL Camp will be separated by age/grade groups. Because we know students are not always able to attend during the scheduled hour, we will be recording these sessions so all have the opportunity to learn. Students will receive a camp shirt and other APH goodies.
Parents, please register your student(s) for the week(s) that match their needs:
Week of June 15 and July 20: Early Elementary (K-2 grade)
Week of July 13 and August 17: Upper Elementary (3-6 grade)
Week of July 6 and August 10: Junior High (7-9 grade)
Week of June 29 and August 3: Transition age (10 grade through 21 years)
Week of June 22 and July 27: Pre Symbolic Language (any age or grade)
Teachers: we are actively recruiting for Virtual ExCEL Camp instructors. If you are an instructor interested in leading one of these weeks, please fill out this form. Instructor spaces are limited but come with a $750 honorarium for each week taught and, of course, a camp shirt. Each week needs a team of two instructors – think general education instructor paired with someone in our field, but any combination will work!
APH's Continued Efforts to Assist Customers During the COVID-19 Pandemic
Many APH staff are returning to work next week, with many others continuing to support our customers from home. To learn how we are working during COVID-19, please read our blog. APH Customer Service is available M-F from 8am-8pm EST at cs@aph.org, or 1-800-223-1839.
We remain dedicated to providing resources you need to work, teach, and learn at a distance. Please, refer to #AtHomeWithAPH for ways to stay active and engaged during this unprecedented time.
Make Your Voice Heard! COVID-19 and Its Impact on Students with Visual Impairments, Including Those with Multiple Disabilities and Deafblindness
The impact of the COVID-19 pandemic, including social distancing, school closures, and the shift of in-person education to online environments, has led to concerns about the quality of distance education for students who are blind or have low vision, including those with multiple disabilities and deafblindness.
APH is proud to be one of the 19 organizations, companies, schools, and universities in the blindness field to collaborate in an effort to attain data and information from those most invested in the education of youth with visual impairments. We will work to develop solutions to ensure our students' educational progress during this unprecedented period in history allows them to continue to learn and grow.
We encourage all of those receiving this newsletter to have their voice be heard by completing this survey, both in English and Spanish, at AccessEngagement.com. The survey closes on May 13, so don't delay in participating! 
The survey focuses on education of children and youth who are blind or have low vision, including those with multiple disabilities and deafblindness, as well as the non-traditional delivery of services being provided by teachers of students with visual impairments and orientation and mobility instructors during the COVID-19 pandemic. Survey topics include:
Impact of the COVID-19 pandemic on the lives of families and professionals
How professionals are adjusting their instruction to meet the needs of their students and provide continued instruction in the expanded core curriculum
How families are being supported by teachers of students with visual impairments and orientation and mobility instructors
Ways students and families are accessing education (e.g. online, telephone)
Access children have to tools, materials, and instruction
By adding your voice to others completing the survey, you will help to share novel ways professionals and families are working together to provide education, as well as illuminate barriers affecting students' learning and engagement.
If you know families who do not have internet access, please, take the time to assist them to complete the survey. Share the survey with them, your friends, and colleagues at AccessEngagement.com.

Jim Sullivan Joins APH Team as Director of Social Enterprise
We are excited to welcome Jim Sullivan to APH as the Director of Social Enterprise.
"I look forward to building the Social Enterprise team and creating additional sources of funding to enable the organization to build a future where everyone belongs," says Jim. "I welcome people who are passionate about equity in education and access to the workplace to reach out and introduce themselves and to share their thoughts and ideas."

Change Makers: A Podcast from American Printing House
The idea for an APH podcast started almost a year ago. We were working a plan – we even had a studio being set up. What we didn't plan? Launching the podcast last minute from an attic during a global pandemic. The response we've gotten from listeners has been great, but we're just getting started. Change Makers is working on an editorial calendar that will feature some incredible people doing really great things in our field. We hope you will follow along as we create a podcast that we hope will strengthen our field and inspire us all to create a future that belongs to everyone. Know someone we should highlight? Email your idea to communications@aph.org.
You can listen to all episodes on:
Spotify
Apple Podcast
New Products
APH is excited to announce the release of the following new product(s):
Embark on a journey of reading and tactile learning with Little Wolf and Little Chick as they discover and devour a variety of foods. For emergent print readers, pictures act as an important bridge helping the child take a more active role in reading, as a listener and as a reader. Tactile illustrations in Let's Eat are designed to serve a similar purpose. In addition, they offer critically important opportunities to build exploratory skills, tactile discrimination skills, and encounter spatial relationships.

Smaller than its counterpart, the LED Mini-Lite Box is lighter, brighter, and more versatile than ever before. The LED Mini-Lite Box is an all-inclusive, person-centered learning tool for students who are visually impaired as well as students with CVI and other disabilities. Change the position of the LED Mini with its included three-tilt tabletop stand. Three commercially available stands also allow the LED Mini to be attached to a wheelchair, gait trainer, or other mobility device.

The KNFB Reader Enterprise and Portable Scanning Stand consists of an OCR (optical character recognition) application and stand. Create an account, sign in on the app, and place a phone or device on the portable stand. A picture is taken once the document is aligned with the camera on your device, and the text is read aloud.

This Edition is a modification of the product, Crossings with No Traffic Control. Unlike the original, this product only includes a flashdrive containing software, and the software user's guide and instructor's manual. This special software teaches orientation and mobility skills to students who are blind and visually impaired through simulation experiences and information, to assist in analyzing situations at street crossings where there is no traffic control, including recognizing when there isn't enough warning of approaching vehicles ("Situations of Uncertainty").
The MATT Connect Just Keeps Getting Better
Are you a proud owner of a MATT Connect? If so, take advantage of the latest software update! You will be prompted to install these updates when connected to WiFi. The updates can also be found and installed by going to the settings menu. Read our blog to watch tutorials and learn about the new software features included in the April 2020 update.
Alignment of APH Science Products with the Next Generation Science Standards (NGSS)
Released in 2013 and adopted across 20 US states, the Next Generation Science Standards (NGSS) outline new strategies to teach science. Read our blog to discover APH products that align with these new science standards.
Building on Patterns Prekindergarten (BOP Pre-K) has been available for a little over a year, and sales have exceeded expectations! If you are a teacher who has used this level of BOP, we would love to hear from you.

Please, complete this survey to share your thoughts. Also, feel free to respond even if instruction had to be changed due to school closures in your area. If you have any questions related to the survey, please contact Sara Lee (slee@aph.org).

Laura Zierer, APH Independent Living Project Leader, is seeking customer feedback to aid in the development of training opportunities. Please, take a moment to complete this short survey about the use of the Functional Skills Assessment series.
STEM Corner — Take the Breakthrough Junior Challenge!
Students 13 to 18 years old are invited to create a 3-minute video with original content explaining an important concept in physics, life science, mathematics, or the science of the COVID-19 pandemic. This competition, sponsored by the Breakthrough Prize Foundation (Khan Academy, National Geographic, and Cold Spring Harbor Laboratory), began April 1st and ends June 25, 2020. The prizes for the student with the winning video include a $250,000 post-secondary scholarship; $50,000 for your teacher; and, $100,000 for a Breakthrough Science Lab for your school.
Visit the official website, and be sure to check out the YouTube video, the Finalists (from previous competitions), and FAQ pages.
Treasures from the APH Libraries
From the Migel Library: Booth, Frank W. The Association Review: An Educational Magazine [Volta Review], vol. 1-11. American Association to Promote the Teaching of Speech to the Deaf, 1899.
A complete run of The Association Review was recently donated to the Migel Library. A precursor to The Volta Review, this rare series was published by the American Association to Promote the Teaching of Speech to the Deaf (AAPTSD). AAPTSD merged with Alexander Graham Bell's Volta Bureau in 1908, and was eventually renamed The Alexander Graham Bell Association for the Deaf and Hard of Hearing.  All 11 volumes of this significant publication have been digitized for Internet Archive.
The APH Migel Collection is one of the largest collections of nonmedical information related to visual impairment in the world. Although the collection does not circulate, an ongoing digitization effort means APH will make materials available online. The digitized texts are available in a variety of accessible formats, including DAISY, Kindle, EPUB, PDF, and read-aloud. Contact library staff: resource@aph.org, 800-223-1839, ext. 705.