Braille Trail Reader LE—Starting the Journey to Braille Literacy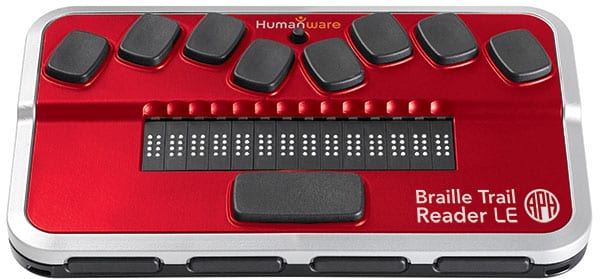 PRE-ORDER YOUR BRAILLE TRAIL READER LE TODAY!
"Braille is necessary for literacy, and is the gateway to independence and employment." – Dr. Craig Meador, APH President.
American Printing House is excited to be adding the Braille Trail Reader LE to its family of refreshable braille displays. This new device is a special, limited edition of HumanWare's Brailliant BI 14 for teachers and students. The Braille Trail Reader will come with an exclusive file transferring application, making it easy for teachers, parents, or students to load and transfer files to and from the Reader and any Windows device.
The Braille Trail Reader is loaded with features to start students on their path to literacy by providing them with high-quality refreshable braille necessary to prepare them for for the more advanced refreshable braille displays they can expect to use later in life:
Cursor routers make for easily editing in the notes app, or opening apps when used with a screen reader.
Silent and almost instantaneous refresh rate.
8GB of internal memory to store books, notes, etc.
Padded carrying case.
Vibration feedback and / or auditory cues.
Thumb key navigation so your hands never have to come off the braille display.
Clock and stopwatch.
AVAILABLE ON QUOTA! APH is now taking pre-orders for the Braille Trail Reader LE!Visit shop.aph.org to pre-order now and ensure you get your Reader as soon as they are available in mid-April! The Braille Trail Reader LE is only available through the end of 2019.