From History to New Horizons
The 150th Annual Meeting Celebrates 160 Years of APH!
Each year for 150 years, Ex Officio Trustees of the American Printing House for the Blind have journeyed to Louisville, Kentucky for the APH Annual Meeting. At first by steam locomotive, steamboat, and buggy, later by car and airplane, Trustees have traveled far to share their knowledge and experience with APH and with each other. We also encourage participation by our many special guests who include teachers, parents, consumers, university program personnel, and other important service providers.
"From History to New Horizons" was the theme of this very special 150th Annual Meeting, which coincided with the 160th anniversary of APH's founding. Over 400 attendees celebrated our past and looked forward to an exciting future!
Highlights of APH Annual Meeting 2018
Here are only a few of the many highlights of our 150th meeting: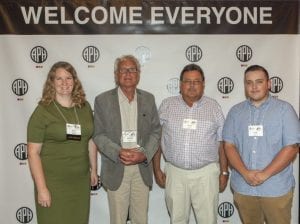 Philippe Claudet was the recipient of the Virgil Zickel Award for his work in creating tactile books for children who are visually impaired. Claudet collaborated with professionals, artists, and researchers to build the organization Les Doigts Qui Revent (LDQR). He organized Typhlo & Tactus, the first international competition for the creation of tactile books. APH has partnered with LDQR to distribute a number of tactile book titles, such as Four Little Corners. Pictured here is Claudet (second from left) posing with Kate Herndon, APH's Director of Educational Product Research, and with members of Virgil Zickel's family.
Essay Contest Winners
As part of APH's 160th Anniversary, we invited our customers and consumers to share the impact that APH products have had on their lives. We received 54 essays from across the United States and Canada, each falling into one of five categories. Some winners were able to attend the Annual Meeting.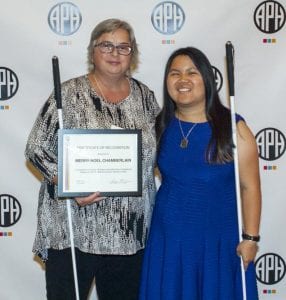 Merry-Noel Chamberlain was the winner of the adult professional category. The title of her essay was "The Hundreds Boards and Manipulatives: An Instructor's Goldmine." Merry-Noel is a teacher for Students with Visual Impairments (TVI) and an Orientation & Mobility (O&M) Instructor in Nebraska. The photo features Merry with her daughter on the right.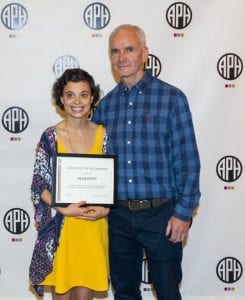 Allie Futty was the winner of our adult consumer category. The title of her essay was, "Keys to the World." Allie Futty is a TVI and O&M Instructor in the state of Vermont. She was also an APH Scholar in 2017. The photo features Allie, with her dad on the right.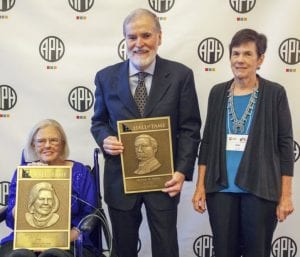 During a special Friday luncheon two new members were inducted into the Hall of Fame for Leaders and Legends of the Blindness Field. Frank Hall, 1841-1911, was famous for many accomplishments, including the Hall Braillewriter. Pictured here are Susan Spungin with her Hall inductee plaque, Carl Augusto, who accepted the plaque for Frank Hall, and Jane Erin, presenter of the Hall induction ceremony.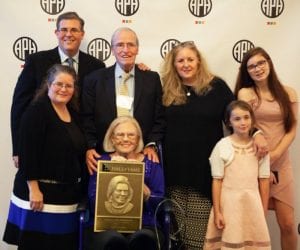 Hall inductee Susan Spungin gave an inspirational acceptance speech. She is shown here holding her bas relief plaque while surrounded by her family members.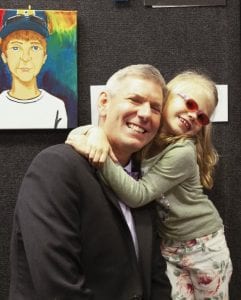 Seven-year-old Clara Scelsi gives APH President Craig Meador a big hug in the APH InSights Art exhibit during the Meet the Artist Event. Miss Scelsi's artwork titled, "Strike Up the Band," won First Place in the First, Second, and Third Grade category. A record 27 artists attended the popular Awards Banquet this year. The APH InSights Art Exhibition displays 90 artworks by artists who are blind, selected from a competition of over 350 entries.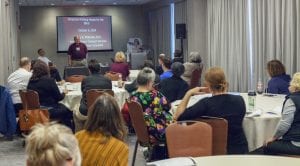 The days were action-packed as attendees had numerous opportunities to learn about new APH products, hear about ongoing research and field testing, have input into product design, and hear updates from blindness organizations. Here Kerry Isham, APH, and EOTs Marty McKenzie and Paul Olson facilitate an EOT training session.
Annual Meeting 2019
There were far more activities at Annual Meeting than we can list here, so make plans to experience it yourself at the 151st Annual Meeting on October 10–12, 2019, at the Hyatt Regency in downtown Louisville!