Orbit Reader is Available for Everyone!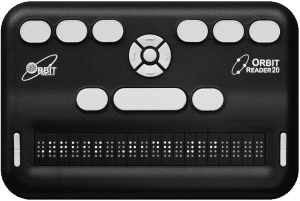 Today we celebrate! Orbit Reader 20 is available in mass quantities!
It's been a long journey, and the trials of bringing the Orbit Reader 20 to market were many, but those days are behind us. Cultivating a new technology always takes time, and this project was no exception. After a few false starts, some early pin issues, and challenges ramping up the production process, there is now a steady flow of reliable units.
This device contains 20 refreshable 8-dot braille cells, eight high-quality braille-input keys with a space bar, and both stand-alone and remote connectivity features for less than $450 in the U.S. The connectivity to phones, tablets, and computers combined with the ability to control the host device opened up the world for braille access. The SD card, reading and writing software, and simple functionality mean it works great by itself, too. The small size makes it conveniently portable.
Here's what one Orbit Reader 20 customer wrote to us recently:
"Our orbit has become an absolutely essential component in our lives. My wife took a serious fall a couple of weeks ago and was in the hospital and then a rehab facility. I've carried the orbit with me to and from the hospital and rehab facility to take notes of things she wanted me to bring or take home or do and it has been absolutely wonderful. We're both over 70 and memories are failing and I couldn't have kept up with things without our orbit."
Another Orbit Reader 20 customer had this to say:
"For me, one of the very reasons I went with the Orbit Reader 20 is its portability and I liked the idea of 20 cells much better than 14 or even 18 cells. Yes, size matters, even with portable, refreshable braille displays. I can either throw it in a purse to take to a meeting or to have on hand to read while I wait for an appointment, a pocket of my knitting bag, putting hundreds of patterns available at my fingertips at any moment or in my teaching supplies to use as part of a braille lesson with one of my students. Of course, it's one more thing that adds to my students' interest and motivation! It's so convenient with so many uses! It's just awesome!"
The availability of a low-cost braille display has profound implications for braille literacy worldwide. Just as important was the achievement of the Transforming Braille Group to shake up the industry by introducing new braille pin technology that makes it possible to keep the cost low. As a result, more companies are developing inexpensive technology to solve the braille problem, and they are all putting their unique twist on the challenge. It will be some time before these other technologies are available, but it is exciting to know they are in development.
APH is now taking orders of any size for the Orbit Reader 20. A new era in braille is here and there is hope that no one will ever again find braille technology out of reach.