Lauralyn Randles Promoted to Director of Product Advancement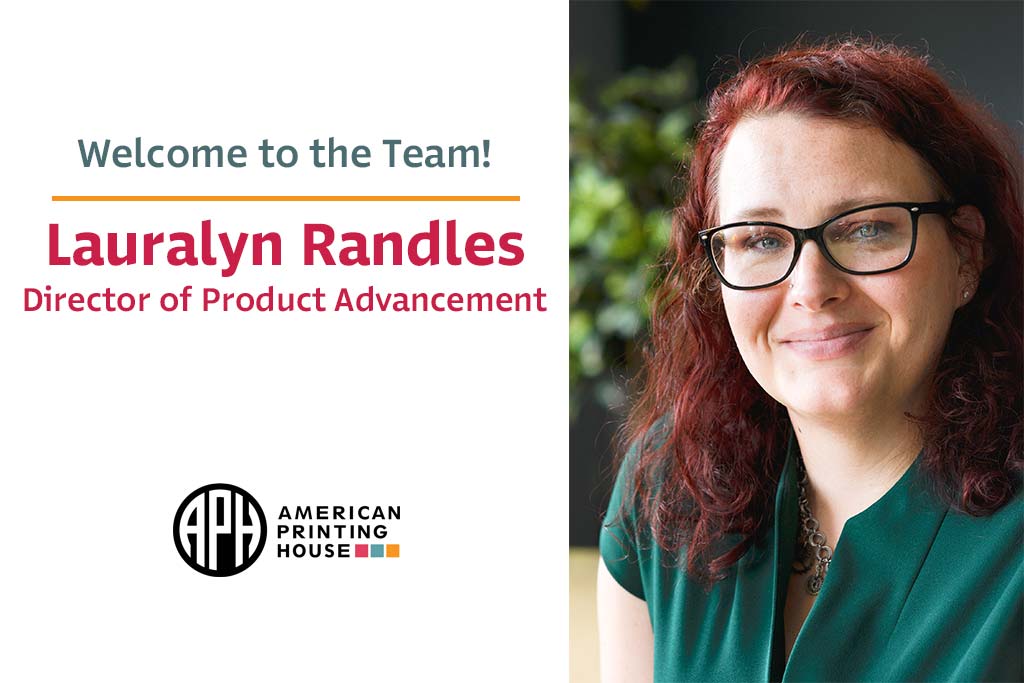 APH is excited to announce the promotion of Dr. Lauralyn Randles to her new position as Director of Product Advancement with Educational Product Innovation (EPI). Looking to the past to find new ways of providing accessibility to ALL in the future, Dr. Randles will be overseeing a team which will revisit legacy products to ensure that those who are blind or have the updated tools and products they need to succeed well into the future.
"In her new role, Lauralyn and her team will work with Production to find opportunities to reduce cost or complexity," says APH Sr. Director of Product Operations and Customer Analytics, Jim Kreiner.  "She will lead a team of Product Managers and Product Specialists, charged with modernizing and updating legacy products to maintain their relevance for the field. We are excited for the diverse field experience Lauralyn brings to this new leadership position."
Initially joining APH in 2021 as the Product Manager for Tests and Assessments, Lauralyn's qualifications and experience make her the perfect person for the role. She has used APH products for many years, previously working as both a teacher of the visually impaired (TVI) and certified orientation and mobility specialist (COMS). Lauralyn will manage a portfolio of over 700 APH products as the Director of Product Advancement and will work with the Outreach and Customer Experience teams to provide needed support and training.  She will also lead the Obsolescence Committee, which is responsible for determining when a product should be discontinued.
Lauralyn credits the work she did in a nursing home as a teenager for being the inspiration that pulled her toward rehabilitative services. She later became part of an OSEP scholarship program, the National Leadership Consortium for Sensory Disabilities (NLCSD), which focuses on training the next generation of leaders in the fields of low vision or blindness and deafness or hard of hearing. Many of her cohorts are now running university programs or are in leadership roles for policy, grants, or disability non-profits across the US.
Lauralyn is excited to have the opportunity to work with such a strong team of professionals to create meaningful access for ALL students. "So many times our learners with visual impairments are not included in education or access – all due to our small community," says Lauralyn. "APH is truly working to provide access for ALL, not access for all." She looks forward to revitalizing the legacy products she knows and loves from her years of incorporating APH products into her teacher toolkit.
Lauralyn's husband, Kenny, is also an APH employee and they have two children, Kaylee and Connor.
Share this article.