Perspectives on a Piano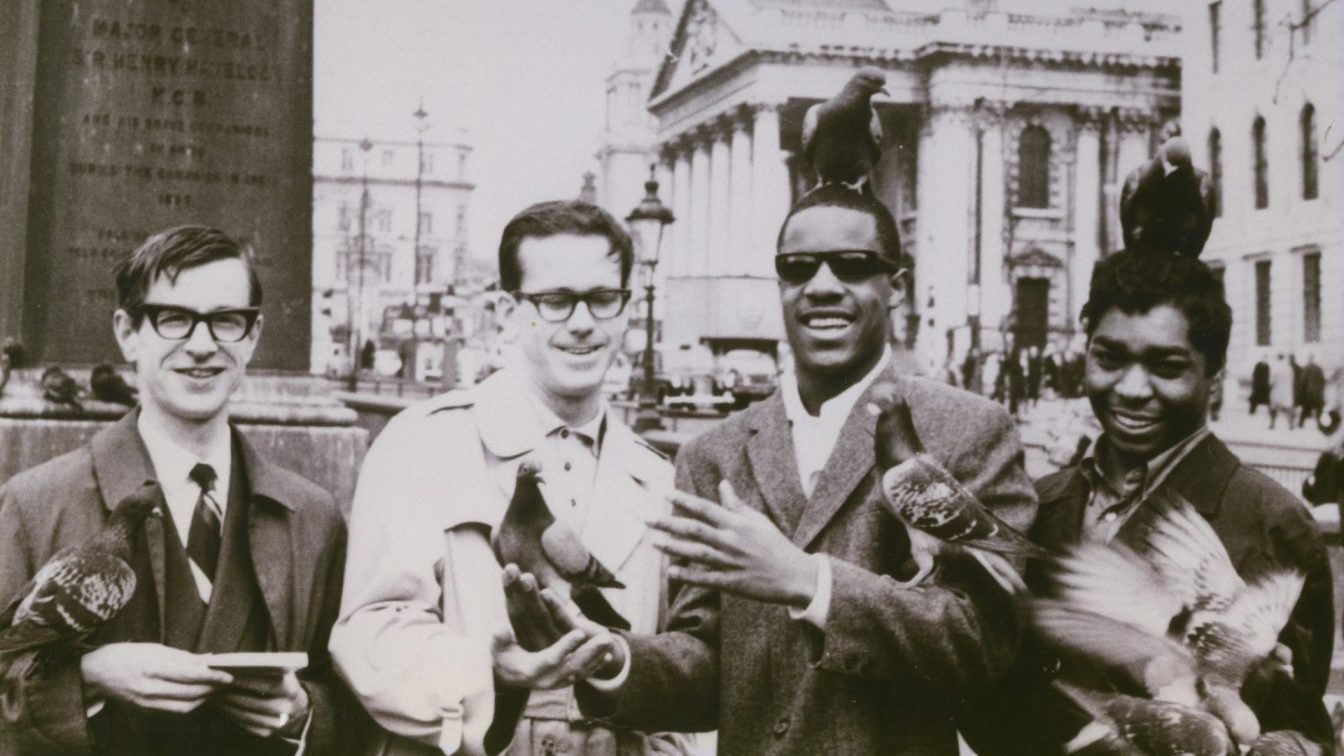 Photo caption: Left to right, unknown man, Ted Hull, Stevie Wonder, and Hamilton Bohannon in Trafalgar Square, London on concert tour, 1966.
This summer, the Museum of the American Printing House for the Blind is going to close for major construction, with plans to reopen in early 2025. Everything on exhibit and in our offices is going to have to be packed up and stored. I'm not looking forward to moving Stevie Wonder's piano. It wasn't Wonder's personal piano, but the stage piano he played on a lot while attending the Michigan School for the Blind (MSB) in the 1960s. It's a 1925 Model A Steinway baby grand that weighs about 600 lbs. It took six pretty large dudes to get it up the stairs when we installed it in 2011.
And thinking of the piano reminds me of Ted Hull, Wonder's tutor and companion during those years, and the story he told me of how a kid from Detroit ended up at MSB. We are all products of our birth and our environment. But none of us get to where we end up without some help. Stevie Wonder is no different.
He was born Stevland Hardaway Judkins in Saginaw, Michigan, on May 13, 1950, the third child of Lula Mae Hardaway. Discovered by Ronnie White of the Miracles, he was signed by Motown Records' Berry Gordy in 1961 and took the stage name Little Stevie Wonder. A song from his third album, "Fingertips #2," was a big hit in 1963. As Ted told it, Lula was in trouble with the Detroit school system because Little Stevie was missing school to tour and hang out at the recording studio. A Louisville promoter, seeking to bring Wonder to town for a show, suggested that Gordy hire a local teacher from the Kentucky School for the Blind, Peggy Traub, to accompany the Motown Revue bus that took the act across America. That didn't work out, but I'd loved to have been a fly on the wall on that bus! Smokey Robinson, the Miracles, Mary Wells, Marvin Gaye, the Supremes, and the Four Tops rode that bus with the diminutive Peggy Traub and her young charge.
As it happened, Traub put Motown in touch with the Michigan School for the Blind in Lansing, Michigan, who suggested a recent grad, Ted Hull, as a replacement. For the next six years, Stevie Wonder and Ted Hull traveled all over the world, lugging their braille books and braillewriters along. And when not on tour, Wonder attended MSB as a regular student. As the legend goes, he composed "My Cherie Amour" in 1966 about a girl he dated while at MSB. The song was a big hit in 1969.
That year, Wonder graduated from the Michigan School for the Blind, and his time with Ted Hull came to an end. Ready for independence and adulthood, Stevie Wonder became one of the most successful pop singers, songwriters, and instrumentalists of all time. But I like to think a component of his success came from his teachers and the classical music education he received at MSB. The school's residential program closed in 1994 and the piano was moved from building to building for a few years until I met Collette Bauman, one of our Ex Officio Trustees (EOTs), and Collette helped us get the piano to Louisville. It will highlight our exhibit on blindness and society when we reopen. But first, it has to go back down those stairs. Anybody know a good piano mover?
Micheal Hudson is the Director of the Museum of the American Printing House for the Blind.
Share this article.
APH is excited to welcome Bruce Sexton as the Director of Access and Belonging. From his fellowship at the National...