A TVI's Perspective: Tools for Young Learners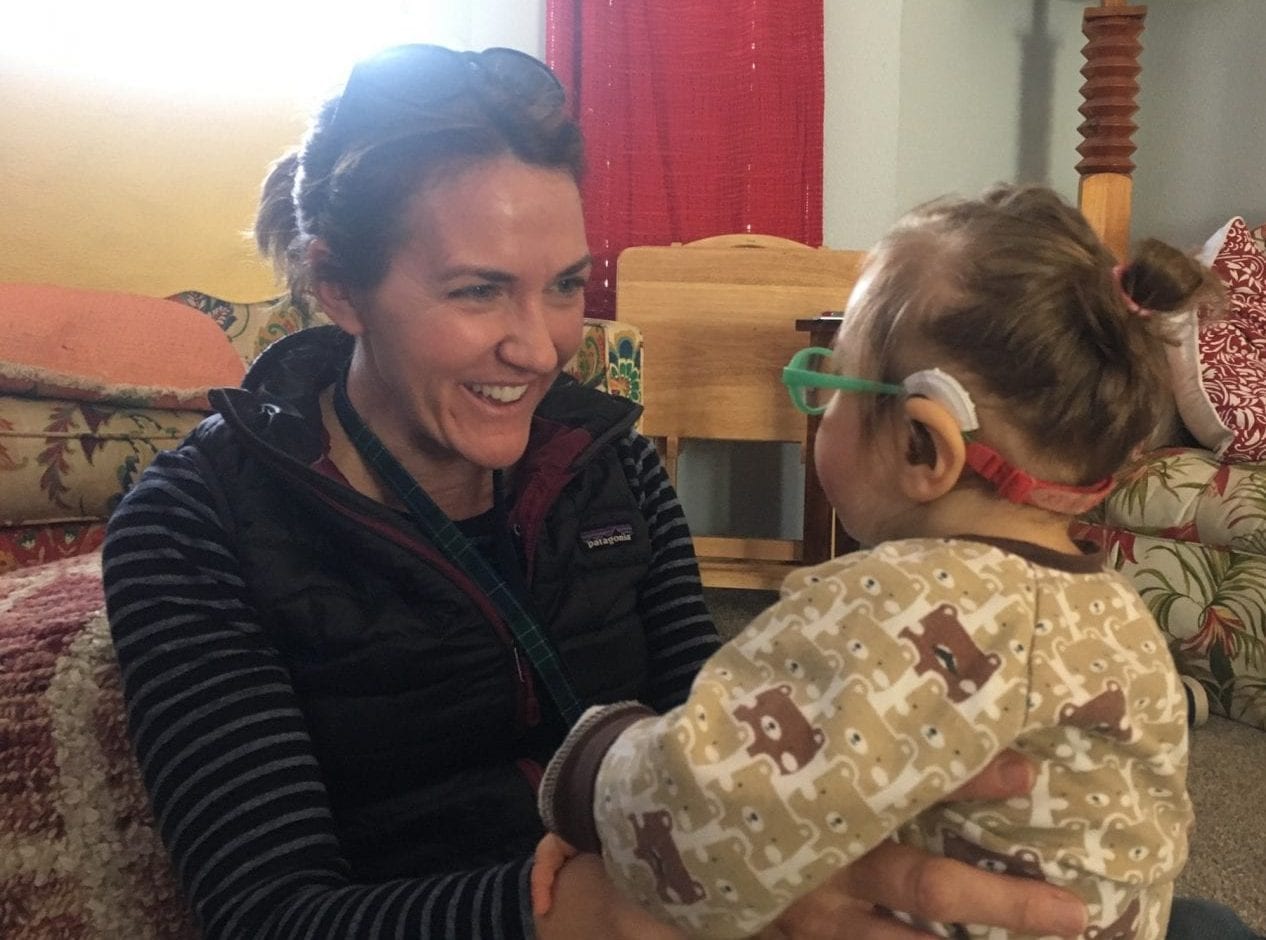 Why did a nurse hang up her scrubs to become a TVI? We spoke with Andrea Amestoy about her journey and the APH products she uses to support her students' success.
A New Career
Andrea's passion for healthcare has led her from bedside nursing, to outreach, and to teaching over the years. "I graduated from nursing school in 2000 and have worked as a pediatric and neonatal intensive care unit nurse," said Andrea. "For the last 13 years, I have taught community outreach classes on childbirth, breastfeeding, CPR, and baby care basics at the local hospital. In addition, I have a secondary teaching certificate and have taught anatomy, physiology, and certified nursing classes for five years at the high school I attended." But her priorities shifted 8 years ago when Andrea's two children were diagnosed with Usher's Syndrome. "I was looking for classes to learn a bit more about vision loss. It led me down the path of applying to Texas Tech University." She is now a Teacher of the Visually Impaired (TVI) and Certified O&M Specialist (COMS), and loving every minute of it.
"I know how much of a difference it made in my life to meet people along the way who helped, encouraged, lifted spirits, educated, and enlightened me when my own kids were diagnosed with Usher's Syndrome," said Andrea. "They were angels here on Earth and were a salve and balm to my soul. I hope through my job I am providing the same kind of quality care, education, and support for these families and their children."
Tools for Success
This summer, we had the pleasure of working with Andrea as she helped teach the APH Virtual ExCEL Summer Camp for Pre Symbolic Language students, children of all ages who are nonverbal. During the rest of the year, Andrea works as an outreach early intervention TVI with the Idaho Educational Services for the Deaf and Blind and also collaborates with the Idaho Infant Toddler Program. She services children ages 0-3, traveling to their homes, and working with them and their parents and caregivers. These children often have conditions such as albinism; visual impairments like optic nerve hyperplasia, Anophthalmia, and CVI; and other disabilities. Quite a few of her students are also nonverbal.
Throughout her five years as a TVI, Andrea discovered two products that have greatly aided in her students' education: the Sensory Learning Kit (SLK) and Carousel of Textures I and II.
Andrea found multiple methods for using the switches in the SLK with young learners. For one of her students with CVI, Andrea grabbed a stick from outside and attached different items to it that were the student's favorite colors. Examples include red and silver mylar streamers or inside out chip bags, which were a silver color. She put the finished product on a window sill and waited for the light to hit it. Then, she attached the switch to the fan. When Andrea turned the fan on, her student focused on the objects. In a similar example, she attached the same switch to a blender to motivate some of her other students to make a smoothie.
In another instance, Andrea served a student that had no light perception, hearing loss, and very little muscle strength. "I work in tandem with physical therapists to encourage the movements that the physical therapist recommends for the students," said Andrea.
The student's physical therapist wanted the student to lift their head up. To encourage this behavior, they used the fan. The student loved the wind on their face. They smiled and laughed and were able to lift their head up, which strengthened the student's neck and back muscles.
Commenting on this student's success, Andrea said, "It is wonderful being able to see the progress these children make. Seeing them do things that their parents and society thought was impossible is so gratifying."
Both versions of the Carousel of Textures assist students in understanding basic concepts. For example, Andrea created texture sheets that are bumpy and soft to teach opposites. Additionally, she took empty pill containers of the same size and shape and filled them with a variety of materials: popcorn kernels, chia seeds, sesame seeds, rice, spaghetti, coins, jingle bells, etc. She put different textures and colors around each container. This exercise taught students matching and memory as well as how to recognize different sounds.
In another lesson, Andrea added a drop of essential oil to the containers with different textures to teach different types of smells. The students learned that one container smelled different from the others, or these two smelled the same, these two smelled different. Andrea recommended that parents put these distinct smells in rooms around the house. One smell indicated that the student is in their room versus in the bathroom.
For children who are nonmobile, Andrea also encouraged parents to put a texture by the light switches of different rooms in the house. A bumpy texture meant the student was in the kitchen while the soft one meant the student was in their bedroom. This helped students map out their environment and taught them pattern recognition throughout their house. Students' pre-braille skills were also strengthened as they got used to feeling the walls and looking for tactile markers.
Andrea has also used the textures on other items throughout the house. A lot of commercial toys are plastic. By adding a texture to a plastic toy, the student was able to find their favorite toy. For a child's play piano, Andrea cut out four different textures and put them on each of the keys. This allowed the student to associate each texture with each sound the piano made. The student soon learned that the smooth texture meant that their finger was on the C key. When children began to learn how to help out in the kitchen, Andrea adapted different measuring cups. The full cup measuring cup has the smooth texture on the handle. Parents could hand-wash the cups and keep the handle dry so that the student could use the cup with that texture every time they cooked.
Looking back on her work with her students, Andrea continually praised APH for creating innovative products for students. "All their products make life and learning accessible for these students. When we get the new catalog, I feel like a kid at Christmas! I can always find the perfect product for my students!"
Are you an educator or specialist who would like to share your story with us?  Send an email to communications@aph.org for a chance to be featured in an upcoming issue of APH News and on our website.
Share this article.
What does it mean and why does it matter? Join us to find out. Today's circumstances have led us to...