APH Behind the Scenes: A Look At The People and Processes that Bring You Braille
APH is known for producing a plethora of braille materials for our customers. But, how exactly does a file get turned into a finished product? We spoke with APH Pre-Production Manager, William Scott Smith, about this process and his role in the braille production department.
Department Make-Up and Production Process
Consisting of around 100 employees, the braille production department is made up of seven departments: Braille, Graphics, Large Type, Educational Aids, Translation, Proofreading, and Accessible Tests and Textbooks.
"The braille department produces educational products, literary books for libraries, textbooks, scholastic tests for various states, and business cards," said William. "They also perform various contract jobs. We have even embossed letters from the President of the United States."
The braille production process begins when a transcriber receives an electronic file. Common file types include Word, Corel, brf, pdf, and ePUB files. BrailleBlaster, Braille 2000, or Duxbury software is then used to convert the file from print to braille. But it isn't left up to the software alone to make the translation.
"One of the most common misconceptions about braille," said William "is you do not just insert the print into the software and it comes out with perfect braille. A trained transcriber needs to understand formatting and what edits need to be done before it can be sent out to the production floor."
The production team creates what they call a proof copy that goes to a proofreader who reads the document and records any errors for the transcriber to correct. The file is proofread for a second time before a finished report is written up so a work order can be created. This whole process takes 2 to 6 weeks to complete.
Equipment and Maintenance
On the production floor, there are ten embossing machines and four machine presses. The Heidelberg and Therm-O-Type machines are used for print, braille, and graphic jobs. Thick, plastic sheets help create products that contain pictures or print, such as calendar tabs. Tactile graphics for textbooks, scholastic tests, and in-house products are made with plastic Braillon. Braillo machines emboss braille-only pages on 80# roll paper. Three sideways embossers run 8.5 X 11, 11X17, and 11X 23 for magazines. Two of these units can even fold and staple books.
"Before my current position, I spent 6 years as the Braille Production Supervisor," said William. "When I was in the braille department, I can remember producing over 20 million braille pages a year. A good rule of thumb is for one print page, it would need two braille pages." William also told us about the longest thing he had to emboss at APH. "We used to have a contract named "The Award Book" that was a bi-monthly publication," said William. "It would take us two weeks of 12 hour days to complete. The finished book was usually over 300,000 braille pages."
In order to make sure that crisp braille and quality tactile graphics are produced, these embossers must be treated with care. Maintenance staff perform evening cleanings on a weekly basis, and machines are spot checked daily.
You're Invited
When APH reopens to the public, William highly recommends that people participate in the tour of the APH production floor. "Come watch the teamwork and handling of all the products from start to finish and observe the impressive speed of the running machines."
Share this article.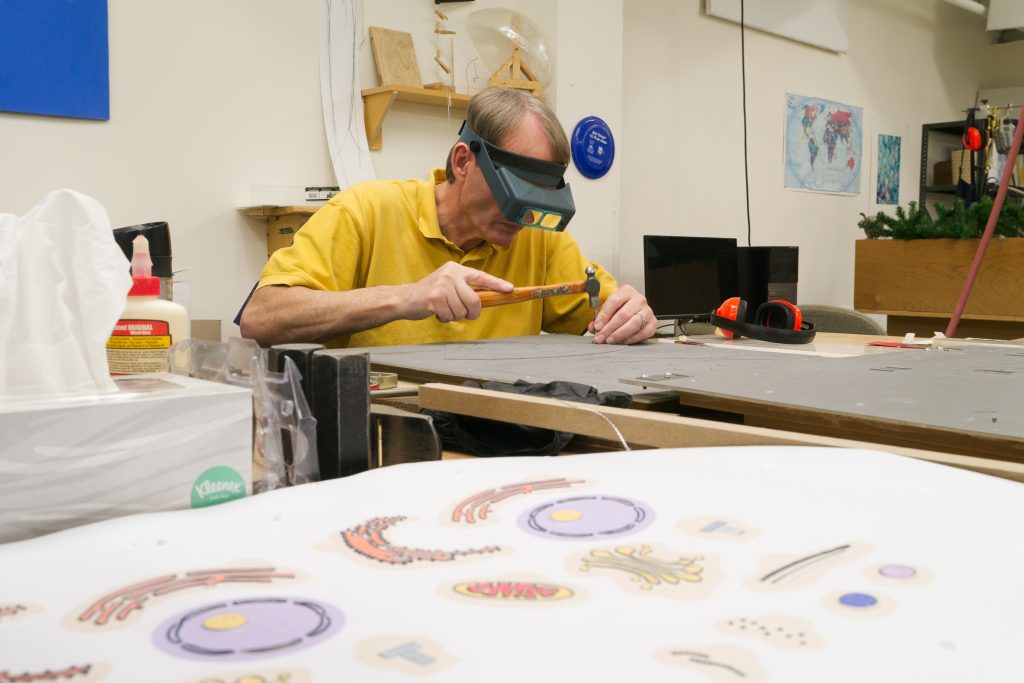 At APH, we're always looking for ways to create new tactile graphics for our consumers, and our Model Shop is...