An Artist's InSight: An Interview with Amanda Stephens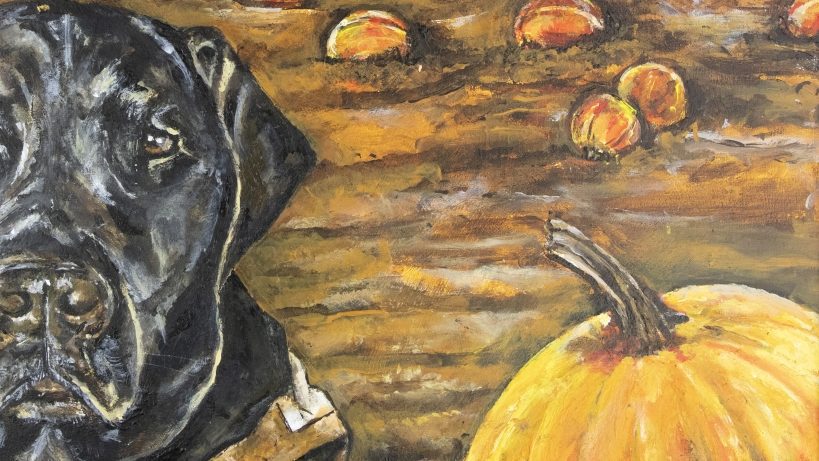 Art is a form of self-expression that helps everyone showcase their interpretation of the world. We spoke with APH InSights Art winner Amanda Stephens about her artistic journey as a painter who is visually impaired. To learn more about the APH InSights Art Competition, read our InSights Art blog.
Meet Amanda
Amanda Stephens lives in Groton, Massachusetts with her husband, retired and current guide dogs, 3 shelter cats, and 13 chickens. "Since the age of 2, I have wanted to be an artist," said Amanda. "I practiced art both in school and privately through high school. I stopped painting in college, but returned to the pursuit after losing my vision in 2010." Amanda has Neuromyelitis Optica (NMO), an ultra-rare, progressive, and cumulative autoimmune disease that destroys nerves, rendering them unusable. While this disease can affect any nerves in the body, Amanda's optic nerves were the only ones affected, causing her blindness. She said, "I have no vision in my left eye and have lost 97% of the vision in my right eye, with my remaining vision akin to looking through a straw with wax paper on the end. While these changes have made it incredibly difficult to pursue my art, successfully completing a painting is that much sweeter."
Amanda's Paintings
After Amanda lost her vision, she began painting again. She found out about the APH InSights Art Competition while searching the Internet for contests for people who are blind and visually impaired. In the last 10 years, she submitted 6 paintings to the competition. She said, "Though before entering the contest I had never painted an animal, four out of my six entries contained at least one. My most successful entry was a painting of my (now retired) guide dog, Nacho. Entitled "Noble Work," a beautiful fall sunset accompanies a regal black lab in harness, in a field of pumpkins. The male guide dog is shown close to the viewer with the color-contrasting patch in the distance." This piece ( below) won first place in the Adult 2-Dimensional Art category of the 2021 APH InSights Art Competition.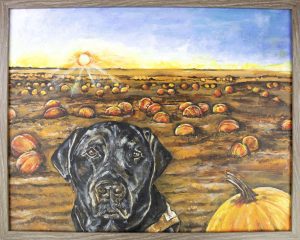 The Painting Process
Amanda's paintings are often inspired by photos that her husband, Patrick takes of everyday life. She said, "Painting what I know and love soothes the insecurities and limitations of painting with visual shortcomings. When using a reference photo, I first print it to the same size as my canvas. I then hand-draw the components of the picture on separate pieces of paper. This approach is especially helpful when using multiple reference photos. I paint from the background to the foreground, employing magnifying glasses and painter's tape as needed."
When asked about the challenges she has faced as a painter who is visually impaired, Amanda said, "Painting blind is a labor of love. I am often frustrated by my limitations including the inability to distinguish between paint colors, poor clarity, and difficulty painting detail. I have had to grow up a lot and accept my disability, adapting to my new reality. In efforts to circumvent some issues, I organize my paint into color groups and then by hue, use a number of different magnifying devices, and employ painter's tape." Just like everything in life, painting is an activity that can be adapted for all to make the experience more enjoyable. "When I paint, my mind is at rest," said Amanda. "I often paint for hours without noticing time passing. Painting is my solace."
Amanda firmly believes that people who are blind and visually impaired should experiment with any pursuit of interest. She said, "Art is particularly enticing due to the wide range of art styles, mediums, and interpretations. Art is fluid; new art forms are always being created."
The APH InSights Art Competition brings together a myriad of blind artists from around the world. "My favorite part of the contest is being included in this talented group," said Amanda. "If you are already an artist, entering the contest is a great way to motivate progress and join a group of like-minded and abled people. If you are new to art, use this as a springboard into a new venture."
Learn more about the APH InSights Art Competition at insights-art.org.
Share this article.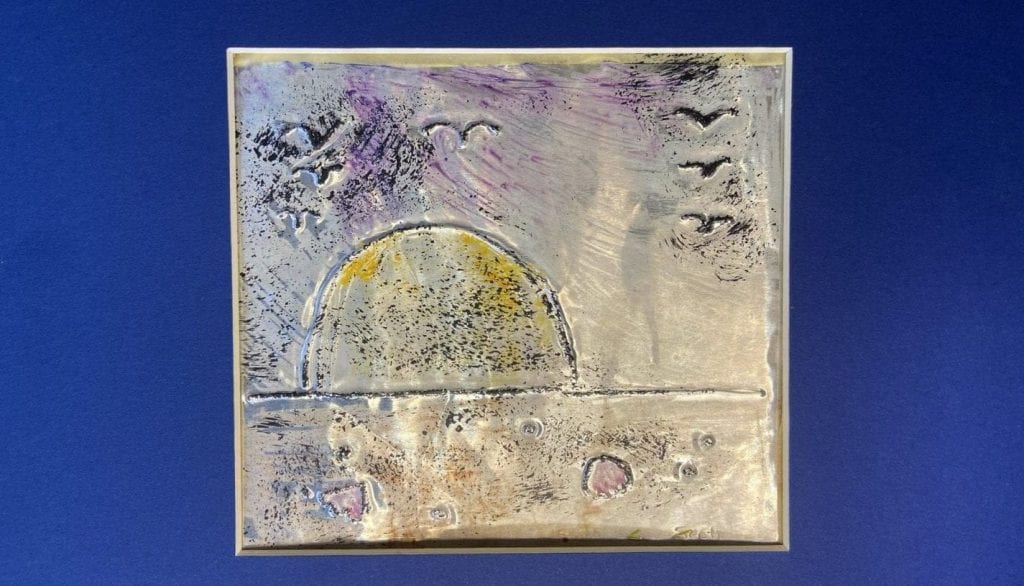 Since 1992, APH has hosted the annual InSights Art Competition, an international art contest open to artists of all ages...