Donna McClure-Rogers: Developing Great Ideas at Work and at Home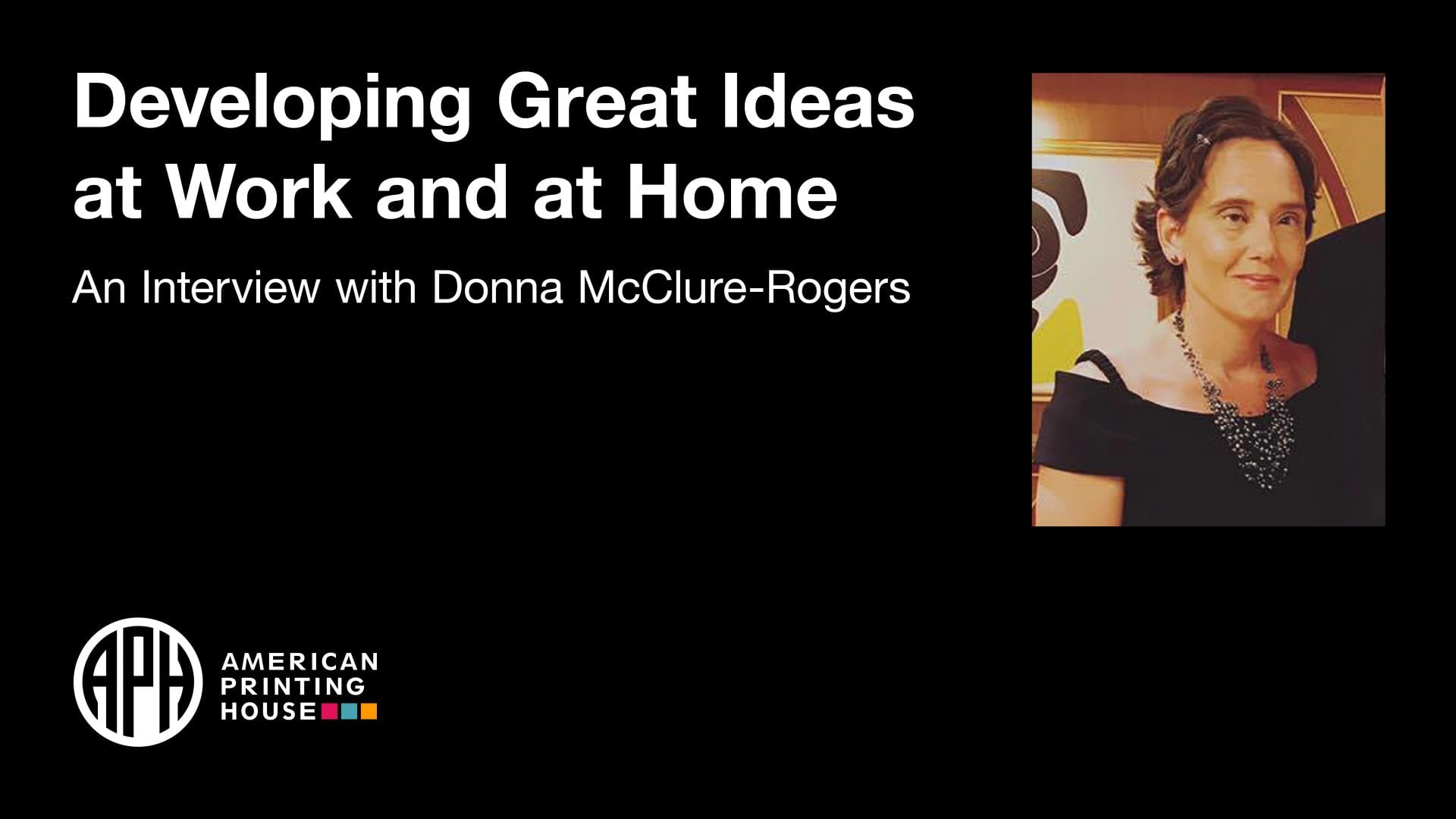 Donna McClure-Rogers knows what it's like to be a young person who is visually impaired and struggling to learn due to a lack of the right resources. Visually impaired since the age of two, when she lost the sight in her right eye due to retinopathy of prematurity, she had to find her own ways to adapt.
"In the 1980s there weren't as many materials available and the technology wasn't there," Donna says. "So I would have to depend on my desk neighbor in school to take notes from the blackboard so I could copy their notes. It was very challenging."
Donna pushed on, going to college and earning a master's degree in Vocational Rehabilitation Counseling from the University of Kentucky. She later worked in the field of vocational rehabilitation and disability law and then as a Teacher of Students with Visual Impairments (TVI) for five years. All the while, her vision continued deteriorating, leaving her with 15 to 20 percent of the central vision in her left eye.
Donna joined APH in 2019 as the Early Childhood Project Leader. Most of her work revolves around product development — to which she can bring her own personal experience as a child — and says she is "very excited" to be working at an organization that did so much for her, both personally and as a TVI.
When she was younger, Donna used large-print books from APH and later, when she started relying more on braille because reading began to be painful, she started ordering braille products from APH.
As for using APH's resources as a TVI, she says, "There's no way to survive without them." In particular, she found Feel 'n Peel Stickers extremely helpful, as well as the CVI and Tactile Book Builders, the LED Mini Lite Box, and adapted  Physical Education materials.
"Having the versatility of different page styles with the CVI Book Builder made it so much easier to put something together, because these kids don't normally have a lot of books to choose from in the commercial market," she explains. "Helping children begin to understand pictures and reading is one of our main goals."
From a good concept to a great product
When Donna joined APH, her primary role was overseeing Early Childhood product development. Although some of that work is now on hold while APH's staff works from home due to COVID-19, her enthusiasm for developing the kinds of products she might have enjoyed as a child is clear when she talks about it.
The months-long process of product development starts with an idea, either generated internally or brought to APH from outside the organization. It could be a brand-new concept, or an existing product that could be made more accessible.
With many approvals along the way, Donna first shepherds the product through research to make sure it's valuable to children who are blind or visually impaired. If that's the case, the team creates or evaluates a third-party prototype, determines the most cost-effective way to create the product, and validates that it meets all the specifications, including accurate braille, contrast, and tactile images. Once a solid prototype is built, it's reviewed by TVIs, students, and experts in the field. Changes are made if needed, and the final version is then built and made available for sale.
"It is wonderful to have a caring and knowledgeable team to collaborate with," she says. "I've learned so much since I've started, which has been wonderful."
Strategies for working and teaching from home
While Donna is usually focused on the development of new products, in light of the pandemic, she and the other project leaders are busy hosting webinars, writing blogs about at-home lessons and activities, and fielding customer service phone calls to help get the needed resources to remote learners around the country. This is work she can do from her home office, which was already set up with all the tools she needs, including an extra-large computer monitor, braille display, and a brailler.
Donna and her husband, Jimmy, have homeschooled their children, 11-year-old Douglas and 9-year-old Patrick, since kindergarten, and her husband took over the homeschooling when she began working. The routines they've established may provide useful tips for other families that are working from home and homeschooling for the first time.
Applying her teaching experience, Donna creates a daily curriculum for her boys that she prints out, along with a checklist where they mark off each task as it's completed. This holds them accountable, and her sighted husband does all the grading. Like every family, they've still had to adapt. For example, Douglas and Patrick participate in extracurricular activities like music lessons online.
Donna points out that every child has unique needs. "It's important to know how your child learns best and create their learning experiences around that. For example, are they a visual or auditory learner?" she says. "Our boys learn differently, so it is important to make sure their lessons can reflect both learning styles. Because our boys are different ages, they also get different assignments and workloads."
Every family is finding unique enjoyment in more time together while staying at home, but once everyone can return to work at APH's facility, Donna will enjoy being back with her co-workers.
"I am so happy I was welcomed into the APH family," she says.
To see the Early Childhood and CVI products available from APH, check out our catalogs. We remain open for business and are shipping products. If you have questions, contact the APH Customer Service team at cs@aph.org or 1-800-223-1839 weekdays from 8am-4:30pm EST.
Share this article.