Meet the APH Outreach Services Team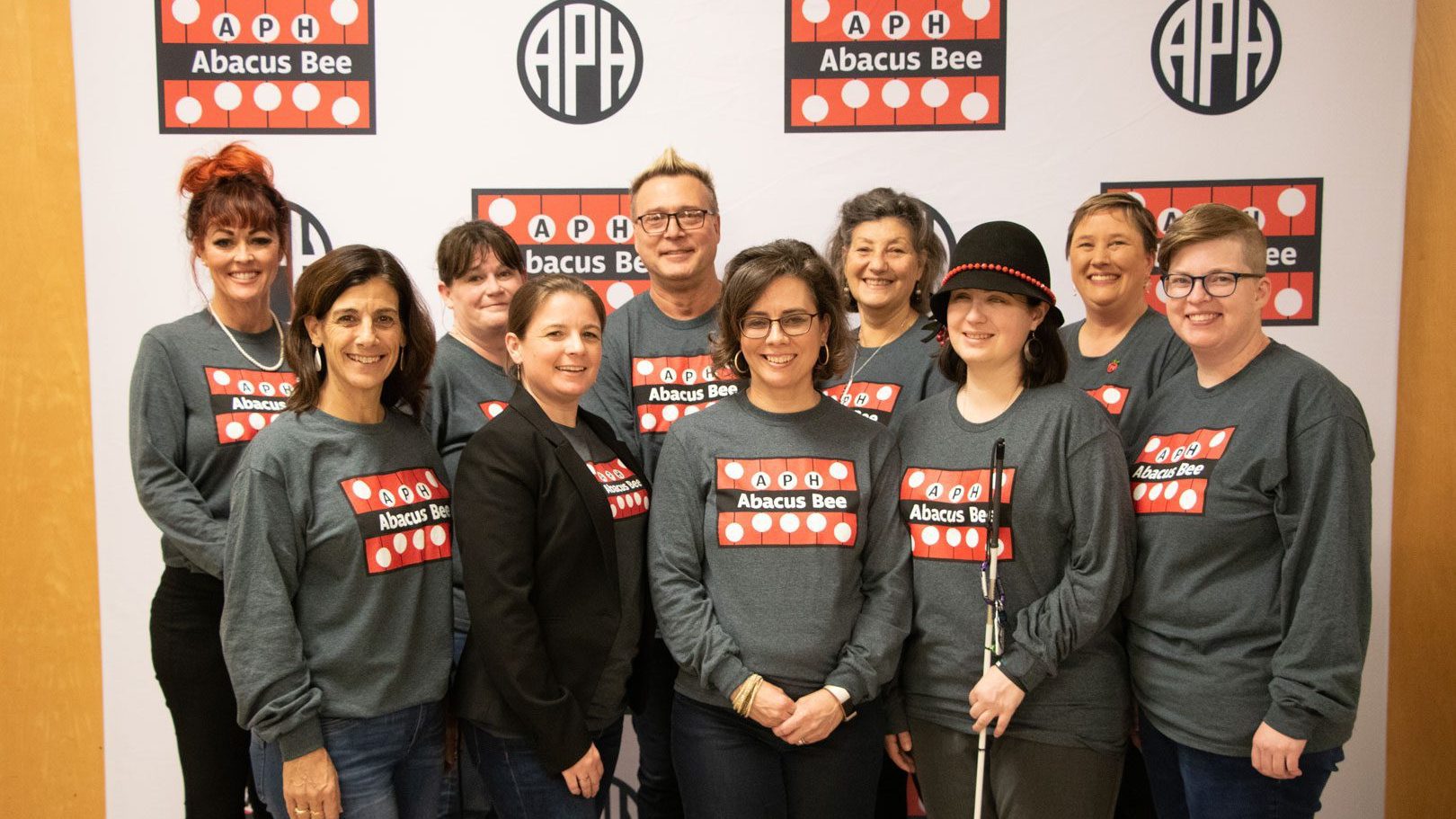 Our Outreach Services department is growing! We're excited to offer more opportunities and support to families, educators, and professionals across the blindness field. We sat down with the team to learn about what each member does and how they work together to provide national support.
What is Outreach Services?
Outreach Services administers the Act to Promote the Education of the Blind by overseeing the annual student registration for the Federal Quota Program and providing consultation and support to Ex Officio Trustees (EOTs), professionals in the field of vision, families of people who are visually impaired, and consumers. Other services include distance learning and statewide/nationwide training opportunities; exhibits and presentations at regional, statewide, and national conferences; expanded core curriculum academies/professional learning communities; and parent and family training opportunities. Register for our Access Academy webinars to learn more about APH products and services, and invite students to participate in our ExCEL Academy, which features expanded core curriculum lessons for all ages. Professionals can also buzz over to the APH Hive, our FREE eLearning platform for educators and families that can be accessed at any time to earn ACVREP credits.
Get to Know Our Experts
Leanne Grillot, National Director of Outreach Services
Leanne directs the operations of APH's Outreach Services Department. Currently living in Tallahassee, Florida, she is working on her Doctor of Philosophy Degree in Special Education at Florida State University (FSU), where she is an adjunct professor in the Visual Disabilities Program. Since 1992, she has also served as a Teacher of the Visually Impaired (TVI) and O&M instructor for students of all ages. In her free time, Leanne loves to read fantasy and science fiction novels, watch romance movies, and spend time with her eight grandchildren. You can contact Leanne at lgrillot@aph.org.
Cindy Amback, Census Data and Information Manager and EOT Liaison
Cindy is responsible for ensuring that the yearly census is completed, all new EOTs and assistants are on-boarded, and all that are retiring are off-boarded. In 2005, she completed the large task of converting the census from floppy disks to a secure online system that designated users could update from anywhere, work or home. In 2020, her online system kept the census moving forward without fail and ensured students would have funding in the new year. In her spare time, Cindy loves to read, watch movies, and spend time with her grandchildren: Ella, Ben, and Grayson. You can contact Cindy at camback@aph.org.
Amy Campbell, Learning Management System (LMS) Administrator
Amy oversees the development of courses for the APH Hive. Amy's experience in the blindness field spans over 20 years. She has worked as a TVI in Central Iowa and Central North Carolina; taught at the Governor Morehead School for the Blind; worked at the University of North Carolina Chapel Hill as a curriculum writer; and served as a state Educational Consultant and EOT for North Carolina. Amy, author of several articles published in a national peer-reviewed journal, has experience presenting at a variety of national professional conferences. You can contact Amy at acampbell@aph.org.
Angela Dresselhaus, LMS Digital Content Specialist
Angela grew up in Cropper Kentucky, obtained a Bachelors of Arts in Music from the University of Louisville, and moved to Bloomington Indiana to pursue a Masters of Library Science at Indiana University. With a library degree in hand, Angela spent the next decade managing electronic resources in academic libraries in Utah, Montana, and North Carolina. Looking for further adventure, Angela changed career paths and joined education technology companies as a product owner and trainer. Outside of work, Angela volunteers in a patient advocacy organization called Hope for HS and resides in Greenville, North Carolina with her husband Joe, and 7 year old daughter, Eleanor. You can contact Angela at adresselhaus@aph.org.
Meet Your Regional Specialists
Regional Specialists help meet the unique needs of EOTs, professionals, families, and other service providers working with students who are blind or low vision, focusing on specific regions to provide support tailored to those communities. These experienced professionals will share knowledge across the field and build local networks of support. They are also qualified to assist with APH products and services. Regional Specialists are available to provide outreach at conferences, Braille Challenges, colleges, public and private schools, rehabilitation centers, and more.
Erin Weaver, Regional Specialist, Northeast
Erin represents Connecticut, Delaware, Maine, Maryland, Massachusetts, New Hampshire, New Jersey, Pennsylvania, Rhode Island, Vermont, Virginia, Washington D.C., West Virginia, and her home state of New York. Erin has more than 25 years of experience as a TVI and the Statewide Coordinator of Education for the Blind and Visually Impaired for the Delaware Division for the Visually Impaired. She earned her A.A.S. in Early Childhood Education at Villa Maria College of Buffalo, B.S. at Michigan State University in the areas of Elementary Education, Special Education, and Teacher of students with Visual Impairments, and an M.S.E.D. at St. Bonaventure University in Childhood Literacy. Spending time with her family on the waterfront is Erin's most cherished pastime. You can contact Erin at eweaver@aph.org.
Jeff Schwartz, Regional Specialist, Southeast
Jeff represents Alabama, his home state of Florida, Georgia, Kentucky, Louisiana, Mississippi, North Carolina, Puerto Rico, South Carolina, Tennessee, and the Virgin Islands. He has served as a TVI and O&M Specialist since 1992. He has also worked as an advisor for disability services at Miami Dade College; taught American Sign Language (ASL) as a foreign language course at Turner Technical High School in Miami; contracted with Lighthouse programs for college transition programs; and served as an Access Technology Specialist along with many other hats over the years. In his free time, Jeff enjoys gardening, traveling, riding roller coasters, and spending time with his dogs. You can contact at jschwartz@aph.org.
Jennifer Brooks, Regional Specialist, Northcentral Region
Jennifer represents Illinois, Indiana, Iowa, Michigan, Minnesota, North Dakota, Ohio, South Dakota, and Wisconsin. Her professional career in the field of visual impairments extends over 18 years and includes serving as a TVI, O&M Specialist, and Vision Rehabilitation Therapist. She served as a Peace Corps Volunteer in the country of Romania, where she developed sustainable programs in O&M and Independent Living at schools for the blind and nonprofit organizations. She spent more than 5 years providing trainings to teachers, parents, students, and others across the country. She has worked with individuals of all ages including mentoring and coaching instructors in her role as Director of Programs. In addition, she has taught courses at Florida State University and collaborated in statewide trainings and events through the Florida Instructional Materials Center. Jennifer is an avid traveler and enjoys spending time outdoors. You can contact Jennifer at jbrooks@aph.org.
Alicia Wolfe, Regional Specialist, Southcentral Region
Alicia represents Arkansas, Missouri, Kansas, Nebraska, Oklahoma, and Texas. She is a seasoned Teacher of Students with Visual Impairments (TSVI) with 25 years of experience evaluating the Functional Vision, Expanded Core Curriculum, and Learning Media needs of students with visual impairments (birth to age 22). Simultaneous to serving as a TSVI, Alicia assisted with piloting the first Summer Transition Program for teens who are blind or visually impaired in Florida and subsequently spent 14 years as the Transition Program Coordinator at a Lighthouse. Her experience further includes working as an adjunct professor for Florida State University's Program in Visual Disabilities, presenting at local, state, and national events, and writing curriculum and content for the American Foundation for the Blind's family of websites (now housed with APH). In her free time, Alicia enjoys practicing yoga, paddleboarding, bike riding, fishing, gardening, and spending time with her Maine Coon and orange tabby cats. You can contact Alicia at awolfe@aph.org.
Leslie Weilbacher, Regional Specialist, Northwest
Leslie represents Alaska, American Samoa, Guam, Idaho, Montana, North Dakota, Northern Mariana Islands, Oregon, South Dakota, her home state of Washington, and Wyoming. Her experience working with students with visual impairments extends over 6 years in Kitsap and Whatcom counties and includes serving as a TVI and O&M Specialist, including summer programs in independent living skills, and career experiences for youth who are visually impaired. For the last two years, she has worked on completing a general certificate in Assistive Technology from California State University Northridge and through Western Michigan University for the Certified Assistive Technology Instructional Specialist (CATIS) for people who are blind or visually impaired. Leslie lives with her retired guide dog Gwenny and is working toward competing in Dressage with her horse Sid. You can contact Leslie at lweilbacher@aph.org.
Stephanie Walker, Outreach Specialist, Southwest Region
Stephanie represents Arizona, California, Colorado, Nevada, New Mexico, and Utah. Stephanie's professional career in the field of visual impairments began with a Master of Arts in Special Education with a focus on Visual Impairments and Orientation & Mobility from Texas Tech University. Her experience working with students with visual impairments extends over 18 years and includes serving as a Teacher of Students with Visual Impairments and O&M Specialist. Before obtaining her master's degree, Stephanie was a junior high special education teacher. She has been the webmaster for Texas AER for several years and is enrolled in an educational diagnostician program at Texas A&M Commerce University. She recently served as the State Lead for the Texas Sensory Support Network with ESC Region 11, providing technical assistance and professional development across Texas. She was an author for the Texas 2 STEPS Assessment and Curriculum; has served as the Southern representative on the Colorado Vision Coalition and the advisory board for ECI of North-Central Texas. Stephanie currently resides in Texas. She has 24 hens, two roosters, a turkey, two dogs, and six kids. You can contact Stephanie at swalker@aph.org.
Visit our Outreach Services page to learn more about what this team is up to!
Share this article.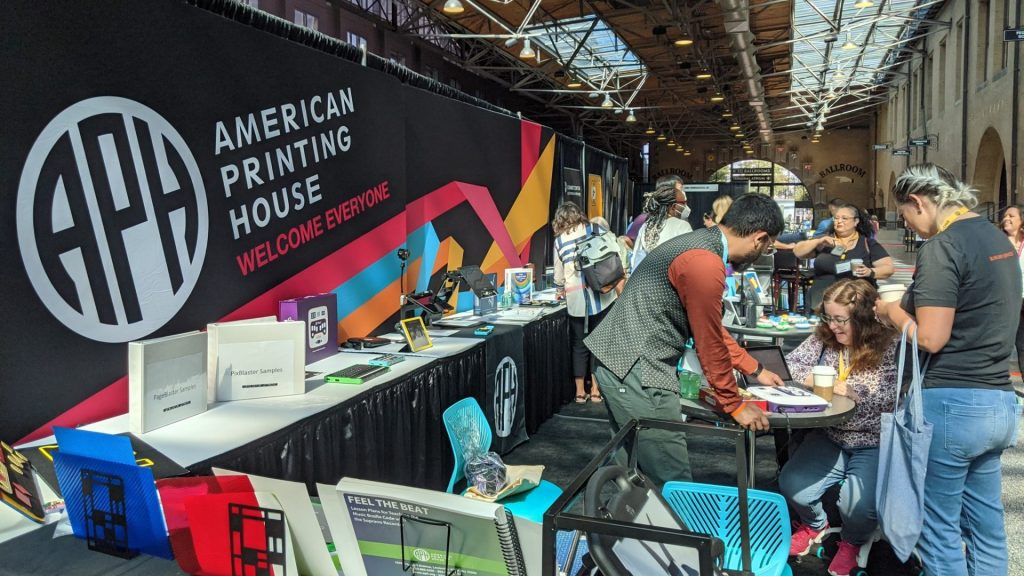 After two years off, APH returns to conferences! We are so happy to be back on the road and meeting...