Photographs as Time Capsules of the Past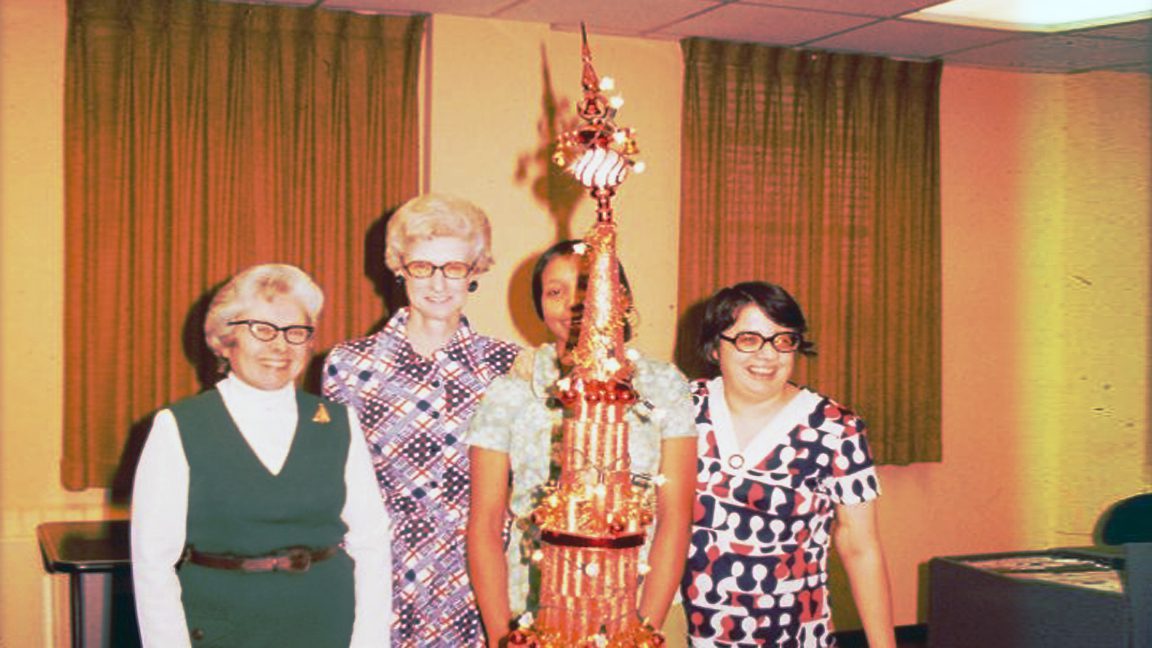 The holiday season is decidedly upon us, and with workplace parties on the calendar I was curious what holiday-related items we have in our museum collection. A "holiday" search didn't yield any results, but "Christmas" revealed several items. Amidst Christmas-related Talking Book records, a large type book, and a braille Christmas greeting card, were several photos from APH's holiday parties of yore. Most of the images that have been digitized are from the 1970s. These photos feature the smiling faces of APH staffers, enjoying the various company festivities. I love old photos, largely because there are so many things that can be read in a photograph. And so I took a closer look at these photographs to see what I could find.
A glance at the images quickly revealed a common theme— the central role that food holds in company holiday party culture. Most of the photos feature various groups of smiling people, predominantly women, seated around long tables set with plates, drinking glasses, and teacups. One group of photos shows people going through a line at what is clearly a potluck (the two crockpots are a dead giveaway).
Since the photos were taken 50 years ago, a lot of the trends have noticeably changed—in terms of fashion, office equipment, and interior decor to name just a few. Some of the photos show rotary phones and typewriters on the desks, common types of office equipment at the time, but long out of use in modern offices today. The wood paneling in the off-site Holiday Inn photos particularly stood out as a popular design trend of the 70s. Of course, some things don't change— like the ubiquitous crockpots that would look just at home at an office potluck party today, albeit with new styles and colors available.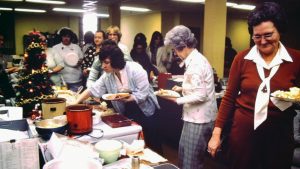 One of the things I most love about old photographs is the range of clothing, hairstyles, and even hats, glasses, and facial hair that are a fun testament to popular fashions of the time. The 1970s photos show APH staff wearing fantastic outfits featuring bold fabric patterns and large-scale plaids. There are shirt dresses, jumpers, and women wearing trousers in the office(!). The holiday party photos from the early 1990s show the change in fashions, featuring the lingering styles of the late 1980s with big hair, bold sweater patterns, and seasonal Christmas sweaters.
The type of photographic medium is also telling since photography has evolved significantly over the years. The 1970s photos are actually slides from a larger collection consisting of 335 color slides that were taken by APH's business office manager. The photos from the 1990s were from negative strips of 35mm film. Today, of course, photos are almost exclusively digital and often taken on phones rather than digital cameras.
It's great to see these photographs of former APH employees preserved as part of the company archive. The story of APH is largely about the contributions of its employees, and these snapshots in time are just one way of documenting those human resources. I like to think that 50 years from now the archivist will be looking at images from APH of today and making these same types of observations, although they'll no doubt be working with different technologies, and of course, wearing updated fashions of the day.
Mary Beth Williams is the Museum Collections Manager at APH.
Share this article.