The LED Mini-Lite Box and the Switches that Operate It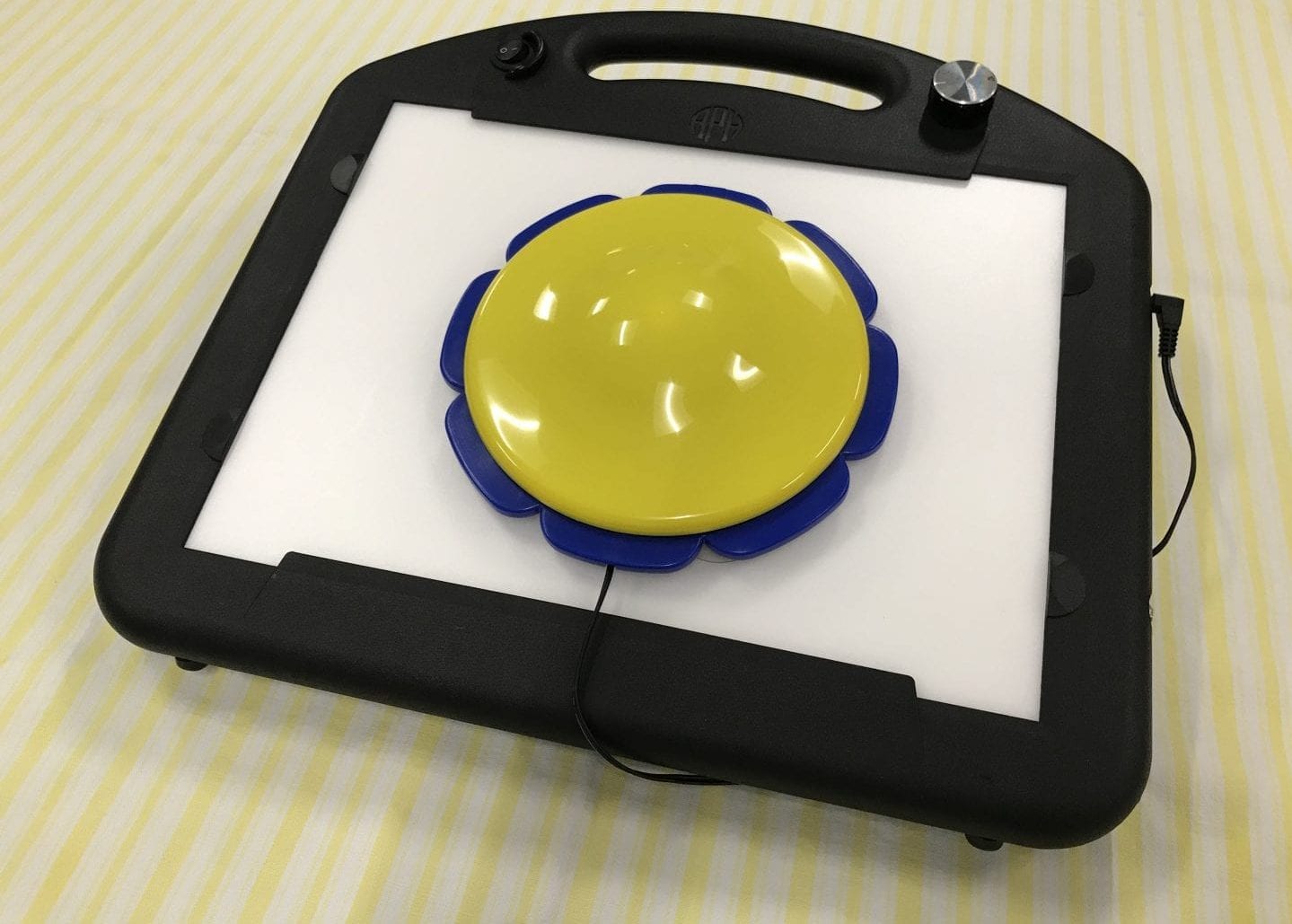 The new APH LED Mini-Lite Box (1-08654-01) operates with any standard switch. Just turn on the unit and plug in the switch—easy. This type of operation requires you to keep pressure on the switch continuously. You may wonder, "How can I use the LED Mini-Lite-Box with an environmental control unit?" APH's original Mini-Lite Box operated using the APH Power Select (1-08612-00), but to do this, you had to remove the nickel metal hydride batteries from the unit. The new LED Mini-Lite Box operates with rechargeable lithium-ion batteries, which are not customer accessible. To operate the LED Mini in a direct, latch, or timed seconds and time minutes mode, use the APH Select Switch (1-08617-00), which is a combination battery-powered environmental control unit and switch.
Video Tutorial
Watch this video showing four simple steps to use your LED Mini-Lite Box with the Select Switch.
Please note, you should always turn off your Select Switch when not in use so the batteries do not drain. If the LED Mini comes on and does not follow the directive of the Select Switch, it may be on the incorrect polarity. To correct this, move the small black slide switch on the back of the Select Switch to the opposite side.
VIDOE DIALOG: To use the APH LED Mini-Lite Box with APH's Select Switch, follow these simple steps. First, let's make sure the Select Switch is in the off position by turning the right knob counter clockwise until it no longer turns. Second, we turn on the LED Mini Light Box. Third, plug the Select Switch into the switch jack located on the right side of the LED Mini, which disconnects the electrical current so the light goes out. Fourth, we choose the mode of operation.  Let's move our right dial three clicks to the latch mode. Press once, and the light box activates. Press a second time and the light goes out again. Okay, let's just review one more time very quickly. Make sure the Select Switch is in the off position. Turn the LED Mini Lite-Box on. Plug in the Select Switch. This time we will go two clicks to the direct mode. We activate the light by keeping a hand on the switch. And that is how we use the LED Mini-Lite Box with the APH Select Switch. Be sure and share this tip with your students.
Share this article.