The MATT Connect Just Keeps Getting Better
The MATT Connect – a compact, all-in-one magnifier, distance viewer, and educational Android tablet – is flaunting some new upgrades for users of all ages! If you're already the proud owner of a MATT, you'll be prompted to install these upgrades when connected to Wi-Fi. Or, go into your Settings menu to install the latest updates. To help you make the most out of the new upgrades, we've included some great video tutorials to help you get started!
New Software Features as of February 2022!
APH and HumanWare are happy to share multiple new features have been added the Prodigi 4.6 software version for the MATT Connect, available as a free update you can download and install right now. These include:
"Go to Page" functionality for books with table of contents and/or pagination. You can now navigate to any page of a downloaded book that has a linked table of contents or page numbers included.

Download a book
Open the book
At the far-right end of the button banner, the "Go to Page" icon will appear
Click on the icon to choose table of contents or page number
If available, a list will be presented; if not available, a message will be provided
Annotate a book. Books can now be marked up with annotations when opened.

Click on the pen icon from the button banner
Buttons to select a pen, eraser, color palette, and line thickness will appear
Choose the pen to create highlight annotations
Tap the pen again and "T" icon will appear, allowing the addition of text-based notes
Buttons to add or erase text notes, as well as choose text color and size will appear
Choose the "T" to add text-based annotations
Select the eraser tool to clean up any errant mark-up (highlights or text notes)
Hit the Return icon to exit Annotation mode
Add Bookmarks to books and audio books. You may now insert, name/rename, navigate, and delete bookmarks in books/audio books. In books, bookmarks can be placed in page, column, or line reading modes.

Open a book
A Bookmark icon will appear in the top right corner of the screen
Click on the icon when you wish to place a bookmark
It will be inserted at the point where reading has stopped
You can name it as you wish up to 40 characters
After creation, you can click on the Bookmark icon to navigate, rename, or delete
Usage Metrics. A feature to send anonymized Prodigi usage data has been added to help us understand how the software is being used and to inform future development. Users can opt out of this important functionality. Data like text-to-speech and optical character recognition language, selected user interface, or contrast colors used are submitted anonymously.
Updated Desmos calculator API. Desmos has been updated to the latest v1.6. Two key features:

Applies embedded font sizes in calculator settings
Use's Prodigi color schemes when selected
Previous Updates
OCR (optical character recognition) language selection. You can now select the language to perform your OCR for enhanced results. How do I update my default OCR language?

Go to Magnifier Application
Select the Settings icon from the Button Banner
Scroll and tap on OCR Languages option
Scroll to Choose OCR Language option
Select a language
Select up to 4 system voices: The number of system voices you may use has increased from 2 to 4. How do I download and install system voices?

Go to the Prodigi Settings application
Scroll and tap on User Interface
Scroll and tap on System LanguageTap on Configuration
Select up to 4 voices
 Graphing calculator with graph capturing: Graphing of math functions is now available while using Prodigi's Calculator. Graphs can be captured and stored as a document in the Gallery using the following steps:

Go to the Calculator application
Tap on the Settings icon at the top left corner of the screen
Tap on Mode
Select Graphing
Go back to the Calculator
Create a graph with the Calculator
Tap the Capture button on the Button Banner. The capture will be stored automatically in the Gallery under the Screenshot category
Append a function graph to a document: Graphs created with the Calculator can also be appended to existing documents. How do I use the new Append Graph function?

Go to the Prodigi Gallery application
Create or open an existing document
Tap on the Settings icon at the top right corner of the screen
Tap on the Append option
Tap on New Function Graph
Create the graph and tap on the save icon in the Button Banner this will append the graph to the end of the document
New blue light filter. There are now 4 levels of Blue Light Filters in Prodigi. When activated the filter is available in both Prodigi and Android interfaces to limit eye strain. To use the new filters:

Go to the Prodigi Settings application
Tap on the User Interface option
Scroll and tap on Blue Light Filter
Choose between Low, Medium, High, and Max level
New exam mode. A tablet can now be locked down for a limited time during exam sessions with PIN protection. To use Exam Mode:

Go to the Prodigi Settings application
Tap on Exam Mode
Tap again on Exam Mode to turn on
Select the start time, duration, and any applications to disable
Tap the Back button
Create a PIN to access, modify, or turn off Exam Mode
User profiles. Creating profiles for your students or users makes it easier to share devices when necessary. There is no need to factory reset the device any longer. Here is how to create User Profiles:

Go to Android Settings
Tap on Users
Tap Add User or Profile
Tap on User in the Add popup window
Follow the on-screen instructions
Code Jumper support. Users now can connect Code Jumper devices using the Prodigi interface. To make the connection:

Turn on Code Jumper
In Prodigi go to the Settings application
Scroll and select System
Scroll and select Bluetooth Setup
Turn on Bluetooth if not already on
Scroll and select Devices
Find
Save screenshots to the gallery application: Screenshots can now be taken on MATT Connect using these methods: button shortcut (volume down + power) or virtual button on the Android banner. The screenshot will be saved automatically to the Screenshot category in the Gallery.
New Books Application: Dolphin Easy Reader in Prodigi. This helpful application enables users to enjoy Bookshare and dozens of other international libraries, such as RNIB and CELA, providing access to millions of e-books, digital talking books, newspapers, and magazines from around the world. View the video tutorial here.
Self-View Camera Mode. Provides quick access to the front-facing camera within the Magnifying app for self-grooming, or to snap a quick selfie. This new feature is also coupled with the ability to disable OCR on captures. View the video tutorial here.
Rapid Toggle for users who like shortcuts. Need to access Chrome and Google sheets often? You may now toggle to any application of your choice with only a few swipes across your screen! View the video tutorial here.
The MATT Connect Accessory Package includes three new accessories AT NO ADDITIONAL COST: a Bluetooth® keyboard, a battery pack for the distance camera, and a protective leather case/sleeve for your MATT tablet (for use when the tablet is out of its docking stand).
New Books Application Page

MODE – Possibility to read downloaded books in Page mode and See images in a book, like graphs in a math book.

Watch the tutorial!
Wi-Fi Login with Username and Password – Login to schools' secured networks using the Wi-Fi Setup with a username and a password
New Navigation Mode

– When setup with Audio/Speech/On, press and hold two fingers on the screen to turn the new Navigation mode ON or OFF to be able to navigate thru the button banner and all that is on the screen.

Watch the tutorial!
New Integral Function

– Graph integral functions in the graphing calculator.

Watch the tutorial
New Application int the APH Toolbox – The APH Flip-Over Faces application was added to the APH toolbox application list
New OCR Engine – Quicker, more accurate, colored font recognition and new Arabic language support.
Desmos Calculator

– plot graphs and solve equations with this scientific calculator.

Watch the tutorial!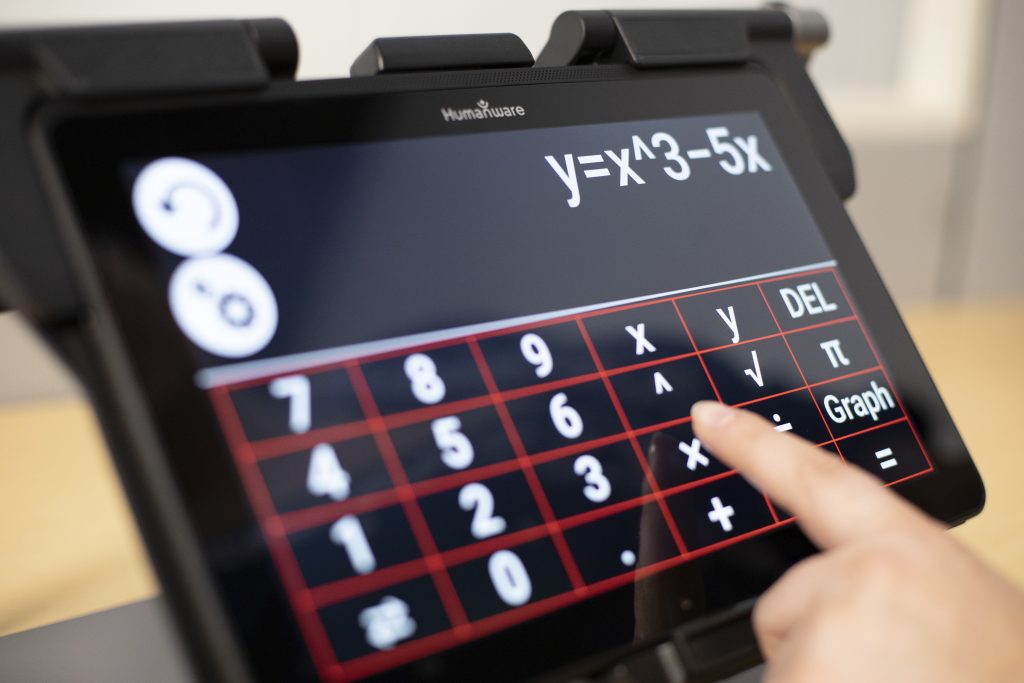 Gallery Management – It's easier than ever to manage your images with a more powerful and flexible gallery. New gallery features include:

Quick settings menu
Support for lower case letters in an image name
Ability to renumber the first page in a document
"Go to page" function in a document
Ability to create up to 4 levels of subfolders
New notes category – take quick notes and organize them in the notes category
Ability to move images from the distance folder to any folder in the root of the gallery
Proxy Connection Support – set up your connection to proxy networks using Prodigi. Watch the tutorial!
Books application bug fixes
Prevent exit to Android – useful for student exams
Speech OFF by default
Interested in attending one of our monthly MATT Connect Webinar Trainings? Learn more and sign up!
You can find more information or purchase a MATT Connect on our shop site!
Questions? Contact the APH Customer Experience team at 1-800-223-1839.
Share this article.