Free National Coding Symposium for Students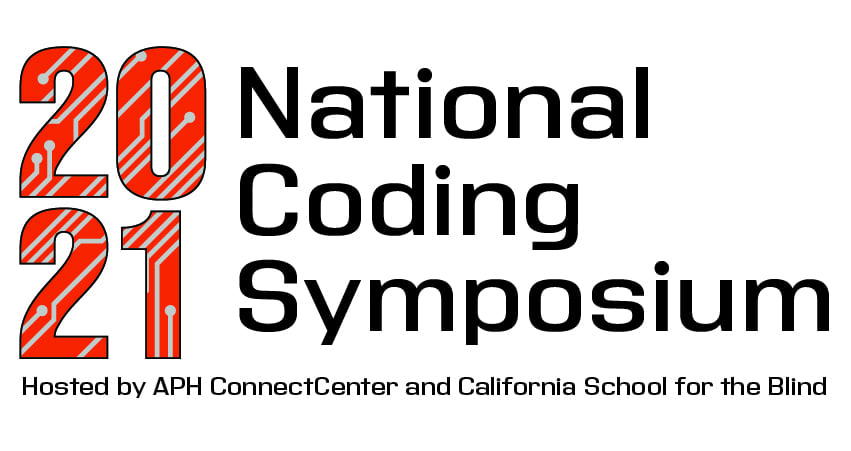 Together, APH ConnectCenter and California School for the Blind (CSB) will co-host the free, virtual National Coding Symposium from Tuesday, May 11, 2021 through Friday, May 14, 2021, to demonstrate how the world of coding, programming, and related careers are available and accessible to students who are blind and visually impaired. The Coding Symposium is made possible, in part, by support from Fox Family Foundation.
The Coding Symposium comes at a pivotal time for Computer Science related jobs, as they are growing faster than any other industry; yet the pool of potential candidates is decreasing, as nearly 2.5% of undergraduate degrees are awarded in Computer Science.
We sat down with Adrian Amandi, Director of the California Education Resource Center at CSB to get more details:
What is the Coding Symposium?
The National Coding Symposium will provide an overview of how coding is, and can be made, accessible to users who rely on screen access software. We hope students in attendance will be motivated and encouraged to either consider a career in coding, or will be inspired to learn more about coding and programming.
The symposium will be offered completely virtually on the Zoom platform, enabling more students, teachers, and family members nation-wide to attend than an in-person event would have allowed. The inspirational keynote addresses, educational presentations, and speaker panels are scheduled so that participants can attend when they are able, with respect to their school schedule. All sessions and information will be recorded and available online after the symposium.
Who should attend?
Middle-, high-school, and college-age students who enjoy or are intrigued by coding should attend to learn more about possible coding and programming career paths. Teachers of students with visual impairments and assistive technology specialists who already do, or who would like to, integrate coding into their lesson plans and curricula are also encouraged to attend.
What else should we know?
Coding is inherently accessible. Students with visual impairments are often unaware that they would be able to participate in computer science classes or learn coding independently at home. The National Coding Symposium is about demonstrating that the world of coding, programming, and related careers has the door open for students with visual impairments. Through a series of inspirational speakers, panel discussions, informational lectures, and question and answer sessions, attendees will learn about the various pathways to careers related to coding. Coding might not be in everyone's eventual career path, but it will certainly benefit the job seekers and leaders of tomorrow if everyone learns how to code. We hope the National Coding Symposium will inspire a new generation of visually impaired youth to become leaders of tomorrow.
How can I register?
Those interested in attending can learn more, view the agenda and guest speakers, and register at the 2021 National Coding Symposium registration page: aphconnectcenter.org/coding.
Be sure to check out the National Coding Symposium website for student award opportunities to be given on the last day of the symposium.
Plus, stay tuned for the Coding Symposium episode on the APH Change Makers Podcast, airing Thursday, April 22.
Share this article.