Meet APH Scholar, Nabiha Mujahid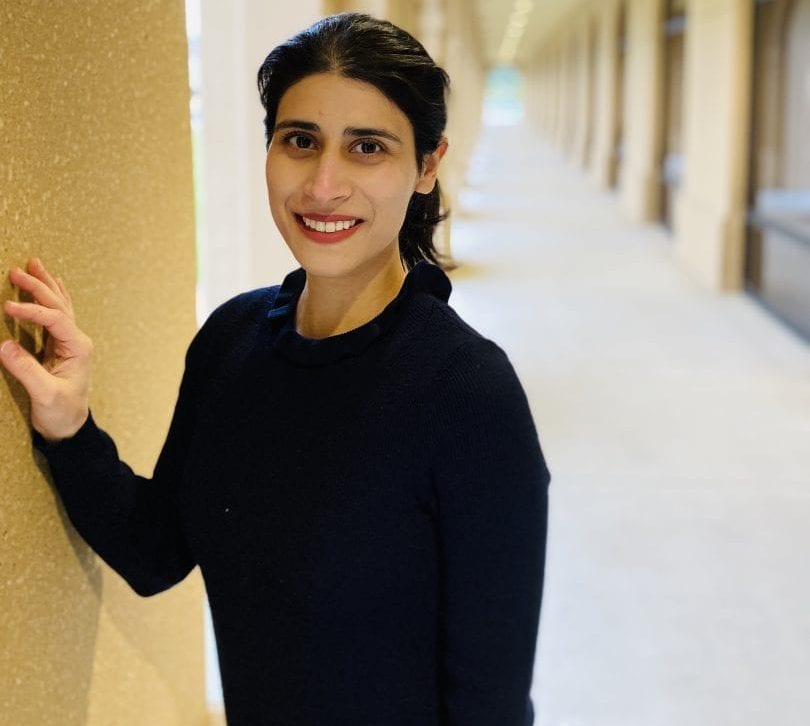 APH congratulates Nabiha Mujahid, nominated by EOT, Robin King, for being selected as a 2020-2021 APH Scholar.
A biochemistry major at Louisiana State University, LSU, Nabiha's career plans changed when she was hired as an afterschool tutor at the Louisiana School for the Visually Impaired, LSVI, helping students with their homework and Expanded Core Curriculum skills. What began as a job turned into a passion as Nabiha fell in love with the blindness field and decided to change her major. She currently holds Undergraduate and Master's degrees and is working toward her PhD. in Educational Leadership at LSU. Her other credentials include an NCUEB certification and a Transcribing Certification from the National Library of Congress.
Nabiha said, "After I graduated, I started working at LSVI as a middle school, and later, as a high school math instructor for 5 years. To improve my skillset, I started working as the VI Regional Support Specialist for the Louisiana Instructional Materials Center." In this role, she supports LSVI and school systems across the state, assisting educators and students with technology and braille. "Her intelligence, along with her attention to detail, has made her my go-to person for supporting the school systems across the state," said EOT, Robin King. "She possesses the skills and talents to provide exceptional VI/blindness support to teachers and students."
Utilizing APH Products
APH products have played an integral role in both of Nabiha's positions. In her math classroom at LSVI, she incorporated the Tactile Algebra Tiles, DRAFTSMAN Tactile Drawing Board, Graphic Art Tape, Geometro, and the Graphic Aid for Mathematics into daily lessons. "Tactile products help students to understand abstract problems by converting and representing them in concrete forms," said Nabiha. "This not only helps students who are blind but also facilitates sighted students. When auditory reinforcement is not enough to translate visual context, APH products make the information accessible."
As the VI Regional Support Specialist, Nabiha consults with and lends her technical expertise to TVIs, educators, and students. Often, she will do practical step-by-step demonstrations of APH products, such as Braille Trail Reader LE, Jupiter Portable Magnifier, Building on Patterns, and the Tactile Graphics Image Library, TGIL. "These children and their educators face challenges every day," said Nabiha. "They are unable to utilize conventional methods and tools for knowledge acquisition, but they do not let this deter their quest for self-improvement. Their resolve is unparalleled, and I can't help but admire their strength and model my own self-growth after theirs."
Along with one-on-one trainings, educators across the state also benefit from professional development sessions, webinars, and the annual LA-Accessible Educational Materials conference hosted by Nabiha and her department. "Seeing educators and parents realize their own strength and their ability in causing a change has its own reward. There is no better feeling than to know that what you will impart may affect multiple students through others in perpetuity," she said.
Nabiha's dedication to her job and to those she serves does not go unrecognized. EOT, Robin King, said, "I am fortunate that she works for our center. Students, parents, and teachers all benefit from her skill set and talents."
Building a Prison Braille Program
In addition to her other responsibilities, Nabiha embraced the opportunity to co-teach braille transcription lessons with EOT, Robin King, in the Louisiana Prison Braille Program based in an all-male prison. "We started the program this year with the desire to build capacity for our state," said Nabiha. "I'm directly involved with the procedures and the policies, co-teaching, maintaining the records, and organizing the data."
Nabiha is a huge proponent of BrailleBlaster and works with the participants to learn and use the software to complete their coursework. She explained, "Currently, BrailleBlaster is the most efficient and most frequently used software when transcribing books or worksheets." While these lessons can be challenging, Nabiha said that her students are excited to obtain their certifications and begin producing braille for the classroom.
Looking Toward the Future
The blindness field would be nothing without the contributions of its leaders. For this reason, Nabiha looks forward to more leaders and pioneers emerging to convey new knowledge and inspire others. "My hope is that these leaders will not only be ones that provide the correct tools for the development for our students," said Nabiha "but our students will grow up to be figureheads in this field and implement changes from their unique perspectives."
More About the Program
Each year, EOTs are asked to nominate someone they feel provides outstanding service in their region. Through a scholarship, awardees attend the APH Annual Meeting in Louisville, KY as a guest of APH. APH pays for all expenses in attending the conference, including transportation to the meeting, conference registration, and hotel accommodations. However, due to the COVID-19 pandemic, the 2020-2021 APH Scholars were unable to be with us in person this year; they attended APH's 152nd Annual Meeting virtually. Next year, the scholars will come to Louisville for Annual Meeting.
Stay tuned to our website to learn about another scholar each month, and watch out for information about webinars that our scholars will be hosting.
Share this article.