Snap Into Electronics
In science classes, sighted students are taught the basics of electricity, coding, and programming through a variety of hands-on activities. We're excited to say that we've adapted some of the most popular commercially available educational products from Elenco® to be accessible for builders who are blind and visually impaired. Breathe life into your creations with our four access kits for Snap Circuits® Jr., Snapino®, RC Snap Rover®, and BRIC: Structures®!
What Will I Learn?
As students make the projects in our four kits, they will learn about electronics and improve numerous skill sets:
The ability to follow step-by-step instructions
Braille knowledge and tactile identification skills
Spatial reasoning, coding, and programming skills
Students will also be able to:
Define a problem
Ask questions, make observations, and learn about the problem
Generate ideas
Plan and try a solution
Create a prototype or process
Test, analyze, redesign, and make improvements to the solution
Refine ideas
Apply mathematics criteria such as learning how to read and interpret grids
What Can I Build?
All of our access kits are designed for students ages 8 and up. They contain parts labeled in braille and accessible project instructions for students who are blind and visually impaired. Projects are built on a tactile, grid-style pegboard, called the "breadboard." Plastic parts snap onto and are layered and connected on top of the breadboard, with each circuit powered by the electricity flowing through a battery.
What's in the Kits?
If you're new to electronics,  Snap Circuits® Jr. is the perfect place to start. Snap Circuits® Jr. teaches children about circuits, current, resistance, switches, motors, and other basic electronic concepts. Create 101 projects and circuits by snapping and connecting layers of plastic parts to the breadboard and to the included batteries. Follow the included instructions to make a flying saucer, musical doorbell, light police siren, a touch light, and much more!
Program your circuits with a mini computer using Snapino®! This kit takes electronics to a new level with its Snapino Arduino board. Students can build circuits throughout 20 different projects by connecting the physical components on the breadboard and practice basic coding with the Arduino board by plugging it into a computer and utilizing free software from the Arduino website. As they work, students will learn to blink lights and test sensors. Some projects include a distance sensor, button stoplight, and a click counter.
Make projects that move with RC Snap Rover®! Children will learn about electric switches, radio perception, gear movement, Morse Code, and more as they snap together colorful Snap Circuits® parts to build an RC Snap Rover. This plastic four-wheel truck can zoom across any surface with the included wireless remote control. Plus, construct 25 projects like a remote-controlled rover, a light following rover, water detector, saltwater detector, generator using motor, capacitor battery, and more.
Bric-2-snap technology combines the use of ordinary building bricks with Snap Circuits® to create circuits and real-world structures that run on electricity. Build 26 fun projects such as a light post, BRIC tower, BRIC bridge, BRIC mammal, tri-level house, lighthouse, and more.
Put Them All Together!
Think of Snap Circuits® Jr. as a beginner's kit full of circuits, fans, lights, and motors. Snapino® adds in a new programming capability, RC Rover® a mobile component, and BRIC: Structures® more parts to make actual buildings. When combined, the kits open up an endless amount of project possibilities. Here are a few of our suggestions:
With Snapino® and Snap Circuits® Jr., create a keyboard that talks when you push buttons or make a talking game using Arduino libraries.
Snapino® and RC Snap Rover® together can create a robot that follows light and that can be programmed to follow directions and make decisions. For example, the robot could run into something and work its way around it.
Use the Snapino® and BRIC: Structures® kits to build a grid of lights that turn on at night, like it would in a city.
With Snapino®, Snap Circuits® Jr., and BRIC: Structures®, construct a security system for a house.
The possibilities are endless! Go to aph.org/shop to learn more and order these products.
Share this article.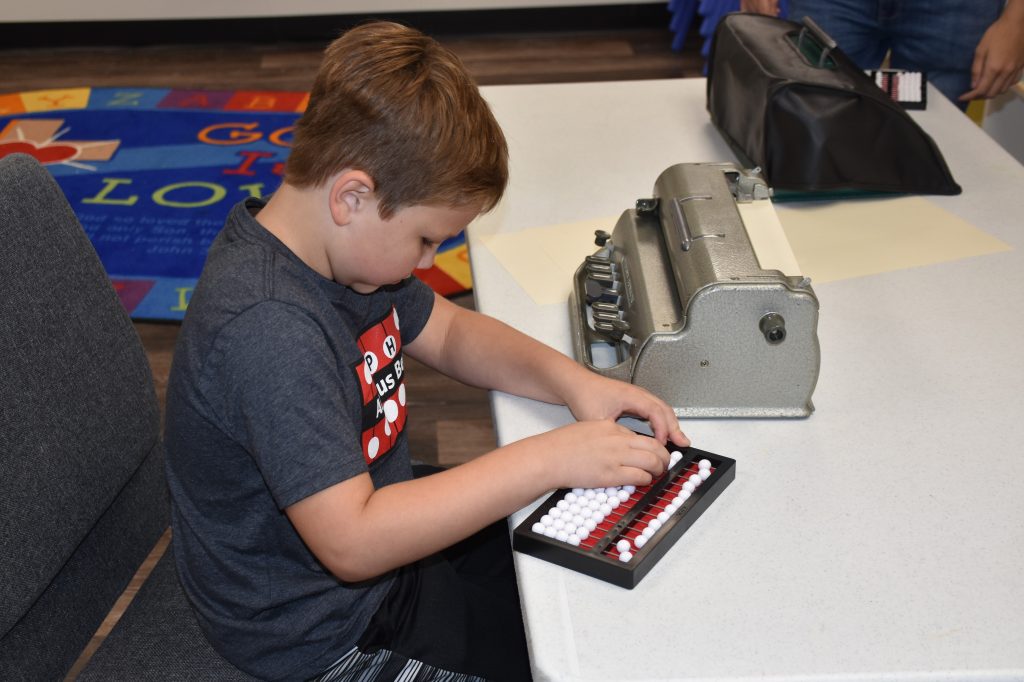 On Saturday, December 10, we're hosting our first-ever Abacus Bee finals for students across the United States! Traveling from Florida...
A child who is blind or has vision loss is like any other child – eager to explore the world...