APH Behind the Scenes: Building on Patterns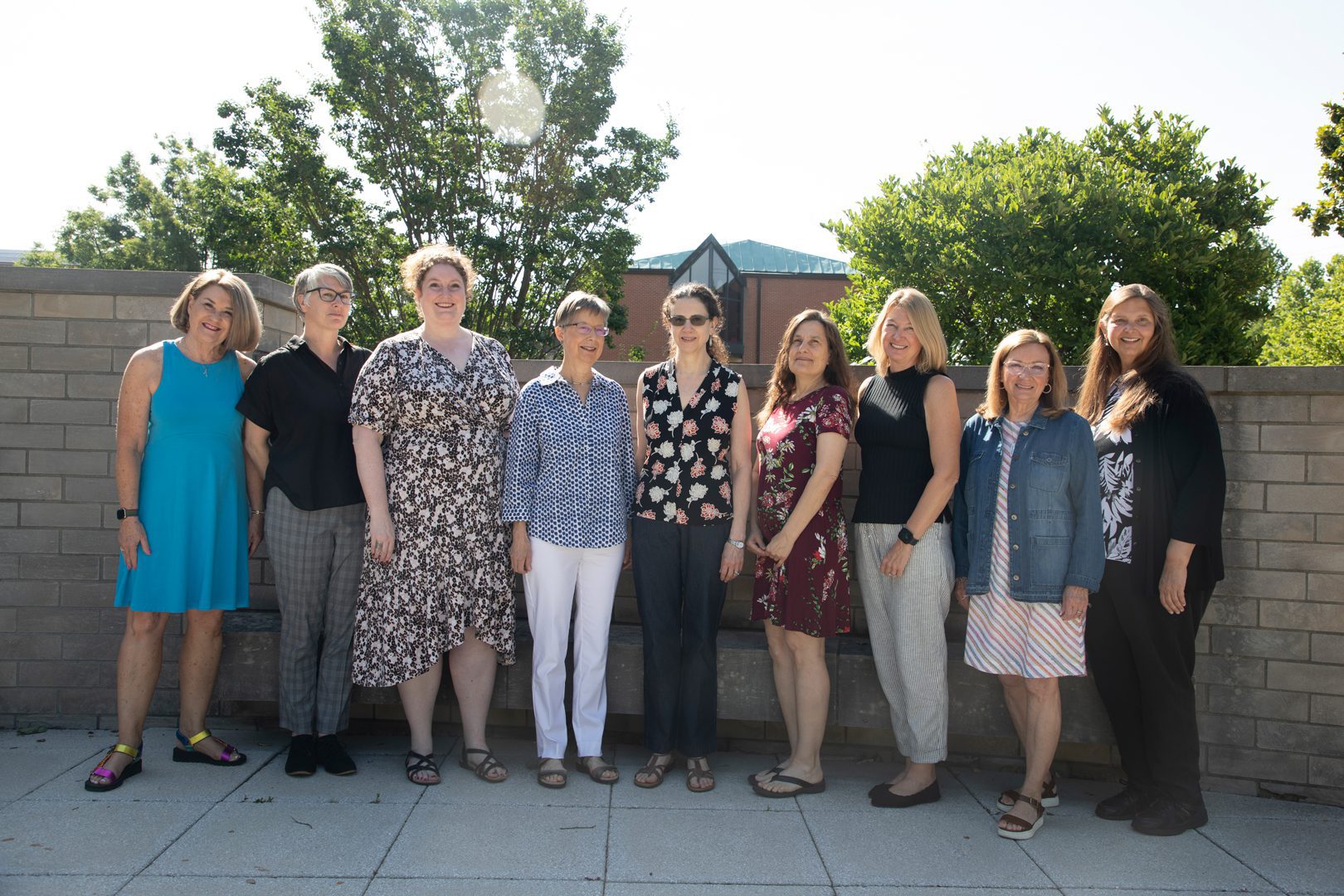 Caption: From left to right: Luanne Blaylock (AR), Kate Dilworth (OR), Kristen Buhler (OR), Anna Swenson (VA), Cathy Senft-Graves (APH), Mary Filicetti (VA), Robin Wingell (CA), Jo Ellen Croft (AR), and Izetta Read (CA).
Building on Patterns is a literacy program that teaches young children who are blind or have low vision reading and writing using braille. As this product continues to be revised and updated, we spoke with Product Specialist Cathy Senft-Graves to get an inside look at this important student and teacher resource.
What is Building on Patterns?
Available on Federal Quota, Building on Patterns (BOP) is a systematic and comprehensive literacy program designed to teach children ages 4-7 who are blind or have low vision to read and write using braille. The four levels of BOP are Prekindergarten, Kindergarten, First Grade, and Second Grade. BOP was designed to be used flexibly by a Teacher of Students with Visual Impairments (TSVI) who can tailor instruction to each individual child. It can be used as a stand-alone program or with the general education curriculum. Students need to be taught all the skills included in Building on Patterns, but whether they get them in BOP, in their general education classes, or in some combination is up to individual teams and teachers.
Note: Some of the instructional activities can be used with or adapted for older students. However, many of the stories and activities are designed for students ages 4-7 and won't be appropriate for most older children.
What Do Students Learn?
Building on Patterns contains instruction in phonemic awareness; phonics; listening and reading comprehension; high-frequency words; oral vocabulary; writing, including spelling and creative writing; grammar; and reading fluency. Braille-specific knowledge is incorporated throughout the lessons, including dot configurations, braille contractions, braille indicators, rules governing braille, and how to use a braillewriter.
Additionally, students will encounter tactile graphics. For instance, the Prekindergarten level uses tactile pictures that go along with the stories, and the Second Grade level includes maps, charts, graphs, and Venn diagrams. Cathy said, "There's also concept development and background for things that children who are blind don't learn incidentally, the way typically sighted students do from seeing things in their environment, in pictures, or on TV. For example, children who are blind need to know about colors and what color everyday items are in their surroundings."
The BOP Writing Team
The Building on Patterns writing team, made up of current and former TSVIs, meets most Friday mornings over Zoom with an annual in-person meeting scheduled for June 20th-23rd, 2023. Cathy said, "One of the most important strengths of this program is that it has been written by qualified, highly experienced TSVIs who embrace the value of reading and writing for students who will use braille."
Teachers from Oregon, California, Arkansas, and Virginia make up the four writing groups. Many of these writers have been working on the program for over 10 years with some closer to 15 years. "We work closely together to ensure consistency and continuity in the lessons. APH is also updating this curriculum to keep up with changes in educational standards," said Cathy.
Ordering BOP
The Building on Patterns curriculum consists of four levels: Prekindergarten, Kindergarten, First Grade, and Second Grade. The First and Second Grade levels are divided into seven units each. The BOP website has additional information and resources for BOP, including an Ordering Information page for each level:
There are also Reference Volumes for the Pre-K (print and braille), First Grade (print and braille), and Second Grade (print and braille) levels. These include companion material to the teacher's manuals, such as background information about the program and its teaching philosophy, relevant literacy research, information on the skills taught, and lists of words and contractions taught at each level. The Reference Volume comes with the Teacher's Edition for the first unit of BOP First and Second Grade. There are also Posttests for Kindergarten, First Grade, and Second Grade. In addition to assessing what a student has learned in Building on Patterns, the Posttests can be used to evaluate a new student's braille knowledge.
The BOP Website
The most consolidated source for information on Building on Patterns is the BOP website. Each level has the following pages:
Themes, Features, and Samples – includes example activities that can be downloaded so teachers can see what some of the instructional activities look like, and they can show them to administrators and parents.
Teaching Components – includes a downloadable scope and sequence as a PDF and as a BRF (braille ready file).
Ordering Information – provides a list of all the kit information and has links to the APH shopping pages for the kits and other main components. (Note that for Kindergarten only, the Posttest consumables come in the Student Kit.)
Teacher Resources – includes electronic versions of the Pre-K Parent Letters and First and Second Grade Homework Letters that are in each lesson. The letters contain activity suggestions for families that go along with the skills and concepts being taught. They are included in the Student Kits in hard copy, but with the electronic versions, teachers can tailor the letters to the child's family. For Pre-K, this page also has a Frequently Asked Questions list.
Visit our Get Involved page to learn how you can become a field tester for Building on Patterns, Second Edition, Kindergarten. Field testing will begin at the start of the 2023-2024 school year.
Share this article.