Finger Walks Lets Everyone Experience the Wonder of Labyrinths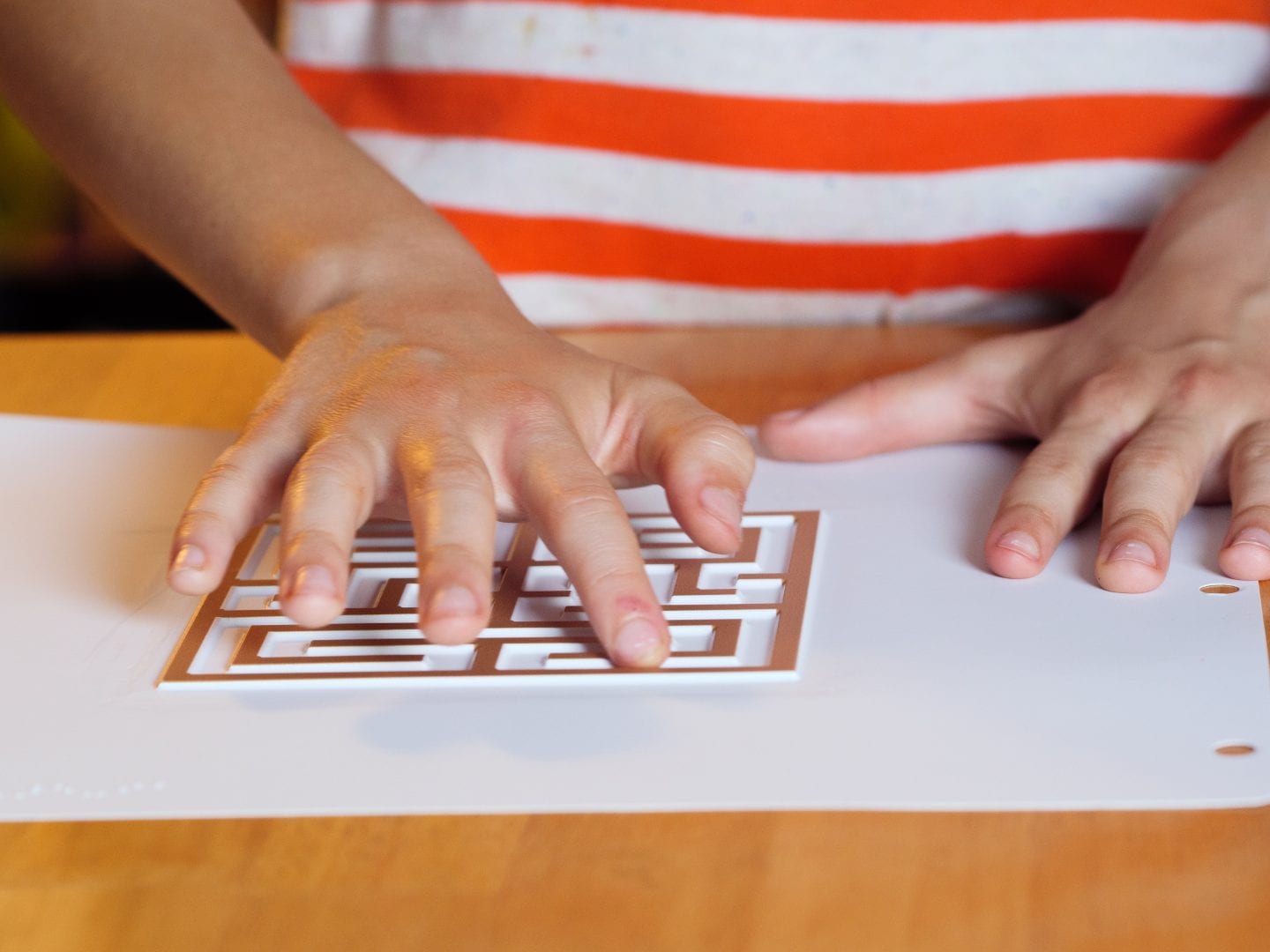 Labyrinths might sound like a great way to get lost, but Maia Scott says they can be a wonderful way to find yourself. She brought the idea of Finger Walks to APH, leading to an intriguing new product. Finger Walks isn't necessarily about a journey of self-discovery (although it can be), but the product is about letting your fingers explore tactile patterns that carry you away to new places in your imagination.
If you're not familiar with labyrinths, they have existed for more than 4,000 years in nearly every corner of the world. They can be walkable, like a maze, or tactile, like the labyrinth on a wall in Lucca, Italy, where Maia, who is visually impaired, relished running her fingers along the pattern etched in stone. Every labyrinth is a series of twists and turns that lead you through an unknown route until you find your way back to the beginning. Unlike a maze, you can't get lost in a labyrinth – it has no dead end and only one path.
Maia's first experience with a labyrinth was a full-scale walking labyrinth, and she's walked many since then. Although the idea of finding your way through twists and turns sounds potentially frustrating, she says walking labyrinths reminds her of the old saying that "the journey is the reward."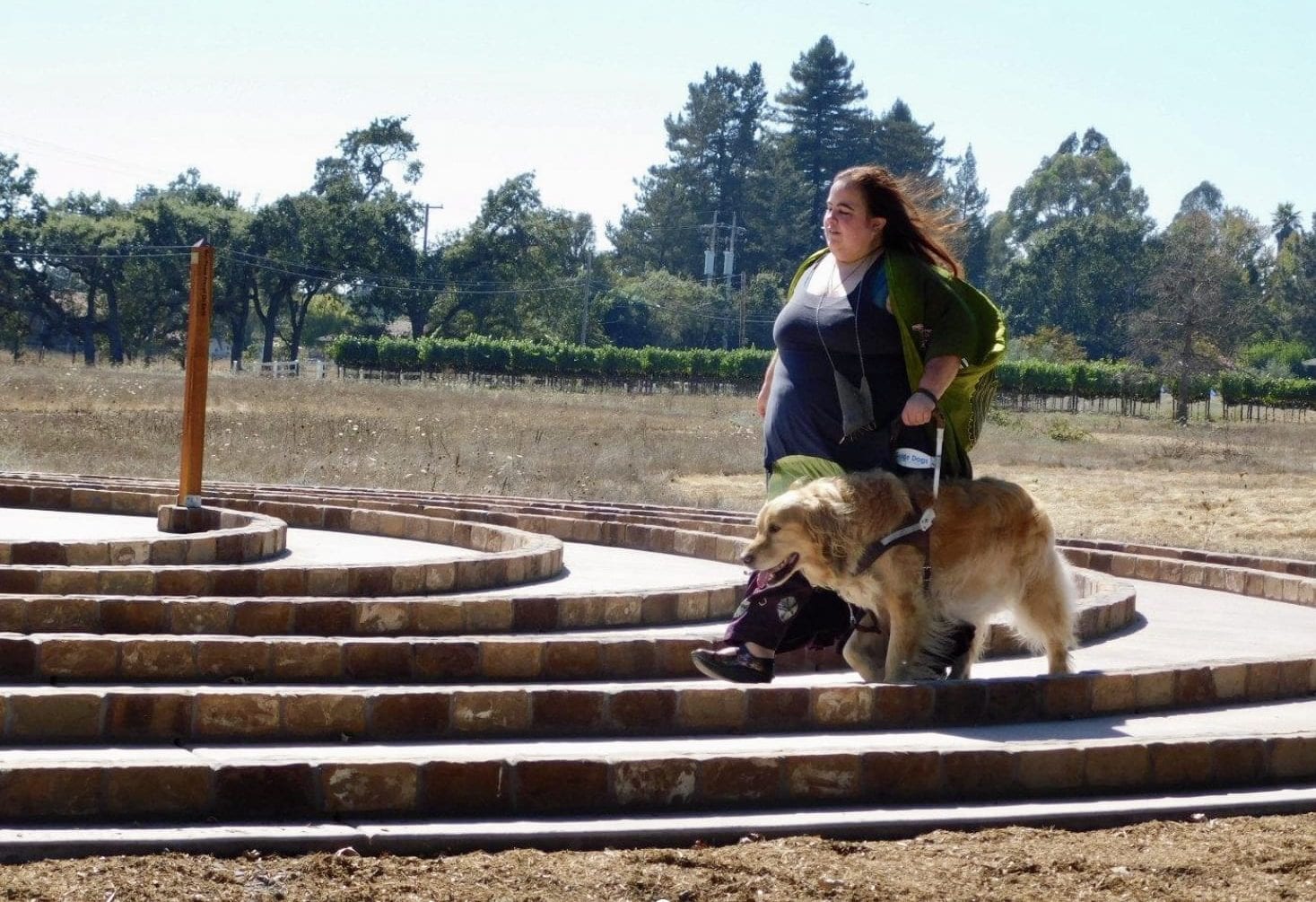 But Maia wasn't satisfied with simply walking labyrinths. She became fascinated and started assembling full-size labyrinths made of materials including pinecones, chalk, and river rocks. She's also drawn and created miniature ones, using everything from toothpicks to crystals on a tabletop — which ultimately inspired her to submit her idea for Finger Walks to APH.
"The idea of having a finger labyrinth is that it can fit on a bookshelf, you can have them in a classroom or a doctor's office — really anywhere," she says. "It's different than walking a labyrinth, but it still taps into the right brain-left brain process, swooping around between the directionality of the path."
An Exploration of Finger Walks
Finger Walks is a collection of 16 tactile labyrinths embossed on vinyl sheets with the raised labyrinth paths in color, so it's appealing to people who are visually impaired or sighted, explains Fred Otto, the APH Project Leader who stewarded Maia's idea from concept through production. (See related blog post, coming soon.)
Each set comes with a guidebook that explains the history of labyrinths and the different types of labyrinths around the world. The guidebook also includes the story behind the original labyrinths replicated in the Finger Walks collection, along with detailed instructions on various ways to work with finger labyrinths. The guidebook comes in large print but is available in braille and audio formats as a free download from APH's website.
For teachers or organizations that want to use Finger Walks as a group activity, Replacement Sheets of the first four labyrinths in the full set can be purchased separately (although they don't come with the guidebook).
Fred saw first-hand the effect Finger Walks can have on students. He was volunteering at a public school during the product testing process and brought some samples for the kids to play with.
"A lot of schools use printed labyrinths as a quiet activity, but kids were just as drawn to the tactile samples," he says. "Even some of the sighted students got into the spirit of the thing and closed their eyes and felt their way through it."
Finger Walks in Action
When Maia proposed Finger Walks to APH, she knew it was an idea that could benefit people of nearly all ages, abilities, and needs. Finger Walks are suitable for any setting: classrooms, homes, community centers, senior living facilities — anywhere someone might want an engaging, soothing activity. Although they're ideal for people ages 8 and up who are visually impaired, they also offer cognitive benefits, such as helping people focus, and they're great for relieving stress.
"If you slow down and let your mind's eye narrow to what's happening with you and your finger and the labyrinth, it's very easy to block out whatever else is going on," she says. "Maybe someone with ADHD is distracted by chatter or someone is feeling anxious waiting in the doctor's office for test results. A finger labyrinth is like a moving meditation: It softens your breath, it softens your tummy, because you can find stillness in motion."
The 16 labyrinths let users experience a variety of sensations and rhythms, with different shapes and path widths that require varying amounts of concentration to complete. Some paths are angular and others are round, allowing for a wide range of movements. Of the Teachers of the Visually Impaired (TVIs) who field-tested Finger Walks, every single one said they were a great tool to practice tracking, hand movement, and other tactile reading skills.
Purchase Finger Walks today to start your journey.
Share this article.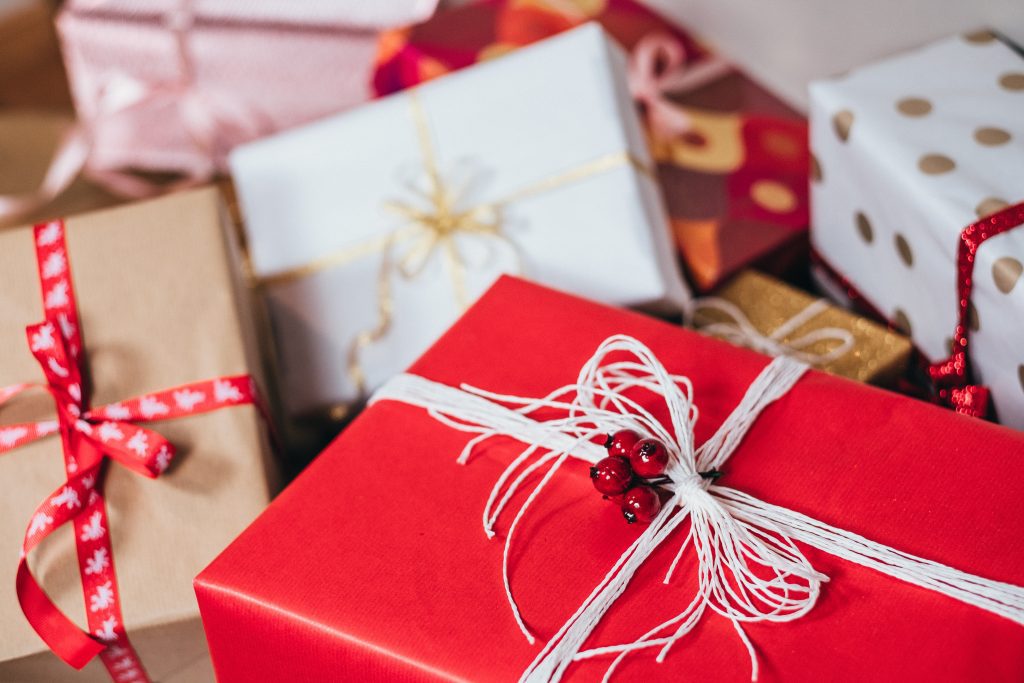 The holidays are a great time for fun, family, and food. This time of year also includes many learning and...