Mantis and Chameleon Software Updates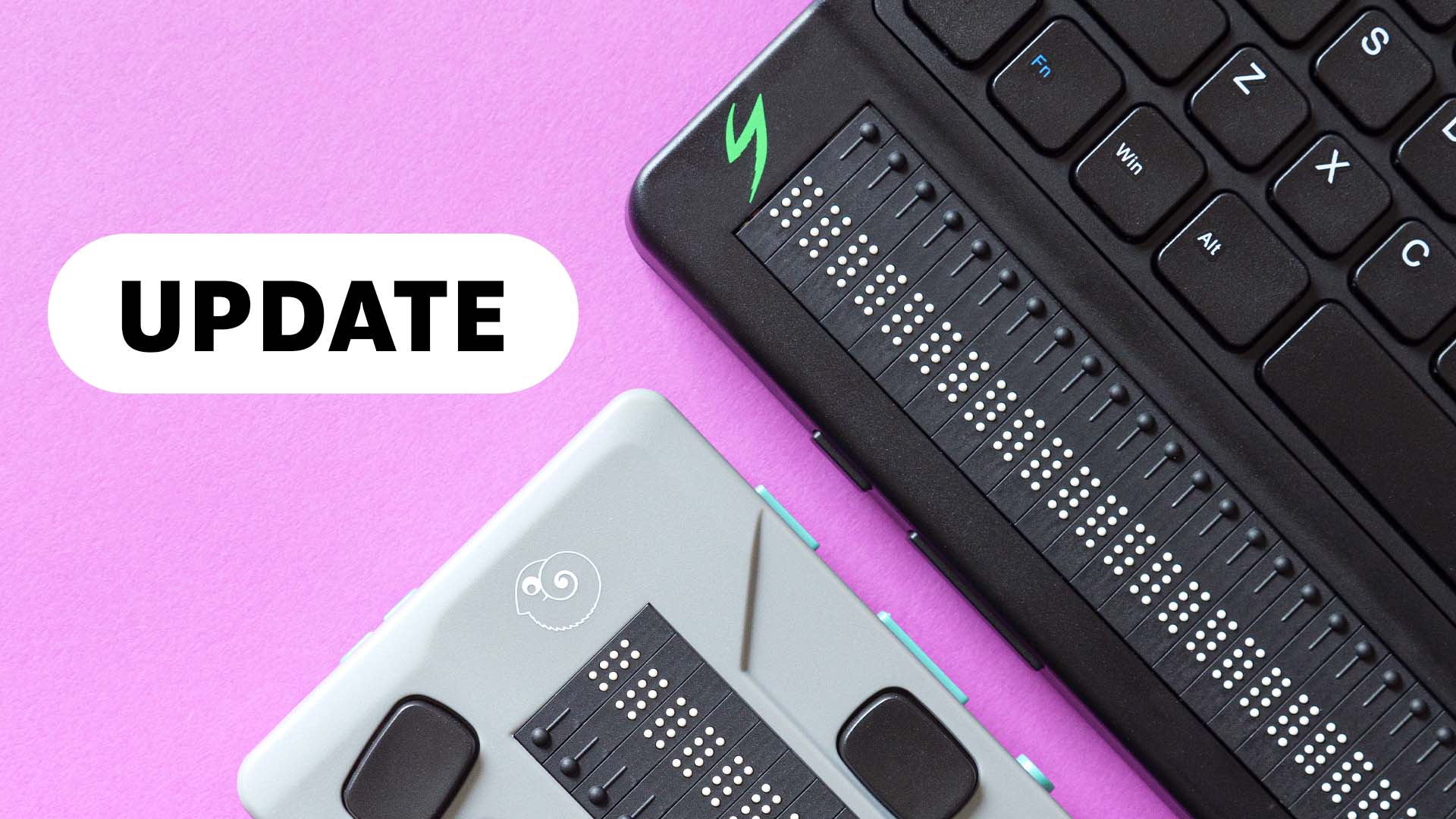 2.0 Update for Mantis Q40 and Chameleon 20
This is a reminder to always keep your Mantis Q40 and Chameleon 20 braille displays up-to-date! Keeping them updated with the latest software ensures you get the best performance possible with the latest features and fixes. Our latest 2.0 update is a major upgrade to both devices and includes some long sought-after features like Text-to-Speech on the Chameleon! Some changes will only take effect on the Chameleon or the Mantis individually and some changes are shared.
For full instructions on updating, check the Release Notes and scroll to the bottom section, "Installing a Firmware Update".
 Chameleon Only:
Our Chameleon-only features include Text-to-Speech and audio support.
Text-to-Speech- this feature takes the Chameleon 20 to the next level as a braille literacy tool. Users will benefit from the many ways that the feature can be customized including selecting the voice that they prefer and turning the various options for this feature off and on as needed. Different options include: read after pan, read while typing, read while deleting, a read all command (Space + G), and read text under cursor. My personal favorite is read text under cursor as this allows you to quickly and easily familiarize yourself with new words and braille contractions. Each option can be toggled off and on as needed and the whole feature can be quickly disabled with a hotkey (Space + Previous thumb key) to avoid any distractions.
Audio support- this feature allows the Chameleon 20 to play unprotected DAISY files. A lot of options here like increase and decrease playback speed, fast forward and rewind, and navigate throughout the book using the formatting of the file or user-created bookmarks.
New for Both Displays:
Some major features that are coming to both displays include a braille editor, quick Bluetooth pairing, and a quick switch between devices.
The Braille Editor allows users to edit and create braille files on their Mantis and Chameleon braille displays for the first time ever. Previously braille files were back-translated into print for editing and so if you wanted to save them, you ended up getting a TXT file. Now users will be able to start with braille, edit with braille, and then save as braille! This new app is meant to support students and people who work with braille professionally and was much requested. Look for more enhancements to this feature in future updates.
Quick Bluetooth pairing was made for people who may not know braille or who must set up a lot of braille devices, like in the classroom environment. Simply hold down the Enter key, which on the Chameleon is dot 8, for five seconds while the device is turned on and it will enter pairing mode. This means you can connect the device without having to navigate any of the menus.
The quick switch between device hotkeys is another much-requested feature and works to allow users to switch between connected devices quickly and easily. For example, if your device is already paired to an iPhone and an iPad or Windows computer, you can use these hotkeys to quickly switch back and forth between them. This feature is really exciting and removes a lot of clunky menu navigation when going from one external device to the next. The hotkeys to use the quick switch are Home + Next thumb key and Home + Previous thumb key.
There are a lot of other improvements in 2.0! The Mantis is getting some exclusive features with this update as well, including key repeat, which will allow space, delete, backspace, and the arrow keys to be repeated while held down and also Polish. For a full list of changes, please check out our release notes page.
The Time to Update is Now!
If you've not updated in a long time, you'll also benefit from the changes in our 1.2 and 1.1.1 updates. These include PDF support, Exam mode, a braille table toggle, Spanish and one-handed mode on the Chameleon, and Start in Terminal mode and a Terminal clipboard on the Mantis.
Our updates, based on your feedback, are vigorously tested by both APH and HumanWare. We've also got a great team of volunteer beta testers that assists with each update. These are living products and your needs will dictate what comes next. We'd love to hear your thoughts on them! Let us know what you want to see in future updates by sending your feedback to APH Customer Service at cs@aph.org or by joining the new Mantis and Chameleon mailing list by going to our mailing list sign up page and be a part of the conversation.
Previous Updates
For a historic look at our past updates check out our release notes.
Share Your Thoughts
Want to talk to us about your braille display needs? Because we want to talk to you! Please take our Braille Display Outreach survey so we can schedule a time to meet with you and learn about your unique needs.
Don't have time for a meeting like that but still want to share your opinion? Please take this very short Braille Display Survey and tell us what's most important to you!
Share this article.