Tactile Town: An Essential O&M Tool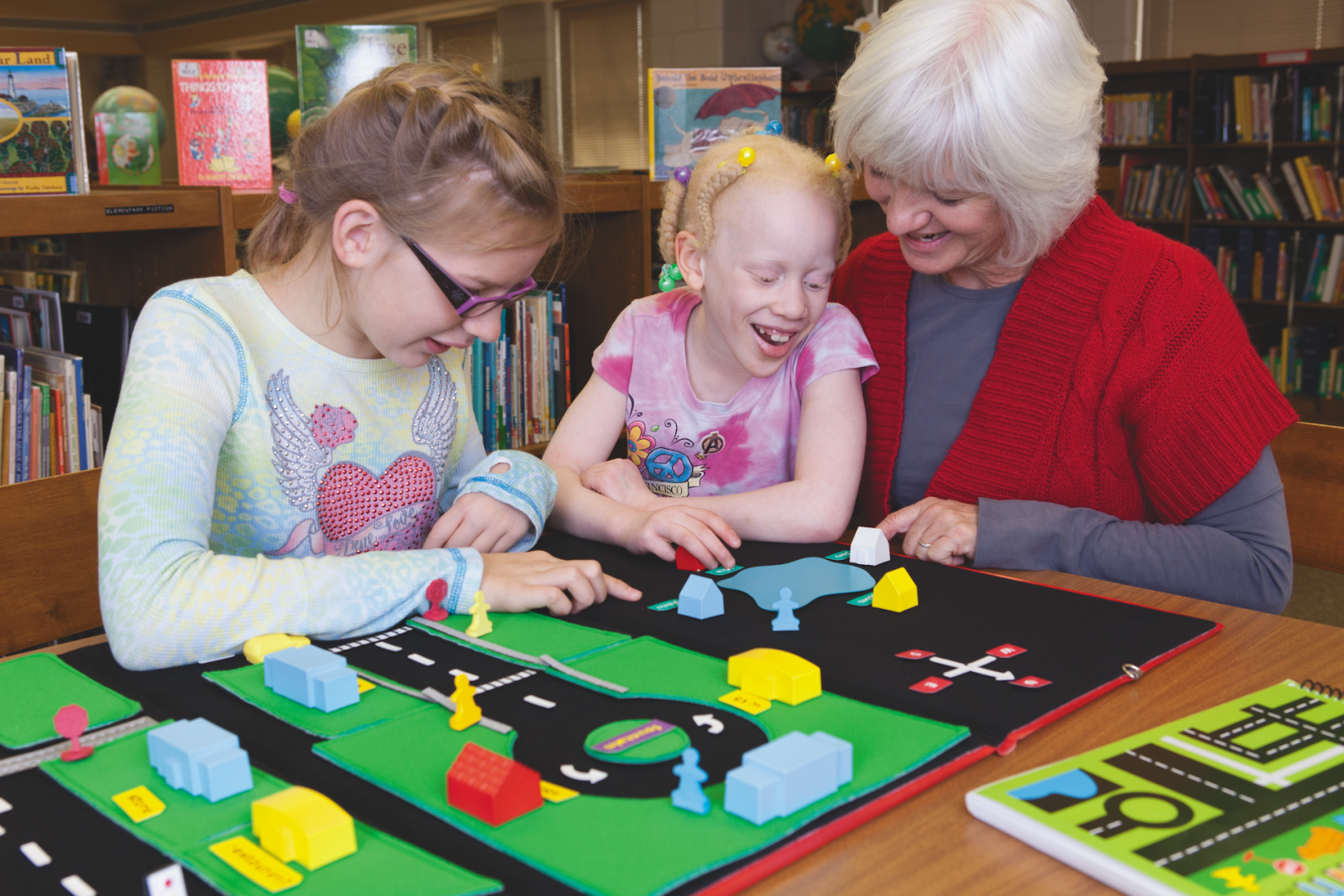 "It was fun. It was colorful. It was easy for children to manipulate. Students can make the display, feel proud of what they accomplished themselves. They can make mistakes, find their own mistakes, and know that they can make easy corrections."
For the last ten years, Tactile Town: 3-D O&M Kit has been instrumental in teaching spatial concepts and cognitive mapping skills to students who are blind or have low vision. We spoke with Karen Poppe, Tactile Literacy Product Manager, about the development, uses, and legacy of Tactile Town.
What is Tactile Town?
Tactile Town provides a collection of 3-D models (e.g., buildings, houses, and pedestrians), as well as common street scenery (e.g., traffic lights, railroad tracks, crosswalks, sidewalks), that can be used to create maps for orientation and mobility instruction. Although tailored for young learners who are blind and have low vision, Tactile Town can also be used by older students, students who have multiple disabilities, and adults who are learning map-reading skills and concepts.
The primary goal of Tactile Town is to assist in the development of mapping skills by helping students perceive and organize their physical environment. It also encourages active participation and interaction with displayed map layouts so that concepts and skills, not conveniently accessed through real-life exploration alone, can be practiced and learned.
The Evolution of Tactile Town
Tactile Town is intended to be a precursor to the use of APH's Picture Maker: Wheatley Tactile Diagramming Kit. By using the two products together, students can transition from concrete representations to abstract maps.
After undergoing field testing with students and teachers, the Tactile Town design was improved to include the addition of roundabout corners, pedestrian pieces with a directional indicator, yield signs, cars with different textures and colors, and more buildings of various sizes. The project staff constructed extensive production tooling (molds, vacuum-form patterns, guidebook layout and design, etc.) to accommodate mass production of the kit. In February 2012, Tactile Town became available for purchase with Federal Quota funds.
Since then, the original, physical design of Tactile Town has remained unaltered. The only change is the removal of the CD-ROM that contained accessible versions of the teacher's guidebook. These files are now available for free download from the APH website.
How Can I Use Tactile Town?
Before creating a map, teachers should:
Allow students to become familiar with the components of Tactile Town.
Highlight and discuss identifying textures, colors, shapes, and orientation features of each piece.
Compare and contrast these models with the actual objects they represent.
Utilize Tactile Town to:
Create a map of the classroom and display it on the hook-receptive side of APH's All-in-One Board so students can reference it as they get oriented to a new space.
Map the school campus and identify important landmarks such as the location of the gym, library, classroom buildings, and so forth. "Zoom out" and design a map that shows the location of the school in relation to surrounding streets and nearby landmarks. APH's Braillable Labels and Sheets can assist teachers as they create maps specific to their school.
Construct a map of a local zoo to use during student field trips. Tactile Town has zoo animal labels to accommodate this map arrangement. Use it as a springboard for practicing spatial concepts…e.g., "Which animal exhibit is closest to/farthest from the zoo's entrance?" Add off-the-shelf 3-D animal models to complement the map.
Make different types of intersections: T-intersections, dead-ends, Y-intersections, offset intersections, and roundabouts.
Demonstrate traffic flow, walking routes, compass directions, complex city blocks, and much more.
Encourage students to design their own maps. This will jumpstart their understanding that maps are symbolic of actual surroundings. Additional 3-D models can be acquired from manufacturers of holiday village decorations, dollhouse miniatures, and train model accessories; so, there are endless possibilities of maps Tactile Town can make.
Play games at the end of the Tactile Town Teacher's Guidebook (braille version available separately from the kit) such as "Tic-Tac-Town," "Turnabout," and "Buddy Search."
Note: The guidebook provides instructions for setting up each type of intersection, as well as suggested scripts to introduce numerous spatial concepts. Teachers also can monitor a student's progress with the included "Tactile Town Concepts/Skills Checklist."
Tip: Use the two provided double-sided felt storage panels to organize the provided Tactile Town pieces based on one's personal preference and frequency of use. Minimize the number of pieces to reduce clutter for a younger student. If the included tri-fold board is too large for a particular task or for portability reasons, consider using the Tactile Town pieces in tandem with a smaller platform as offered by the felt board from the Picture Maker: Wheatley Tactile Diagramming Kit. Teachers can also fold the tri-fold board and utilize only one-third of the board as the entire mapping area.
The Legacy of Tactile Town
"The best products are those that are versatile, can be tailored to a variety of audiences, and are intuitive without a lot of explanation. I think Tactile Town meets all those descriptions," said Karen Poppe. "I fully expect that the kit will remain a 'relevant classic' and a fun tool for new generations of teachers and students to discover and use to address map-reading skills."
Stay tuned to the APH website and subscribe to APH News to learn about future opportunities to provide feedback about Tactile Town. Contact Karen Poppe at kpoppe@aph.org to share your unique and creative uses of this product.
Share this article.