Meet APH Scholar Rachel Antoine
APH would like to congratulate Rachel Antoine, nominated by Ex Officio Trustee (EOT), Sergio Oliva, as one of our 2021-2022 APH Scholars.
Rachel Antoine was introduced to the blindness field in 2017 when she worked as the Program Manager for the Massachusetts Commission for the Blind. "This field allows me to do powerful and meaningful work every day," said Rachel. "That is where I find my joy." In 2019, she served as the Coordinator of National Programs at the Braille Institute of America. EOT, Sergio Oliva, commented, "Her ability to strategize, build synergy among diverse teams, and passion for providing social services led to her promotion to Manager of National Programs and Services in 2020. In this capacity, Rachel has connected the dots for national opportunities to local students and their families." In addition, she oversees the three national programs provided by the Braille Institute: Braille Challenge (a braille literacy competition), Cane Quest (an orientation and mobility competition), and Special Collection (a free braille board books program to build a bridge between parents and early braille learning). She also manages internal teams, special initiatives, and larger partnerships. Rachel said, "I love directing programs that make a difference, speaking, teaching, and being able to influence and mentor youth. I love applying my project management skills to our programs and letting my creativity run wild."
Rachel's impact at the Braille Institute is felt by many. Sergio said, "Rachel's highlights in her short two years with the organization include being a lead for Remote Braille Challenge Preliminaries and Finals, securing proclamations from the Los Angeles mayor for the 20th year anniversary of Braille Challenge, developing civic engagement workshops for youth, and on-boarding the first UK Braille Challenge regional. She continues to work closely with her past employer, Massachusetts Commission for the Blind, and secured the Commissioner to speak as the keynote at the 2020 Braille Challenge Finals Award Ceremony."
Utilizing Resources from APH
Rachel relies on a variety of APH resources when working with students and their families. Rachel uses the LED Light Box and LEGO Braille Bricks when working with the Child Development unit at the Braille Institute. "The possibilities are endless with the LED Light Box, and we are constantly coming up with additional ways to utilize this simple but powerful device," said Rachel.
In an effort to promote the connection of digital and braille literacy across programs, Rachel uses the Braille Trail Reader and Chameleon 20 refreshable braille displays with students. In fact, the 2020 Braille Challenge winners were awarded the Chameleon 20, a powerful device that increases classroom engagement and productivity. "The Chameleon 20 is the tool needed to push our youth to the top academically and to aid in providing them with the best classroom experience," said Rachel. "While the Braille Challenge is traditionally completed on standard braillers, we are incorporating the use of refreshable braille displays in testing. The Chameleon 20 would be instrumental in pushing this program to new limits."
Rachel also recommends APH webinars to families and staff, like the Virtual ExCEL Academy for students and Access Academy. Last year, she  recruited APH employees to participate in the Braille Challenge webinar series that accompanied the virtual 2020 Braille Challenge. In the webinar, Successful Outcomes Start with Braille Literacy, APH staff who are blind and visually impaired discuss how braille and braille technology positively impacted their education and careers. On partnering with APH and other organizations, Rachel said, "We are all trying to do good work and contribute to this field, so it is a pleasure to collaborate, increase engagement, and work together on a project."
At the end of the day, it's all about the students. Rachel loves interacting with and learning from them as well as providing the tools they need to excel. She said, "I have learned that to be an effective leader, you have to also be a constant and willing learner. You have to be willing to learn more about your content area and new and emerging technologies. You have to become familiar with new trends in programs, and always focus on developing and updating practices and strategies. Most of all, you have to be willing and open to learning from those you serve, listening to their needs to provide them with the best possible experience from your programs."
Parent engagement is important as well. "Parents significantly impact their child's learning and educational experience when they take an active role in monitoring their progress," said Rachel. "I focus on facilitating communication and collaboration through different educational tools, workshops, and access to resources which leads to student success."
Looking Toward the Future
When asked about the future of the field, Rachel said she hopes to continue exploring the role of technology. Plus, she said, "I hope the spirit of community this field brings will never change, and that we will continue to work collaboratively to positively transform what it means to be an individual with a visual impairment."
More About the Program
Each year, EOTs are asked to nominate someone they feel provides outstanding service in their region. Through a scholarship, awardees attend the APH Annual Meeting in Louisville, KY as a guest of APH. APH pays for all expenses in attending the conference, including transportation to the meeting, conference registration, and hotel accommodations.
Stay tuned to our website to learn about another scholar each month.
Share this article.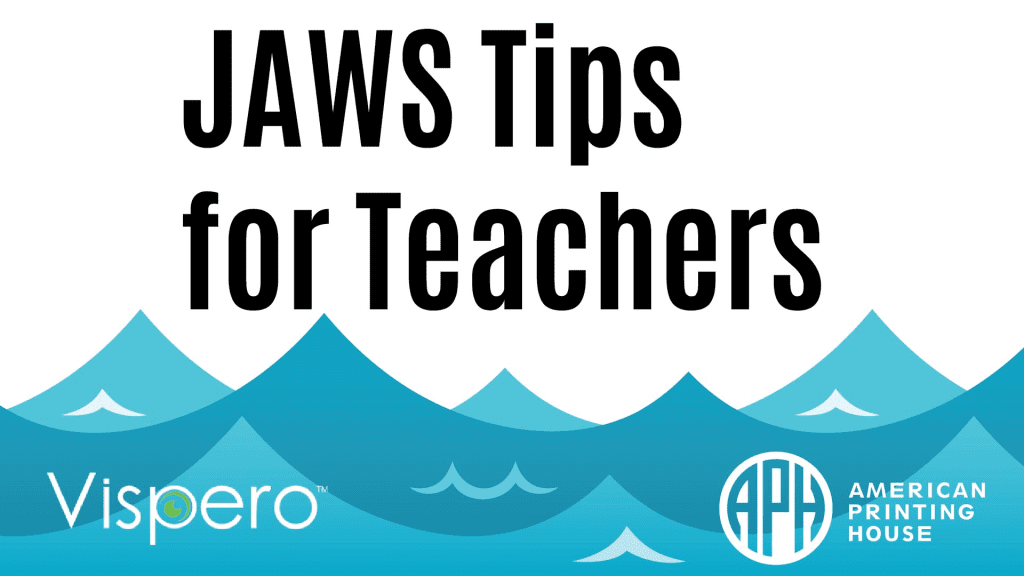 JAWS is a foundational tool for ensuring students who are blind or low vision succeed in the classroom. Whether you're...