Rachel's Story: Triathlon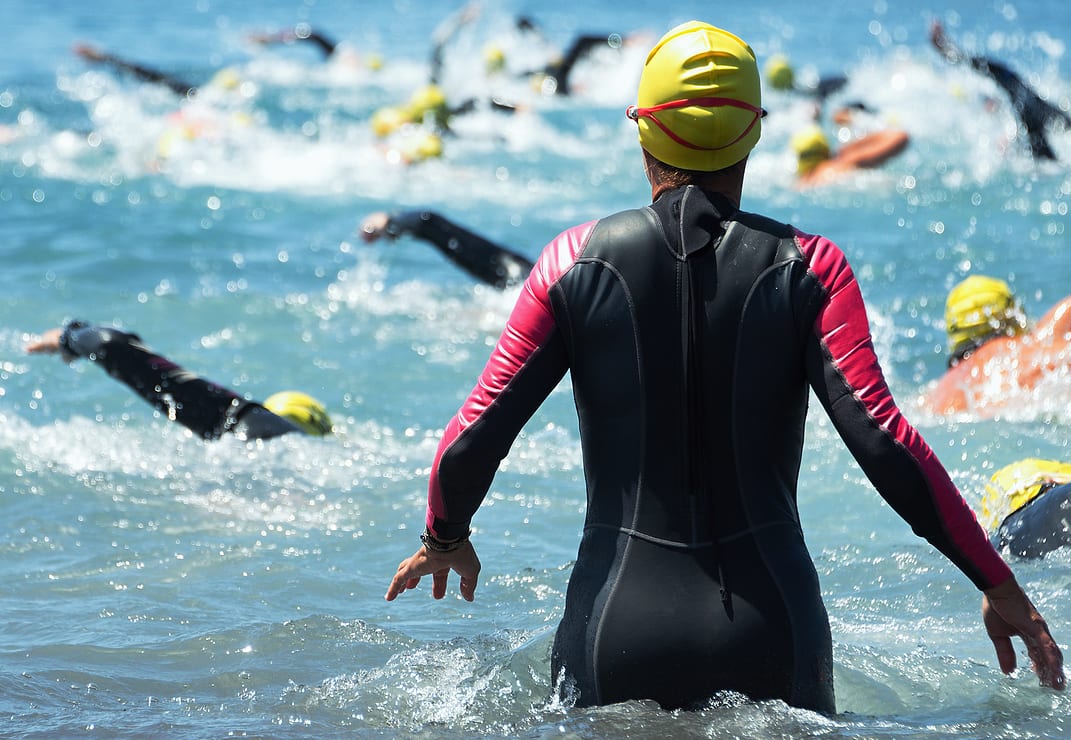 by Rachel Weeks
When I was growing up, the question would often arise: 'if given a choice, would you rather be blind or deaf?' As a hearing impaired child, not aware of the cause of my impairment, the question was not an easy one to answer. Little did I know that at age 19, I would have to face losing both my hearing and sight with a diagnosis of Usher syndrome. Because Usher syndrome is a degenerative disease, it requires the person to constantly adapt, adjust and persevere. It is also genetic and I continually worried about my daughters, my sister, and my nieces. None of them show signs of the disorder; for that, I am grateful.
As a child, I was only aware of having a hearing impairment and was very active as a dancer, gymnast, horseback rider and cheerleader. I wore hearing aids, took speech therapy intensively and did quite well in mainstream classrooms. When I attended elementary school in Nashville, Tennessee, where I was born, I had an aide in class and the attitude of my classmates was that of acceptance. There were other schools that I attended where the students were less accepting and I experienced bullying and indifference. It was not until I went to high school that I found a group of peers who accepted me and, in some cases, forgot that I had a hearing impairment all together. My teachers in high school were thoughtful and inclusive, helping me become an honor and advanced placement student. I eventually received a full ride to the University of South Florida and received my masters in counseling. I now work with youth and adults, helping them in their jobs, classrooms and daily living activities so that they can be at their highest functioning.
After graduating from high school, I remained physically active until I became more sedentary during my masters program. After I received my degree, my sister mentioned that she was participating in a half marathon with her college roommate, which is when I became interested in running and discovered guide running. A guide runner is a partner who runs alongside runners who are visually impaired or blind, providing guidance for them during a race. Guidance can involve running in front of the athlete, running beside the athlete and giving verbal cues, or running with a tether between the runner and guide. My sister was my first guide and we found the waist tether to be the best support for me. I went on to finish races in the 5K, 10K and half marathon distances. While I loved running, my first desire was to participate in the Ironman Triathlon.
I first heard about the Ironman Triathlon from a professor at the University of South Florida. She was in her sixties, had lost a lot of weight, quit a drinking habit, got her Ph.D. and went on to complete a triathlon which involved a 2.4-mile swim, a 112-mile bike ride and a 26.2-mile run. I remember sitting in her classroom, six months pregnant, visually and hearing impaired, saying to myself, "I want to do that!" I eventually learned that I could participate in Ironman competitions with a guide in the same way that I could participate in running with a guide. This is when my journey truly began.
Since I was already running, all I needed to learn was swimming and biking. I began swimming laps which was not easy at all; I was used to swimming with full vision and to swim as an adult with no peripheral vision was extremely difficult. However, with each lap I grew stronger and after months of practice I gained my rhythm. Biking was an even greater test of patience. I had no clue what a derailleur, cassette or cycling name brand was and I had to navigate the world of tandem cycling.
After receiving a grant from the Challenged Athletes Foundation towards a tandem bike, I began to test tandems out. I found my first tandem in Greenville, South Carolina at TTR Bikes. My sister and I named it The Beast and soon began launching, stopping, learning the gears, and hill climbing. We combined tandem biking with swimming and running and this prepared me for my first triathlon in June of 2012. I have since gone on to compete in multiple races of varying distances including Ironman Texas 2013, my biggest race to date.
The world of sports has not been a place of barriers for me but one of huge opportunities. The primary challenges have been financial costs which include shipping large equipment as well as two people to races and the fact that race directors often have no experience with athletes who are blind or visually impaired. Many times it is up to the athlete to educate directors and those involved with the races about visually impaired and blind racing techniques. Luckily, there are many organizations in place for visually impaired and blind athletes, as well as athletes who are deafblind. These organizations include Challenged Athletes Foundation, Achilles International, Team RWB, Team with a Vision, USAT Paratriathlon, and Dare2Tri Paratriathlon to name a few.
My goals for the future are to compete in the 70.3 and 140.6 World Championship Ironman races as well as to work towards a designated championship race for physically challenged athletes in the 70.3 and 140.6 distances. I would also like to coach youth who are visually impaired, blind and deafblind in the sport of triathlon. I have partnered with Camp Abilities and started my own team, Light Up the Darkness, in the Tampa Bay Area. I'm excited about coaching, raising awareness in youth and adults, and promoting health and wellness through sports.
Note: This is an excerpt from the book Possibilities: Recreational Experiences of Individuals who are Deafblind, edited by Lieberman, Haegele, and Marquez.
Table of Contents
Credits, Introduction, and Preface
Rachel Weeks- Triathlon
Maricar Marquez- Running
Kristine D'Arbelles- SSP—Swimming Triathlon
Heidi Zimmer- Mountain Climbing
Cody Colchado- Power Lifting
Corrina Veesart- Ballet, Cheerleading, Rock Climbing, and Yoga
Emily Desfor- SSP—Outdoor Adventures
Kevin Frost- Speed Skating
Ryan Ollis- Running
Faye Frez-Albrecht- Soccer
Quinn Burch- Dance, Horseback Riding, and Running
Nicholas Abrahamson- Hiking the Appalachian Trail
Bruce Visser- Traveling
Jason Corning- Running
Sarah K. McMillen- Ice Hockey and Taekwondo
Angela Theriault- Running
Scott Keeler Bass- Biking
Maria Marquez Dykman- Wind Chimes
Conclusion & References
Share this article.