Building Your Braille Literacy Toolkit
Reading and writing are the foundations of a successful education and lifelong learning. Finding the right tools for each student's needs is important – that's why we've put together this list of some of our most popular braille literacy products and resources.
Refreshable Braille
Chameleon 20
Designed specifically for students who are blind and visually impaired, the Chameleon 20 enhances student productivity and classroom engagement with its portable braille display and notetaker – perfect for in and out of the classroom setting to improve braille literacy skills.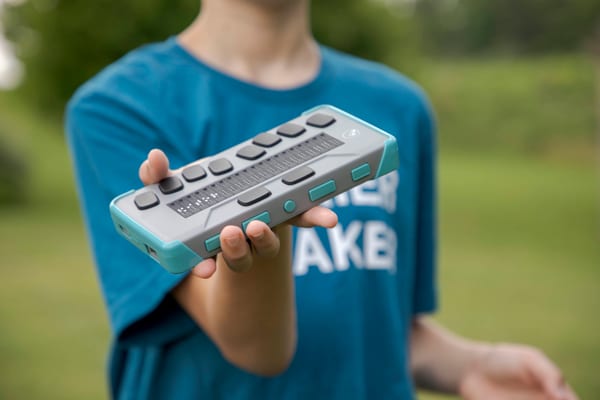 Mantis Q40
With the Mantis Q40, users no longer need to choose between a keyboard or a braille device – at the same time a student or professional is typing on the Mantis, the refreshable braille below the keyboard is providing a multimodal braille complement to the screen reader, making it easier to participate in, and succeed at, school or work.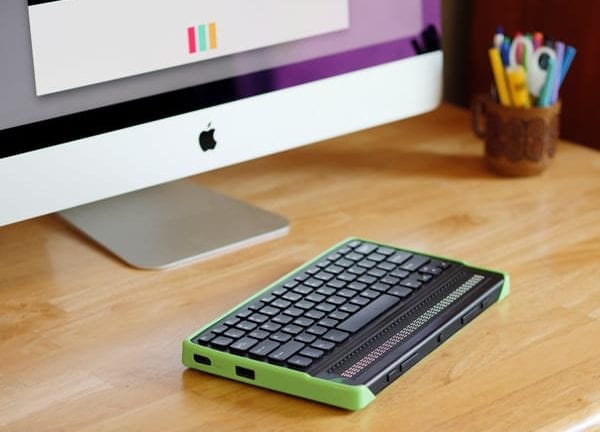 Braille Trail Reader LE
The Braille Trail Reader LE is a customized, limited edition version of HumanWare's Brailliant™ BI 14 braille display, developed exclusively for teachers and students. The proprietary Braille Trail Reader File Transfer Windows® App enables teachers to easily read and transfer files to and from their students' Reader.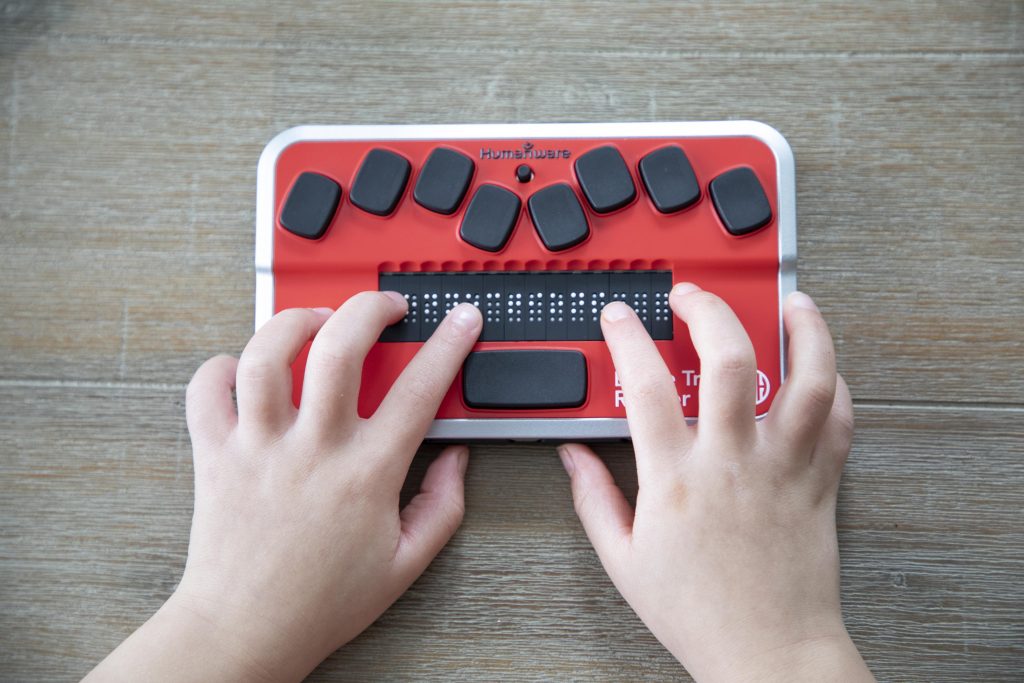 Embossing Tools
PageBlaster
Meet PageBlaster: a powerful braille embosser for continuous fanfold paper. Detailed and thorough embosser set-up and other training tutorial videos help to make using your embosser in the classroom or at home as easy and efficient as possible.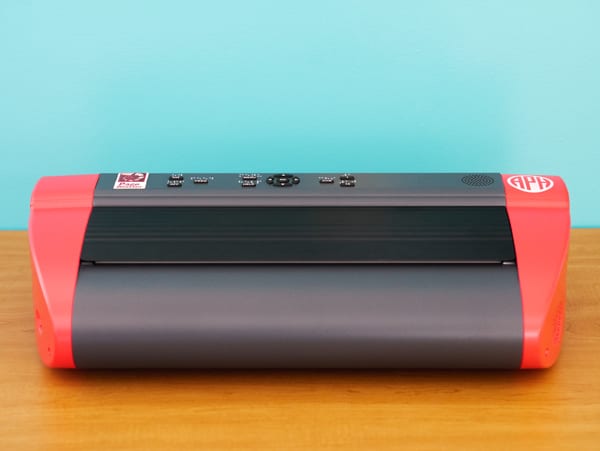 PixBlaster
Produce high-quality braille and tactile graphics with PixBlaster! Detailed and thorough embosser set-up and other training tutorial videos help to make using your embosser in the classroom or at home as easy and efficient as possible.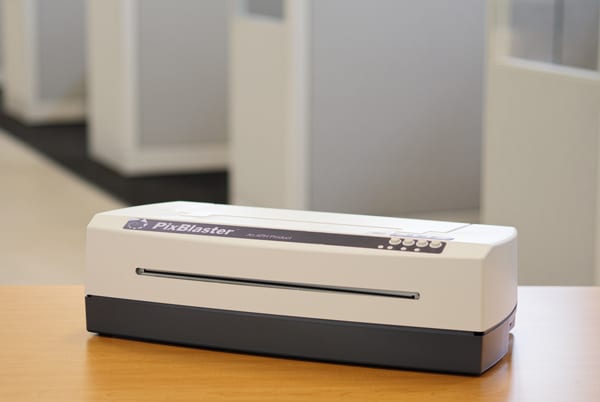 BrailleBlaster
Looking for software to transcribe braille available free-of-charge? Look no further! Originally designed for braille transcribers, BrailleBlaster can be downloaded and used by everyone, including parents, teachers, and students.
Other Classroom Tools
Hop-A-Dot Mat
Hop-A-Dot Mat encourages young braille readers to acquire and demonstrate their knowledge of the braille cell configuration, braille alphabet letters, one-cell contractions, and numbers through movement.

I-M-ABLE
I-M-ABLE, Individualized Meaning-Centered Approach to Braille Literacy,  is an innovative, individualized, student-centered method for teaching braille and making it exciting for children who have difficulties learning braille.
Reach & Match
The Reach & Match Learning Kit provides toddler training for manual dexterity and identifying tactile patterns. It provides pre-schoolers with braille and print learning, motor development, direction, and spatial awareness training. Originally created for children with BVI, a preliminary review revealed that children with autism also enjoy playing and learning with Reach & Match.

BrailleBuzz
An instructional toy for young braille learners ages two to five. It encourages practice with braille characters and phonics, similar to a variety of audio-based toys that teach print writing. BrailleBuzz resembles a cartoon bumblebee, encouraging little ones with audio feedback.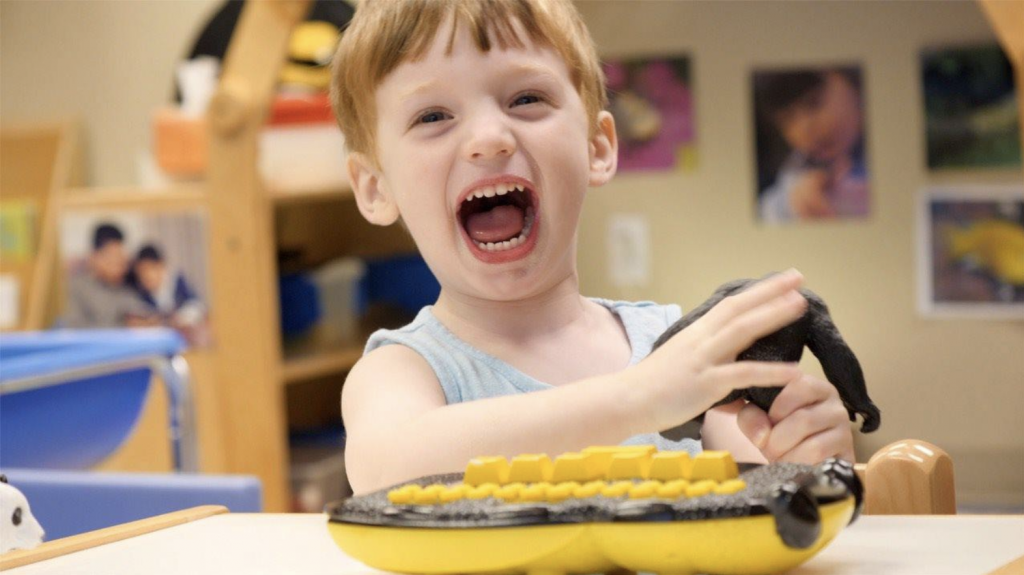 APH Smart Brailler by Perkins
The APH Smart Brailler by Perkins is a mechanical brailler with a built-in screen and speaker to provide immediate visual and audio feedback.
APH Light Touch Brailler
The APH Light-Touch Perkins Brailler® is an updated classic! This manual brailler keeps the durability, reliability, and the ability to braille wide paper, while also adding several new features to the classic Perkins Brailler, including 1/3 less pressure required to depress keys.
BOP Prekindergarten
BOP (Building on Patterns) Prekindergarten curriculum reflects best practices in braille literacy instruction, with lessons designed to build literacy skills related to listening, speaking, reading, and writing in preparation for kindergarten.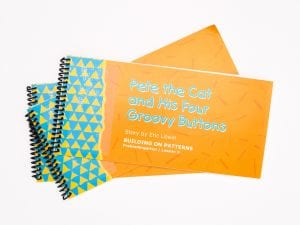 BOP Kindergarten – 2nd Grade
BOP (Building on Patterns) Kindergarten – 2nd Grade is a systematic, comprehensive, and balanced literacy program designed to teach young children (through second grade) with visual impairments to read and write using braille.
All Aboard: The Sight Word Activity Express
The All Aboard: The Sight Word Activity Express is an interactive and versatile set of magnetic print/braille labels that will get your student excited and on the fast track to learning high-frequency sight words and common nouns.
Six Little Dots
Written for children with visual impairments ages three years and up, Six Little Dots is a large print/contracted UEB braille tactile storybook that introduces and names Dots 1 through 6 as they each take their proper place in a braille cell. The book also encourages fingertip texture discrimination and exposes readers to spatial concepts such as top, middle, bottom, above, below, and under.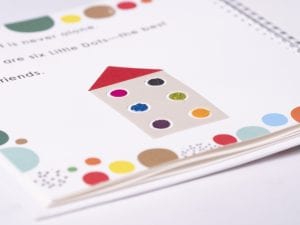 Six Little Dots, Game of Cards  (UEB, 2018)
The Six Little Dots, Game of Cards offers a fun approach to learning braille numbers. When played among family and friends, rich opportunities for social inclusion and spreading braille awareness are achieved.
Quick Pick Braille Contractions UEB
Students can quickly and easily learn their braille contractions in a fun way with Quick Pick Braille Contractions UEB.
Textbooks
Did you know if you place an order for textbooks before September 30, you can use this year's quota funds to pay for them, even if the books are delivered to you after that date? We are currently accepting orders for digital, large print, and braille textbooks. We have immediate production capacity for your textbooks, so place your orders now!
All these products and more can be found at our website aph.org/shop/
Share this article.