Building Your CVI Toolkit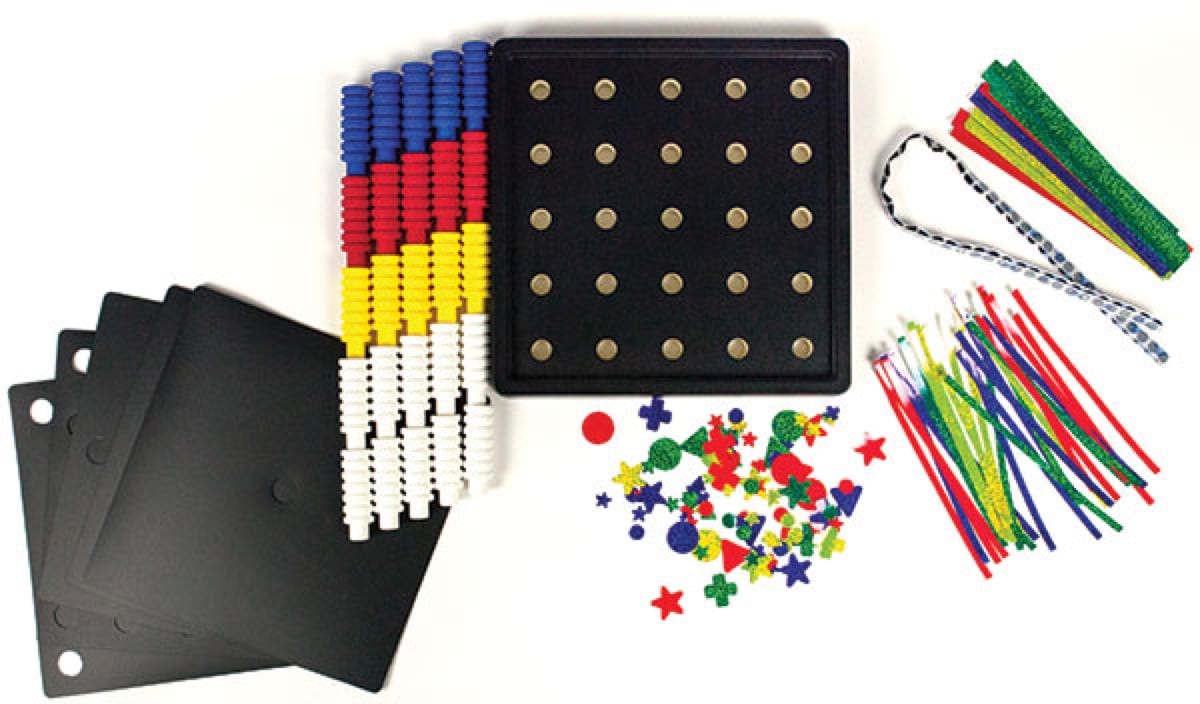 Our goal is to create tools that work for all learners to support their success in education and beyond. From specially crafted books and materials to universally designed tools, we've curated a list to support the learners with Cerebral/Cortical Visual Impairments (CVI) in your classroom.
CVI Companion Guide: Designed to assist parents and professionals, the CVI Companion Guide provides information on the social and emotional needs of children with CVI.
Sensing and Learning is a guidebook modified from the Sensory and Learning Kit (SLK) that expands on the responses to questions and issues raised by several teachers of learners with visual impairments (TVIs). The research-based strategies contained in this book provide tools to conduct sensory efficiency and learning media assessments; address IEP areas such as instructional settings, accommodations, and goals; and provide highly effective instruction using a collaborative, consultation-service delivery model. Learn more about Sensing and Learning.
Functional Skills Assessment (FSA): The FSA is a tool for evaluating daily living skills for students at all levels.
SAM: Symbols and Meaning Kit: Learn about people, objects, actions, and places to understand the symbols related to these concepts.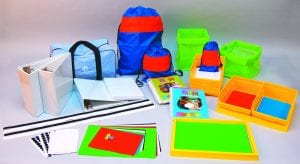 Expandable Calendar Boxes, Black and White: These boxes help students who are nonverbal and have multiple disabilities learn what is going to happen next in their day.
Joy Player: Enjoy jamming to your favorite music or listening to your favorite audiobook on the easy-to-load, switch-activated Joy Player.
Joy Player Cartridge Holder: Free on the APH Tactile Graphics Image Library (TGIL) and available in two versions; one that slides in and one that screws in.
On the Way to Literacy, the Littlest Pumpkin: When the littlest pumpkin in the patch isn't chosen to become a jack-o-lantern, things seem very bleak–until a child discovers his hiding place! This book includes raised lines and die-cut foam pumpkins.
CVI Book Builder Kit: Parents and teachers can build individualized books specific to the needs of their Cerebral/Cortical Visual Impairment (CVI) reader with this book-making kit.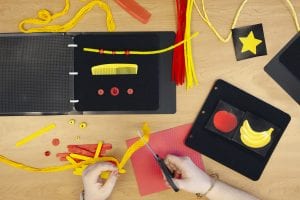 Animal Recipes: Farm Set: Build and learn about the salient features of barnyard animals with Animal Recipes.
Flip-Over FACES App: This free iOS and Android app allows a child to casually explore facial expressions within a fun and versatile context.
LED Light Box: Recommended for all ages, APH's LED Light Box and accompanying materials help utilize students' residual vision to track, scan, and develop eye-hand coordination, visual discrimination, and visual perceptual skills.
LED Mini-Lite Box: The LED Mini-Lite Box is an all-inclusive person-centered learning tool. Students with CVI and other disabilities can benefit from the Light Box Materials kits and commercially available mounts that can be attached to the LED Mini. Now featuring an energy-efficient LED light panel and a rechargeable lithium battery pack!
Spinner Overlays for the Light Box: Spinner Overlays for the Light Box are specifically designed for learners with CVI and low vision. These customizable overlays can help improve a learner's visual discrimination and recognition capabilities.
Familiar Object Pictures: For use with the light boxes, these colored translucent pictures of 15 household objects are provided in pairs for matching and identification.
Plexiglas Blocks: For use with the light boxes, these colored transparent and translucent geometric shapes come in two sizes and are used to create displays for attracting visual attention; encouraging visually directed reaching; matching by shape, size, and color; and for introducing spatial relationships.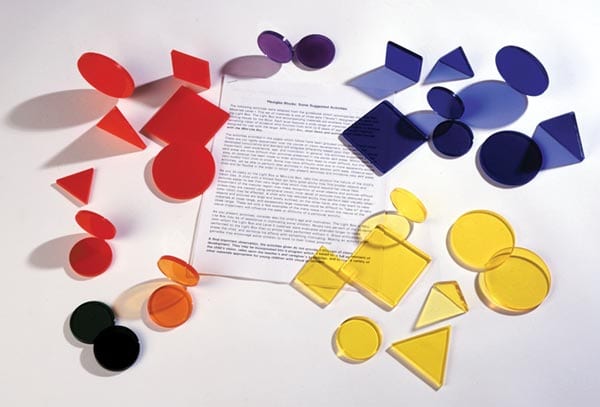 Colored Shape Cards: For use with the light boxes, these colored transparent and translucent pictures of geometric shapes assist students with identification and matching by shape, color, and size.
Swirly Mats: CVI: This modernization combines Swirly Mats CVI and CVI II into one kit. All mats can be used for locating, tracking, color discrimination, etc. These durable, non-toxic mats can be used alone or in conjunction with the APH LED Light Box and LED Mini-Lite Box.
Pegs and Pegboard: This product fosters eye-hand coordination, awareness of spatial relationships, and matching and sequencing skills. This product is to be used with the LED Light Box and the LED Mini-Lite Box.
Increasing Complexity CVI Pegboard: Meet your child's color, lighting, movement, and complexity needs by creating low to high complexity background templates and peg activities on this pegboard. Along with the LED Light Box, this pegboard can also be used with InvisiBoard and the All-In-One Board.
InvisiBoard: Make visual clutter disappear for students with CVI by using the white or black side of the InvisiBoard.
All-In-One Board and its smaller Student Model: This multi-platform, easily adjustable board by APH can be used in the classroom for learning activities with students of all ages.
Match-It-Up Frames: Small and Large Sets: Use these frames to facilitate learning tasks related to matching, sequencing, patterning, and counting. The large set fits on the All-In-One Board and the smaller set fits on the Student Model.
CVI Complexity Sequence Kit: This kit includes cards that present sequences of images designed to refine the ability to identify a target in the presence of increasing amounts of background information. These cards may be used individually or as a sequence and should be presented against a black or plain, light-absorbing background.
Color Raceway Kit: Color Raceway is an exciting board game adapted for children who have visual impairments, including those with a CVI diagnosis. The kit utilizes the characteristics of color, movement, and low to high complexity, encouraging players to use their vision in a functional and fun way.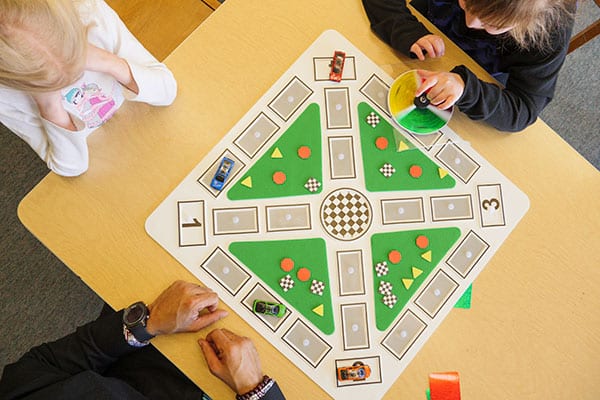 For more information or to find related products, visit aph.org/shop.
Share this article.